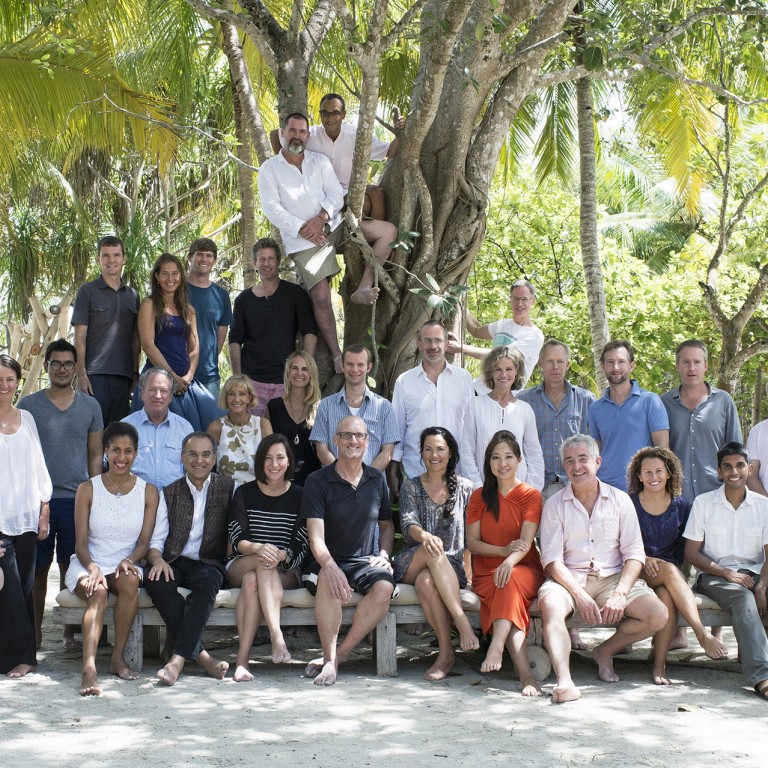 How to temper capitalism for a more sustainable world
The human race is running out of time as climate change threatens to spiral out of control. Solutions are forthcoming at this year's Slow Life Symposium, but are they radical enough, asks Mark Footer
She is not here, but Naomi Klein's influence is being felt at this year's Slow Life Symposium.
Founded by the owners of luxury resort operator Soneva Group, the annual meeting of environmental minds encompasses three days of discussion - and plenty of wining and dining - and alternates between the group's two eco-resorts: Soneva Kiri, in Thailand, and this one, Soneva Fushi, in the Maldives.
The "world's only barefoot symposium" plays host to scientists, filmmakers, activists, politicians and economists, as well as the occasional big name - entrepreneur Richard Branson and actress Daryl Hannah have attended, and Lily Cole would have been here this year as a representative of her social network
impossible.com
had the model not taken sick. Its aims are to foster partnerships and creative thought through a series of quick-fire presentations - "Slow Life" stands for "sustainable, local, organic, wellness, learning, inspiring, fun, experiences" rather than describing the pace adopted in its staging - small gatherings, snorkelling trips and tours of the resort's compost heaps. Given the generosity of Soneva founders Sonu and Eva Shivdasani - both of whom take an active role in the proceedings - it is perhaps no surprise that many participants are symposium regulars.
For this, the fifth symposium (which took place last month), the theme is "capitalism within planetary boundaries", looking at models of finance that can help to secure a sustainable world, and the meeting comes a couple of months after Klein published , a book that argues that only a complete reimagining of capitalism will save the human race from its own excesses. The Canadian author rubbishes the idea that salvation will come in the form of ingenious technologies and an incremental shift away from fossil fuels because it's simply too late to implement them before the planet heats to a point at which climate chaos will be utterly unpredictable - and devastating.
"Gentle tweaks to the status quo stopped being a climate option when we supersized the American Dream in the 1990s, and then proceeded to take it global," she writes.
Another author, British comedian Russell Brand, puts the thinking succinctly in his new book, : "Today humanity faces a stark choice: save the planet and ditch capitalism, or save capitalism and ditch the planet."
Scientists such as Guy McPherson, a professor emeritus of natural resources and ecology and evolutionary biology with the University of Arizona, go even further, and suggest we are already a long way down our own road to extinction.
"It's difficult for me to imagine a scenario where we'll survive even a 4-degree Celsius temperature rise [above a pre-industrial baseline], and we'll be there in the very near future, like by 2030, plus or minus," McPherson said in a recent interview with news website Truthout. "So it's hard for me to imagine we make it into the 2030s as a species."
The symposium, chaired as it was last year by environmentalist Jonathon Porritt, or "Father", as regulars refer to him, isn't nearly as radical in its approach as Klein or as pessimistic in its outlook as McPherson.
Initiatives that have come out of past symposia include Whole World Water, a social enterprise that aims to wean the tourism industry off branded water, and on a balmy evening under the stars at Soneva Fushi's outdoor cinema, attendees are shown a short film about the Slow Life Foundation's campaign to distribute safe cooking stoves in Myanmar and a longer feature, courtesy of filmmaker Jon Bowermaster, detailing a programme to teach children from nearby islands how to swim. (Surprisingly, given that the Maldives are a collection of tiny islands in a big ocean, few of its children learn the skill).
Day one begins with a wrap-up of developments since the last get-together and we learn about the fine-tuning of the nine planetary boundaries (safe zones for processes including climate crisis, ocean acidification, the nitrogen cycle and particle pollution) identified and quantified in 2009 by the Stockholm Resilience Centre and its executive director, Johan Rockstrom. The boundaries are intended to mark limits within which economies can grow. Step over those limits and we risk passing catastrophic tipping points.
The Swedish scientist also talks about his quest to bring together the chief executives of the world's 13 biggest fishing conglomerates in a convivial atmosphere to discuss ways to keep the oceans alive. The thinking is that by ensuring the chiefs are comfortable in the presence of one another, a degree of trust will develop and initiatives to protect fisheries will be respected.
"It's an experiment," says Rockstrom, "but we're tearing down the walls that have trapped these CEOs in a prisoner's dilemma: nobody gains on sustainability because that sustainability will be gobbled up by their competitors."
That meeting is tentatively planned for next November.
Peggy Liu updates the assembly on developments at the Joint US-China Collaboration on Clean Energy (JUCCCE; see page 21), one of the most recent being "A New Way to Eat", a programme that is being trialled in two Shanghai primary schools. It is an attempt to teach China's schoolchildren how to avoid obesity and diabetes - and cut down on meat consumption and all the environmental woes associated with the habit - by taking an interest in their diet.
"Just by tweaking your eating habits, you could reduce very easily your personal emissions by 20 to 25 per cent and if you nutritionally optimise your diet you can reduce your emissions by 40 to 45 per cent," she says. "That means every kid can make a huge difference just by understanding how their eating habits can affect the planet."
Liu is working with a diverse group of sustainability experts, doctors and nutritionists around the world. "They understand that we can make change faster in China, and if we can develop the curriculum in China, and it works, they can take that and localise it in other countries."
After participants have broken into smaller groups to discuss "finance for a sustainable world", it doesn't take long for someone to mention the "K" word. Peter Wheeler, executive vice-president of American charity The Nature Conservancy, describes Klein as an anarchist "who offers no solutions", although it's worth bearing in mind, as Porritt mentions later, that "she really goes after the US NGOs, including The Nature Conservancy". Klein singles the environmental organisation out for its investments in fossil-fuel producers.
Later, Rockstrom says he respects Klein as a writer and hasn't yet read her latest work, but, "I'd say the [science] supports her conclusion. However, I don't think it's very constructive.
"In the world of today, we have three billion poor, one billion undernourished and three billion more coming in a world economy that is projected, over the next 30 years, to grow by 500 per cent in developing countries. That engine is running - and it's running on the highway. It'd be very difficult to just pull the brake. I don't see over the next 20 years that we'll be able to shut down capitalism."
Klein's approach perhaps makes the most sense to Liu, whose imagining of the China Dream, a term coined by JUCCCE long before President Xi Jinping started using it, embraces a type of capitalism that doesn't stress consumption and acquisition.
"What would a new kind of capitalism look like," she asks Wheeler in the breakout group.
It will later become obvious her question is a rhetorical one. Although she hasn't read the book, she says, she's already had many discussions about .
"Naomi doesn't necessarily have solutions but what she's saying is that we have to completely transform the consumer economy," says Liu. "This is exactly the China Dream; the whole reason why we're doing the China Dream is to tackle the 800 million middle-class consumers there will be by 2025 in China.
"That's a lot of people; if all of us end up eating steak once a week, and have 10 Birkin bags, blah, blah, blah, we're in trouble."
each revolve around a theme and on the second day, which is given over to the world's oceans, the Maldivian minister of fisheries and agriculture, Mohamed Shainee, throws down a challenge.
All fish taken from Maldivian waters, he says, are caught sustainably, but the country and its fishermen are not seeing the true value of that commitment. Part of the problem is that the European Union - the destination for 40 per cent of its US$100 million industry - has this year revoked the duty-free status of its Maldivian imports because the nation is no longer considered a developing country.
The extra costs associated with supporting a sustainable fishery - for example, having boats travel farther to fish - mean the Maldives needs, more than most, to get fair value for its catches, and that is not happening in a world where sustainable and non-sustainable fish are often sold side by side for the same price.
"What we need is to get recognition for the work that is being done," says Shainee. "We already know what to do, there's nothing to be invented. We just need commitment."
It is quickly decided to establish a working group and, that afternoon, while some participants frolic off a deserted island - and watch through masks as freediver Hanli Prinsloo, founder of I Am Water (which teaches children around the world to swim in, and thus respect, seas and lakes), descends to inspect a reef - a dozen or so others sit down in a hut just behind the beach with Shainee and Thoriq Ibrahim, the Maldives' minister of environment and energy, to throw around some ideas.
By the end of the symposium, Sonu Shivdasani will be able to announce that exploratory discussions around the viability of "debt for nature swaps" in the Maldives will be continued by participants and a US$100,000 investment fund to ensure that other early stage initiatives will not fail for want of finance will be established by the Slow Life Foundation. Also committed to are a programme to support financially the conservation of Baa Atoll, the Unesco World Biosphere Reserve in which Soneva Fushi lies, and the establishment of a sustainable-fish brand for the Maldives.
turns to philanthropy, which has become "structurally constipated", according to "adventure capitalist" Jim Norton, a trustee of a charitable organisation established by his grandfather that had become a standard investment vehicle that gave very little of its money away.
"[Philanthropy is now] a culture of self-preservation, whereas it could be a culture of great risk-taking," says Norton.
Says Chris West, director of the Shell Foundation: "I see the evolution of philanthropy being from the traditions of supporting well-intentioned groups through project funding to a much more engaged, strategic way of trying to tackle big issues and using private capital as a form of high-risk capital to test new things and really go to scale … so it benefits millions of people, not a few hundred."
Concrete proposals about how to help this evolution along appear few and far between, but the general consensus of those gathered is that divestment from climate-damaging companies should be heartily encouraged. High-profile divestments from the fossil-fuel industry this year have included those by the Rockefeller family and Stanford University.
It may seem fruitless to some, because new investors will inevitably be found, but "in making statements of divestment, [one is saying] that certain corporations and their activities are fundamentally inconsistent with our charitable purpose and our interest in improving the well-being of people and place", says Norton. "Divestment really, really matters."
in the Maldives is 2.4 metres above sea level. As climate change intensifies - 2014 will most probably have been the hottest year since records began - and the oceans rise, it's considered likely the island nation will cease to exist before the century is at an end.
As the symposium winds down, a Soneva Fushi boat takes Norton and Professor Terry Hughes, an Australian Research Council reef expert, across to nearby Maalhos Island. The contrast with the opulence of the resort may be stark but the people living here appear happy. Where will they go when their island is submerged?
Klein sees her vision of a new, climate-saving economic order as being possible because so many of the adaptations that would be needed are ones the world's unrepresented are already clamouring for: equitable distribution of food; good, affordable housing; efficient, cheap transport systems; local, low-carbon industry and good jobs; justice for migrants and those who find themselves on the losing side of globalisation - and the option to stay put.
"The failure of deregulated capitalism to deliver on its promises is why, since 2009, public squares around the world have turned into rotating semipermanent encampments of the angry and dispossessed," she writes.
And to an extent, Rockstrom agrees: "I don't question the need for deep, deep lifestyle changes in the long term, but I'm pragmatically doubtful that we'll be able to achieve them [globally] in the short term. We have to be recognisant of the fact that poor nations, the majority of the world, have a right to develop. To exclude that - it's unfair and it … simply won't happen.
"The responsibility comes back to the rich nations. A country like Sweden needs to be decarbonised by 2030. And that's the largest revolution in that country's history. And that can happen, but it cannot happen only through technology fixes; it would have to happen through a transition towards public-sector transport, a transition towards different consumption patterns, ruling out all flights shorter than 500km - perhaps a quota on family carbon rights, so you can go on holiday to Thailand only once every third year and not every year.
"There's nothing hindering us growing renewable energy, so it's wrong to say we need to shut down capitalism to solve climate change. Growth, yes - but a new type of growth, which occurs within a finite global carbon budget."
With the curtain having come down in Lima, Peru, last weekend on another set of climate-change negotiations that produced little of substance, it is becoming increasingly apparent that, left to their own devices, the world's governments are never going to save us, so beholden are they to business as usual. To apply the brakes to climate change, individuals are going to have to unite to put pressure on leaders to effect change.
The Soneva symposia and the initiatives that come out of them (along with the efforts to alleviate the Maldives' fishery problems, this year saw delegates committing to developing an "Oceans Lab", to foster cross-organisation collaboration on the future of the oceans, and to scaling sustainable rice-production practices that reduce waste) certainly won't "change everything", but the group of individuals who gather under the Slow Life banner are at least demonstrating that workable solutions are being pursued.
And if in years to come our children and grandchildren live under a type of capitalism that exists completely within planetary boundaries, we'll know who to thank.
'Indian idol' for  farmers uses video to spread new ideas
"There are thousands of successful experiments, worldwide, showing how climate-smart agriculture can work. They're characterised not by expensive fertiliser from Yara and proprietary seeds from Monsanto, but knowledge developed and shared by peasants fairly and equitably."
Author Raj Patel, as quoted in Naomi Klein's
This Changes Everything
One of the more interesting ideas explained at this year's Slow Life Symposium is that of Rikin Gandhi, a United States-born Indian who returned to the land of his parents to establish Digital Green, an "'Indian idol' for small-scale farmers".
The idea behind the project is the same as that which drives reality-television shows: everyone wants their 15 minutes of fame. In this case, though, the "stars" are not belting out approximations of Celine Dion songs or bitching about how bitchy fellow performers are; they are sharing farming techniques that have been learned the hard way.
The project began in 2006, says Gandhi, as part of a Microsoft Research India project.
"Growing up, I was an aspiring astronaut, so I studied computer science, aerospace engineering and got a pilot licence," he says. "I was about to join the US Air Force and I had some friends who were starting a biodiesel venture in India.
"It failed within the first couple of months, but that gave me my first exposure to rural India and small-scale agriculture. One of the main things I saw was that there was a very small minority of farmers who were really prosperous, and they're sending their kids to school. Most farmers, though, are still at a subsistence level; they want to migrate as quickly as they can out of rural areas and agriculture.
"We thought, 'Is there some way we can share some of the knowledge? These prosperous farmers, how did they become prosperous?'"
Digital Green was born.
"We train four to six individuals from the community to produce short, eight- to 10-minute videos featuring local farmers sharing testimonials, demonstrating practice," says Gandhi. "Then we share these videos offline, using battery-operated projectors. A facilitator from that same village shares these videos with a group of farmers.
"The facilitator records data and feedback about who watched what video, what they liked and what practices did they apply afterwards - to inform the production of new videos and repeat the process over and over again."
The aim is to establish food and nutrition security in communities that are all too vulnerable to weather and price shocks. And the benefit is not just being felt in the subcontinent.
"We work in nine states in India, with about 450,000 farmers, and we work also in parts of Ethiopia, Ghana, Mozambique, Tanzania and Afghanistan," says Gandhi.
"YouTube, American Idol, these types of reality TV things incentivise people to sing and dance because they get to be seen on TV and their friends think that's cool. In the same way, we feature these farmers and make farming not just a vocation of last resort, but something people can aspire to."
Mark Footer
This article appeared in the South China Morning Post print edition as: More haste, less speed