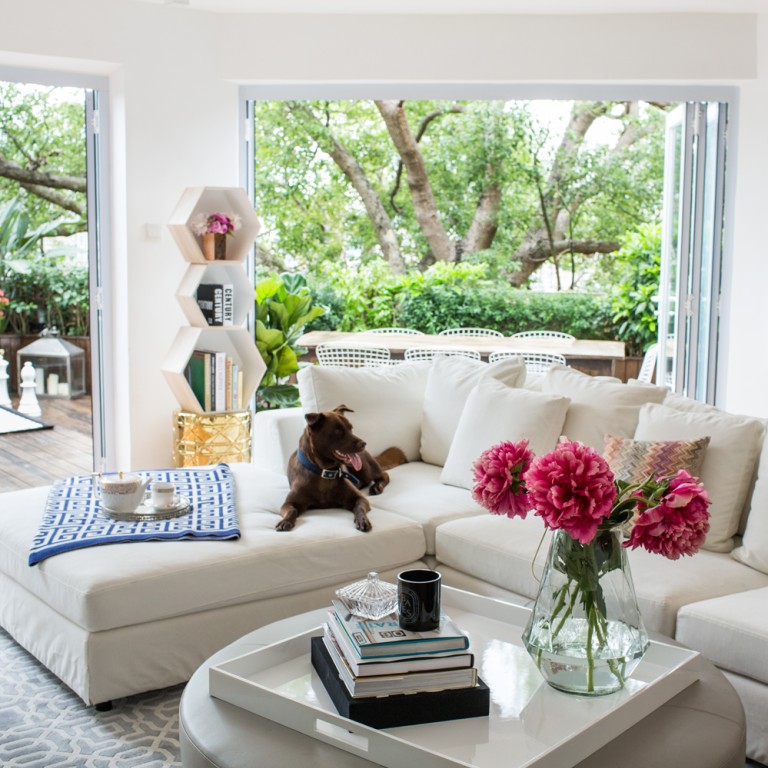 Happy Valley flat with enough outdoor space to make you green with envy
An Australian couple's 900 sq ft flat, with an equally large outdoor area, is a calming oasis in the heart of Hong Kong's concrete jungle, writes Charmaine Chan
It's easy to understand Shana Buchanan's enthusiasm for her two-bedroom Happy Valley rental: it enjoys a sizeable outdoor area, rare for Hong Kong Island flats; the layout maximises the use of its 900 sq ft interior; it boasts high-end contemporary fixtures; and storage space is discreet and generous.
The apartment is special in other ways, too. It's the first home she has shared with partner Anthony Wilson, who works in financial markets. Plus it serves as a showcase for her company, iDecorateshop.com, the e-commerce platform she began two years after moving to Hong Kong in 2011. The site, offering proprietary goods, allows customers to create style boards of homeware they can have delivered straight to their door.
Such digital mood boards helped Buchanan furnish her own unit, which, despite its undeniable appeal, she almost passed over 16 months ago because of its size – half the Australian couple's original requirement.
"Without any furniture in it, all Anthony could see was the floor space," she says. "He was like, 'No, no, no'."
But Buchanan knew it would work. The former fund manager had allowed her childhood hobby of drawing houses and floor plans to guide her in her new career path, and trusted her instinct in signing the lease.
"The external space is so nice and it makes the place feel bigger," she says. That is because, with the bifold doors open, the living room and neighbouring study flow outdoors. An al-fresco lounge area, fringed with banana plants, occupies a corner of this private, green zone, which overlooks Happy Valley. There's also an outdoor dining area, with a table that easily seats eight people, and, hidden from sight around a corner, space for a large storage unit accommodating sports and laundry equipment.
Creating their Eden, however, took substantial work: apart from painting the decking, weeding and removing unruly bamboo, Buchanan made many trips to the Mong Kok flower market to shop for plants and pots, some of which, she jokes, a retailer had relegated to a back area occupied by rejects. Seeing pictures of what she wanted persuaded him to move them out.
Buchanan's vision was as clear indoors as it was outside. Even before finding the flat – when every cent was supposed to have been funnelled into her start-up – she had fallen for a pair of vibrant paintings by New York artist Antoinette Wysocki, at the Affordable Art Fair.
"They were like fashion prints, made with newspaper clippings and bits of song lyrics," she says. "Once I bought those pieces I thought I could decorate around them."
The paintings helped determine the look of her living room: "I love crisp white furniture with pops of modern art, to which we added playfulness with colourful accessories and hard-cover books," Buchanan says.
They also inspired her to start selling limited-edition, framed reproduction artwork, printed on PVC so it can be placed outdoors.
"We're now selling properly affordable art," she says.
Other items around the flat point to experiments in practicality while keeping to Buchanan's "understated glamour". For example, ceramic stools with metallic accents are used as seats, for plant displays and as small tables. Ditto trays, which she uses for small items in her two bathrooms and when she's entertaining.
Then there are pieces dotted around that are fast becoming trademarks at events styled by her company: cloche domes (see
Tried + tested
) and terrariums, which can transform such prosaic items as drinking straws into display objets.
Come autumn, when a third member is due to join her family, these glass beauties might start displaying other colourful objects of the Mini Me kind, although she is adamant the nursery, which will displace the study, will not be decorated in baby blues or pinks.
"The room will be an extension of the rest of the flat," she says, adding that they will find space in the living room for a work desk. "Anthony wants me to put one in that corner," she says, pointing to a spot by the terrace.
Having downsized and soon to lose his airy office, how does her partner now feel about the flat?
"He's obsessed with the apartment," Buchanan says. "He tells me at least every second day how calm and relaxing he finds our home and how much he loves spending time here. For me, his is the ultimate endorsement of my venture."
Living room
The L-shaped sofa came from a previous home. Sourced through iDecorate (
www.idecorateshop.com
) were the grey leather ottoman (HK$5,900), Gold Monarch table stool (HK$3,255), hexagonal bookshelf (HK$2,780 for a three-piece set), grey and white rug (HK$5,990), Moroccan-motif throw (HK$1,190) and geometric glass vase (HK$689). The white tray (HK$1,390) came from Indigo Living (various locations;
www.indigo-living.com
). The Missoni cushion cost HK$1,100 and is available through
www.missoni.com
or, in Hong Kong, through
[email protected]
. Shana Buchanan bought the Antoinette Wysocki painting,
OMFG
, at the Affordable Art Fair and is now selling framed, limited-edition prints of that work for HK$3,990 each.
Living room detail Flanking a custom-made altar table (HK$3,500, through iDecorate) is the pair of Wysocki paintings that set the tone for the room. Behind the orchid is a PVC print on MDF (HK$1,930) of a work by Australian artist Peppa Hart, sold by iDecorate, which also sells the blue-and-white urns (HK$1,190 each). The black-and-white photographs are holiday snaps.
Terrace Buchanan sourced all the furniture and accessories for the outdoor sitting area through iDecorate. That includes the bespoke outdoor lounge suite with coffee table (HK$19,000 in total), the reversible indoor-outdoor mat (HK$3,990), chess pieces (HK$2,290 per twopiece set), orange and green cushion covers (HK$420 each, insert not included); and Gold Monarch table stool (same as before). The tall lantern (no longer sold) and green-and-white tropical-leaf cushions (HK$399 each) were from Indigo Living. The floral Missoni cushions were HK$1,100 each.
Outdoor dining area iDecorate was the source of the custom-made table (price on application); replica Bertoia wire chairs (HK$1,200 each); crystal drinks dispenser (HK$2,390); crystal wine glasses (HK$459 for a set of six); and Italian wooden tray in hot pink (HK$790).
Kitchen
The open kitchen, which was new when Buchanan moved in, includes Siemens appliances (
www.siemens-home.com.h
k) and a Grohe tap (
www.grohe.com.hk
). She added a Missoni tea towel (HK$890); terrarium (HK$590); Rococo blue glass vase (HK$380); copper and glass tray (HK$1,100); and tea and saucer set (HK$250), all of which are available through iDecorate.
Study Soon to become a nursery, the study, beside the living room, opens onto the L-shaped terrace. The desk is from a previous home. Other items were acquired through iDecorate, including the white chaise (HK$4,000); replica Bertoia wire chair (same as before); sheepskin rug (HK$1,900); and the art print on glass (HK$3,390).
Bedroom Buchanan sourced almost everything for the bedroom through iDecorate. That includes the king-sized bed (HK$39,000, excluding mattress); the Marco Grassi limited-edition print (HK$3,990); cushions on the bed (from HK$260 to HK$690); and the Australian sheepskin rug (HK$2,900). The sideboard came with the flat. The items on it all came from iDecorate. From right to left they include: Great Gatsby ceramic urn (HK$1,938); geometric glass vase (HK$689); golden candle stick (HK$490); picture frames (from HK$170 to HK$260); glass vase (HK$299); silver tray (HK$299); Peppa Hart print (HK$1,930); mirror jewellery box (HK$1,590); and lamp (HK$890). The other items came from the previous flat. The chevron cushions (HK$890 each) and pouffe (HK$1,790) are also iDecorate items. The white stool (HK$900) came from Shambala (2/F, Horizon Plaza, 2 Lee Wing Street, Ap Lei Chau, tel: 2555 2997).
Created centuries ago for the garden, cloche domes were once open at the bottom and used as mini greenhouses to protect seedlings and other plants from frostbite and pests. These days they can be found as table centrepieces or elsewhere suitable for displays of anything from soap and candles to perfumes and jewellery. At parties in Hong Kong, Shana Buchanan of
iDecorateshop.com
has used them to showcase family photos and flowers, and for Halloween last year, she filled them with skulls and black butterflies. In her own home, she uses an oversized dome with a wooden base (HK$2,990, through
iDecorateshop.com
) to display her favourite books.