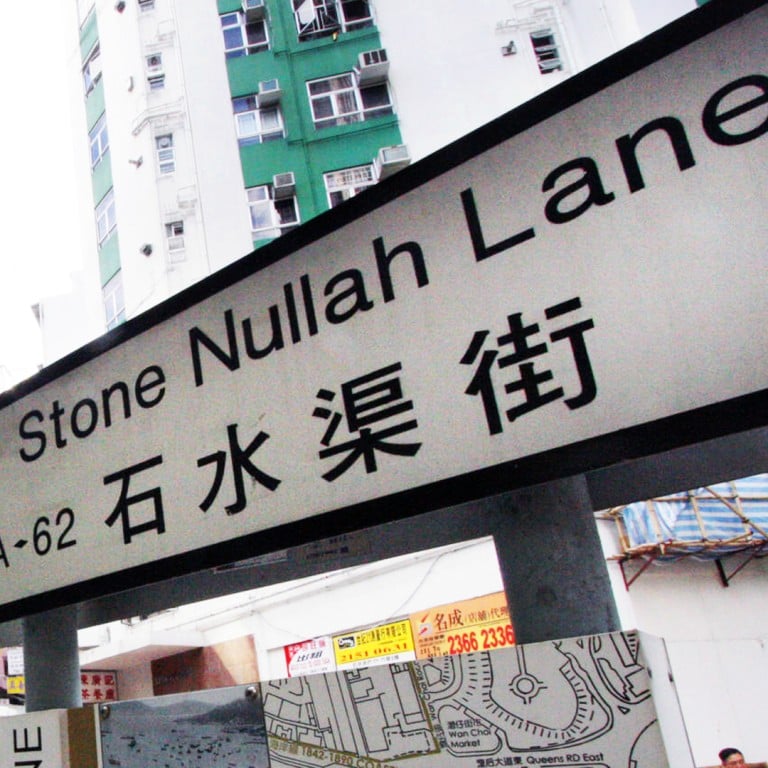 Add oil! The evolution of Hong Kong English, and where our unique words come from
As colonial-era words fade (think 'shroff'), new language reflecting our city in the 21st century is being created. Dan Bland looks at the genesis of terms from classics such as 'nullah' to the more recent 'add oil'.
With all the talk of preserving Chinese dialects, and protecting them from a disapproving Beijing, it may be worth saving a thought for another local language - Hong Kong English.
Historically, Hong Kong generated English words that went on to be used by speakers of the language in other parts of Asia, and even to become part of global standardised English. But many of those words have lost their prominence and are becoming anachronistic, even in Hong Kong.
"It is my general impression that there is a whole category of words that has seen a decline," says Patrick J. Cummings, co-author of .
"Ketchup", a word used in English and worldwide to denote a type of tomato sauce, has its origins in Hong Kong's mix of cultures and most resembles the Cantonese name for tomato sauce, " " (茄汁). Cummings says that interactions between Chinese, Malays, Indians, Portuguese, English and other nationalities in Hong Kong generated words for the English language, and the city's own distinct dialect.
Cummings and his co-author, Hans-Georg Wolf, a professor studying Hong Kong English at the University of Potsdam, in Germany, say there have been three main sources for the city's English words: Chinese pidgin English; colonial English; and Cantonese borrowings.
Words qualify for inclusion in the dictionary based on occurrences in public English-language documents, such as court filings, government releases, newspapers and corporate issuances. Cantonese loan words, Cummings says, migrate into Hong Kong English by the standardised Romanisation of their spelling and a lack of dependence on tone; these conditions justify the inclusion of " " ("toilet") and " " (a term for Hongkongers born after 1980) in his book.
Other words in the book include "catty" (a measurement of weight - 604 grams - of Malay origin), "chit" (a bill or small bit of official paper), "praya" (a waterfront) and "walla walla" (a small boat).
More recognisable as distinct Hong Kong English, perhaps, are "shroff", "nullah", "godown", "chop" and "amah", which were once used in everyday speech in the city and spread around the world. However, "such words are falling out of usage", says Lisa Lim, a professor at the University of Hong Kong who studies the use of the English language in post-colonial societies. "The younger generation has no idea what a stone nullah is, or even a shroff."
Lim says that despite a decline in our Hong Kong English classics, it is nevertheless worth noting the stories of some of these words as a new generation of terms comes into use. The digital communication of bilingual Hongkongers, mainland immigration and the umbrella movement are creating new Hong Kong English words. And although very much products of their time, these words continue to reflect the enduring peculiarities of Hong Kong's cultural mixes and trade.
So with a possible revolution of Hong Kong English in play, takes a look at some distinctly local terms, old and new.
Shroff [shrof] , a banker, cashier or money changer, and also an expert employed to test the base metals of coinage. The word has its origin in a family of Parsis who came to Hong Kong in the 1800s by way of Gujarat, India, and became synonymous with money transfers throughout the region. Jal Shroff, former president of the Zoroastrian Charity Funds of Hong Kong and a descendant of the family, recounts over coffee at the Kowloon Cricket Club how the Shroffs established a Western Union-esque money transfer service in India. Riding the rising tides of trading companies in East Asia, the family extended that service and became dominant to the point of defining money and transfer services in the region.
Lim says the word has almost completely fallen out of use in her native Singapore, after spreading there from Hong Kong, though she remembers her parents' generation using it.
In Hong Kong, the signage at cashiers' desks no longer bears the word, but it hangs on in government usage. Did you pay your taxes into a shroff account this year?
[nuhl-uh] , a small river in Urdu and Punjabi, but in Hong Kong it denotes a man-made concrete gutter. The word was borrowed by the Indian employees of Hong Kong trading companies who built stone and concrete versions of the small rivers that occurred in their home nations, to handle Hong Kong's heavy storm water runoff.
Cummings and Wolf say the word has become archaic. "Nullah" is now used most often in the context of place names: maybe you've taken a stroll down Stone Nullah Lane, in Wan Chai.
[kuhm-shaw] , a small bribe, gratuity or tip, which derives from the Hokkien term " " (感謝) meaning thank you, and is a classic example of pidgin English, a distinct language in itself and the source of many Hong Kong English words.
[goh-doun] , a storage facility or warehouse. It was adapted in Hong Kong from the Malay word , according to Robert Bauer, an HKU professor and expert on Hong Kong linguistics.
Versions of the word "godon" appear in British English from the 1500s, in reference to trade with the Portuguese. The Hong Kong usage was cemented by the establishment of the Hong Kong and Kowloon Wharf and Godown Company, in 1886.
The word is often remembered by Hongkongers of the 1960s and 70s as the name of a bar and restaurant located in the basement of Sutherland House, on Chater Road, in Central, and which actors Anthony Hopkins and Pierce Brosnan are said to have visited.
"There was this 'brill' watercolour of an old Canton godown on the back wall," says former Godown waitress Catherine Cooke.
[chop] , a seal or impression, stamp or signature, and even a trademark in Hong Kong English. It was also used to denote a legally binding official document or public permit.
The word is still used to identify traditional stamps, but as of March 3 last year, under the New Companies Ordinance, Hong Kong companies are no longer required to register a chop or seal. Company chops are still considered to be a valid signature for the legal transference of property in Hong Kong and the mainland, but electronic documentary processes may render the word obsolete in the near future. Perhaps one of Hong Kong's iconic financial institutions could incorporate an "e-chop" into its online banking system to ensure the legacy of Hong Kong English.
In the meantime, once more, a Hong Kong English word has been enshrined by a bar: Mrs Pound, the Sheung Wan hipster eatery disguised as a chop shop, which opened last year.
[ah-muh] , a female domestic worker. The word came into use in Hong Kong in the 19th century from the Portuguese ("nurse", "wet nurse" or "nanny"), according to Bauer. Nicole Constable, author of , however, argues that it is a derivative of the old Chinese " " (阿媽). The word was also commonly adopted in Indian dialects of English as " " and features in the works of British writer Rudyard Kipling.
Today, it is considered more politically correct to use the term "domestic helper" to refer to amahs.
"The decline in 'amah' and replacement with 'auntie' [or 'domestic helper'] might indicate a shift in attitudes, or at least an attempt to shrug off potentially negative connotations that became associated with 'amah'," says Cathryn Donohue, an assistant professor of linguistics at HKU and member of the Linguistic Society of Hong Kong.
In Tagalog, the language spoken by many Filipino helpers in Hong Kong, the similarly derivative word " " is also used for female domestic workers.
As preferences shift, the word is in flux and its future uncertain.
Lim is documenting an emergent and distinct variety of Hong Kong English. According to her research, set to be published this year, digital communication favours the use of English in text and is prompting bilingual Cantonese speakers to broadcast new Hong Kong English to the world.
Additionally, sociopolitical factors in Hong Kong, such as its interactions with the mainland, are driving the invention of distinctive words that are being adopted more broadly. And the city's enduring role as a trading hub for the region is continuing to generate and promulgate new English.
[add oil!] , literally to lubricate, but used more as an idiom to encourage a team or person. The term has long been limited to the Chinese " !" (加油), after originating as a cheer at the Macau Grand Prix in the 60s, but Hong Kong is increasingly using the English transliteration.
Many young Hongkongers are bilingual and prefer to text in romanised Cantonese or English as it's faster, according Lim.
"Instead of just saying ' ', students will actually say, 'add oil' to each other in English," Lim says.
Thanks to the umbrella movement, the English usage is now gaining international familiarity; on Chater Road, Hong Kong artists set up the "add oil machine", which they used to project words of encouragement from international supporters onto a wall along Gloucester Road. According to organisers, more than 40,000 messages came in from all over the world, often urging protesters to "add oil" in the Hong Kong English phrasing, which now even has its own Urban Dictionary entry.
"'Add oil' I'm going to put my money on," Lim says, referring to the new term's potential for broad usage.
[Hea middle tone/chur, middle tone] , easy, relaxed or lenient, and hard or strict, respectively. The terms were developed by HKU students to describe their courses.
"Take that course, it's very hea," Lim says is what her students would say to describe an easy course. (Not hers, for the record.)
These words emerged in colloquial Cantonese but there are no Chinese characters for them, according to Lim. So, when students text each other, they write out the English sound.
While these words may never gain international usage, they show how texting and online communication are necessitating the creation of Hong Kong English. Were students speaking to each other in person or over the phone only, the words may never have been written.
They also demonstrate the migration of tonality into Hong Kong English, according to Lim. Although the words will be used in an otherwise English sentence, they retain the tonality of Cantonese when spoken.
[lo-cust] , referring to tourists from the mainland and meant to connote both masses and a drain on local resources. The word is derogatory and originated during shortages of powdered milk, which were blamed on mainland parallel traders. It first appeared in the in March 2011.
The controversial word reflects local xenophobia, but also a need to distinguish, according to Lim. Often new words come into use in order to draw developing distinctions.
Since its origination, the word in this context now draws 40 hits in the Corpus of Global Web-Based English's Hong Kong component, a website that tracks the use of words in media and legal contexts.
In its English form, the word has since been adopted in Singapore, where it was widely used in news articles covering a traffic accident between a local taxi driver and Chinese citizen in 2012. "Locust" has also been used by Thai and Taiwanese English-language news outlets to describe tourists from mainland China.
[frahy-er] , identifies a financial investment that has value mostly based on its buzz rather than its underlying earnings; can be interchanged with "wok stock".
Just as many of Hong Kong's classic contributions to English are rooted in traditional trade, so financial traders continue to coin terms in our city.
The term was first used by traders who would eat at food vendors late at night, according to a bilingual trader at financial firm CLSA. While eating their wok-cooked food, these investors would discuss stock ideas and hot trades for the next day.
From its Hong Kong origins, the term is now used in Kuala Lumpur and Singapore, according to traders at various firms.
This article appeared in the South China Morning Post print edition as: A class of its own