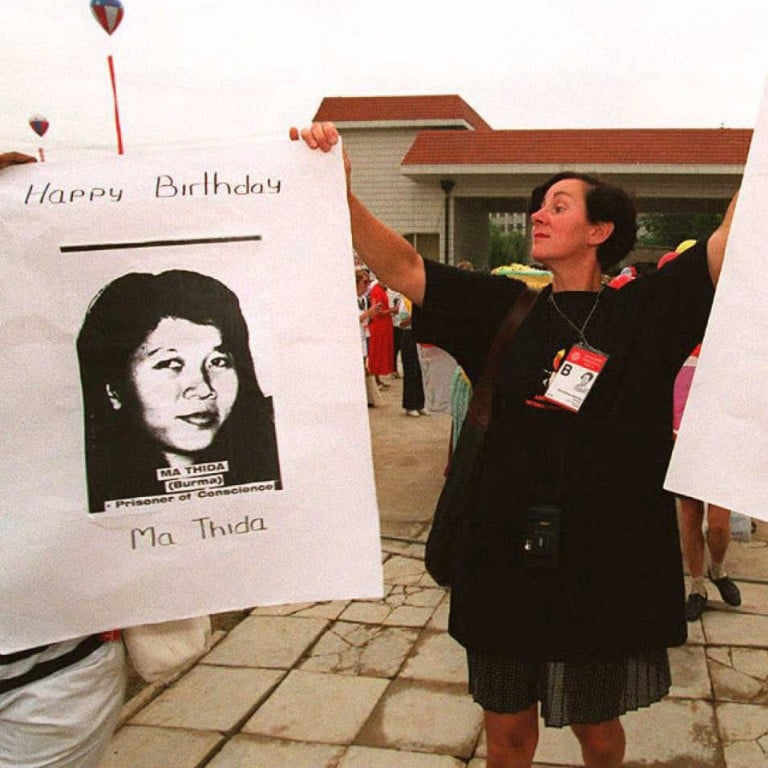 Aung San Suu Kyi's former aide Ma Thida on prison, hopes for Myanmar, and The Lady
Ma Thida is not one to mince words. The author, doctor and activist talks to Lijia Zhang about being a bad prisoner but a good citizen, and why she doesn't always agree with Aung San Suu Kyi.
When Dr Ma Thida was released from Yangon's Insein Prison, in 1999, she thanked her jailers.
"I had always wanted to write a prison memoir, just like some of my activist friends had done," says the physician-turned-writer and human rights activist. "So they fulfilled my wish."
The Burmese version of her memoir - titled - came out in 2012, and she is putting the final touches to the English edition. The book, vividly written, marks Ma Thida out as one of the most important writers in Myanmar.
We are sitting in the small office in downtown Yangon from where Ma Thida runs a youth magazine and a weekly literary journal. At 49, her smooth skin gives her the look of a younger woman, and beneath her electric blue traditional Burmese-style top, matching and calm demeanour, she radiates a restless energy.
In many respects, Ma Thida's personal story reflects the recent history of Myanmar. In October 1993, the young doctor was imprisoned for 20 years for actively supporting Aung San Suu Kyi, leader of the opposition party. The official charge: "endangering public peace, having contact with illegal organisations and distributing unlawful literature." Her early release, on humanitarian grounds, was partly due to international pressure and her declining health - she has suffered from pulmonary tuberculosis, among other ailments. She also believes that the prison authorities had had enough of her.
"I was a very bad prisoner," she recalls, with a gentle smile, her black eyes sparkling behind a pair of black-framed spectacles.
Serving her term mostly in solitary confinement, Ma Thida refused to be pushed around, she says. Every two weeks, inmates were allowed a 15-minute visit by family members. Once, when she noticed that four mangoes had gone missing from the food parcel visitors had brought her she demanded to know where the fruit had gone. At first, the wardens ignored her, but she refused to sign the parcel's acceptance slip. Two weeks later, the wardens had to return the mangoes, by now rotten, to her parents.
It was the small victories - and up to 20 hours a day of Vipassana meditation - that kept her going.
During one of the interrogations, when asked about her political inspiration, she replied: "To be a good citizen." The same motivation drives her today. She fights to change her country for the better by using her pen as a weapon, serving as a social and political critic, and continuing to work as a doctor, at Yangon's Muslim Free Hospital.
into a middle-class family in Rangoon, as the former capital, Yangon, was then known. Her accountant father, originally from a poor farming family, had made his way to the city through education and hard work. Her mother, a former English teacher, focused her energy on the education of her three children. Ma Thida always found books more rewarding than playmates. Advanced far beyond her peers, her birth date was changed by her parents to allow her to start school early.
Ma Thida was barely 16 when she entered medical school. While coping with a demanding course, she pursued her passion for literature. Still a freshman, she published her first short story, in 1984, in weekly journal . More stories, which were her attempt to explore the meaning of life, followed. Impressed, the editors of other literary magazines published her work but suspected that her mother was the true author.
"The editors expected a 16-year-old girl would like to talk about boys, love or relationships," Ma Thida says, half smiling. "But such matters never interested me.
"I want to write because I want to share what I observe; poverty, for example."
Ma Thida first observed grinding deprivation when she visited her father's ancestral village, in Hsipaw State, Upper Myanmar, and later, when she spent summers with her Chinese grandfather at his village, in Mawlamyine, in the south. Poverty has plagued Myanmar, once known as the "rice basket of Asia", since the military junta took power in 1962 and launched the "Burmese Way to Socialism".
"I want to worry about … children," she writes in (2002). "All the children. The ones who have only one set of clothes, their school uniform, and who have to stop selling gold leaf and start panning gold, the ones who are reduced to eating maize seed instead of rice, who smile when we visit Pagan as if they are happy, but who are so much in need.
"And what about the people in the delta who don't even have enough paddies for this year? Will we let them live without paddy seeds for the next year? And the fishermen in Tenasserim whose fish stocks are disappearing fast, leaving them alone with nothing but water? And the people who live near the borders - Shan, Kayah, Karen, Mon, Burman and Rakhine - living under the omnipresent threat of forced porterage and labour? And the public sector employees in the town who, because of their dependence on a paltry salary, must sign away their freedom to speak or to listen?"
As Ma Thida matured, the country grew turbulent. She grew more civic-minded as the 1980s progressed and made friends with politically active writers and artists. It was perhaps inevitable that she would end up working for Aung San Suu Kyi.
Ma Thida wasn't immediately impressed by the future Nobel Peace Prize laureate. She first saw the daughter of independence hero Aung San in the distance, at the Yangon General Hospital. The Lady, as Suu Kyi is fondly called now, had returned from Britain to nurse her stroke-stricken mother, who had been admitted to the hospital in which Ma Thida was practising as part of her eight-year medical course.
"I wondered to myself, 'You are the daughter of our national hero. How could you remain indifferent to your motherland?'" Ma Thida recalls.
That year, 1988, social unrest erupted as living standards deteriorated. On August 8, the military used force to put down a massive student-led anti-government demonstration, killing some 3,000 protesters. As the crisis mounted, Suu Kyi joined the movement for democracy.
At the end of August, she gave her first public speech, at Yangon's iconic Shwedagon Pagoda, triggering excitement and hope among the crowd, an estimated half a million people.
"That was an incredible speech!" enthuses Ma Thida, who was among the electrified listeners. "She explained the circumstance of her staying away and why the fact that she was married to a foreigner [Briton Michael Aris] didn't interfere with her love and devotion to the country."
After Suu Kyi became the chairwoman of the National League for Democracy, which she had co-founded with several former army officers, Ma Thida went to work for her as an aide. In early 1989, on the Lady's campaign trail to Upper Myanmar, Ma Thida served as medical officer and was responsible for recording Suu Kyi's speeches and conversations.
"I enjoy doing several different things at the same time. This way, I don't have a chance of getting bored," she says.
In those days, Ma Thida got by with only three or four hours sleep, she says.
Working closely with Suu Kyi, and observing how she responded to questions and made connections with people, deepened Ma Thida's interest in political activism.
Upon her early release from prison - advocated for by, among others, PEN International, a worldwide association of writers - she was invited to take part in the International Writers' Programme at the University of Iowa, in the United States. Myanmese authorities, however, refused to issue her a passport, so she returned to work, taking the morning shift at the Muslim Free Hospital, where she had volunteered after university as a general practitioner. In the afternoons, she worked as an editor of literary magazine . In the evenings, she worked at a private clinic, to earn money. At night, she studied for an online PhD in health management with the University of London; she dreamed of becoming a surgeon but, being on the government's black list, no Myanmar university would accept her.
In early 2008, having been invited to attend her university graduation ceremony in London, she finally obtained a passport and left Myanmar for the first time. That autumn, she flew to the US for fellowships at Brown University and the Radcliffe Institute for Advanced Study, at Harvard University.
"My time in the US was an eye-opening experience," she says. "Life was certainly more comfortable and I learned a lot about how a multiethnic, multidimensional society can embrace individual freedom and rights and, at the same time, how good governance in a democratic society works. But I never contemplated the idea of staying: my goal in life is to improve my country, something I can only achieve in Myanmar."
The fellowships gave her time to write. Apart from the prison memoir, she completed . Described as a "documentary novel" by Ma Thida, it follows the lives of a fictional Burmese family as they deal with the events of the 1988 revolution and its aftermath. Her skilful blend of fiction and historical events has won her many fans.
Ma Thida's writing always follows a political agenda as she is passionate about using the written word to influence public opinion and push for change. That is not surprising for a writer in a country where nothing is independent of politics.
In his essay "Why I Write", British author George Orwell, who spent much of the 1920s in Burma, as a policeman, argued that books that lack political purpose are "most ornate and pointless". Ma Thida's themes would no doubt have met with Orwell's approval.
In her first book-length novel, (written in 1992, published in 1999), she depicts Suu Kyi as a "prisoner of praise".
"People in Myanmar think of her highly and have too high expectations of her," says Ma Thida. "It's not fair for anyone to shoulder such a burden. This is how I see her being trapped in a prison of praise."
Instead of pinning all of their hopes on one leader, her fellow countrymen will participate more in politics, themselves, Ma Thida hopes. She is adamant that "each and every citizen can make his or her contribution to society and make a difference".
Suu Kyi was freed from years of house arrest in 2010 and has become a member of parliament as well as leader of the opposition.
"I don't agree with everything Suu Kyi says or does," Ma Thida says. "But I'd hesitate to criticise her because the only people who can gain from the criticism are the military-backed ruling party."
For Ma Thida and millions of other Myanmese, the Lady still represents hope. But she will face an uphill battle in November's general election, because the competition will not be fair: the constitution automatically grants the military 25 per cent of parliamentary seats (a recent review by the quasi-civilian government left this provision unchanged).
On the Rohingya issue - many of the persecuted minority remain locked inside Myanmese camps for the internally displaced - Ma Thida concedes that Suu Kyi has been muted.
"I do understand that she simply doesn't want to be manipulated by both sides," she adds quickly. "If the Lady is too outspoken on the issue, she may be seen by some as a 'Muslim lover', and therefore alienate some voters."
Ma Thida herself has been outspoken on the Rohingya issue. In an article that won her the National Press Award last year, she explained how the alleged rape of a woman in Rakhine state by a Rohingya man in 2012 sparked a crisis and how a regional conflict escalated into a national one. And she pointed the finger at the government.
"On one hand, the authorities tolerate some Buddhist racial groups such as '969', who openly engage in hate speech against Muslims," she says, "On the other hand, they use the propaganda machine to create fear of Muslims." So much so that many Buddhists in Rakhine, where the majority of the nation's Rohingya live, are calling for the return of military rule.
In February last year, a scheduled public lecture by Ma Thida and another writer, a Muslim, was cancelled by the authorities.
"So there's no such thing as freedom of speech yet," she says, smiling ruefully. "Only an easing of control over censorship."
Ma Thida recognises that tremendous progress has been made since 2011, when the military rulers relaxed political controls. The economy has picked up and foreign investors and tourists are flocking in. But she's also worried about new challenges.
"Before, we had a common enemy - the military rulers," she explains. "Now we've lost the enemy, tensions between different ethnic groups are growing, so is the nationalist sentiment, which has led to anti-foreigner feelings."
Ma Thida confesses that she feels less optimistic about the country now.
"We used to have such a bright hope that one day democracy would come to Myanmar. There's no real democracy yet, but we have had a taste of the reality. I have realised that our people are not ready for democracy. For me, I find this particularly depressing."
Then she smiles, "So I'll have to continue my fight."