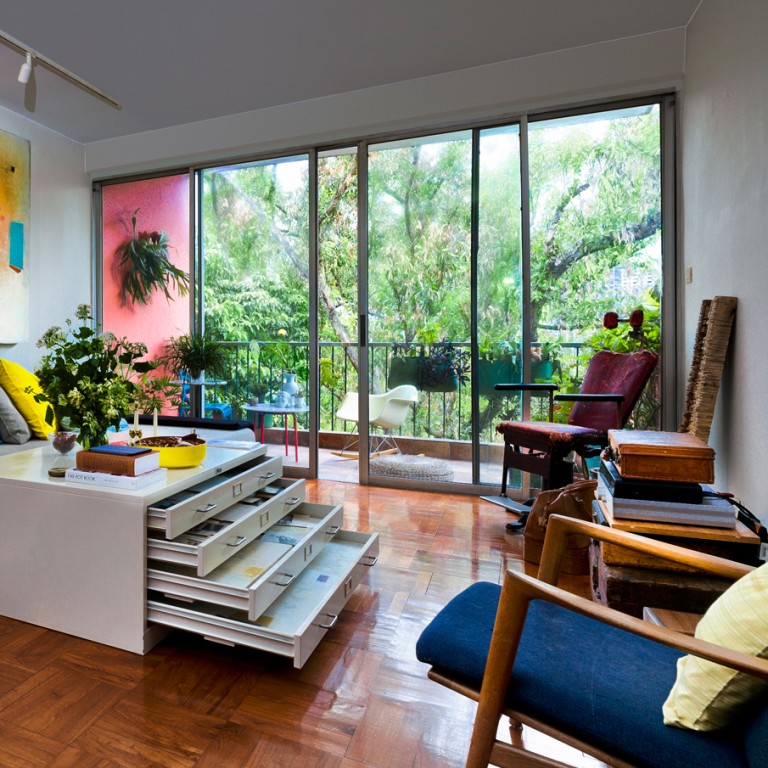 An artist couple's wacky, whimsical Hong Kong flat
A simple and earthy palette provides a backdrop to a carefully collated collection of design objects and furniture in a 1,400 square feet Tai Hang walk-up, writes Catherine Shaw
Artists Jesse McLin and Julie Progin design quirky bowls, vases and tableware inspired by nature. So it comes as no surprise to find that their home pays homage to all things organic.
"We're designers and design collectors. We feel at home surrounded by the objects and furniture we have carefully collated over time. Each piece has a story behind it that inspires us," Progin says.
Born and raised in Hong Kong, Progin studied textiles at École Duperré, in Paris, before undertaking a product-design course at Parsons School of Design, in New York. It was there that she met McLin, whose works span a wide range of media, from wooden sculpture to painting, glass and ceramics.
After five years in New York, the couple relocated to Hong Kong and, in 2008, they opened a studio in Chai Wan, where they produce a range of contemporary ceramics, and host exhibitions and creative events.
"We named our studio Latitude 22N, thinking of the lines connecting kilns we work with in Asia with our own kiln in Hong Kong, at 22 degrees north," Progin says.
Their work is also on show in their 1970s, 1,400 sq ft, colonial-style walk-up apartment in Tai Hang, which is blessed with high ceilings.
"My parents have lived in this district for 36 years," she says. "This area of Hong Kong is part of my life, so we already felt at home here."
The fourth-floor apartment had not been renovated for years and rearranging the three-bedroom layout was not possible because most of the internal walls were structural.
"The main change we made was to relocate the doorway to the kitchen away from where it had been, just inside the apartment's entrance," says Progin. "That significantly opened up the kitchen and dining room while creating more of a sense of entrance."
The couple mostly kept the palette simple and earthy, adding a touch of irreverence with playful objects such as repurposed school lockers for storage and a series of glass jars that contain dried seeds found while hiking in Hong Kong's country parks.
Throughout the apartment, a mixture of vintage and modern furniture hints at their distinctive style. Many items were sourced in flea markets or were salvaged finds: a richly patinaed vintage barber's chair was discovered in upstate New York and is now a feature of the living room.
Unexpected objects reflect the couple's sense of humour: a tiny painting of Lucy's Bar, in Zurich, for example, hangs near the food bowls of their cat (called Lucy) while artworks range from McLin's abstract collage pieces to vintage Japanese toys.
"We love the typography and design of their boxes," says McLin. "They are such an inspiration for graphics."
A wall that extends from the dining room through to the kitchen has been painted the couple's favourite hue.
"It is a simple touch but works nicely because it is quite light but adds an interesting backdrop," says McLin. "We can't quite work out what to call the colour. We just both really love anything that is in the range of celadon."
The apartment's most surprising feature, though, is the enormous eucalyptus tree that peers into the living room. Its leafy crown is framed by glass doors that lead to the balcony.
"We love having a little oasis of trees and plants at home," says Progin. "Many of our new designs stem from long conversations we have sitting on the balcony, soaking up the sun and the surrounding nature."
Dining room
The dining table is an industrial watchmaker's bench (HK$10,000) from Swiss brand Lista (distributed by Rainbow Asia;
www.rainbowasia.com.hk
). The two vintage German school chairs cost HK$2,000 each and were found at Mooishop (16/F, Harbour Industrial Centre, 10 Lee Hing Street, Ap Lei Chau, tel: 2882 1384) while the wooden Loop chairs, by Pili Wu, were a gift from the designer's gallery, ilivetomorrow (45 Tung Street, Sheung Wan, tel: 2517 8900). The collection of ceramics are from Jesse McLin and Julie Progin's studio, Latitude 22N (16/F, Man Foong Industrial Building, 7 Cheung Lee Street, Chai Wan, tel: 2480 1182). On the wall are three paintings from a series of eight called Self-conscious man and woman, by McLin.
Sitting room
The sofa (HK$20,000) came from Dimensions (51Wong Nai Chung Road, Happy Valley, tel: 3162 3721) and the Hay wool blanket was found at Nest (
www.nest.co.uk
). McLin painted the large artwork; similar works can be found at AJC gallery (by appointment only; 6 Shin Hing Street, Central, tel: 2548 2286;
www.ajc-art.com
). The original teak flooring was left untouched. A flat filing cabinet (HK$3,080; from Cobol Office Furniture, Goldfield Industrial Building, Block 1, 144 Tai Lin Pai Road, Kwai Chung, tel: 2485 2331) that doubles as a coffee table features a bowl (HK$215) from Habitat (
www.habitat.co.uk
). The vintage Danish chair was found at Mooishop and cost HK$5,000. The couple's music system and DVD player are stacked on vintage suitcases sourced from various flea markets in Europe and mainland China. Near the window is a barber's chair found by the roadside in upstate New York. The curvaceous wooden chair (HK$8,790) came from Flea + Cents (2/F, 7 Mallory Street, Wan Chai, tel: 2528 0808). The Jieldé red standing lamp (HK$4,000) was from Lane Crawford. The piece of wood leaning against the wall is scrap timber used to protect the floor when large pieces of wood are being sawed.
Living area
The built-in floor-toceiling shelving unit (HK$5,000) was designed and installed by the couple. The stools at the bottom are (from far left): Cork Stool (HK$3,300), by Jasper Morrison, for Vitra (
www.establo.hk
); a corkscrew stool from a farm sale in Switzerland; and a Zumi plywood stool by Offi. The lockers (HK$2,400 each) were from Penco (
www.pencoproducts.com
), in the United States. The vintage fan was found at an antiques store in New York and the glass vases and jars hold a collection of seeds. A Latitude 22N wall lamp hangs over a salvaged marble and brass bistro table. A jug picked up in Italy is on the floor.
Kitchen
The kitchen cabinetry (HK$25,000) was from Ikea. The cat's bowls (HK$100 each) were from a young ceramic artist from Jingdezhen, in Jiangxi province. The Dulton display cabinet (HK$8,316), which is available at Homeless, showcases the couple's collection of vintage tin robots and toys. On top of the display cabinet is a collection of vintage pharmacy bottles, a model airplane, vintage cameras and glove moulds collected during trips to Jingdezhen. The large collage painting on the wall leading into the kitchen was painted by McLin. The two large framed photographs were taken by Progin's father, Marc Progin (
www.progin.com
). The entrance ceiling light is decorated with a Tord Boontje garland (HK$720) from Homeless.
Bathroom The wall tiles were HK$21 per square foot from Hop Hing Lung Material (235 Lockhart Road, Wan Chai, tel: 2511 3013). The mirrors were bought years ago from Ikea. The vintage Jieldé wall lamp cost the equivalent of HK$2,000 at the Paris Saint-Ouen flea market.
Master bedroom
The bed (HK$3,820) was from Ikea and the Blu Dot bedside tables (HK$7,810 each) were found at Archetypal (15 Moon Street, Wan Chai, tel: 2320 0580). The Jieldé vintage reading lights cost HK$1,900 each and were found at the Saint-Ouen flea market. The two wooden carvings hung on the wall are from Jingdezhen flea market. At the foot of the bed is a Michael Young-designed prototype bench with textiles found in Bali, Indonesia. The 1910 Singer sewing machine and table were found on the streets of Happy Valley near a seamstress shop that was closing down and the small knitted sock monkey was made by McLin's great-grandmother. The vintage leather punching ball was found at the Saint- Ouen flea market. A basket (HK$200) from G.O.D. provides extra storage. The drawing above the sewing machine is by Taiwanese illustrator Shihyang Changchien (
www.zishiart.com
) and the vintage alphabet was found at the Saint-Ouen flea market. The Zumi bent plywood stool from Offi was bought years ago.
McLin's office The room features an artwork in the making with three Christmas trees recycled as distinctive suspended objets. By the Ikea desk (HK$1,010) is a chair sourced from Rainbow Asia. The filing cabinet (HK$20,000) was custom made by Lista and Rainbow Asia. The beer fermentation kit cost HK$1,120 from HK Brewcraft (4/F, Kwok Lun Commercial House, 15 Cochrane Street, Central, tel: 5925 2739). The floor is covered in plastic found at a street stall in Wan Chai.
Julie Progin transformed a row of simple clipboards (HK$45 each, from Sam & Company, 38 Stanley Street, Central, tel: 2523 0338) into a practical yet decorative display of clippings and artwork, including Jesse McLin's sketch of a rabbit for Latitude 22N's Lunar New Year cards. The Herman Miller Airia desk (HK$22,000) is available from Lane Crawford. The wall shelf cost HK$199 from Ikea.
This article appeared in the South China Morning Post print edition as: Quirk in progress