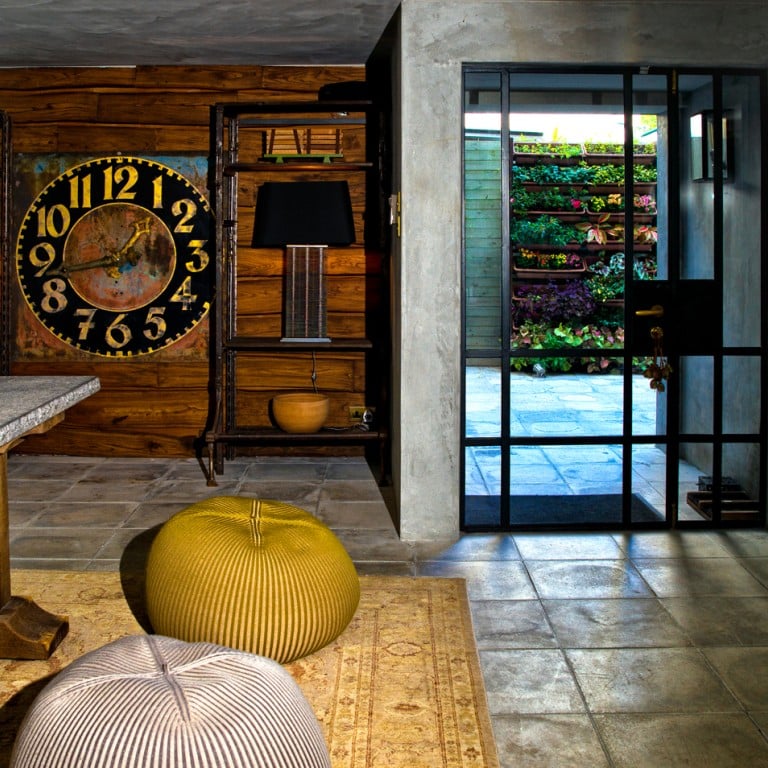 Inside celebrity hairstylist Kim Robinson's moody, masculine Hong Kong home
Stylist's Clear Water Bay home is the perfect place to put your feet up, writes Adele Brunner.
Hong Kong-based celebrity hairdresser Kim Robinson has cut and styled the tresses of the rich and famous, from supermodel Kate Moss to the late Princess Diana. As a globe-trotting businessman with multiple projects on the go at any given time, peace and quiet topped his checklist when he started house hunting a decade ago.
"The minute I saw this house I knew I had to have it," Australianborn Robinson says of the 2,100 sq ft property in Clear Water Bay that has been his home for eight years. "I moved here after years of living in Shek O.
"When I first came to Hong Kong [almost 40 years ago], it was all about the Island. But I had friends in this area and I loved their newfound freedom away from the mainstream. It's not for everyone but at this point in my life privacy is my greatest luxury."
Eschewing the services of an interior designer, Robinson worked with contractors to realise his vision. Although no major structural changes were made, walls that had divided the house into pokey rooms were demolished, to maximise the sense of space.
The house now has one master bedroom suite, which includes a dressing area, an open bathroom with double shower and large bath and a walk-in wardrobe, and one guest room. Other areas, such as the art room and gym/den, can be converted into additional bedrooms when needed.
The renovation took just over a year and Robinson admits to driving his contractors crazy – the slate fireplace between the living and dining area alone took six months to construct because, as per Robinson's design, it had to be put together layer by layer, by hand; the custom-made, floor-to-ceiling steel window frames took considerable time and effort; and he even had to demonstrate how to cement render walls because the contractor had never attempted it before.
"I don't conform to mediocrity – it's not in my DNA," says Robinson, who runs the kimrobinson studios in Hong Kong and Singapore. "I have an aesthetic eye and want to be surrounded by beauty. Plus I'm a bit of a style freak.
"If you don't go for things that are the norm in Hong Kong, it is a challenge. Getting a contractor to understand where you're coming from or do stuff he's never done or seen before is hard."
Steel, cement and recycled wood have been used throughout the home to give an industrial feel, which is balanced by a warm yet masculine palette of greys, black, bronze and brown. Add to this an open layout upstairs and down, lots of glass, an eclectic collection of furniture and a large outdoor terrace surrounded by jungle, and you have a home that is not only visually stunning but also exudes a sense of calm.
"The look is 'industrial country' rather than 'industrial chic' because chic is more refined and this place has imperfections, which I like," says Robinson. "I want to walk into my home and see the country environment. If I lived in the city, I wouldn't have done this style. I wanted it to work with the environment, to bring the outdoors in.
"I'm lucky to have so much privacy, and nature has done the rest. Outside is a work of art that I'm privileged to look at every day," says Robinson, who besides overseeing two new salons, called kr+, is also gearing up for his solo art exhibition next month in Sai Ying Pun.
Key to the house's laidback charm is Robinson's belief that a home should be comfortable, practical and, above all, loved and lived in.
"Modern minimalism is great but you have to have perfect perspective, perfect surfaces and perfect things for it to work," he says. "I've seen some very beautiful, refined places but you can't put your feet up somewhere like that. I appreciate the style but I, personally, don't want to live that way.
"Here, you don't have to take your shoes off or worry about spilling things. The materials are functional and the more use they get the better they become."
Reflecting Robinson's love for recycled materials are the coffee table made out of railway sleepers and the dining tabletop, a slab of zinc mounted on a base that was found in a Parisian flea market. Such furniture has been deftly mixed with designer pieces, including, for example, the striking pendant light over the dining table, which is one of only two ever made; Hollywood power couple Brad Pitt and Angelina Jolie own the other.
The house is filled with objects that reflect the places Robinson has visited, the people he has worked with (such as a black-and-white shot of Moss, whose hair he had styled for the shoot) and his interests.
"They are a memory of my life," says Robinson. "I've worked all over the world and I've scoured local markets and brought items back. They often have stories behind them and they add to the soul of the house.
"It's an eclectic, handsome and moody home – not a flat, brightly lit house – and that's exactly how I like it."
Entrance (above) The table came from Josie Lambert Interiors and the dressmaker's dummy on it was from Siegel & Stockman, in Paris, France. The wall clock, display units and lamps were all found in the Parisian flea market Marché aux Puces de St-Ouen. The Gilbert & George canvas was acquired from The White Cube gallery, in London. The rug (US$2,000) came from ABC Carpet & Home, in New York.
Master bedroom (above) The bedlinen, by Society Limonta, was from Lane Crawford. The Blanket curtains were from Magazzini Vivace.
Upstairs hallway (above) The wall sculptures are by Yu Fan and came from the Ullens Centre for Contemporary Art, in Beijing. The two Embryo chairs by Marc Newson for Cappellini were bought years ago. The canvasses in that room and in the adjacent art room are by Kim Robinson, whose solo art exhibition, Evocateur, will take place on November 19 at 3812 Contemporary Art Projects (118 Queen's Road West, Sai Ying Pun, tel: 2153 3812).
Kitchen (above) The bread board and wooden buckets were all picked up in Japan years ago. The flower basket was from Josie Lambert Interiors.
Dining room (above and below) The black rock crystal chandelier was bought years ago from Magazzini Vivace. The recycled zinc tabletop and gold flower lamp by the slate fireplace both came from Josie Lambert Interiors. The base of the dining table came from Marché aux Puces de St-Ouen. The leather chairs were from Flexform.
TRIED + TESTED
Kim Robinson designed the steel floating staircase and had it constructed in the mainland. Keeping in mind women friends in stilettos, Robinson gave the stairs a tread depth of 25.4cm rather than the minimum 22.5cm, for ease of climbing.
The black-and-white photograph of Kate Moss was shot by Adam Whitehead for British singer Bryan Ferry's 2010 album Olympia.
This article appeared in the South China Morning Post print edition as: Making the cut