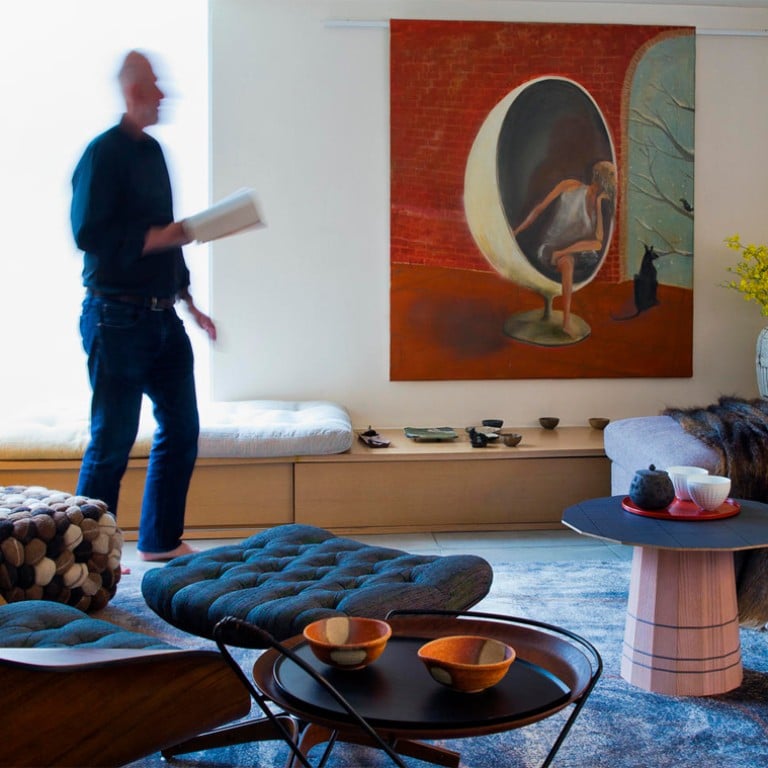 Light-filled Central lair is stage for artist couple's life and loves
An American couple's Hong Kong pied-à-terre provides a space in which to display their own and others' creations, writes Catherine Shaw
It was a wonderful find in a notoriously difficult real-estate market. So, naturally, several other potential tenants were also keen to snap up the ground floor, 800 sq ft, light-filled apartment, with a 530 sq ft terrace, on Chancery Lane, in Central.
"Last year I was looking for somewhere compact to rent as our second home but as Janis was still in New York, I was checking out options on my own," says Brad Davis, who co-founded the luxury-carpet atelier Fort Street Studio in 1997 with his wife, Janis Provisor.
With new premises about to open in Wong Chuk Hang, the American couple - both artists - were hoping to find a pied-à-terre in Hong Kong.
"The only problem was that Janis said the apartment had to have a bath," Davis says, laughing.
The unit ticked all the other boxes: open-plan layout, one-bedroom, contemporary kitchen, stacks of storage … but no bath.
Davis had just a few hours to decide.
His solution was to invest in a handcrafted Japanese cedar tub with wheels that enable it to be swung out from under the bathroom basin into the shower area when needed.
Other creative solutions have been applied to their home.
"We bought an enormous loft apartment in New York and most of our artwork and collections remain there," Provisor says. "For Hong Kong, we wanted to keep things a lot more simple and pared back. It is a small space so you can't have too much clutter. Besides we are now much more careful about what we bring home; we have fantastic storage here but you can't have everything you love on display."
For Davis, a collector of 1950s and 60s German pottery, that meant selecting his favourite pieces to display: two delicate flower-like ceramic dishes they found on a recent trip to Tokyo made the cut along with a glossy 70s-style moss green vase.
"Our pieces range from expensive auction house or gallery finds to cheap everyday pieces that we love. Good design is not about cost but about something beautiful," Davis says, pointing to a vintage Plycraft lounger and footstool that they had reupholstered in a Jim Thompson grey and black striped fabric.
Artworks by the couple have been exhibited in major American and European museums. The move to creating carpets came after visiting Hangzhou in the early 90s; there they started working with artisan weavers who translated their abstract art into luxurious wild-silk carpets.
Their home features one of their most complicated creations, a soft galaxy-inspired carpet. "Each knot is a different colour," says Davis. "It took forever to make by hand but is exquisite to walk and sit on."
The atelier's clients have included Hermès Maison, Brad Pitt and Elton John.
Textiles are clearly a passion. A low shelf-console that wraps around the living room perimeter stores a vast collection of fabrics bought on their travels. Also on show is the eclectic art the couple has collected over the years, from bold Chinese calligraphy to modern graffiti.
The kitchen - with an island that doubles as a dining table - is the central feature of the rectangle-shaped apartment and separates a bedroom-study and living room on either side. Glass sliding doors installed by the landlord make the terrace feel like a natural extension to the informal interior.
A black marble shelf was installed outside the kitchen window to extend the food preparation area onto the terrace.
"The terrace makes all the difference," says Provisor. "It is a quiet haven we escape to in this busy city. It's tiny but so tranquil. As artists what you surround yourself with is very important."
Living room
The large painting, by Norbert Schwontkowski, was sourced from Contemporary Fine Arts (
www.cfa-berlin.de
), in Berlin, Germany. The sofa (HK$17,000) was bought from Sofa Sale (
sofasale.com.hk
) while the cushions were sourced years ago from David Mendoza (
www.davidbali.com
), in Bali, Indonesia. The silk hand-knotted Petal Charcoal carpet is by Fort Street Studio (9/F, One Island South, 2 Heung Yip Road, Wong Chuk Hang, tel: 2889 5150;
www.fortstreetstudio.com
); similar carpets are available or can be custom ordered online or at the showroom for HK$600 to HK$1,600 per square foot. A 60cm-wide, 30cm-high shelf that runs along the length of the sitting-room walls provides additional seating while doubling as a display and storage unit. The two seat cushions (HK$800 each) were made by Tony Sofa (United Industrial Building, 50 Heung Yip Road, Wong Chuk Hang, tel: 2895 3291) and are covered in a Jim Thompson fabric bought years ago in Bangkok, Thailand; the fabric is available from Altfield Interiors (11/F, 9 Queen's Road Central, tel: 2524 4867). The tall vase was a gift and the Melampo Mega floor lamp (HK$6,700) was from Artemide (1/F, Ruttonjee Centre, 11 Duddel Street, Central, tel: 2523 0333). The landlord installed the curtains throughout the apartment. Janis Provisor and Brad Davis added a mohair throw, a gift from New York-based fabric designer Mark Pollack, and a Japanese low table designed by Scholten & Baijings, bought from Karimoku New Standard in Los Angeles; the table is available at store.outofstock.com.hk. On top is a Japanese tray purchased in Paris several years ago; two white porcelain cups by ceramic artist Hajime Tamura (
calmdown1.tumblr.com
) bought from Plain People (
www.one-be-one.com
) in Tokyo, Japan; and a small black pot found during last year's Beijing Design Week. The vintage Plycraft lounger and footstool were found at Skank World (7221 Beverly Boulevard, Los Angeles, tel: 1 323 965 1757) and were re-covered in Jim Thompson fabric bought in Bangkok. The adjacent 1950s Hans Wegner foldable trolley (HK$7,400) came from Casa Capriz (1/F, Kwai Bo Industrial Building, 40 Wong Chuk Hang Road, Wong Chuk Hang, tel: 9318 1730). The pouf was bought in India several years ago.
Dining room and kitchen The landlord fitted the kitchen. The two pottery bowls, small plate and tall striped cup were bought years ago from Tokyo's kitchen supply district, Kappabashi.
Living room detail
The bespoke timber lamp (about HK$5,000) was found at Mr Blacksmith (88 Queen's Road East, Wan Chai, tel: 2529 7721). The orange Kaleido tray (HK$398), by HAY, is available at
www.ka-pok.com
. The couple's collection of Japanese ceramics was bought during trips to Tokyo while the deep green vase is German, dates from the 60s and was purchased through a private dealer.
Bathroom The Japanese bathtub (from HK$8,000 to HK$12,000) was from Ito Futon (137 Lockhart Road, Wan Chai, tel: 2845 1138). The stool (HK$750) came from Muji.
Master bedroom
The landlord installed the bed. Davis added matching Japanese bath stools (HK$750 each, from Muji) on which he placed Tolomeo lamps (HK$1,900 each) from Artemide. The bed linen came from Society (
www.societylimonta.com
), in Rome, Italy, and the cashmere blanket was acquired on a visit to Jodhpur, India. The bamboo tray was bought years ago in Shanghai while the cups were made by Spin and are available by special order through Amelie & Tulips (56 Sai Street, Sheung Wan, tel: 2291 0005). The black fan was a bespoke design for Fort Street Studio to mark the opening of its New York flagship store in 2002. The calligraphy artwork, by Zeng Xi, was bought in Shanghai in 1989. The dove grey Verner Panton desk lamp was from Amelie & Tulips and cost HK$2,890.
Brad Davis and Janis Provisor designed a narrow black marble shelf (installed by the landlord at their request), running the length of the kitchen window ledge, to create serving space on the terrace. It doubles as a bar counter or display surface.
The table was a gift while the chairs (US$830 each) were sourced from Kartell, in Los Angeles. The two monkey statues were found at Friendship Trading (105 Hollywood Road, Central, tel: 2548 3830). The mercury-blown glass jar (HK$2,500) was from Amelie & Tulips. On the table is a set of coloured glasses that cost HK$5 each from Japan Home Centre; charger plates bought on a recent trip to Arezzo, Italy; black and white plates by British artist Rob Ryan (about £20/HK$235 each and available from Homeless); and small green bowls picked up in Tokyo. The glass vase and tall white pot planter were gifts. The recliners cost HK$16,000 each from Everything Under the Sun (9/F, Horizon Plaza, 2 Lee Wing Street, Ap Lei Chau, tel: 2554 9088).
This article appeared in the South China Morning Post print edition as: The artful lodgers