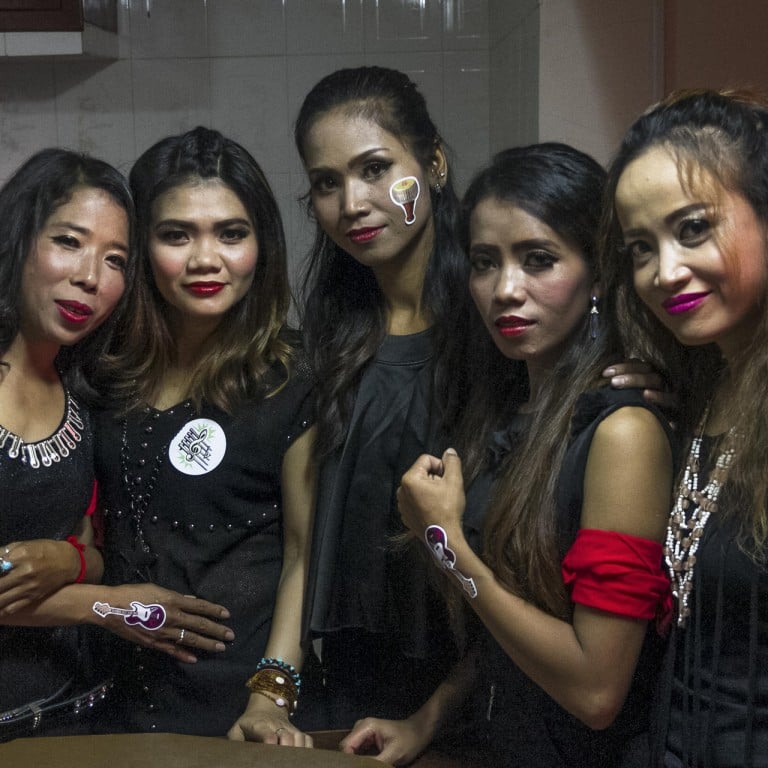 Rallying cry: Cambodia's all-female rock band of ex-garment workers
The songs of the Messenger Band are helping drive the fight for women's labour rights in Cambodia
Chrek Sopha and Kao Sochevika arrived on the scene after the worst had happened. Smoke rose from flaming tyres. Stones and shoes littered blood-soaked roads as protesters ran amok. Angry workers tried to take tools and bottles of petrol from nearby stalls. Gunshots filled the air as men in uniform chased the protesters and fired at them with automatic rifles.
It was January 3 last year and, minutes earlier, five garment workers demanding a rise in the minimum wage had been shot dead by police on Veng Sreng Boulevard, an industrial part of the Cambodian capital, Phnom Penh.
That day, the Messenger Band, a six-strong singing group formed in 2005 when an NGO held auditions for girls working in the garment industry, decided to compose a song.
"Most of the people didn't think about the violence, they were not afraid to die, they just stayed together facing the police, they were very strong. Even after the sound of the shots, they still moved ahead and didn't back down," recalls 35-year-old Chrek Sopha, one of the group's members.
Tension had been building since the government established a task force consisting of union members, employers and ministry officials to negotiate an increase in the minimum monthly wage, which stood at US$80 in 2013. The announcement that this figure would rise to US$100 in 2014 had sparked outrage - NGOs had recommended setting the figure at between US$150 and US$160, in light of higher living costs due to inflation (the figure for 2016 has been set at US$140).
The riot came months after Cambodia's controversial July 2013 national election: there had been social and political unrest since the opposition denounced the results as having been achieved through electoral fraud. At the end of December 2013, tens of thousands of protesters gathered in the streets. A few days later, the police opened fire.
"Memories still come back every time I cross that road," says band member Kao Sochevika, 31.
The MB, as the band is best known by Cambodians, has been performing for 10 years in defence of women's rights. At first, they focused on the people they knew best, the girls in the factories, but soon they expanded their message to cover other vulnerable women, mainly sex workers and farmers.
They know what they are singing about; they were once some of the hundreds of thousands of Cambodian women who, during the garment and footwear boom of the late 1990s, abandoned the security of rural homes for shared, rented rooms in the capital's industrial areas.
"We went away from our mothers to be employed as household servants, construction or garment workers; we don't have a choice because of our families, we lost the land and the money problems still remained; even if we work hard we can't help at all," run the lyrics to the MB song .
WATCH Messenger Band sing No Choice
Nam Sophors joined the band when two of the original members quit, in 2007. Like every other member, she had to pass an audition attended by dozens of garment workers and organised by Womyn's Agenda for Change, a local NGO that ceased activities in 2009. She was then 27 and had spent eight years labouring in garment factories. Now, every time she sings , she can't help but cry, she says. The song takes her "back to her own history".
The garment sector employs about 700,000 Cambodians. Most of the workers are women and their labour accounted for 80 per cent of the country's exports last year - US$5.75 billion worth, according to Ministry of Commerce figures. For many women in poor rural areas such as Prey Veng, Nam Sophors' home province, the garment industry remains the only feasible alternative to informal employment or agricultural work.
In Phnom Penh, not far from one of the main manufacturing zones, the MB shares its office with three NGOs that tackle the same problems as they do. Under the United Sisterhood Alliance umbrella, all act as a single recipient for donors and sponsors. The bulk of their budget comes from the Australian International Women's Development Agency, the Belgian NGO Oxfam Solidarity and two United States-based organisations - the Global Fund for Women and the McKnight Foundation.
"We don't take any money from [Cambodian prime minister] Hun Sen's administration, the opposition or unions, and we support only the protests that we consider legitimate," says MB member Vun Em, 31, who started working in factories at the age of 16.
The band's headquarters are in an ordinary Khmer-style house, located behind palm trees, and with a large garage for the singers' motorbikes. The rehearsal room is a bright, spacious rectangular area on the second floor with big, southeast-facing windows. A mirror covers one wall. Other than a fan, a small, low table and a few short square stools, there is no furniture. Nothing hangs from the walls.
At the beginning, some members had part-time jobs, but the MB is now a full-time occupation for all six women. The band has released six albums, the most recent being last year's "Wake Up", and play about 15 times a year in Cambodia - small concerts with hired musicians in the cities and fewer but larger shows (up to 1,000 in the audience) in the countryside - but they don't do much by way of self-promotion.
A Bob Marley quote on the band's Facebook profile hints at their philosophy: "I am not a leader but a messenger. The words of the songs, not the person, is what attracts people."
This message, in the case of the garment industry, goes beyond the minimum wage discussion and tackles working conditions and labour-rights violations.
"Do you know how much garment workers suffer," the MB ask in their song . "Forced by my boss to work overtime, I never stop, mum. I work and I never know if it's day or night. I budget my salary every month, but after rent, electricity, water and food, there isn't much left. This I send home to you." (It sounds much better in Khmer, of course).
Labour conditions in the garment industry are monitored by Better Factories Cambodia (BFC), a programme run by the United Nations' International Labour Organisation that was implemented in 2001 as part of a trade agreement between the US and the Southeast Asian nation. BFC concluded in its most recent annual report, in June, that, although many issues needed to be solved, "significant improvements" have been made since the start of the programme.
However, as far as Leng Leakhana - at 30, the youngest member of the band - is concerned, the situation has deteriorated since 2003, when she began working in the industry.
"We had a very small salary but goods were much cheaper. After 2006, the number of [illegal] short contracts started to rise," she says.
Chrek Sopha, who earned US$25 plus bonuses a month when she started working in the factories in 1996, agrees.
One reason for the higher cost of living is the pressure exerted by rising property prices. Inflation also caused real wages to decrease by almost 20 per cent between 2001 and 2011, according to Washington-based labour rights monitoring organisation Worker Rights Consortium. Furthermore, working conditions in factories providing merchandise to international brands are poor, concluded Human Rights Watch, which in March highlighted how short-term contracts were being used to avoid paying workers while they were on maternity or sick leave.
"The conditions for pregnant women were good [in 2003]," says Leng Leakhana. "They weren't subcontracted like these days, personnel was fixed; after a year of working, they could ask for maternity leave and come back three months later with the same salary and benefits."
The MB members recall a picture published in a local newspaper during the minimum wage strikes. It showed Chrek Sopha and Nam Sophors in front of the Ministry of Labour, in Phnom Penh, on top of a tuk-tuk, with a microphone in hand. The girls think that, perhaps, they were singing one of their most popular songs, .
"Where the oppression is, the workers must stand up, fight back every time. Solidarity will bring us victory. An old saying says, 'A bunch of chopsticks is hard to break.' Victory is never easy to get. Oh workers, please join the struggle," is the rallying chorus.
WATCH MB sing their song The Struggle
garment workers flows out of the dozens of factories in the Toul Sangke district of Phnom Penh, heading for the Sam Han market for lunch. They walk in pairs, many holding hands, wearing colourful hats for protection from the sun.
The enormous hangar housing the market was, until 2005, itself a garment factory. It closed down when the South Korean owner cut and ran, leaving almost 10,000 workers high and dry.
Waiting for her meal at one of the tables in Sam Han is Koeun Pheanh, who used to sew in a factory nearby but now runs one of the six information centres the United Sisterhood has established around the capital. Women are welcomed into these centres to talk about personal issues, health problems and workers' rights. They are also able to learn English and other subjects here, or attend singing lessons given by the MB members.
"Singing is a good way to reflect on their lives," says Vun Em, who joins the table with a garment worker called Sinat, a quality controller at a factory that makes clothing for American denim brand Levis.
Sinat first visited the United Sisterhood centre to learn English. She admits she wasn't aware of the MB before then, although she had heard .
The MB and social workers, however, still face distrust from girls newly arrived from the villages, who are warned about the many dangers awaiting them in the city.
"At the beginning this was a very closed place, people were not very friendly. Nobody was interested in coming [to her centre] before the big crackdown on garment workers," says Koeun Pheanh. "But after that, more people started to come and share more."
"Before, when we knocked on their doors, they said, 'Why do I have to speak to you? Who are you?' and they closed the door," says Vun Em. "Sometimes they didn't even want to say anything so they made a lot of noise or turned the TV and radio up very loud."
At least once a month, the band members visit some of the rooms rented by factory workers, to talk with the women, and sometimes to sing to them.
As well as the drop-in centres for garment workers, the United Sisterhood operates two centres in Phnom Penh for sex workers. The MB song summarises the band's stance: "Even though we are sex workers, what's wrong with that? We just sell our bodies. We do not steal or rob anyone. No law says that we are wrong. Sex workers face suffering every day. We earn in one day one day's survival. Why do the police arrest us?"
Cambodia enacted an anti-trafficking law in 2008 that activists have claimed criminalises the sex industry as a whole and has led to abuse and extortion from police officials. Even carrying a condom - which is not illegal - can get you arrested, says the NGO Women's Network for Unity, a member of the United Sisterhood Alliance, because it allegedly arouses suspicion of prostitution.
One of the biggest challenges for the MB is the role women are expected to play in Cambodian society. The 18th-century poem praises a model of submission for women in marriage and community life. The poem was pulled out of the school curriculum in 2007 but it is still considered by many as part of the Khmer way.
"[] is often used to legitimise violence towards women and prevent them from attaining political power and social equality," says Trude Jacobsen, a US-based academic who recently published a translation of the full text.
The MB song tackles such notions: "Being women we should not stand passively and behave ourselves. We should stand together and speak with one voice to promote women's rights. Women must be valued like diamonds."
One of the verses of the poem tells women their skirts shouldn't make any noise when they walk; an impracticality for factory workers.
"How can we be soft and delicate and at the same time work as fast as they order us to," asks Nam Sophors, as her four-year-old daughter runs around the rehearsal room.
"The management prefer women to work in the factories because they think women are weaker, softer, less demanding, easier to control [than men]," says Vun Em. "Women are starting to wake up but are not yet strong enough. They still have less power than men."
WATCH MB and Kong Nai sing Land and Life
Although men represent less than 10 per cent of the workforce in the garment industry, most union leaders are male. According to Ath Thorn, president of the Cambodian Labour Confederation, that is because "many unions face violations, beatings, arrests and pressure; sometimes, a woman worker will be concerned about her personal safety".
For the members of the MB, that pressure can come from inside their families.
"People around my parents said very bad things. 'Your daughter is very young and pretty and she is away from home many times. Did she go with a man?'" says Chrek Sopha. "And the same with my husband. He was afraid something would happen to me and we used to fight, but now he just tells me: 'Go, but be very careful.'"
After a decade on stage, the band members acknowledge they will eventually have to hand over the MB to new, younger performers, to keep their message relevant.
Cambodia is one of the most corrupt countries in the world, according to Transparency International's 2014 Corruption Perceptions Index. Although its GDP has grown at an average of 7 per cent over the past five years, social inequality has skyrocketed, especially between rural areas and the urban elite, particularly those connected to the government.
"The protest in 2014 created a lot of fear, it took a lot of time for people to understand," says Nam Sophors. "Now it seems like every action, even when its led by the youth, ends in jail time."
Because of the risks involved in their job, Nam Sophors thinks it is difficult for people to understand why they do what they do but, for her, it is simple.
"I want to die having done ," she says.
This article appeared in the South China Morning Post print edition as: We will rock you