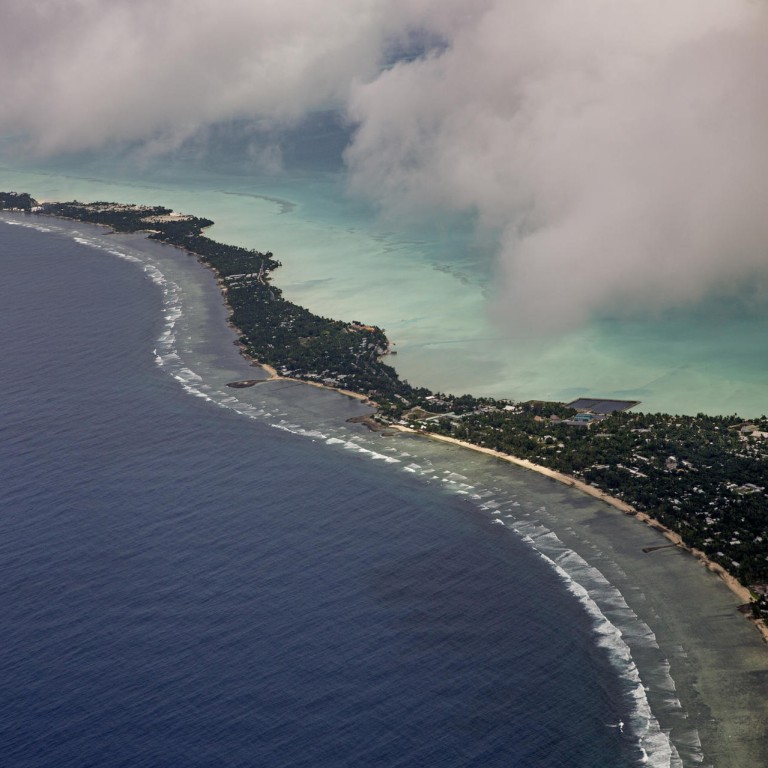 Ready to bail: Kiribati struggles to keep its population afloat
As rising sea levels threaten its existence, the Pacific nation – one of the lowest-lying countries in the world – is preparing to evacuate its population, writes Per Liljas. Pictures by Jonas Gratzer.
Dusk settles over Eita, a neighbourhood on Tarawa, Kiribati's main atoll, as inhabitants lift their potted plants from the ground to safety. They place them on tables, benches, any elevated platform they can find. Waves crash with increasing ferocity against the thrown-together seawall. On the other side of Eita, the tide continues to swell and sandbags begin to collapse. Runnels meander in from all directions, pushing rubbish ahead of them, as water rises by the inch around huts. A man just manages to cut loose a piglet that can't keep its snout above the surface.
"It's getting really bad," says Beia Tiim, owner of the neighbourhood's only rainwater tank. She says extremely high "king tides" used to occur only every third or fourth year. "Now we have king tides every two or three months. Most of the freshwater wells are submerged. Faeces flow into our houses. I'm scared for my children's and all of Kiribati's future."
On November 30, world leaders will assemble in Paris, France, for the United Nations' 21st annual climate summit. It has been described as the "last chance" to limit the Earth's warming to 2 degrees Celsius above preindustrial levels. Anything past that temperature threshold, it is feared, will irrevocably alter humanity's ability to exist on the planet.
Continued warming, however, is inevitable. Even if all emissions of carbon dioxide immediately ceased, it would take at least a decade to halt the processes that are already underway. Vulnerable regions will keep facing dire risks. Access to food and water will be further squeezed. A higher frequency and intensity of extreme weather will threaten lives and property. The rising sea will devour ever more low-lying land.
Many people will have to leave their homes to avoid natural disasters. Forecasts of an impending exodus of hundreds of millions of people from threatened regions as a result of this, however, are exaggerated; few disaster victims travel far and most of them return home as soon as they can.
But the long-term threat of climate change could prompt a great migration. Kiribati (pronounced Kee-ree-bus), one of the world's lowest-lying countries, is already preparing to lose its battle against the sea. Here, evacuation plans have become part of national policy.
About 3,500km away from the closest continent, Kiribati is comprised of 33 atolls and reef islands that straddle the equator and the International Date Line. The Tarawa atoll, where half of Kiribati's 100,000 citizens live, appears as a turquoise droplet in the middle of the deep blue sea.
A Fiji Airways jet screams past the white surf fizzing into the thread-thin ribbon of land. It touches down on a tarmac that was emptied of stargazing youngsters only hours before. Empty stretches of land are an attraction in a city as densely populated as London and air traffic is limited. Four international flights arrive every week. Domestic departures are unreliable and daily only by name. Most of the 33 islands - spread out over an area as big as India, but with a total land mass smaller than the New Territories - can only be reached by boat or chartered plane. Inaccessibility notwithstanding, Kiribati is a unified nation, with one language (Gilbertese), a strong feeling of togetherness and a near absence of social classes.
"Everything is one in Kiribati," says Vasiti Tebamare, as she drives us towards the little clinic where she also rents out rooms. "One city, one road, one hospital."
Here and there the island narrows so much that the sea and lagoon almost connect. Palm trees lean over a chalk-white beach. Idyllic, if you ignore all the shanties and rubbish. Dust billows around jolting cars and stray dogs. Torrential rain has massacred The Road in recent days.
Tebamare and her friend Tinai brighten the mood, telling tales about how people from the Maiana atoll are liars, how Tabiteuea is famous for murders and how everyone on Abemama is obsessed with sex. When Tinai insists that Tebamare speak about her recent trip abroad, to the United States, and first contact with an escalator, the latter almost collapses with laughter.
"I forgot to mount with my other foot," Tebamare howls. "To balance I grabbed hold of the tie of the man in front of me, but instead we fell and tripped everyone behind me."
Kiribati has since installed its first escalator. It is, however, hardly proof of accelerating modernisation. The country is one of the least developed - and least visited - in the world; a visit outside South Tarawa is like stepping back in time. Men fish and tend to the coconut trees. Women plant vegetables and braid pandanus leaves into thatches. Only a minority is involved in the monetary economy. It is a simple life that lately has become harder. The local reefs' fragile ecosystems have been badly damaged by the warmer and more acidic ocean. The rising sea level has depleted the soil.
"When I was young it was easy to grow vegetables," says Uentaake Barekiau, an elder in Buariki village, in the northern part of Tarawa atoll. "Now it's shocking how slowly it grows."
Barekiau sits in his hut by the ocean. At high tide he can see the waves lick the crest of the beach. In March, when Cyclone Pam devastated neighbouring Vanuatu, the village was flooded and their plantations poisoned by sea salt. A rare few sprouts penetrate the sand in a nearby garden enclosure. Dead breadfruit trees stand guard.
In a concrete building housing the Protestant church, pastor Teanrube Biribo exhorts her congregation to stay calm: "We have a responsibility before God to do what we can to protect his creation and not make the problem worse," she preaches. "But we also have to be prepared that we may have to leave our homes."
The sea level rises about 3mm every year. An insignificant amount, it may seem, but studies show that the pace has doubled in recent years, compared to a century ago. According to the UN's most optimistic prognosis, by 2100 the sea level will be 28cm higher than it was in 2010. That, however, presupposes that carbon dioxide emissions will reach zero by 2070 and that new technologies will be used to absorb the gas from the atmosphere.
At the other end of the spectrum, there is no limit. The UN calculates a 17 per cent probability that the sea level rise will exceed 98cm. That would spell doom for many low-lying regions.
Research shows that atoll islands have a unique ability to rebuild, even in times of rising oceans. However, it is unknown if they will be able to keep up with future surges and cope with a depleted reserve of corals, which are the atolls' building blocks. Even if they could, the challenge of adapting human habitation to these changes could be insurmountable. A World Bank study shows that 80 per cent of Buariki would be submerged if sea levels rose by a metre. Rimon Rimon, communications chief at Kiribati's presidential office, calls it "a gradual tsunami".
"We've had several tsunami warnings over the past couple of years," he says. "Our advice is always for people to gather their families. There's no salvation since our country is so low. The best thing to do is to meet your maker together with your near and dear ones."
Panic ensued after the Tohoku earthquake hit Japan in 2011. As the tsunami waves travelled across the Pacific, people prayed, hoisted up their children into trees and buried their valuables. Most of the time, however, the threat posed by climate change and natural disasters is drowned out by other more pressing needs, as more and more people make their way to Tarawa in hope of a better life.
"Everyone's chasing money now," says Barekiau. "Especially the younger generation. They want to drink soda, not sap toddy from the coconut trees."
Migration puts serious pressure on Tarawa, the capital of Kiribati. The unemployment rate is sky-high. Only a third of the households have toilets. Many residents defecate in the lagoon, which has made its fish inedible and polluted the ground water. Diseases such as tuberculosis and leprosy are gaining ground and there is a serious threat of a cholera outbreak. Overpopulation has made South Tarawa especially vulnerable to rising sea levels. However, it has also become a push factor for emigration.
Ioane Teitiota, 39, frequently blinks, as if something irritates his eyes, or he is trying to push back tears. Five days earlier he had been deported from New Zealand. In two days' time, his wife, Angua Erika, and their three children will return, too.
"We don't have money or jobs," he says. "It's OK for my wife and I; we grew up here, we can manage. What I worry about is our kids."
The Teitiotas have become known as "the world's first climate refugees". Even though they left Kiribati for economic reasons, mainly unemployment, intermittent flooding was part of their lives before they moved. In 2007, the couple successfully applied for a three-year work visa in New Zealand; they cashed in Erika's retirement fund and flew to Auckland. Teitiota got a job as a fruit picker, Erika at a nursing home. They had children in quick succession. Everything was great until December 2011, when Teitiota was stopped by police for a broken taillight and they found that he had overstayed his visa.
New Zealand offers migrant workers a 42-day grace period after their visa expires, during which it is possible to apply for an extension of stay on humanitarian grounds; the couple would have had a strong case - the child mortality rate is almost 10 times higher in Kiribati than New Zealand - but the deadline had already passed.
Instead, their lawyer chose another tack: he applied for asylum due to the threat of climate change.
The case garnered global attention, even though experts quickly dismissed their chance of success. International law defines a refugee as someone who, there are reasonable grounds to believe, will be persecuted due to their race, religion, nationality, political affiliation or membership of a certain social group. There is no provision for a threat from climate change.
Antonio Guterres, head of the UN High Commissioner for Refugees, has said climate emigrants exist in a "legal void". The Teitiotas fell right into that chasm.
"Since I returned I've just stayed at home, I'm afraid to go out," says Teitiota, with a timid smile. "Many people hate me for what I've said about Kiribati. That life here isn't good. But I stand by it. It's no lie."
Indeed, one of President Anote Tong's key policies is to facilitate emigration - his administration, however, diplomatically calls this "migration with dignity".
"Our strategy is to help people become productive citizens in other countries," says Rimon. "No one wants to become a helpless refugee."
Besides building seawalls, planting mangrove trees and collecting rainwater, the government and their international development partners are trying to up-skill the I-Kiribati, as the population is called. Budding plumbers, carpenters and electricians are offered additional training in Fiji, which is made of tall volcanic islands, and therefore not as vulnerable as Kiribati. At the New Zealand-supported Marine Training Centre in Kiribati, the country's large cadre of seamen is being equipped to ascend to the rank of officers. And every year Australia accepts 30 student nurses.
Critics argue that this strategy leads to a brain drain for Kiribati. But Jane McAdam, director of the University of New South Wales' centre for international refugee law, in Australia, thinks it is a sound and practical policy.
"If a sufficient amount of people move, the pressure on Tarawa's resources will decrease," she says. "Throughout history, migration has also shown good effects on the country of origin due to remittances back home."
Local strategies such as "migration with dignity" receive praise because the process to legislate climate migration has proven so cumbersome. Many countries, however, vehemently object to viewing migration as a solution.
Last month, Australia quashed a draft to discuss the creation of an international climate migration body during the Paris conference - partly because it fears a refugee surge.
"Migration can be a destructive last option," says McAdam. "But it can also be a way to give individuals and households an alternative and a chance to self-help. Through planned migration you can avoid a crisis like the one that is currently gripping Europe. Often it's not by opening borders you lose control, but by closing them."
50-something houses dotting a cleared slope on Fiji's second largest island, Vanua Levu. Mela Mataunitoga's home smells of wood-fired stove. She sends one of her grandchildren off to fetch the village elder while she arranges plates of scones and thick pancakes and cups of lemon grass tea on the floor. Mataunitoga's brother Wani points towards a patch of rainforest on the other side of a creek.
"That's the largest and best part of our land," he says. "Our father was the caretaker and I grew up there with him. We harvested coconuts, cassava and mahogany. But when Kiribati bought the land we had to move."
This is Kiribati's insurance policy. Low-lying nations have long discussed the possibility of buying land abroad, but Kiribati became the first to take action when its government bought close to 20 sq km near Naviavia village last year. Tong says the intention is to increase the country's agricultural output. But, if necessary, they will also evacuate their population here.
Every Fijian we talk to expresses their support for the plan. There is a lot of solidarity between the Pacific island nations, which share a common heritage, a younger sibling's mentality towards Australia and New Zealand, and often talk with one voice on climate issues.
However, there is also discontent. In a country where property is heavily laden with political and ethnic issues, many question why they were not consulted before such a large portion of land was sold at a discount price to foreigners. The Naviavia ancestors were slaves brought to Fiji from the Solomon Islands to work on the sugar plantations. Several generations later, they are merely caretakers of land owned by the Anglican Church. That this would not last in perpetuity came as a brutal awakening for them. The village elder, Sade Marika, arrives to Mataunitoga's hut, a tattered umbrella in hand.
"Of course, Kiribati should move here if their islands are drowning," he says. "We just wish they would come as soon as possible so we can build up a relationship and start working together. This has been like a climate change for us, too."
This article appeared in the South China Morning Post print edition as: Atoll order