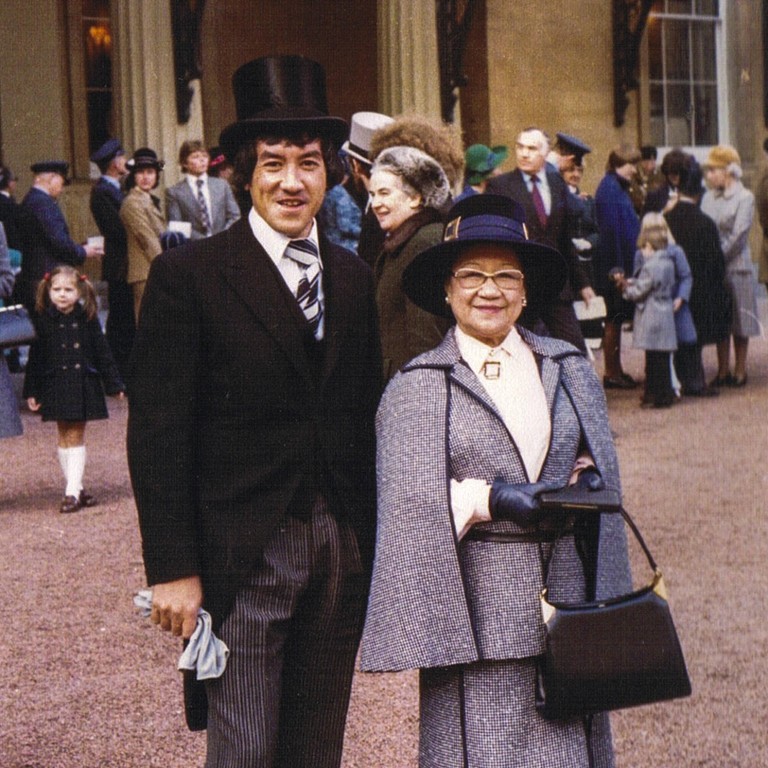 My grandfather's amazing life in China and how he found my mother
In 1916 in Hunan, Hong Kong-born Frank Newman took in an abandoned baby girl, much to the disapproval of his compatriots. Her son, Manila-based journalist Ian Gill, discovers that was just one of many surprises in the life of a most independent-minded man.
What a difference a century makes. One hundred years ago, a generous-hearted, independent-minded, Hong Kong-born Briton found a baby girl abandoned on his doorstep in Changsha, in China's Hunan province. He took her in and made her part of his family but, in doing so, drew the disapproval of his compatriots.
While widening income inequality is a divisive issue in Hong Kong today, in 19th- and early 20th-century "Britain in China", race and class divided the world of treaty ports and foreign enclaves.
Against a background of local hostility to the encroachment of the foreign powers, the British in China were obsessed with preserving their "Britishness" in an effort to retain the diplomatic and military support of London. In practice, maintaining "Britishness" became bound up with notions of "whiteness" and led to prejudice against British men who formed serious relationships with Chinese, Eurasian or White Russian women and the offspring of such liaisons, through blood or adoption.
Despite the racial animosity on both sides, Edward Francis Southan Newman had no hesitation in adopting the infant girl and adding her name to his travel document as his daughter, thus conferring British status upon her.
I have every reason to be grateful to Frank Newman. The baby he adopted - and later provided with an excellent education - was my mother. Marylou, as he called her, later became Louise Mary Gill by marriage, though was always known to her friends as "Billie". A few months ago, I knew almost nothing about my grandfather but, with the help of Lane Harris, assistant professor in history and Asian studies at South Carolina's Furman University, and the online archives of the and other newspapers, I have uncovered an amazingly full picture of him - and the price he paid for love.
Hong Kong in 1873 and, soon after, his parents, Edward and Mary Ann, moved to Chefoo (known as Yantai today), on the north shore of Shandong province and dubbed the "Brighton of China" because of its bracing climate. Chefoo had opened as a treaty port in 1862 and the Newmans owned and managed the Family Hotel, on the beachfront.
Frank grew up among a large staff at the hotel and spoke Chinese like a local. He was one of the first pupils of the Chefoo School, an establishment founded by the China Inland Mission in 1880 and whose alumni included Henry Luce, publisher of magazine, and the writers Thornton Wilder and Ida Pruitt.
When Newman's mother died, in 1891, following the death of his father eight years earlier, the 18-year-old and his three siblings decided to sell the hotel.
Shortly afterwards, Newman joined Robert Hart's Imperial Maritime Customs Service as an "outdoor watcher" and then became a "tidewaiter". These were the lowest outdoor positions for a foreigner in the prestigious agency and involved hard, menial labour, including watching ships to ensure customs dues were paid and inspecting cargo to look for contraband. "Outdoor men" in the customs were mostly hired locally, from among the foreign communities of the treaty ports, and were generally despised by the "indoor men", who usually came out from London.
Since Hart, who took control of the customs administration in the 1860s, didn't like promoting outdoor men to indoor work, Newman was happy to transfer in 1898 to the recently established Imperial Post Office, which provided a chance at indoor work and better prospects for promotion at similar pay.
By 1902, the blue-eyed, fair-haired Newman had been promoted from district postal officer to inspector. On his transfer from Chungking (Chongqing) to Chengtu (Chengdu), 36 members of the small foreign community in Chungking signed a letter, which they had published in the , saying that "no community in China could have been better served by a more obliging or painstaking officer".
Newman was making steady progress in the post office - until he did the unthinkable. In a Christian church, he married a Chinese woman, named Mei-lan, daughter of a Chengtu merchant and among the last generation to have their feet bound. The wedding was a splendid affair during which the bride wore an elaborate Mandarin jacket with gold thread, which remains in our family's possession. While Newman won the approval of his bride's family, he also knew he was courting social and professional disaster by marrying a Chinese woman, who would not be accepted in most British circles.
Newman would spend most of the rest of his career in the Post Office in locations considered undesirable by Europeans - in the Upper Yangtze ports, Guizhou, Shanxi, Shaanxi and Hunan - and never held a plum posting along the coast for very long.
Newman and his wife had a daughter, Jessie, for whom he tried to provide the best of everything. My mother recalled Jessie, always dressed and coiffed in the height of European fashion, giving afternoon dance parties, attended mainly by her Eurasian friends, to the music of Red Seal records played on a gramophone.
Newman then did something else to dismay the foreign community. Possibly while posted in Xian, at the eastern end of the Silk Road, he was upset by the screams of a young girl being frequently beaten by a neighbouring trader who, it was said, had acquired her in the Gobi Desert. One day, Newman could stand it no longer and approached the merchant, handed over a large sum of money and brought the girl home. Named Dolly, she was adopted a few years before my mother.
Then, in the summer of 1916, my mother arrived. She was delivered in a basket carried by a Chinese man wearing a gown, according to Dolly, who was in the house at the time. The baby was swaddled in clean linen and clutched a toy pussycat with a bell around its neck. There was a note in the basket, written in Chinese, explaining the baby was 40 days old.
could be fraught with difficulties. In Changsha, where Newman was acting postal commissioner during the warlord years, he wrote to his boss, co-director General Henri Picard-Destelan on March 27, 1918, "The looting proceeded all through the night, right up to practically noon next day and was carried out most systematically. The city today is in a most deplorable condition. There is not a ship, both large and small, that was not cleaned right out of everything movable, nothing but the empty shelves remain, to bear witness of the thoroughness in which the looting was carried out.
"The Post Office most happily was not touched, although all the shops round about it were cleaned out, owing to the prompt arrival of the northerners on Tuesday at noon, otherwise I believe the Post Office would have shared the same fate as the shops, that is if they could have forced a way in, for immediately upon my hearing of the treaty from Xiangyin, I took every precaution to have the two sets of heavy doors at the entrance, as well as the back entrance, heavily barred and shored up with heavy beams against probable attack."
According to Harris, "In the spring of 1918, [Newman] was caught in the midst of a particularly brutal war between northern and southern warlords over control of Hunan province. After the death of President Yuan Shikai in 1916 (he is often considered the first warlord), the northern generals attempted to reassert military control over the more autonomous southern provinces, particularly those along the north-south border, such as Hunan. Within this war, there was a famous battle over the city of Yochow (now Yueyang), in Xiangyin county, where the city was taken and retaken by the northern and southern forces. [Newman] was probably referring to the final capture of the city by the northern forces in his comment about the 'treaty from Xiangyin' - what he seems to be talking about is some kind of agreement to leave the city under the control of the northerners."
A week later, on April 5, Newman penned, "The demand for money orders since the arrival of the northern troops at Changsha has become very great. During the last three days, there has been remitted at the head office alone over twenty thousand dollars, and still they come. The office is simply packed from early morning to after three o'clock with soldiers demanding money orders, fighting and struggling as to who should be served first. It became so bad that I had to apply to the governor for a guard to keep order." (Says Harris, "What the archive source shows is that the warlord soldiers were using the Post Office to remit their plunder to their families in the north.")
Given the risks to his family, Newman based his wife and children in Shanghai (on Yuyuan Road, about 10km west of the Bund), which also offered far better schooling, while he continued working in faraway posts. Schooled in the classics, Newman had developed a love for Chinese culture and the study in his Shanghai home was full of artefacts, my mother recalled, collected during his travels: bowls and figurines from the Tang, Song and Ming dynasties; a pair of Ming vases; and a , an honorific umbrella with a round, flat top and dozens of fluttering red silk strips dangling from its edges, given to him by the people of Chengtu for his help in alleviating a famine.
Newman appears to have been a man of principle. When they were out together and my mother grew tired, he would put her in a rickshaw, but walk alongside rather than sit with her. The reason, he told his daughter, was that no human being should be treated like a beast of burden. Such episodes were rare, however, and a life spent away from his family took its toll.
Sometime in the early 1920s, as China was flooded with refugees fleeing the Bolshevik revolution, Newman met a Russian woman who was less than half his age. Born in Sebastopol around 1902, Nina Kovaleva had a daughter, Kira, who had been born in Harbin, Heilongjiang province, around 1921. Kovaleva was probably a refugee and, like many in her situation, stateless, which made finding work difficult.
In 1927, after finally reaching a senior position in the Post Office, and having been decorated by the British government (in 1917, he'd been awarded the Fifth Class of the Order of the Excellent Crop; two years later, the Fourth Class), matters came to a head, personally and professionally, for Newman.
On April 12, the Kuomintang, or Chinese Nationalist Party, led by General Chiang Kai-shek, carried out a ruthless purge of communists in Shanghai and other cities, known as the White Terror. This was accompanied by anti-imperialist protests and, in Chongqing, where Newman was commissioner, he and a Dr McCartney, a well-loved American physician and long-standing resident, were "hooted" by a crowd and the latter was stoned, according to a report in the on April 30.
With the Nationalists already dismissing foreigners from the Post Office, Newman resigned his position after 29 years of service and collected a handsome pension. In May, he received a new British passport that included the false information that Nina, then 25, was his wife and Kira, six, his daughter. In early June, the three embarked in Shanghai on the ocean liner Empress of Canada, headed for North America.
On the ship's manifest, Newman is described as self-employed and his address is given as the Chinese Postal Service in Shanghai, which confirms he had cut his ties in China. Newman was carrying with him US$11,000 (silver dollars) in cash, a fortune in those days, suggesting that he was embarking on a fresh start in the New World, at the age of 54.
In mid-June 1927, the Empress of Canada visited Victoria, in British Columbia, before docking at Vancouver. What the trio did in Canada remains a mystery, but they soon headed back to Shanghai, probably because Jessie's new husband, James Jamieson-Ellis, had died of scarlet fever at the age of 27.
Newman's return to China compounded his problems. Jessie was furious at her father's departure, though he continued to support his family; my mother was still attending the Shanghai Public School for Girls.
The family rift erupted in public in 1932 with two court cases. On April 9, newspaper - where Jamieson-Ellis had worked in the advertising department - reported that Newman was fined £50 for falsifying government documents; his passport misrepresenting Kovaleva as his wife.
A few weeks later, on May 23, the reported that Newman was in court in Shanghai being sued by his wife, "Marion Newman", for desertion. His wife explained to the court that she did not wish to press charges, but wanted alimony. Newman said he was already paying "$100 a month" and would sell his belongings to keep up the payments. Somebody had been pressing the plaintiff to bring the case against him, reported the newspaper. Since Mei-lan knew no English, it is not difficult to imagine that it was Jessie who was behind the passport and desertion cases. The matter was adjourned for an hour to allow the parties to settle. Newman ultimately agreed to assume the plaintiff's debts as well as the monthly payment.
My mother, from whom the family concealed these developments, remembers a merchant coming around to the house in Yuyuan Road and buying up most of Newman's artefacts.
A settlement had been reached, but the damage to Newman's reputation, in a society in which appearance was paramount, was irreparable. Publicly disgraced as a result of being torn between two women - and undoubtedly financially distressed by this time - Newman retreated to Qingdao, the former German leasehold that had been conquered and occupied by the Japanese during the first world war. Why he chose to live in Qingdao rather than Chefoo, only 200km away, is something of a mystery.
In Qingdao, he lived in a colonial bungalow with ochre walls and a red-tiled roof, overlooking Jiaozhou Bay, presumably, for a time, with Kovaleva and Kira, although their whereabouts from here on forward have proved impossible to establish.
In February 1937, my mother, who was then 20 years old, returned home to find her mother collapsed on the sofa in tears. Mei-lan held a telegram from the British consul in Qingdao containing the news that her husband had died of heart failure at the age of 64.
A week later, another envelope arrived from the consul. The note within explained that a letter had been found in Newman's pocket at the time of his demise. My mother read the letter aloud: "I have really wanted to come home for a long time, but circumstances have not made this possible. I beg of you to believe me and not to think too harshly of me." The two women wept together.
Neither his wife nor my mother ever said a bad word about Newman. The product of a stable home, my mother began work as a teletypist for the Reuters news agency, became office manager for a Chinese cultural magazine and was seconded to the mayor of Shanghai when the Japanese attacked, in August 1937.
She fled to Hong Kong, where she lived in Happy Valley with Dolly and worked in a Chinese government office until the Japanese invaded the British colony, in 1941. She spent three years and eight months in the Stanley internment camp (Dolly had married a British sapper, who would lose his life in the defence of Hong Kong, and had been evacuated to Australia). After the war, my mother joined the United Nations in Shanghai and went on to become personal assistant to the representative of the secretary-general in Geneva, Switzerland.
I was with her at London's Buckingham Palace in 1977, when she curtsied before Queen Elizabeth while receiving an MBE for services to the UN, and I was with her in Geneva, in February 2006, when she died after having suffered a stroke. Even at the end, she knew that whatever successes had come her way, she owed largely to her father.
It would all have made a wonderful story at the Chefoo Club - not that she would have been allowed in to tell it.