The "Sport of Kings" has been popular on the China coast since long before Hong Kong was founded. Amateur races were held in Macau, in the Areia Preta ("black sand"), near the Barrier Gate north of the city walls, from the late 18th century. Hong Kong's first meetings took place not long after the colony was established, and races have been held regularly at Happy Valley since 1846.
Early racehorses were tough little North China ponies, mostly from Inner Mongolia. By the late 19th century, larger Australian-bred horses were imported into Hong Kong, and elsewhere in Asia, in significant quanti­ties. Popularly known as Walers for their origins in (mostly) New South Wales, these sturdy mounts became commonplace on China's racecourses. By the late 1930s, North China ponies had been mostly phased out for racing purposes, but remained popular for recreational riding, especially for drag hunts in the northern New Territories.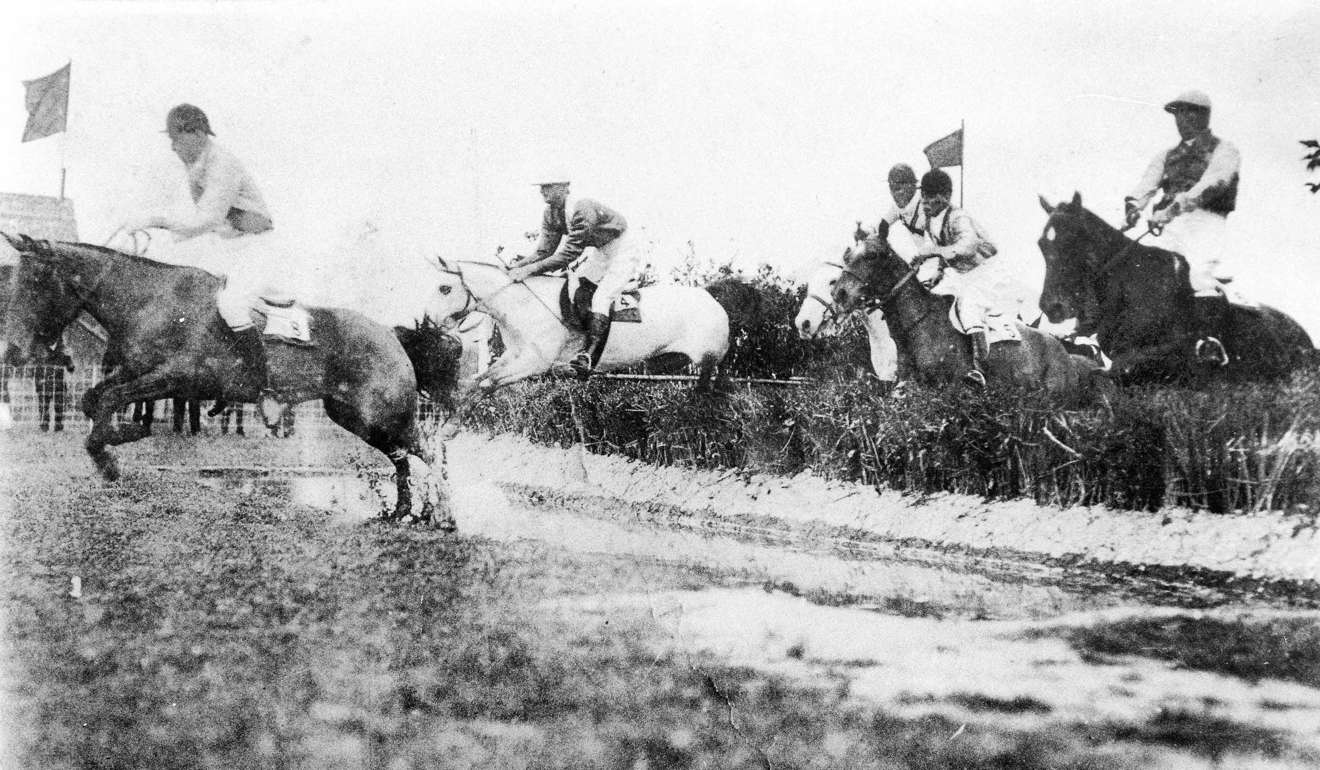 In Hong Kong's highly charged racing world, jockeys quickly become superstars. On and off the racecourse, their celebrity status – much like that of their mounts – grows with every win.
Before local racing was profession­alised in 1971, amateur trainers and jockeys were allowed to prepare and ride horses on the circuit. This meant that in the early years, most local jockeys were part-time equestrians who rode primarily for leisure and pleasure. The only people who could afford to do this were those with either significant private incomes or tolerant employers who them­selves had an abiding passion for the turf. A few fortunate individuals enjoyed business or professional lives that afforded them time to spend with their horses. Known as "gentle­man jockeys", sheer enjoyment – and not money – was their principal motivation.
In the interwar years, the China coast's best-known "gentleman-jockey" was Shanghai-born, British-educated Eurasian architect Eric Cumine. Already a prominent jockey, Cumine moved down to the British colony, like so many other Shanghailanders, after the Communists assumed power in 1949. In Hong Kong, in addition to founding a successful architectural practice, which designed numerous modern landmarks, such as Macau's Hotel Lisboa, he owned a string of successful racehorses. With advancing age, and success in business, Cumine stopped riding and continued his equine interests from the other side of the fence. He died in London in 2002, aged 97.
Another "gentleman jockey" was Eric Moller, from the prominent Shanghai-based China coast shipping and dockyard-owning family. Moller also relocated to Hong Kong after the Communist take­over, and continued to race as a successful owner well into the 1960s.
Not all "gentleman-jockeys" were men – for years one of the most successful China coast jockeys was Billie Liddell. She trained and exercised her horses herself, for more than 50 years, either alone or with another Shanghai­lander, Vera McBain. Having spent her entire life on the China coast, Liddell died in Hong Kong in 1974 and was buried in Happy Valley, just across from the racecourse.
Another prominent racecourse presence was Tsingtao-born Victor Vander Needa. Of Dutch-Japanese descent, he was among the best-known jockeys on the China coast in the 1930s. He moved to Hong Kong before the Pacific war, where he married into a local Eurasian family. Persistent but uncon­firm­ed rumours of wartime collaboration with the occupying Japanese sadly marred his later life. His actress daughter, Veronica Needa, would produce and star in her own one-woman stage show, Face (1998), which movingly explored her parent's hybrid cultural identity and attempted to make sense of the creolised interwar China coast world they had come from, which, in turn, informed her own outlook.