I know they're a bit childish but I'd love to get those stick-on badges to add some style to my boring black leather handbag. Do they go on any bag or only those by the brand that sells them?
Coming Unstuck, Bowen Road
The Dictator rules: Childish? That's the whole point, you ninny. And if you're going for style then stick with boring but reliable all black. If you want individuality, read on.
We first became aware of said bag deco­rations when Anya Hindmarch released hers in embossed leather in 2014. The designer was inspired by nostalgia for the stickers she had as a child. The collection has grown to include individual letters in various colours or quirky motifs, such as a fried egg, a rainbow, a smiley face, eyeballs and so on (HK$410 and up each). Those images and others are repeated in the sparkly Diamante line (about HK$900 per item) and a series in mink (HK$2,900 and up per badge).
The brand says its stickers are designed to adhere to "any flat, rigid surface" and should be stuck on only once, meaning don't take them off. Boostcase.com has similar stickers, including the letters and the eggs (HK$77.80 each).
LK Bennett has spiffed up her letters with funky, pop-art colours and patterns (HK$189 each). At Kate Spade, individual letters are made of 14-carat-gold-plated hardware, as are other typographical symbols (HK$100 each). Whole words, such as "cheers", and various motifs in gold plate or leather go for a bit more (HK$300 to HK$400). Don't have the imagination to predict how it will look? Visit the Plan Your Sticker section on katespade.com.
Oroton's leather letters and designs inspired by vintage travel stickers cost HK$233 and up.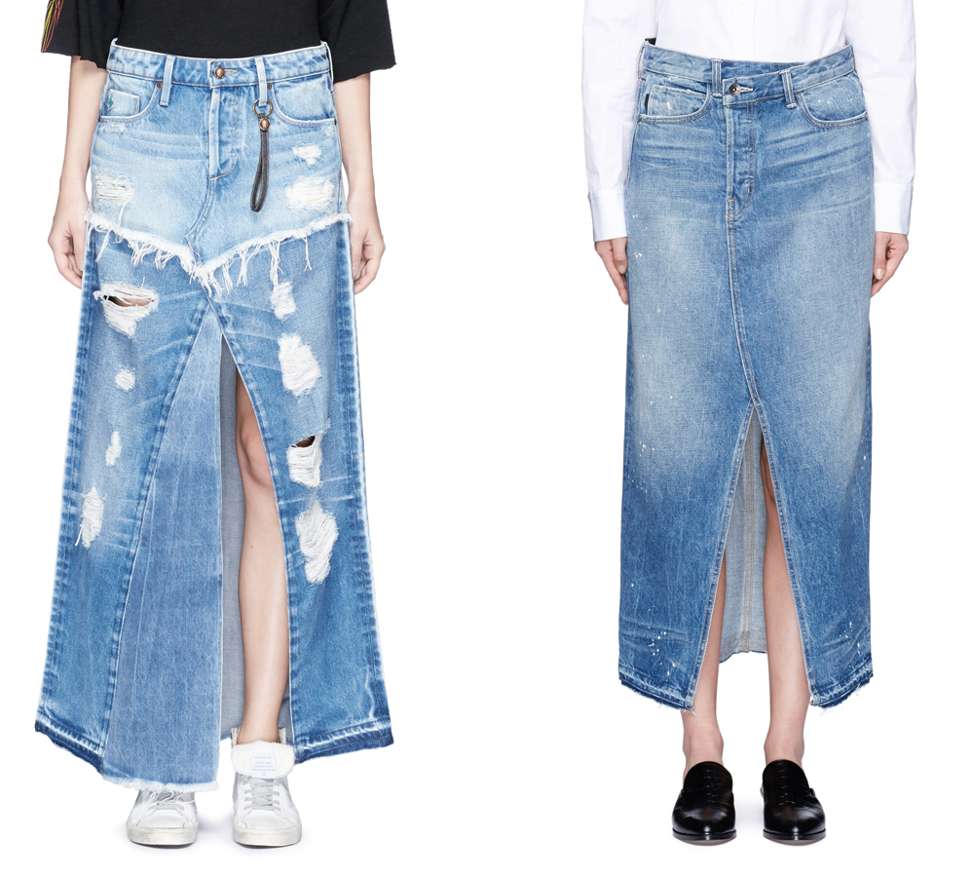 I'd love to know what is the denim skirt of the summer!
In the Jeans, Tsim Sha Tsui
The Dictator: So would we. Recent headlines would have you believe it's the denim midi. You decide. One style that seems to be catching on, at least with super-leggy models on Instagram, is the split-denim midi. That's noteworthy because a skirt that ends around the widest part of your calf is not universally flattering. The version we're seeing goes to great lengths, that is mid-calf or longer, and comes with a big slit down the front, beginning where a mini might end. Nice knees and toned legs required, though.
Alexander Wang made his in bleach-wash denim with a high waist, A-line shape and frayed hem (HK$2,900). Madewell combines the high slit with that 1970s, front-buttoned styling on its medium indigo wash pencil skirt (HK$823). The Gap offers a great one in medium indigo wash with "subtle whiskering and fading" that hits just below the knee (HK$299). Helmut Lang's take goes all the way down to the ankles and is indulgently made in light blue, vintage Japanese denim (HK$2,900; Lane Crawford).
Just in case you wanted to reduce your contribution to pollution created by denim manufacturing, you could get a skirt by Re/Done, which repurposes vintage Levi's jeans as one-of-a-kind pieces. Its Seamed Midi Skirt comes in patchworks of variously hued jeans (HK$1,788 and up), and it has an even deeper range of High Rise Minis (HK$1,780 and up).
If the above isn't for you, then write in to learn more about the fabulous, embroidered, frayed, flared, tied or ruffled designs dreamed up by a few innovative designers.
Got a question for the Dictator? Email her with your name, or alias, and address at: [email protected]