I know everyone's making fun of them, but I really want a pair of those lace shorts for men that everyone's been talking about.
Laced Together, Central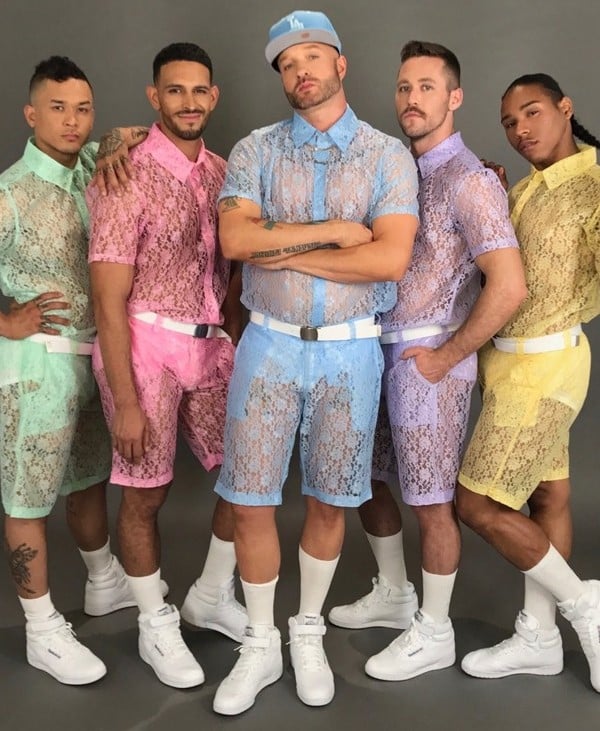 The Dictator: Don't you start that with me, Mister. You absolutely do not want to walk around in see-through, pastel lace shorts such as the ones designed by Hologram City for rapper Cazwell's Loose Wrists music video. And you won't have them any time soon, either, because when last we checked they had already sold out of the pre-sale stock (HK$382; hologramcity.bigcartel.com), which was due to ship on Friday. Let's face it, lace on menswear is old hat for haute houses such as Valentino and Gucci. Besides, why is everyone so focused on the shorts when they were worn with equally fetching, matching lace, short-sleeved button-down shirts (same price). The Los Angeles label also produces transparent burgundy mesh short-shorts and tops (about HK$250) in case it's all about the exhibitionism for you.
The Adidas x Kolor collaboration has resulted in a pair of navy jersey shorts for men with a white mesh skirt over them (HK$1,700; Lane Crawford). It turns out, there is a market for revealing men's shorts, but hopefully more as underwear. Your eyes may never un-see the lace shorts, thongs, briefs, leotards, etc, by BodyAware (HK$89 to HK$288), unless it floats your boat.
Alternatively, you could wear lace in a less revealing way on, say, a pair of lined, skinny trousers by Asos (HK$437). You could pair it up top with a longline white lace T-shirt by Asos or Reclaimed Vintage Inspired (HK$140 and up). Other brands who did them recently include Ann Demeulemeester, N°21 and Marna Ro.
And for God's sake, please wear underwear.
---
I'm itching to try that new foam foundation! When I ask in shops they show me hair products. Am I supposed to apply it with my hands or an applicator of some sort?
Foam Party! Admiralty
The Dictator rules: You should have that checked. Anyway, who's to say a foam foundation is even for your skin type? In general, aerated, foam and mousse-like base make-up is engineered to offer light or medium coverage. The extra air serves to deliver a smooth, even powdery finish. Elizabeth Arden's Flawless Finish is an excellent example. Its light and airy texture gives a natural finish and it comes in lots of different colours (HK$262/50ml; debenhams.com).
One you may have seen all over the internet, but not found in Hong Kong is Maybelline Dream Nude Airfoam Foundation. You might be able to scratch that itch with what is offered by the brand locally, Dream Satin Skin Liquid Foundation (HK$139; Watsons). Although it's not as dramatically foamy as the first one, it is an "air-soft" formula created to achieve a similar effect with a semi-matte, smooth finish, and comes in six shades.
Revlon's foamy PhotoReady Airbrush Mousse is not available in Hong Kong either but some online retailers seem ready to help (HK$68 and up; amazon.com). Otherwise, have you considered airbrushing it on? Temptu Air, a cordless airbrush (HK$1,635; nordstrom.com), creates a make-up artist worthy look with interchangeable Airpod capsules of blush, bronzer, hair colour, or foundation (HK$377).
Oh, and although some use brushes or sponges to apply a foam foundation, we prefer our fingers for a natural look. Road test it by applying with an applicator on one half of your face and fingers on the other to see what looks best on you.
Got a question for the Dictator? Email her with your name, or alias, and address at: [email protected]