My nephew is coming to visit and he is very into trainers. Where do all the trendy people in Hong Kong buy them? Are there any special shops or brands that he can't find at home?
Sneak Peek, The Peak
The Dictator: Wow! So you really know nothing. A good place to start might be Fa Yuen Street, also known as Sneaker Street, in Mong Kok. It has both stand-alone stores for major brands including Nike, Puma and K-Swiss, as well as multi-brand retailers such as C.P.U., Toronto Sports and Walker Shop.
Smug readers will have already snorted, "I knew that! What a stupid question!" Well, cool your heels, folks. While it may be a treasure trove to many sneaker­heads, it can also be overwhelming for those accustomed to more organised stores and customer service. Besides, dragging an impatient teen through the repetitive rows of trainers in the Hong Kong heat and humidity when all they want is Nike VaporMax is probably not a good idea. Ask what your nephew is looking for, then call ahead.
Well worth a visit regardless is Dahood, the strip's coolest chain store, which is good for limited editions by Vans, Adidas, Nike and Reebok among others (60 Fa Yuen Street). Then hot step it to Causeway Bay, as long as it is after 12.30pm and before 10pm, when the stores open for the cool kids to do their shopping.
Among the best of the many trainer stores dotted around is Hong Kong's own NikeLab (7 Pak Sha Road). Aside from rare finds, it also offers bespoke services. Also not to be missed is Juice (9 Cleveland Street), where the selection includes Buscemi, Visvim, Tier 0 Nikes (which means the most limited of limited editions), Les (Art)ists and more names you've never heard of.
---
I sort of failed for Father's Day and I would like to make up for it by finally getting those cute matching swim shorts for my boys (five and 45 years old). Who sells them?
Sinking Feeling, Mid-Levels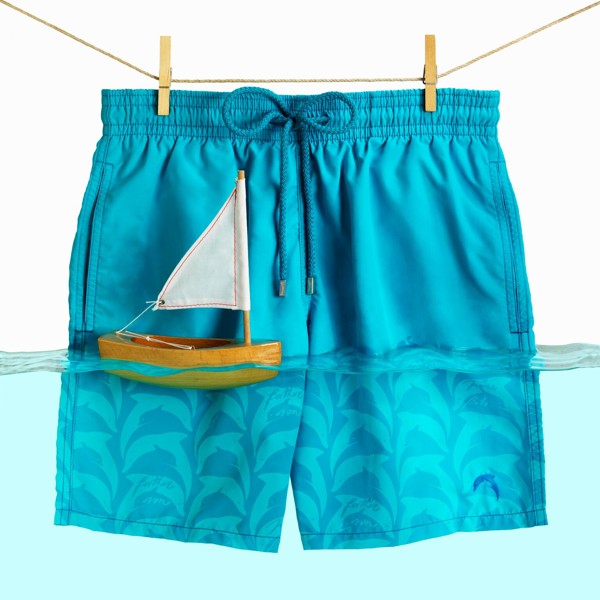 The Dictator rules: One doesn't sort of fail, you know. Either one does or one doesn't. You failed. You may find yourself continuing to fail if your husband isn't too keen on daddy-and-me matching outfits.
Of course, there's Vilebrequin, the St Tropez company making men's swimwear since the 1970s, and a Father & Son range since 1995. Anything labelled "for the family" at vilebrequin.com should have the boys' sizes, plus some­thing, ahem, for daughters too. The selection includes turtle, parrot and fishnet prints on swim shorts for dad (HK$2,000 to HK$2,300) and junior (HK$1,100). We like its innovative Water-Reactive series, sold in solid aqua blue, red, orange, or khaki green, which reveal a hidden pattern once wet.
Next, jet off from France to Australia, where swimwear brand Tom & Teddy is based. On its website, look out for the symbol of a father and son to signify the shorts are available for men (HK$620) and boys (HK$366). We like their bright colours and tasteful patterns, including prints featuring seagulls, turtles, coral or fish. Hurry and you might even bag a 50 per cent discount if you can find the right sizes in the clearance-sale section.
Hong Kong's own Mazu offers its wave or pink dolphins prints on various solid backgrounds at HK$800 for boy's shorts and HK$1,400 for men's. Use them as a style guide for coordinating rather than matching. Pick the same pattern, but different colours. Or choose two different patterns but in the same hues. Good luck. I mean it.
Got a question for the Dictator? Email her with your name, or alias, and address at: [email protected]