I can't remember where but I've seen jewellery in a beehive-like geometric pattern. Was it just a passing fad?
Sting Operation, Mid-Levels
The Dictator rules: Who cares? Granted, hexagonal honeycomb patterns were a hipster favourite in 2013, a prime example being the Skein series by architect Zaha Hadid for Swiss jeweller Caspita. The capsule collection, which is still available, includes hexagonal lattice rings and cuff bracelets in 18-carat white, yellow or rose gold, some with pavé diamonds (HK$78,000 and up; latestrevival.com).
If you invest in extraordinary jewellery, it will usually stand the test of time. If it doesn't, you can always have the precious materials reused in new ways, though you wouldn't want to melt down a technical masterpiece like one of Italian jeweller Buccellati's honeycomb-textured Tulle designs (HK$140,500 and up; buccellati.com), inspired by a 1620 Bartolomeo Corsini portrait. Yup, honeycomb has fascinated designers for centuries. Chaumet, once jeweller to Napoleon, puts the French emperor's signature bee motif into many of its pieces, including the Bee My Love collection of hexagonal band rings in 18-carat white, yellow or rose gold with or without diamonds (HK$6,288 and up; chaumet.com).
London jeweller Astley Clarke offers an extensive Honeycomb collection of ear­rings, rings, bracelets and neck­laces in sterling silver, 14-carat gold or diamond-pavé rose gold (HK$780 to HK$20,320; astleyclarke.com). Bridget King Jewelry has drop honeycomb earrings in various materials, such as black silver and dia­monds (HK$5,936; plukka.com) and 18-carat rose gold with diamonds (HK$11,715).
For those not wanting to spend a lot, there are hundreds of cute honeycomb options on Etsy.com.
---
Where can I buy my teenage daughter a long white skirt? I'm not sure why she needs one and didn't know they were in fashion, but I assume she knows more than me about what's trendy. Advice?
Long Shot, Clear Water Bay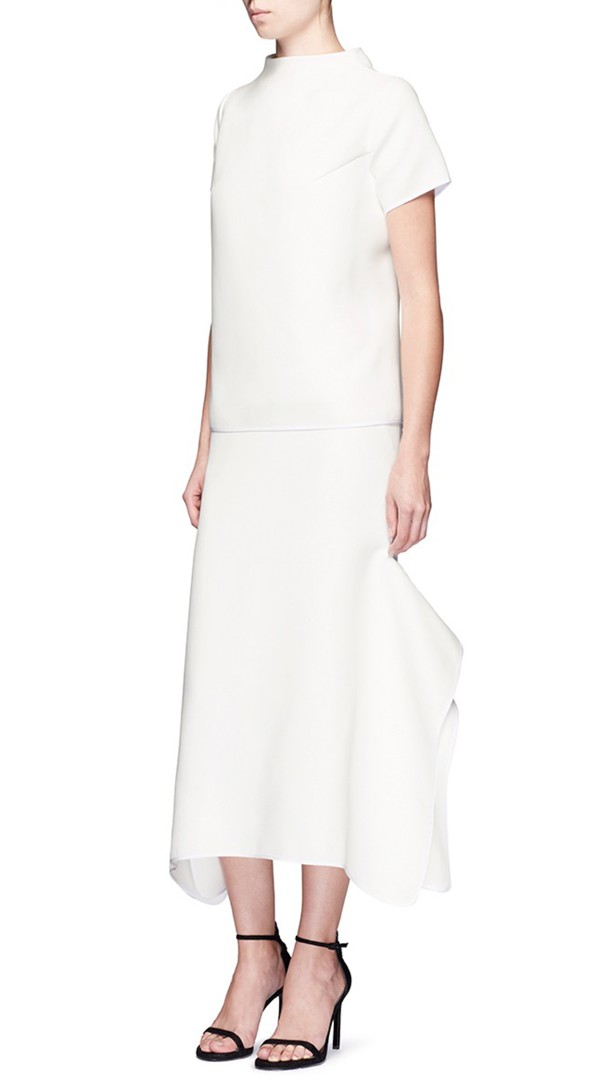 The Dictator: Why? Is she getting married? Cut her off. She is obviously still incapable of dressing herself. That's not to say there aren't beautiful long white skirts out there, it's just that I doubt she'll know what to wear them with. For inspiration, let's start with the brands you'd buy for your daughter if you were extremely wealthy and wanted to give her nowhere to go in life but down into disappointment.
We're in love with the fluid, elegant wool skirt by Calvin Klein Collection (HK$5,900; Lane Crawford). Australian label Maticevski's pieces have the kind of artistic structure that makes our hearts race, including the Eminence skirt with wing-like flares (HK$7,400; Lane Crawford) and the more formal Victorious, featuring horizontal folds on the front (HK$9,300).
Tibi's crisp cotton midi wrap skirt (HK$3,025; net-a-porter.com) is a winner that reaches longer than advertised on anyone shorter than an Amazon. Theory has a cotton poplin midi skirt with an asymmetric front hem and self-tie belt (HK$2,900).
H&M's Studio Collection offers a long, flared skirt (HK$999) in a crinkled cotton woven with metal threads for extra texture, and its contrast black waistband gives it a designer look. Or go back to basics with The Gap's tiered maxi skirt (HK$349) in white rayon and cotton, which has a boho feel with a tasselled drawstring waist and stitch detail above the final tier, but is simple enough to consider even if she doesn't fancy herself as a hippy chick.
Got a question for the Dictator? Email her with your name, or alias, and address at: [email protected]