In the aftermath of the Communist assumption of power in 1949-50, and the dawn of a bright new day for China that the Nationalist collapse initially signified, an unusual development occurred. Thousands of Southeast Asia-born ethnic Chinese – most from newly independent Indonesia – moved to China, in response to the cultural pull of their ancestral homeland and premier Zhou Enlai's call for them to "return" and help China "stand up" in the modern world.
Manufactured patriotism for an ancestral homeland that most Chinese families had left at least two generations earlier was an extraordinary Nationalist-era success that greatly benefited the early People's Republic.
Providing Mandarin-language schools, qualified teachers and Sino-centric textbooks to Southeast Asian Chinese had been a Nationalist policy since the late 1920s, with the aim of creating a generation of overseas Chinese who identified with China as a nation-state, rather than a cultural idea.
The Chinese Indonesians with long memories and escape plans in case racial violence flares again
One such patriotic returnee was Ah Sin, who eventually worked as our amah. Originally from Singaraja, on the north coast of Bali, Indonesia, several members of her immediate family were later killed in the anti-Chinese/anti-communist pogroms that accompanied the ousting of Indonesian president Sukarno in 1965-66 and were continued by his successor, Suharto.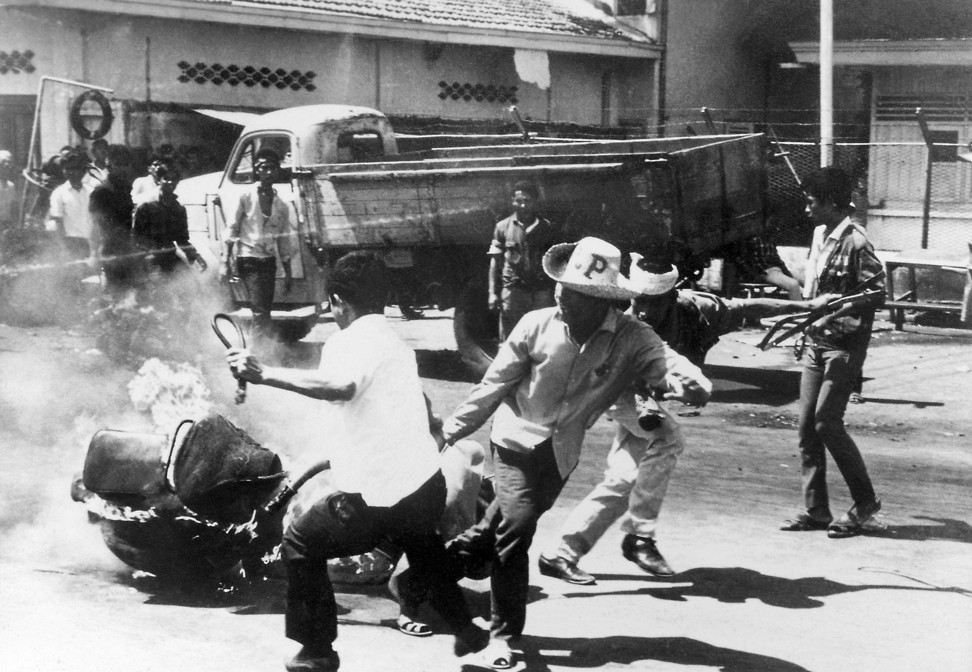 Life in China, after Bali, was far from easy. The government went to considerable lengths to help new arrivals adapt; overseas Chinese shops were opened for them, where otherwise unobtainable foodstuffs to which they had been accustomed, such as fresh-ground coffee, were available at subsidised prices.
Privileged access to these shops some­times allowed the purchase of con­sumer items that were either unaffordable luxuries, or simply unavailable, to the average citizen. An occasional treat, Ah Sin recalled, was a box of Bee & Flower scented soap, and jars of Shanghai-made, solid-paste shampoo and perfumed hair oil. These luxuries were made to last for months.
For many, Ah Sin included, the culture shock of being a different kind of Chinese in China was simply too much, and after years of struggling to assimilate, they gave up and applied to leave
The single greatest challenge in the "New China", Ah Sin maintained, was the daily struggle for personal cleanliness. In the tropics, abundant water supplies and cheap soap were taken for granted and even the poorest rural dweller could wash their clothes and themselves as frequently as they wished.
But in northern China, where running water was scarce and fuel was rationed – as was good quality soap – having a proper hot bath, rather than a quick wash using a Thermos flask, enamel hand-basin and ragged flannel, was a memorable event.
Only during the summer months, when cold-water bathing became bearable, Ah Sin said, did she ever really feel clean.
Could anti-Chinese violence flare again in Indonesia?
For many, Ah Sin included, the culture shock of being a different kind of Chinese in China was simply too much, and after years of struggling to assimilate, they gave up and applied to leave. Few "patriotic returnees" were politically persecuted – their applica­tions were processed, and they departed.
Unable to return to Indonesia perma­nently – the government there wouldn't accept them – and without the resources to migrate further afield, many settled in Hong Kong or Macau.
Like any distinct migrant group, new arrivals gravitated to specific locations. Small corners of North Point, Causeway Bay, Tsuen Wan and Tsing Yi developed into Chinese-Indonesian hubs that remain recognisable today.
The day my Chinese dad was declared a 'bona fide' Indonesian
Toko Indonesia, the generic term used for small shops selling Indonesian goods, have proliferated across Hong Kong since the wholesale arrival of (mostly Javanese) domestic workers from Indonesia began in 1998.
These businesses provide an insight into post-war Hong Kong's changing demo­gra­phics. Ethnic Chinese owners will speak fluent Malay, and possibly Javanese, Balinese and other Indonesian langu­ages with their migrant worker custo­mers, Hokkien or Foochow among them­selves, and frequently switch to Dutch or Mandarin with certain older Chinese clients if they don't want their conver­sations to be understood.