"Mao's wish – cremation", ran a headline in the South China Morning Post on September 14, 1976, five days after the death of the Chinese leader. However, the fate of Mao Zedong's body remained uncertain until September 30, when the Post reported that his wish would not be granted: "Like other communist giants, the body of Chairman Mao Tse-tung is to be embalmed."
On October 9, the New China News Agency (Xinhua) announced "a mausoleum is to be constructed in Peking to receive the body of Chairman Mao Tse-tung, which will be placed in a glass coffin," according to an article in the Post. The public display of Mao's body would "inspire the people into applying his instruc­tions supporting Marxist-Leninism and into carrying through the proletarian revolution."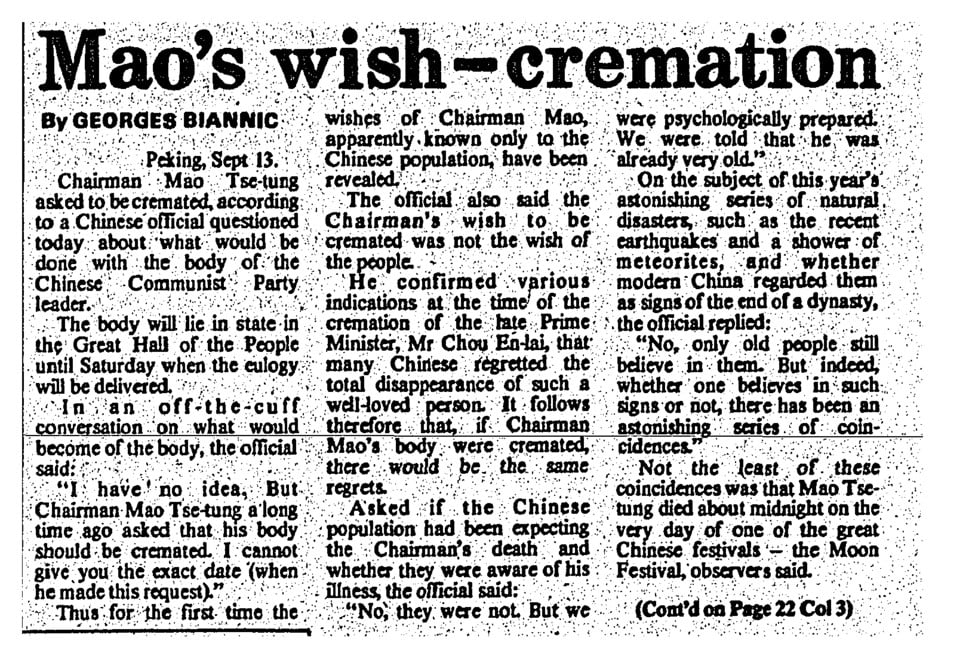 Building began in Tiananmen Square on November 15, when, "Without prior announce­ment, thousands of workers and soldiers moved on to the massive square and within minutes the so-called 'heart' of China was converted into a giant construction site," the Post reported, a day later.
Mao's successor, Hua Guofeng, laid the mausoleum foundation stone on November 24, and progress continued at lightning speed. By August 1977, it was finished. "A total of 52,000 workers, craftsmen and artists took part in the building of the memorial hall, some of whose stones were brought from Mount Everest," the Post reported on August 17.
Delegates to the 11th National Congress of the Chinese Communist Party, in 1977, were the first to pay their respects to the body, which was "draped with the flag of the Communist Party of China […] preserved in a coffin of crystal," the Post reported on August 31, adding: "Chairman Mao's face looks just as resolute and serene as he used to."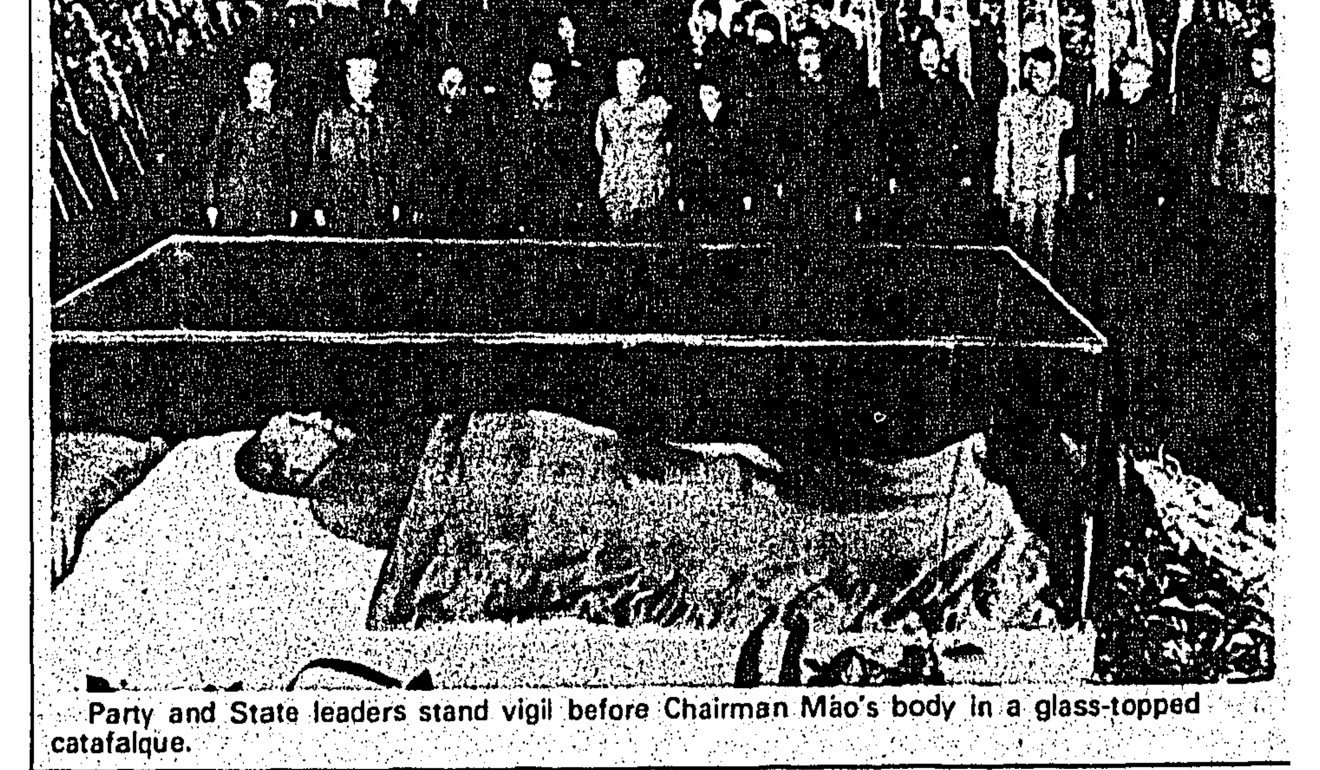 The mausoleum was inaugurated on September 9, the anniversary of Mao's death, "with a brief and simple ceremony," the Post reported the following day.
During proceedings, Hua "reaffirmed China's loyalty to the revolutionary line of the 'Great Helmsman'."
"All attempts by class enemies at home and abroad to make our party change its Marxist-Leninist line, which was formulated by Chairman Mao, are no more than reactionary day-dreaming," he said.
In Hong Kong, a rally was held at the Sunbeam Theatre, in North Point, with speakers pledging to proselytise Mao and support Hua.