Profile
Get more with myNEWS
A personalised news feed of stories that matter to you
Learn more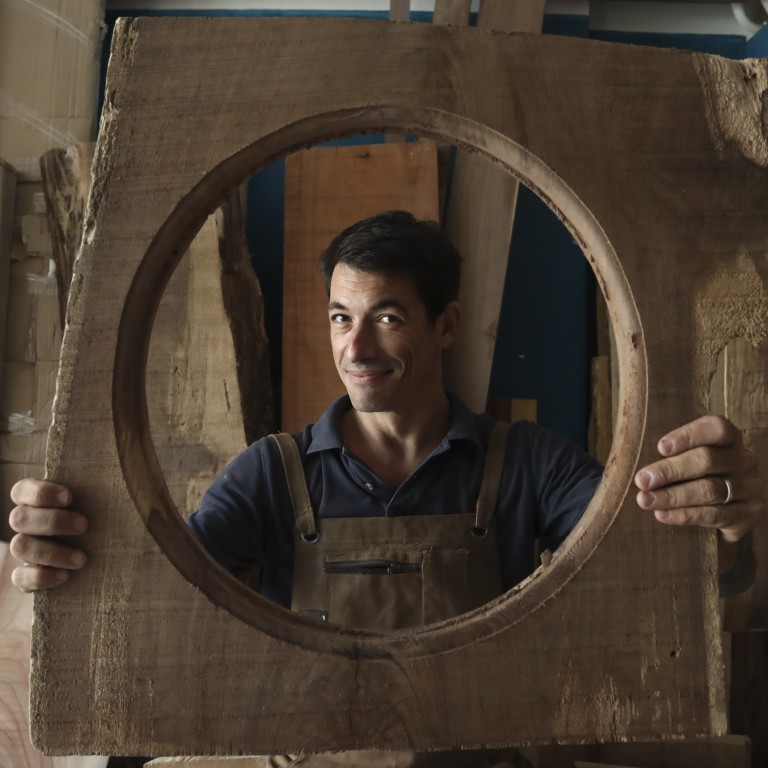 Profile
He quit the 9 to 5 and followed his dream: carpenter in Hong Kong with a workshop two minutes from the beach
Franck Vidal had loved doing woodwork since childhood, and at the age of 40 trusted himself enough to quit a corporate job and become a self-employed carpenter
With a workshop a stone's throw from the beach, two daughters who love helping out and a variety of jobs, he feels a lucky man, he tells Ed Peters
Crafty kid: You could trace the point when my life really got started to around my ninth birthday, after my uncle asked me to help him restore a house near the small village where we lived, southeast of Lyons, in France. It was built in 1840, with enough room to accommodate a horse and cart overnight, but when he began it had fallen into ruins and wasn't much more than four rickety walls.
At first I was just fetching and carrying, but then I began to get really enthusiastic. My uncle was so passionate – he would only ever use traditional building methods and tools, no matter how long it took, and always employed authentic materials. I think I inherited his utter devotion to his craft. Thirty-something years later, he's still looking forward to when it's finished.
Tickling the ivories: I was rubbish at school. I'm a hyperactive person, so sitting still for eight hours a day listening to someone talk was never going to work, but I did learn to play the piano – I've even got one in my workshop now so I can bash out a tune to help me relax during the day. I also became quite good at football and was thinking of turning professional but I knew that I would never be skilful enough to get into the premier division.
University was never going to be an option, so at the age of 20 I started working on a construction site. And although what I enjoyed doing most was working with my hands, step by step I allowed myself to become embraced by the corporate world, which is what my parents wanted, and became a salesman.
Island escape: Like so many other people, I came to Hong Kong for a four-week holiday, and that was in June 2008. It was the standard timeline – sleep on a friend's couch, find a job, get a room in a shared flat in Causeway Bay. I fell in love with the energy of the city, but after a time I had to get away from the more extreme environs of the concrete jungle and move out of the city, so I gravitated towards Lantau.
Death of a salesman: I spent years in the corporate world, but when I hit 40, in 2017, I realised it was starting to take too much out of me. I'd worked for major corporations – as an account manager for Santa Fe relocation services and handling real estate business development for Sotheby's – and had been very successful, but I realised I needed to quit my safe job and do something that I would look forward to when I woke up every day. So I started to plan to work for myself.
Call of nature: Whatever job I'd done, I'd always had my own craft project on the go, something to keep me balanced. I'd fitted out a music studio, everything from the control booth to the recording room; I'd renovated a junk; I'd done the interiors of a few flats. I'd gradually picked up different skills – electrics, plumbing, tiling and so on – but working with wood became my favourite because of the smell, because of the atmosphere it gives off, and the power of nature I can feel when I touch it. Most of all, these were projects that allowed me to discover the fact that I could do everything by myself. I love that, and I love the satisfaction that comes from it.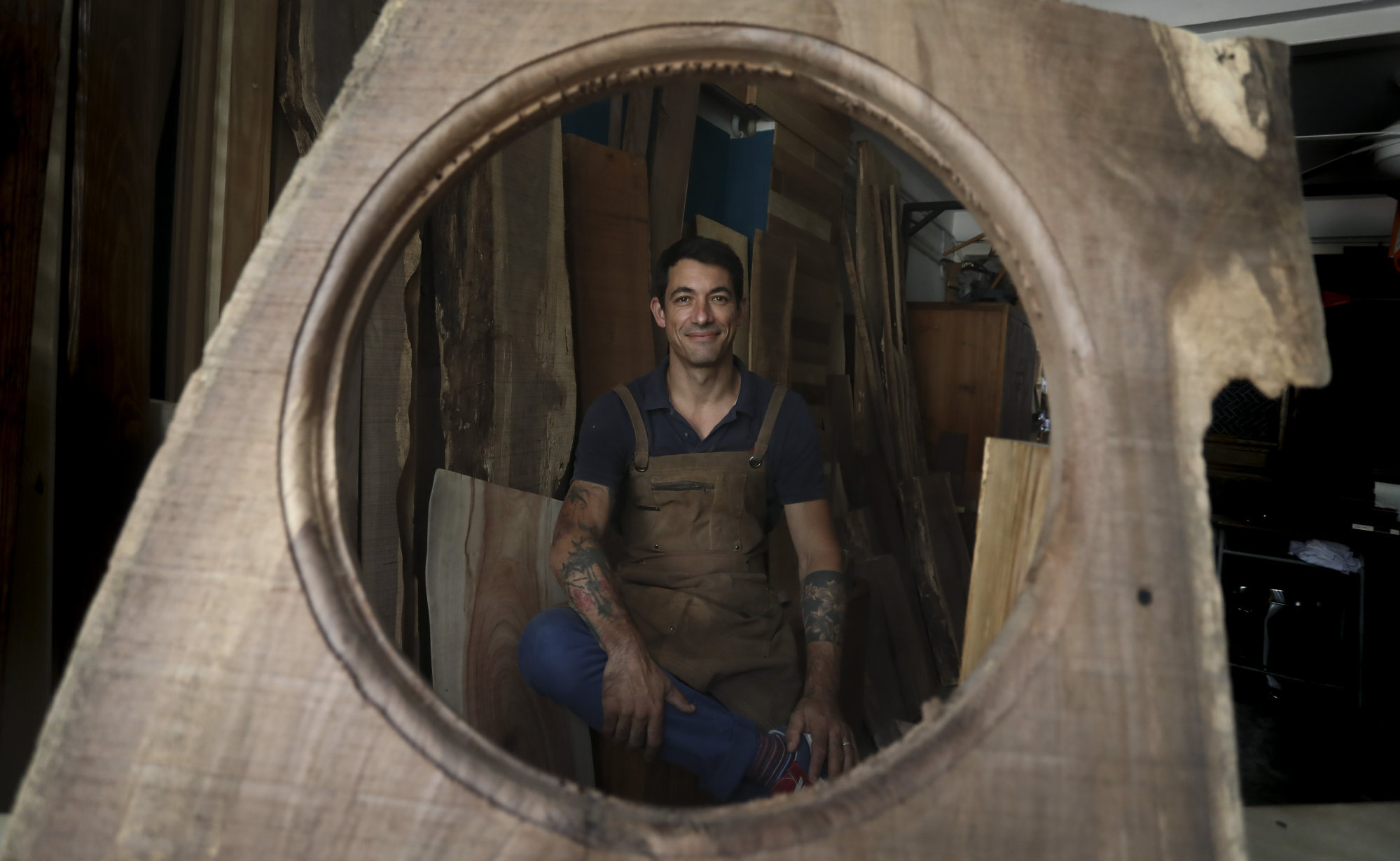 In the blood: I don't think anyone else in Hong Kong is as lucky to have such a perfect place to work as I do. It's part of a two-storey block that contains three other businesses. The ceilings are five metres high and we're about two minutes' walk from the beach. It was built 80 years ago and used to be Mui Wo's commercial centre – a general store and ship's chandlers that also acted as a moneylender for the farmers and fishing folk. So there's a real sense of history here. The ceilings are a boon, because we need to store some long pieces of wood, and they grant an almost luxurious feeling of calm.
There's a children's playground just across the way, so I can hear them yelling with delight on the swings or whatever, we're shaded by a banyan tree that must be at least 100 years old, and we've got a big fat armchair on the veranda. Central is half an hour by ferry, and it takes me 10 minutes to cycle here from home. My daughters, Louise who is eight, and Zoe who is a little over a year younger, have both grown up here, and love to come and help me in the workshop, rather as I used to help my uncle. They're both showing signs of talent, so perhaps it is something genetic.
Containing excitement: I've learned by trial and error, and consider myself a self-taught woodworker, which is more down to earth than something like "artisanal carpenter". My company is called The Craftman, and that's about right. I work with one other carpenter, but we could be going to expand if some projects that I have in mind go ahead.
We take on all sorts of work, corporate and personal. People come to get stuff repaired, whether it's a chest of drawers or fixing the legs on a sofa. I'm tendering to design a container for transporting artworks. Of course, the container has to be totally secure if you are shipping something like a Picasso, but the client also wants it to look good, so it will stand out when it is in transit and when it is delivered. The wood has to be specially treated, too, so it can cross international borders, so there are a number of aspects to consider.
Mango fruits: Our cheapest item is a wooden fridge magnet – HK$80. One of the artworks containers is probably going to cost tens of thousands. In between, we've had a steady stream of corporate jobs in Hong Kong, like tailor-made office desks to accommodate a bank of computer screens.
For Mango Tree, a Thai restaurant in Kowloon, I was involved in making quite a complicated artwork, which represented mango tree leaves. All the wooden leaves had to be the same size, and I had to sand the wood and stain it, and mount all the silk pieces. We've supplied restaurants like Potato Head in Sai Ying Pun and we help the Capo Group on a regular basis, adjusting their table tops and so forth.
Out of the woods: While there is not a lot of wood in Hong Kong there is plenty in China, and a number of Chinese companies have their own forests in Canada, for example, so there is no shortage of the main woods we work with, like oak, and they can be shipped here in a matter of weeks. I love working with cherry.
Coming up, I have another venture in mind, which will marry the aesthetic beauty of carpentry with modern technology. We are living in the 21st century, so there is no reason they can't exist side by side. I also need to finalise my commercial website, but I always push this task to one side as I am not really a computer lover.
If there's one thing I would like anyone who reads this interview to take away, it's the simple message to follow your dream. There is no point in sticking to a job simply because it is your job. You should really do what you enjoy, otherwise it is meaningless.