Profile
Get more with myNEWS
A personalised news feed of stories that matter to you
Learn more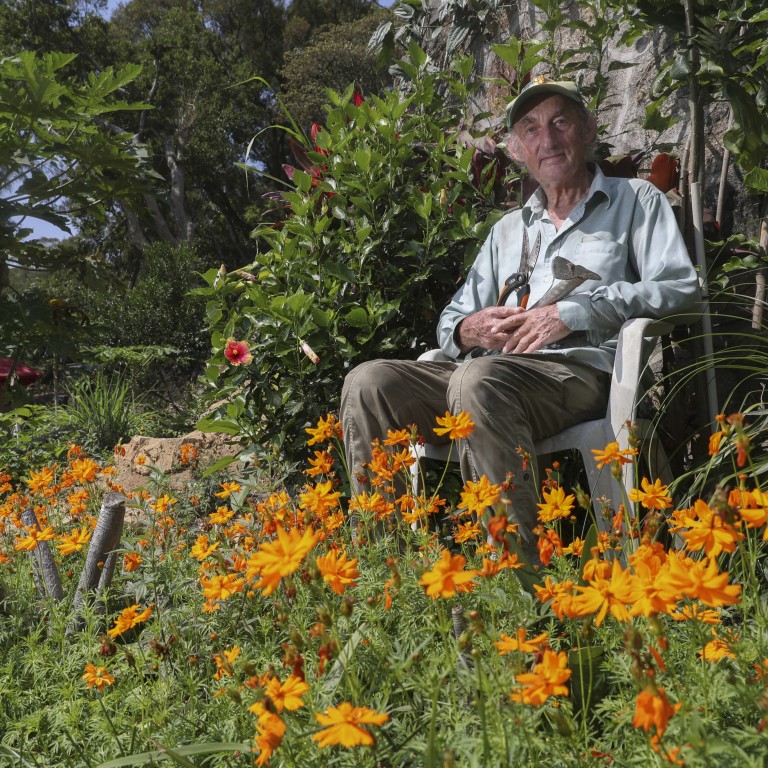 Zoologist, English teacher, gardener: the varied life of a globe-trotting Briton, and his best move ever – to an island in Hong Kong
Born in northeast England, Geoff Smith taught in schools in London, Africa and Papua New Guinea, where he raised a family
He moved to Hong Kong in 1993, retired in 2007, and indulges his passion for flowers tending a community garden on Lamma Island
Northumberland days I was born in Morpeth, Northumberland (in northeast England), in 1946. Coal mining areas were on the fringe of the town, but they have long since closed, which led to widespread unemployment. Both my parents were from Yorkshire and they bought a four-bedroom house in Morpeth for £3,000, which sounds incredibly cheap today.
I was the youngest of three children, with an older sister and brother. I was enrolled in Morpeth's King Edward VI Grammar School. It always seemed a bit weird to be a pupil where my father was a staff member – he taught chemistry.
Even as a youngster I was keen on bird­watching and I tried to capture pictures of what I saw with a Brownie 127 camera. It was difficult and I don't think I got a single good picture. We had a sizeable garden and as a kid I was given my own vegetable patch where I grew things like radishes, peas and beans.
Spreading my wings When it came time to decide on my future, I wanted to see somewhere new, so I opted for Bristol University, where I did a joint degree in zoology and psychology. Psychology was my major but by graduation I didn't fancy the career options it offered. So I went to London, where I had a number of temporary jobs, like working in a film-processing laboratory and as a sales assistant in the HMV record shop on Oxford Street.
After a year I moved to Brighton to do a PGCE (Postgraduate Certificate in Education) focusing on zoology, which qualified me to teach science. I got a job teaching in a girls' comprehensive school in Brixton, south London. The year was 1969 and immigration from the Caribbean was in full swing. There were new students all the time.
They were used to having school only in the morning and spending their afternoons at the beach. So often I was asked, "Do we have to go to school in the afternoon?" It felt terrible to have to tell them, "Yes, I'm afraid so!"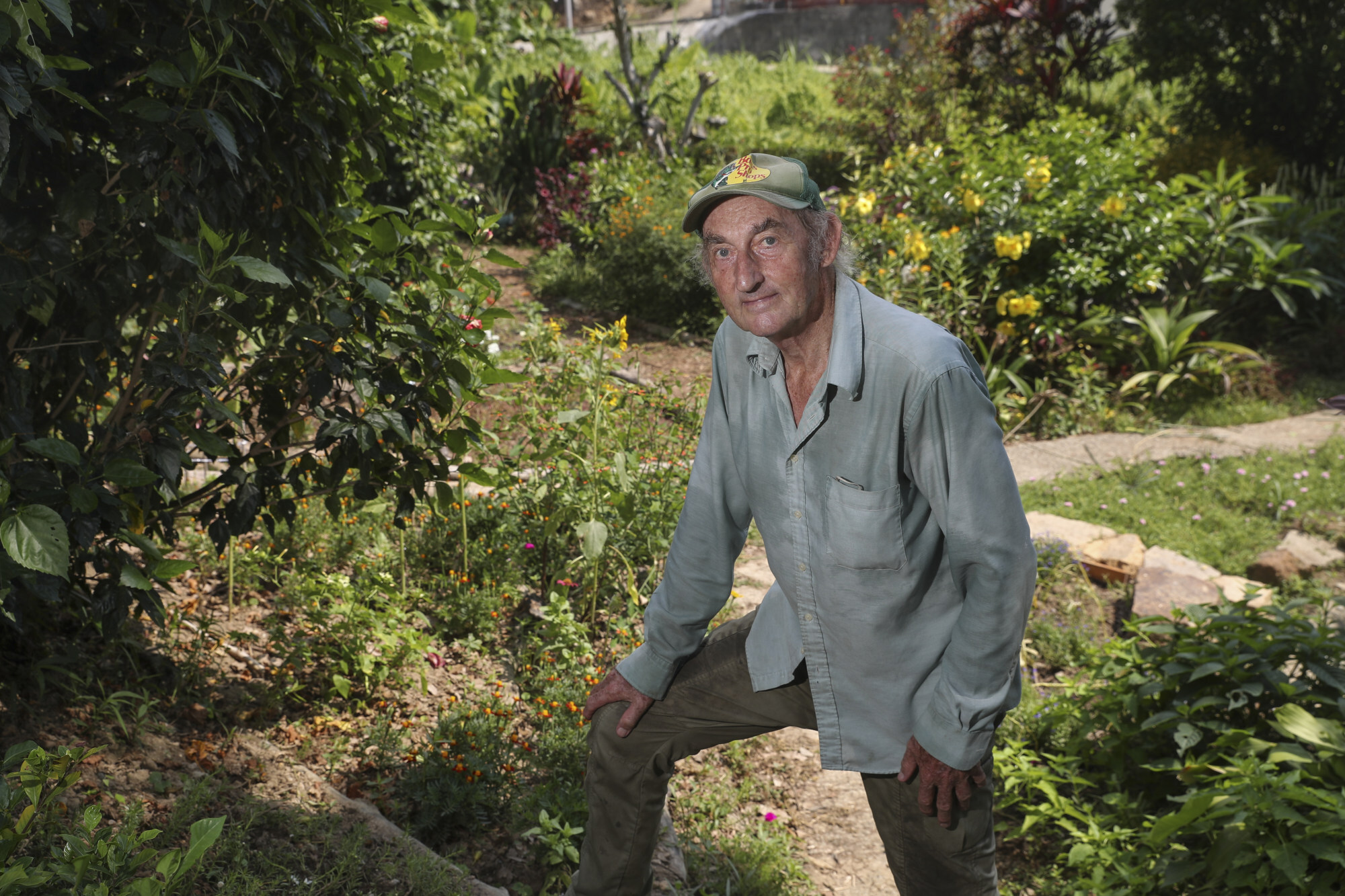 Remote learning I don't recommend young men teach in an all-girls school: one year was enough for me. In 1970 I got a job teaching biology in Ghana, in a remote area of rainforest near the border with the Ivory Coast. I loved it. It was a good place for a biologist to be. Glistening scorpions a foot long and snakes including green and black mambas used to come into the house.
A colleague was an American Peace Corps volunteer with a mission to teach the natives that snakes are harmless – he didn't have much success. Within a year I was evacuated for medical reasons. A colleague died of hepatitis, but I got off more lightly with a collapsed lung.
I'm glad it happened when it did, as my then-girlfriend and I were planning to embark within a month on a journey back to Europe across the Sahara. At least I was within reach of a doctor, a Dutchman who advised me to leave for England as soon as possible. I made weekly, then monthly visits to Guy's Hospital (in London) where I was told the lung would probably heal itself eventually. By late 1971, I was pronounced OK.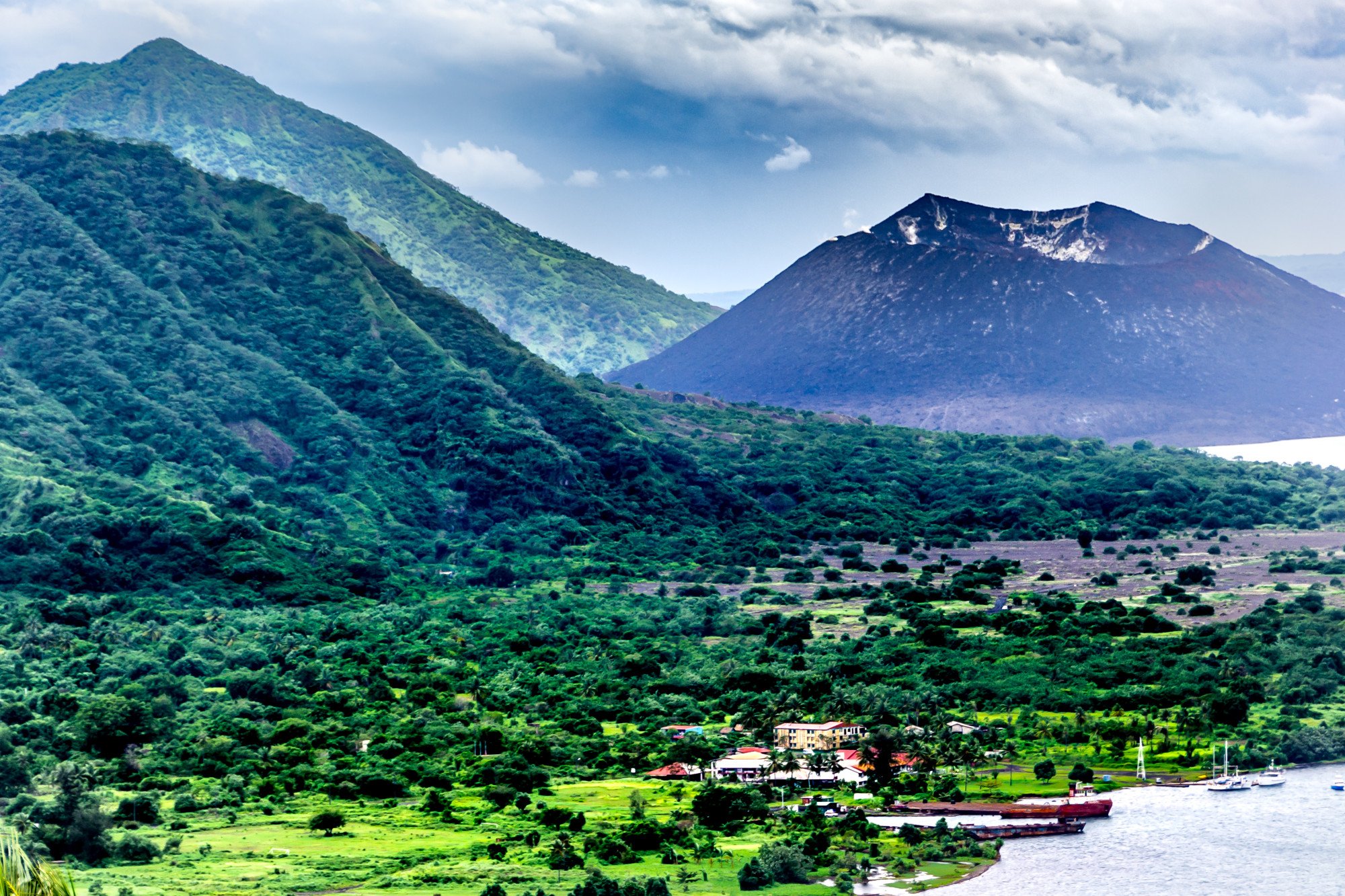 PNG calls An advertisement for teachers in Papua New Guinea caught my eye. The salary was double the going rates in England and I applied. Papua was an external territory of Australia while New Guinea was a United Nations protectorate and emigrating to Australia was part of the deal. I stayed there for 22 years.
For the first three years I taught science, then I embarked on full-time study for a master's in anthropology. When I ran out of money I had to get a job teaching English to science students. By the time I finished my course, I'd realised I didn't want to be an anthropologist. People like Margaret Mead were heckled when they gave lectures as they were generally regarded as interested only in self-advancement.
So I stuck with English teaching in another part of PNG, where I did a PhD on the topic of the local lingua franca, "pidgin" English. I collected recordings of kids who had grown up with "Tok Pisin" and produced a book based on my research – I believe it's still available. In the meantime, I had married a local girl and we had three children, all born in-country. They were growing up and it seemed a good time to leave PNG while I still had options elsewhere.
I liked the country and the people, but the two things I didn't like were the crime – four of my colleagues died violent deaths at the hands of "rascals" – and malaria.
Moving on A former colleague was teaching at the University of Hong Kong and he sent me a message saying a job was available teaching English to science students. I applied and got the job. I arrived in March 1993, just in time for the Hong Kong Sevens. My friend had a spare ticket and took me along: I thought Hong Kong was great! My wife has since returned to PNG to be with her family, while our grown children are now living in the UK and the United States. My eldest daughter sadly died of lymphoma in Hong Kong in 1998.
I initially lived in university accommodation in Pok Fu Lam. In 2002, I moved to Lamma and bought a flat with a rooftop, where I have lived ever since. I was not happy about leaving Pok Fu Lam, but looking back, this was the best thing that ever happened to me. In 2007, I retired from full-time work at HKU, but I continued to teach part-time for another nine years. I was attached to the Graduate School, mainly teaching courses on thesis writing and how to publish your research. Most of the students were from China, and I found them very nice and very bright.
Down tools Eventually the oath of indolence caught up with me and I vowed never to work again. I didn't really want to retire, but when I stopped work, I loved my new way of life. I had room for lots of plants on my roof and my new home was well placed for me to get involved in the Tai Peng Community Garden, which was formed in late 2008. A Lamma resident, Tavis du Preez, was the prime mover, transplanting the idea from his native Canada.
A local farming family had a patch of land they agreed to let us use. Part of it was divided into separate lots for individuals to cultivate while the area near the front was kept as a flower garden for general enjoyment. I've become more interested in flowers since retirement and I find it a very relaxing hobby. In PNG, I grew 400 pineapples, the small local ones with rich orange-coloured flesh and a delicious flavour.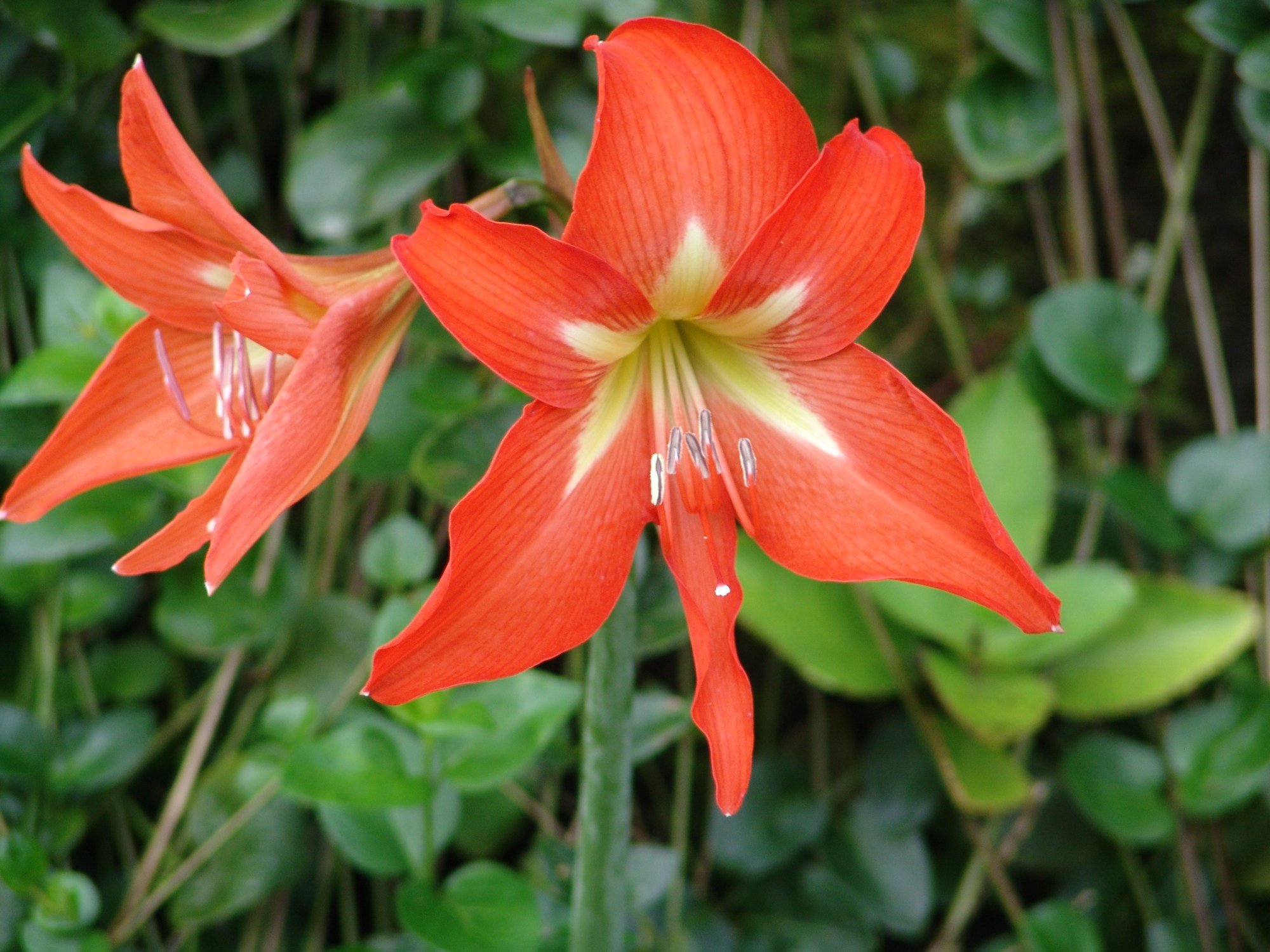 Life with 1,000 hippies By chance I became interested in hippeastrums. I had some already and shortly after I moved to Lamma I ordered more from the Netherlands. I first tried cross-pollination in 2008, but I scattered the seeds on the soil and they didn't germinate. Then I read about floating the seeds in water to get them to germinate and this worked well.
My first hybrids were carefully catalogued and marked with details of the providers of pollen and seed. I've been trying to breed a darker red but they've been so mixed up over generations due to attacks on the beds by wild pigs that neither parent is predictable.
For a while a friendly local farmer let me use his land to house some of my collection. At one stage I had about 1,000 hippies there. But after a while the farmer wanted the land back and I had a lot of homeless hippies. I managed to fit them all in the Community Garden, where they make a grand show for a few weeks in a good year.
Hippeastrums have long been confused with amaryllis, which flower before the leaves emerge, whereas hippies are evergreen throughout the year. Even the specialist growers in the Netherlands seem to have given up distinguishing between the two very different species. Nowadays, they are increasingly lumped together as amaryllis.
Predators in paradise Two years ago, the hippeastrums suffered a major setback as we had a serious infestation of brythis, a rather nondescript moth that comes out at night and produces black and white striped caterpillars, which only eat plants of the Amaryllidae family. The moths lay eggs under the cuticle of the stem and, when they hatch, the caterpillars eat their way down into the bulb, killing or seriously damaging it.
Brythis are native to the Mediterranean region and it's unknown how they arrived in Hong Kong. Parts of Australia have experienced a similar problem. Brythis reappeared last year, but not this year. Hopefully they have gone for good.
New obsession These days I spend most of my time in the garden – I take along a flask of coffee to keep me company and my camera in case I spot an interesting bird from the little hide that enables me to observe them without disturbing them. Pachypodiums are my newest obsession. They look like a cross between an Adenium (the desert rose) and a Euphorbia (the crown of thorns). I have 14 species of them so far, with another eight to go, as there are 22 species in all.