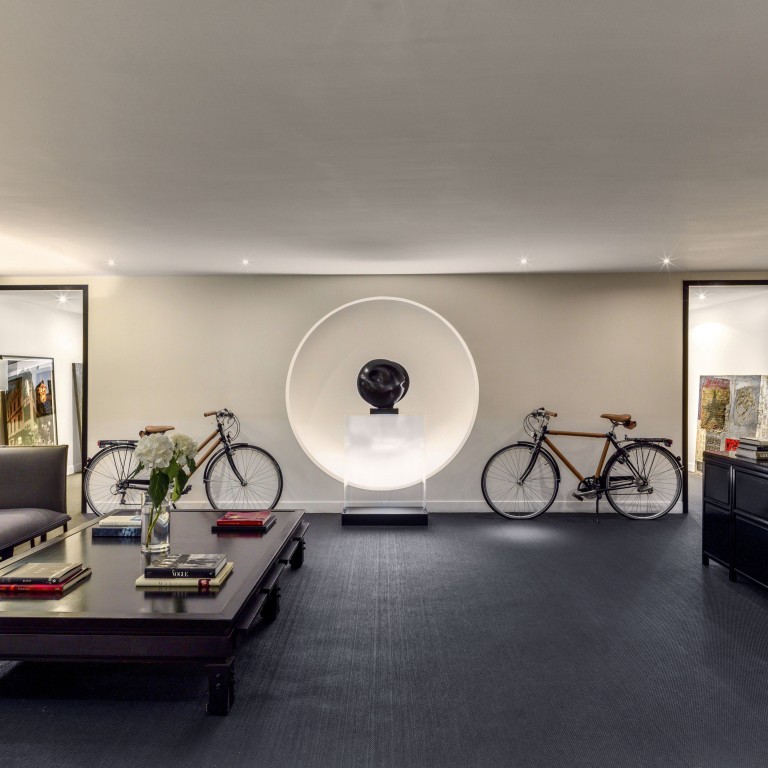 Fashion designer's Hong Kong atelier is an East-meets-West study in statement and style rich in contrast, its walls hung with art
Fashion designer Marie France Van Damme's elegant Kwun Tong atelier has an overhaul that reflects its industrial origins and the area's history
An extension of her house in Clear Water Bay, it is filled with stylish, comfortable furniture, glossy coffee table books and interesting objets d'art
To say there is a stark contrast between fashion designer Marie France Van Damme's atelier and its location would be an understatement. Situated in the heart of Kwun Tong's unrelenting bustle, the building housing her 22,000 sq ft (2,000 square metre) workspace is as industrial as they come. So when the no-frills lift opens onto a corridor adorned with photographic art, it comes as something of a surprise.
"What's great about this place is that you see the building and the elevator and you think, 'Where on Earth am I going?'," says Canadian-born Van Damme, who has made Hong Kong her home since the 1980s. "I've always loved contrasts, especially going somewhere and finding something you'd least expect."
The foyer is no ordinary commercial reception area, either. Dominated by Chinese art and calligraphy, and moodily lit, it exudes the minimal elegance and almost Zen-like ambience of an exclusive Aman resort lounge. (Van Damme has been friends with Aman Resorts founder, Adrian Zecha, for years and introduced luxurious beach clothing to his hotels with her high-end resortwear.)
The two Hermès bicycles near the entrance became hers when her husband raised his hand mistakenly at a Mother's Choice charity auction. Looking like art pieces in their own right, they fit perfectly into their surroundings.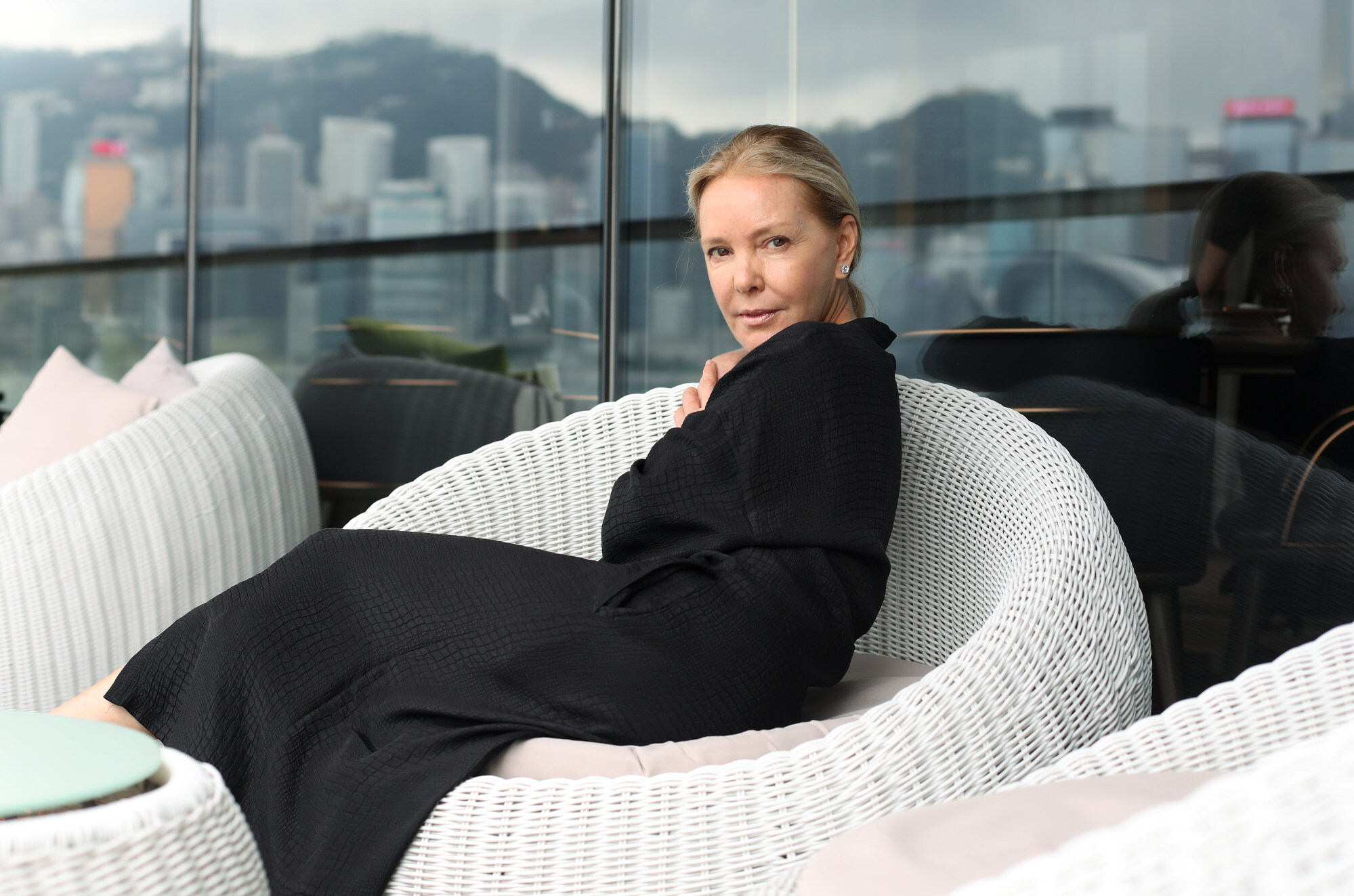 Before she set up her eponymous brand, in 2011, Van Damme ran a trading business, manufacturing fashion for mainstream brands, and the story of how she ended up in Kwun Tong, in Kowloon, reads like a potted history of Hong Kong retail.
She had bought the industrial unit as an investment in 1992, when Kwun Tong was the territory's garment centre, but because the area was so busy, she based herself in the then-relative quiet of Kowloon Bay. A couple of years later, she moved production to mainland China but kept a pattern cutter and sample room in Kwun Tong for her regular influx of overseas buyers.
However, after the the return of Hong Kong to Chinese sovereignty, in 1997, many locals emigrated and Van Damme remembers garment businesses and factories shutting down almost overnight.
"I'd never thought I'd move here because in the early 1990s, it was so busy. There were delivery trucks and people with garment bags everywhere, all the time," she recalls. "After 1997, everybody left and there was no industry here – but it was wonderful for me. I wanted to control my production by bringing it back to Hong Kong and I needed more room so this unit was perfect."
It was also a vast, open space – a raw concrete box. Van Damme worked with a contractor, whom she still uses, to divide it into different areas, leading off a long corridor. In addition to business necessities – a sewing room, showroom, conference room, offices and Van Damme's studio – there is a galley kitchen, comfortable lounge and dining area, and a gym, all featuring her flair for chic design.
"I spend more time here than I do in my home so I thought it might as well be a beautiful environment," she says. "I also work with two of my three sons [her third son oversees her stores in Thailand] and I installed a gym so we could also work out together."
An extension of her house in Clear Water Bay in the eastern New Territories – "Whatever doesn't fit at home, I have here" – her Kwun Tong atelier is filled with stylish, comfortable furniture, glossy coffee table books and interesting objets d'art. These have been collected over the years from diverse places including Dongguan, in Guangdong province, southern China, where she had her factory; Knokke Le Zoute, in Belgium, where her mother-in-law lived; and Parisian flea markets.
Particularly striking is Van Damme's eclectic and dramatic art collection, featuring everything from black-and-white fashion photographs of her collections to antique wall panels from Thailand, paintings by friends and a lot of contemporary Chinese art.
"I have always bought Chinese art even before it became fashionable. Back then, people were very dismissive about it and thought I was crazy but I buy things because I love them and not for investment," she says. "Like my home and my collections, I would say my atelier is the ideal blend of East meets West."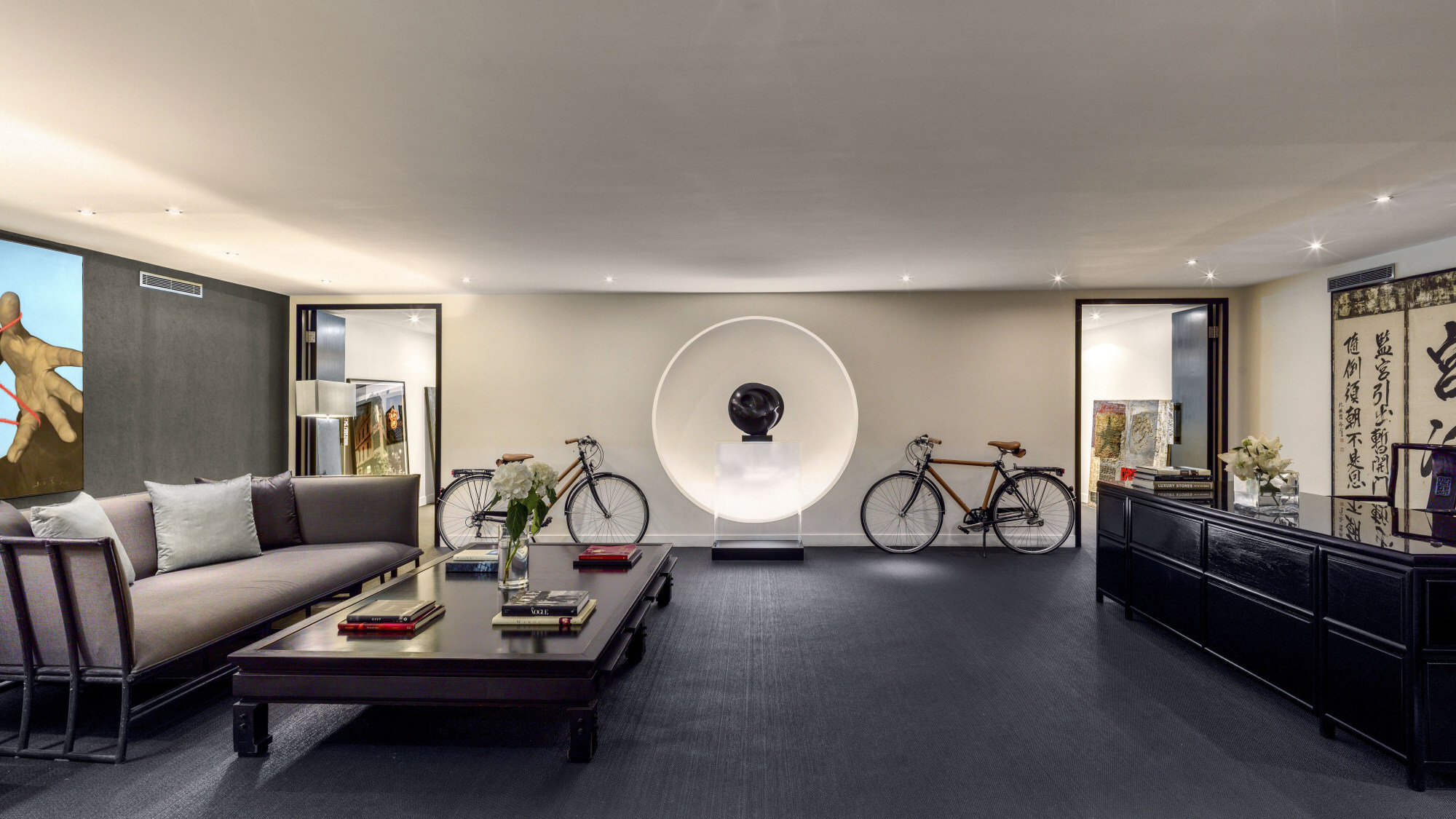 Foyer
Marie France Van Damme's husband mistakenly bid for the Hermès bicycles (hermes.com) in a Mother's Choice charity auction (motherschoice.org) and they now adorn the foyer. The Chinese calligraphy and made-to-order desk both came from the now-gone Charlotte Horstmann & Gerald Godfrey store in Ocean Terminal, Tsim Sha Tsui, in the early 1990s. The antique chair behind the desk came from Art Treasures Gallery (art-treasures-gallery.com).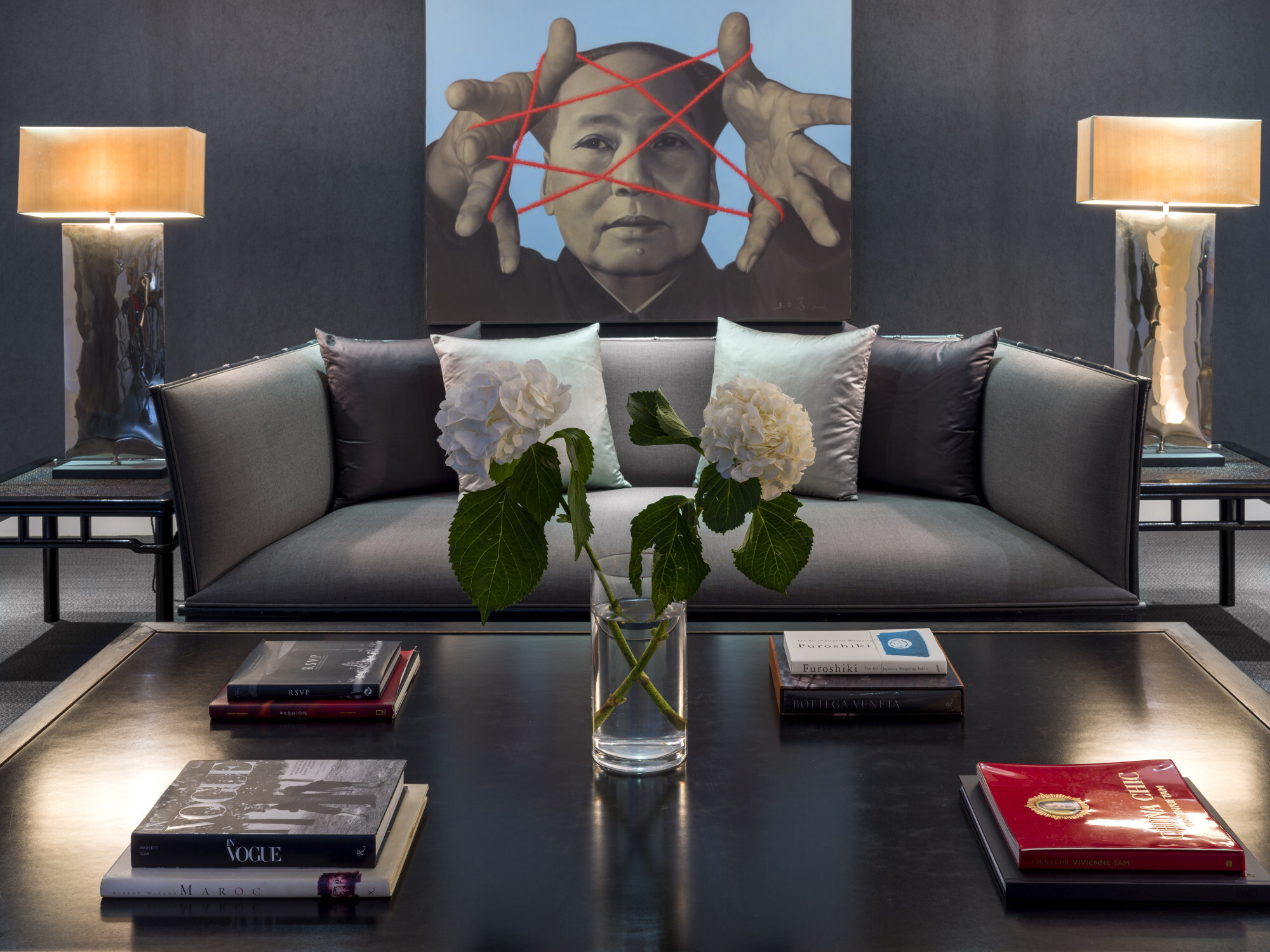 Foyer detail
Memory of the Past, by Zhu Yiyong, from Schoeni Art Gallery (schoeniartgallery.com) dominates the foyer. The sofa came from the Amanpuri resort in Phuket, Thailand (aman.com), and the coffee table was made to order at least 50 years ago for Van Damme's mother-in-law. The early 19th century elmwood side tables were from Art Treasures Gallery.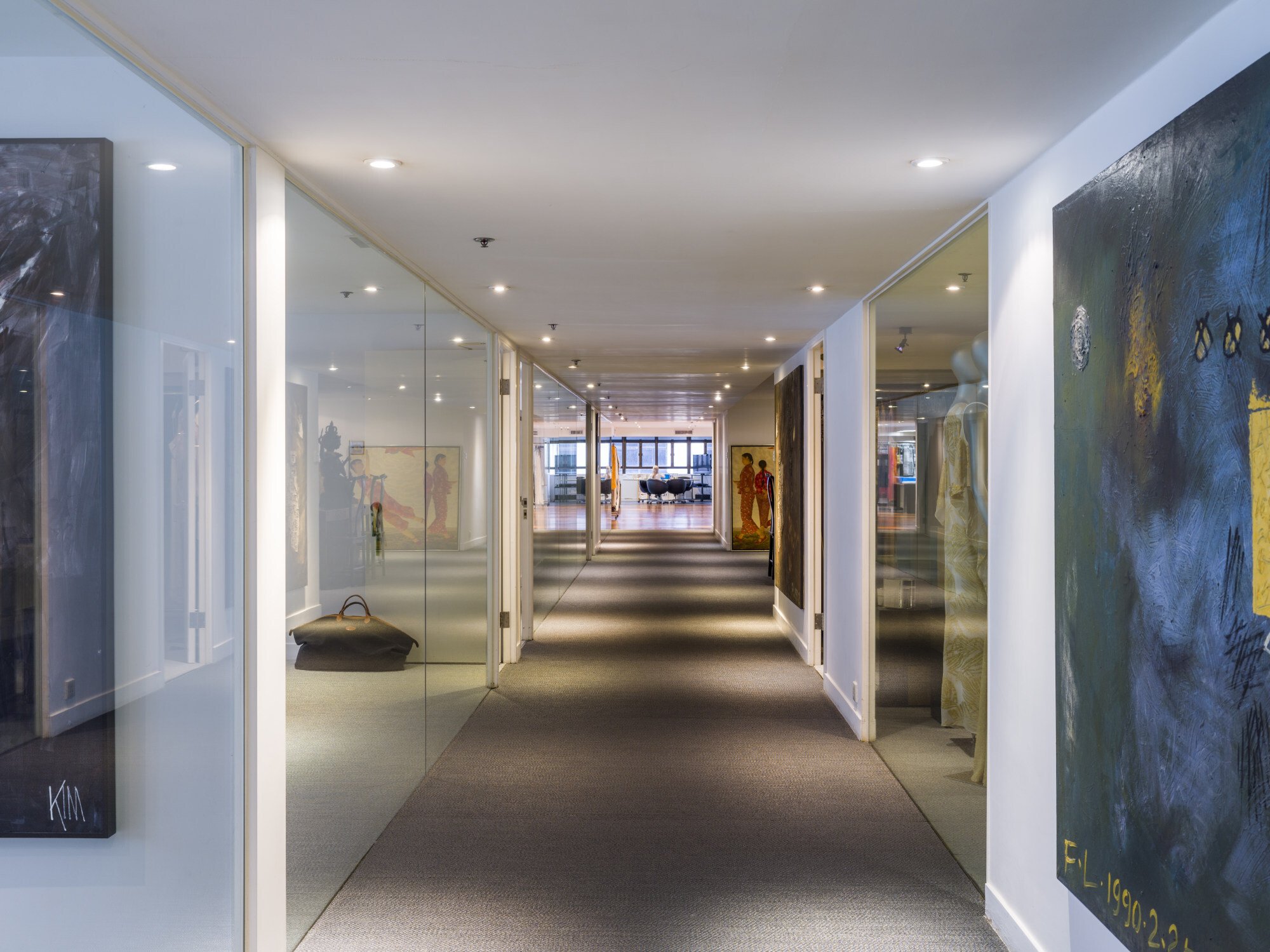 Corridor
On the right side of the corridor, Van Damme's showroom stands beside Chinese art acquired from Galerie Samuel Lallouz (galeriesamuellallouz.com), in Montreal, Canada. Near the office area is an artwork titled Flying a Kite, by Wang Yiguang, featuring three girls in red, which came from Schoeni Art Gallery.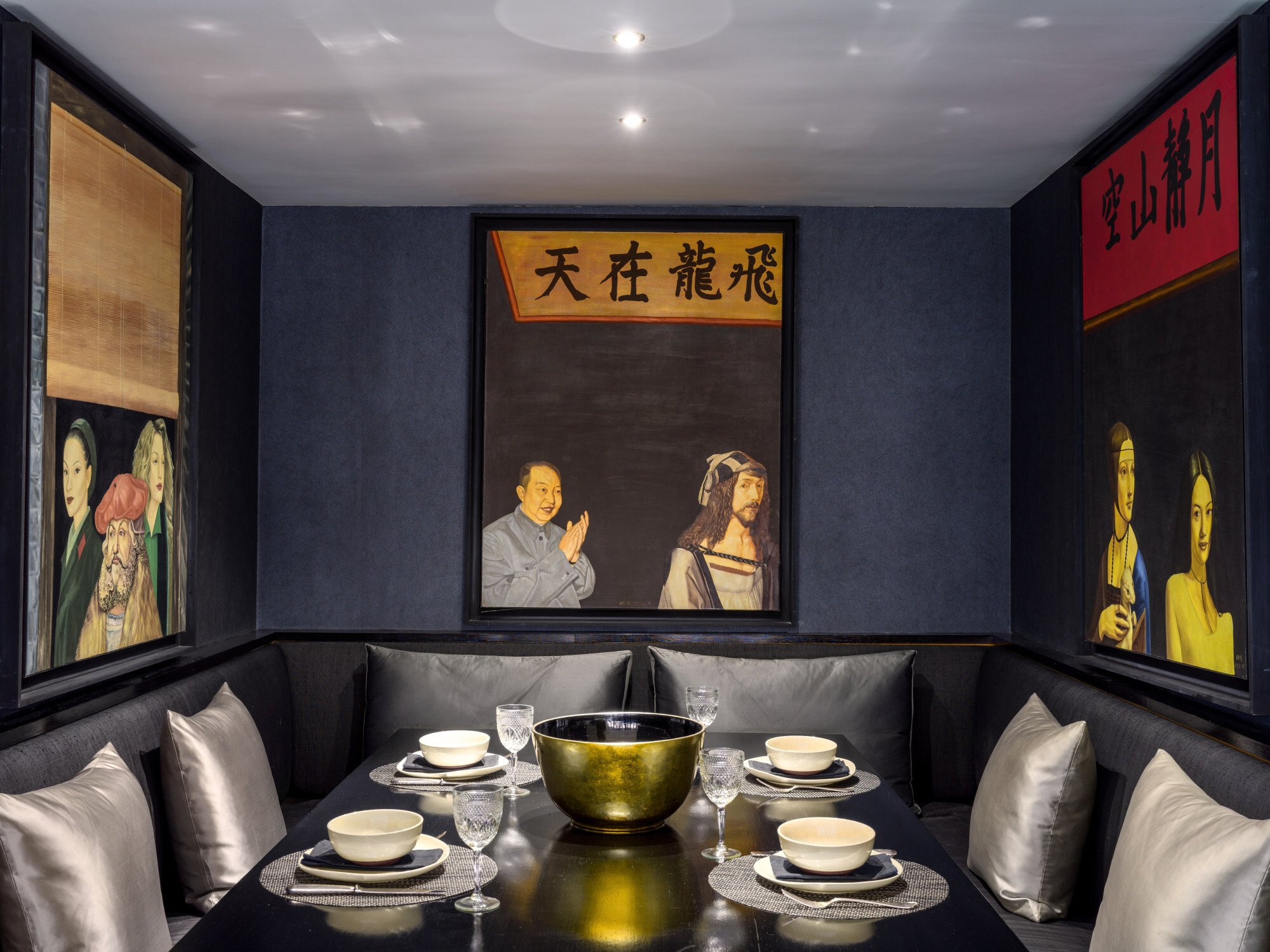 Dining area
The banquette space is situated off the lounge area. The black lacquer table and seating were made by an employee of Van Damme, with the latter upholstered in Jim Thompson fabric (jimthompson.com) and decorated with custom-made cushions in silk from Altfield Interiors (altfield.com.hk). The three paintings, by Wang Huaxiang, came from Schoeni Art Gallery.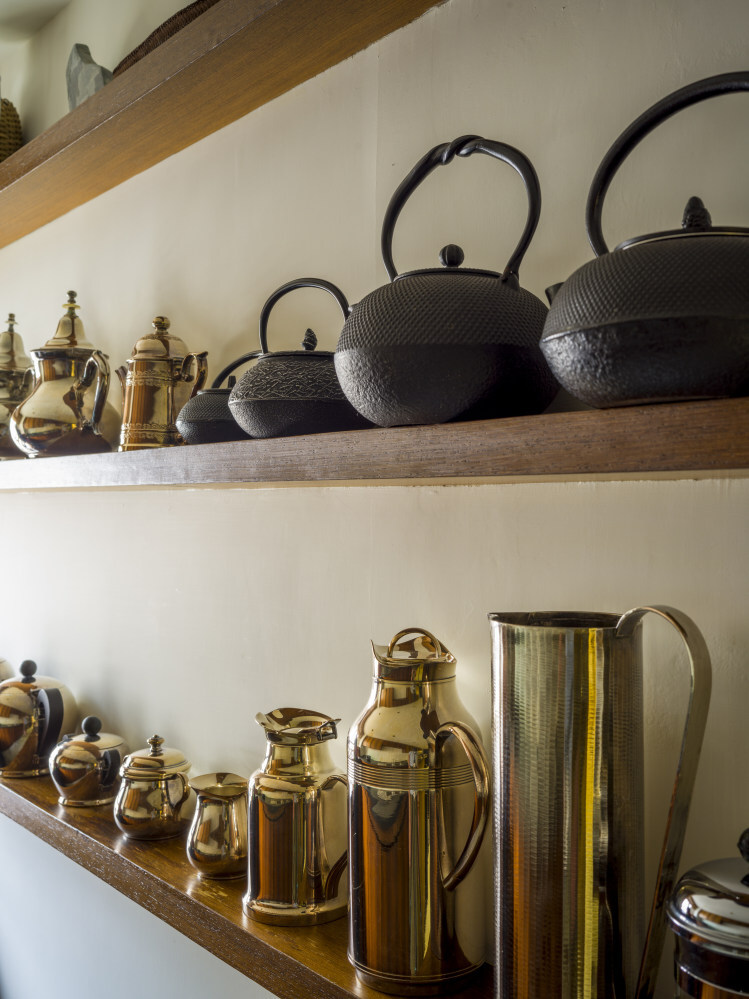 Kitchen
Displayed on shelves in a galley kitchen beside the lounge are collections of teapots and jugs, picked up on travels around the world, including from French company Christofle (christofle.com), Marrakech-based La Mamounia (mamounia.com) and Japan, which is famous for its cast-iron teapots.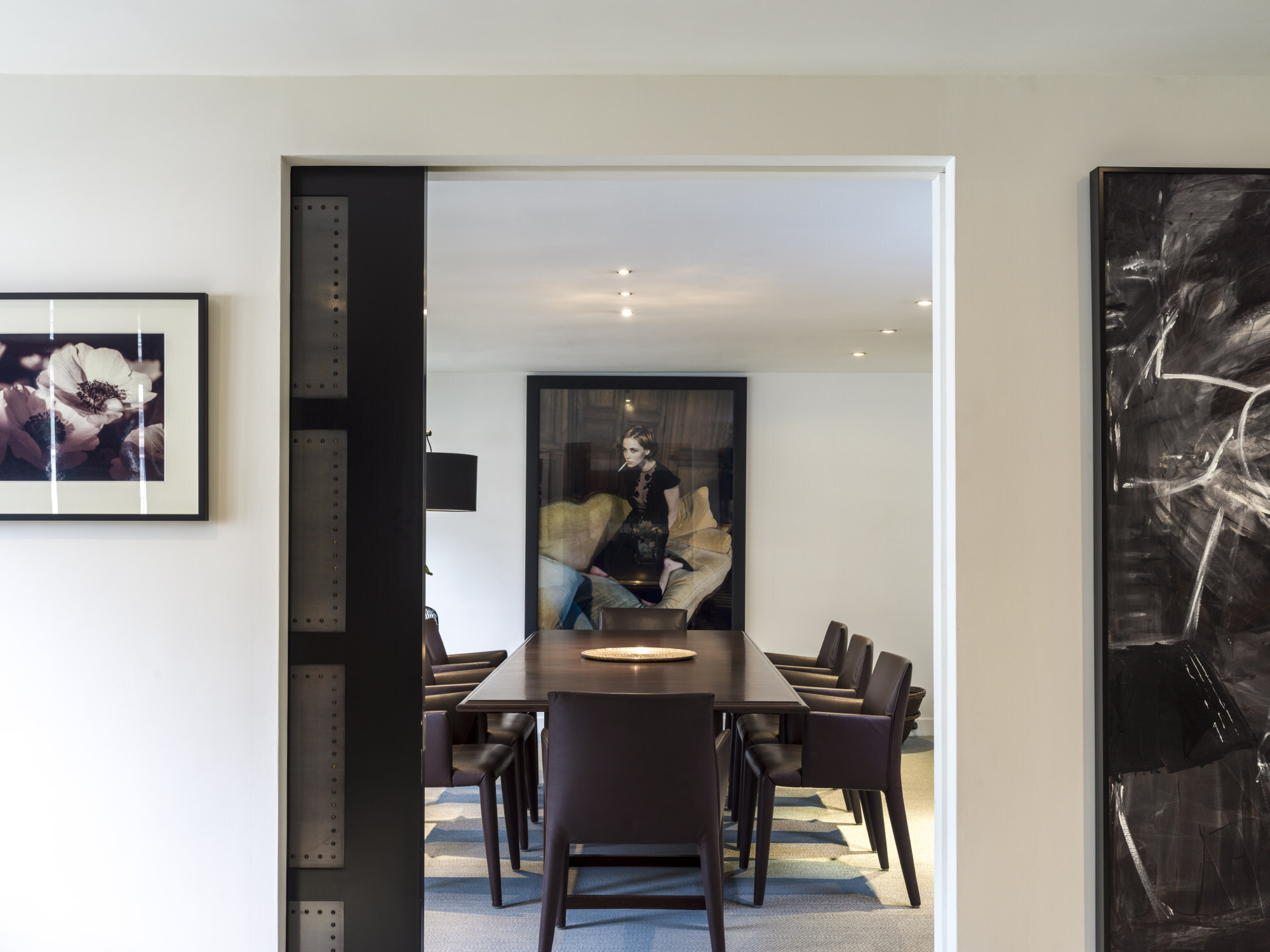 Conference room
Custom-made brass panels by Bangkok-based brand Alexander Lamont (alexanderlamont.com) have been inlaid into the sliding doors leading from the sitting area to the conference room. The black-and-white photograph was shot by Van Damme's friend and former assistant Patrick Nectoux. The painting on the right was by another friend, celebrity hairstylist Kim Robinson (kimrobinson.com).
The large photograph of French actress Emmanuelle Béart, by Bettina Rheims, came from the Maruani Mercier gallery (maruanimercier.com) in Knokke Le Zoute, Belgium. The teak conference table was made by an employee of Van Damme; the chairs and floor lamp were from B+B Italia (bebitalia.com).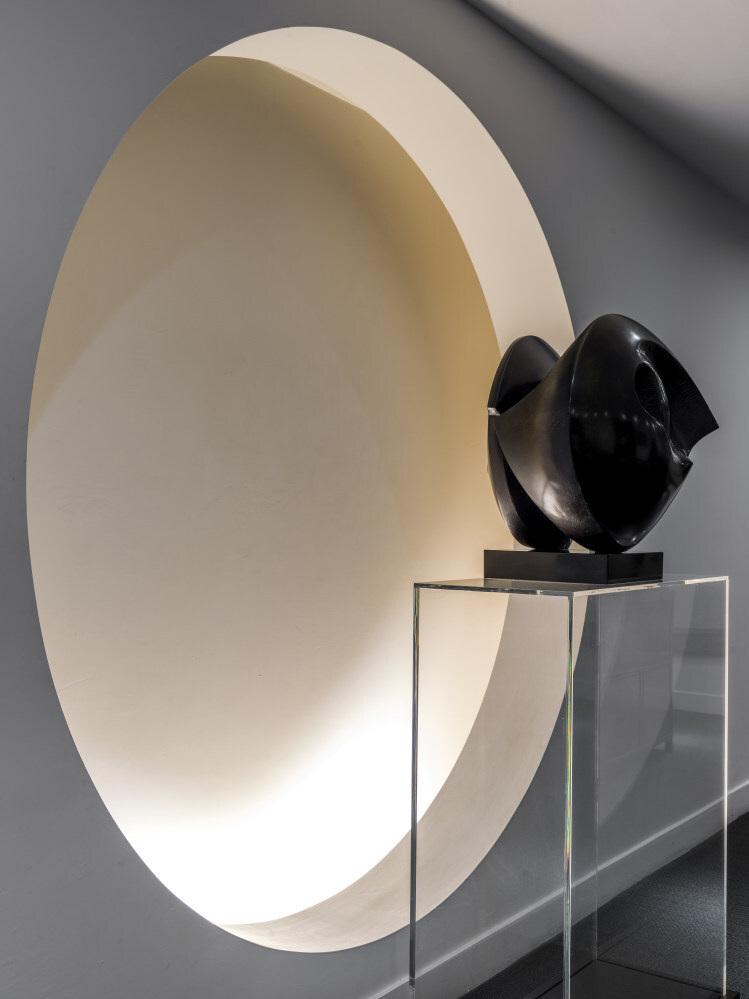 Tried + tested
Hole in the wall A large, circular cut-out in one of the foyer's walls is cleverly backlit to showcase a 1970s bronze sculpture by Belgian artist Jean-Pierre Ghysels (jp-ghysels.com). This rests on a Perspex plinth, also from Belgium, so from a distance it appears to float.
Styling: Flavia Markovits; Photo assistant: Timothy Tsang