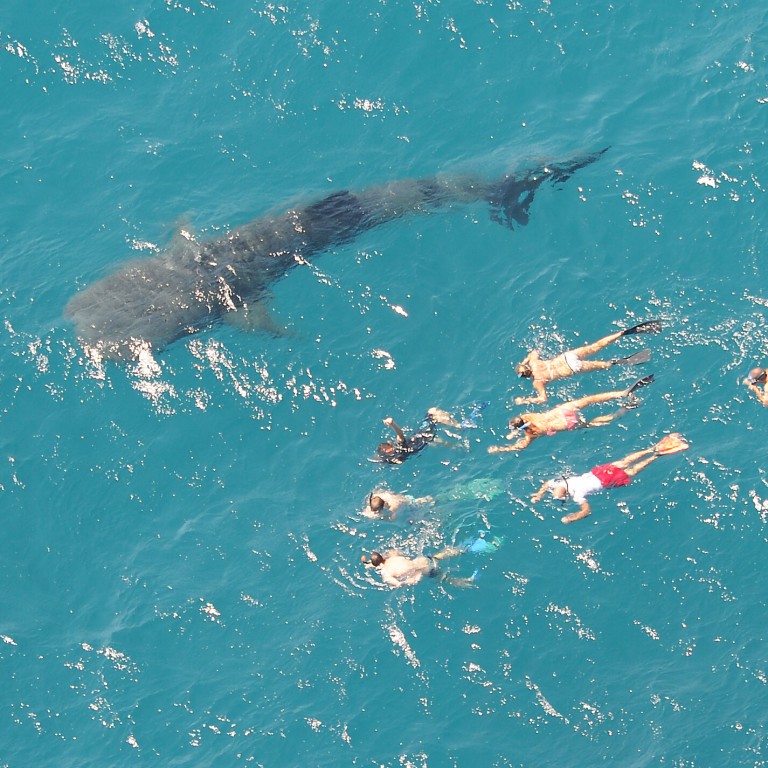 Whale sharks tracked using eDNA, and techniques from a forensic crime lab, to solve mysteries of the giant fish in Western Australia where they gather
Up to 500 whale sharks gather at Ningaloo Reef every year, and scientists at a newly built research facility use the opportunity to find out more about them
They will study environmental DNA to assess the diversity of the whale shark population, and in due course the prevalence of other marine species
Bobbing on the surface of the vast ocean, I've never felt smaller. I am waiting for a shark that's the size of a minibus. My heart pounds as the monster materialises, advancing towards me, mouth agape.
It's an endangered whale shark, about six metres long, and as I fin along beside the filter-feeder, I stifle a delighted squeal through my snorkel.
Like many tourists, it's this bucket-list experience that brought me to World Heritage-listed Ningaloo Reef, in Western Australia, some 1,200km (750 miles) north of Perth. Up to 500 whale sharks are estimated to migrate to Ningaloo Reef between March and July annually, making this the largest aggregation in the world.
The opportunity to swim with whale sharks has put the tiny town of Exmouth on the visitor map. In 2018-19, tourism here was estimated to be worth A$174 million (US$127 million) per year, supporting about 950 jobs.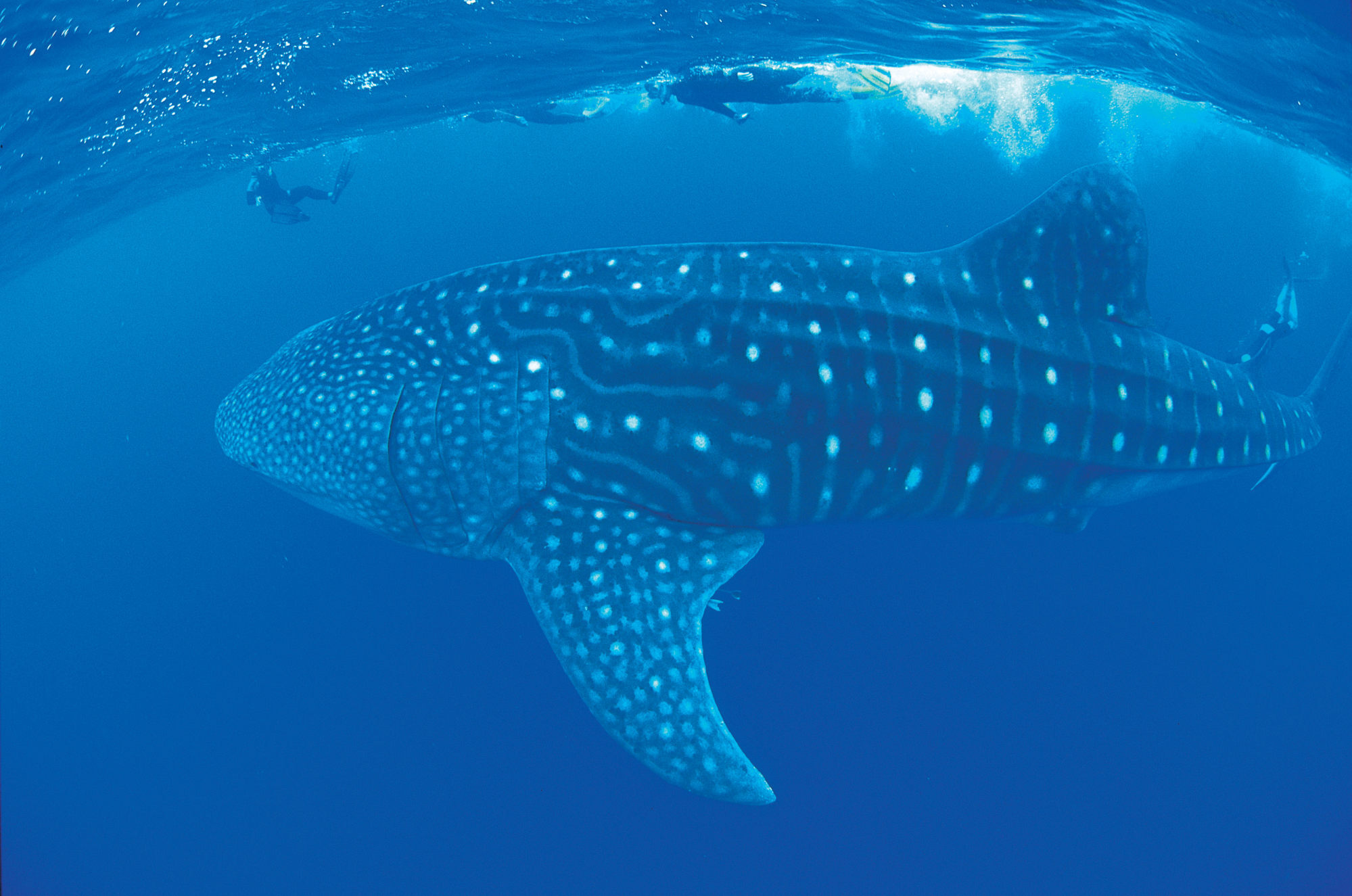 Whale sharks are a puzzle for scientists. But that looks likely to change, along with the solving of many other mysteries of the ocean. The Minderoo Foundation Exmouth Research Laboratory (Merl) was officially opened in September, bringing world-class research capabilities to Ningaloo Reef.
The laboratory is funded by the Minderoo Foundation, the philanthropic organisation of Andrew Forrest, the founder of iron-ore miner Fortescue Metals Group who is frequently cited as Australia's richest man.
The investment by a mining magnate in marine science is not as unlikely as it sounds. Forrest says he has always been passionate about ocean sustainability and in 2019, he completed a PhD in marine ecology through the University of Western Australia (UWA). Forrest believes that philan­thropy and science should go hand in hand.
"Universities and the like saw it as potentially a bottomless pit," Forrest says, explaining that the cost of building the lab was close to A$10 million, with operations costing more than A$800,000 per year. "But compared to the benefit it gives you, it's a very small investment," he says.
"It gives you an eye to the Indian Ocean right on Exmouth Gulf, which is an ecological wonder, and it's right near the world's largest fringing reef."
Forrest says its ecotourism opportunities make Exmouth an ideal place for the lab, with visitors' passion for the reef hopefully leading to conservation.
"Where you get tourism, you tend to get awareness," Forrest says. "When you get extreme awareness, you get extreme protection."
Many projects are already up and running at the Merl. One of the most exciting is the molecular laboratory, which will facilitate the study of environmental DNA (or eDNA).
All animals shed tiny pieces of genetic material into the environment, such as skin cells, faeces or mucus. In the marine environment, collecting eDNA is as simple as taking samples of seawater. These are filtered and processed in the molecular laboratory, which "reads" the sample, scanning for any sequences of eDNA that it recognises from species that have already been sequenced and catalogued.
In this way, the machinery can detect any known species that have passed through the water.
Whale sharks are one of many species set to benefit from the technology. The whale sharks of Ningaloo are predominantly juvenile males and scientists still have many questions surrounding their migration.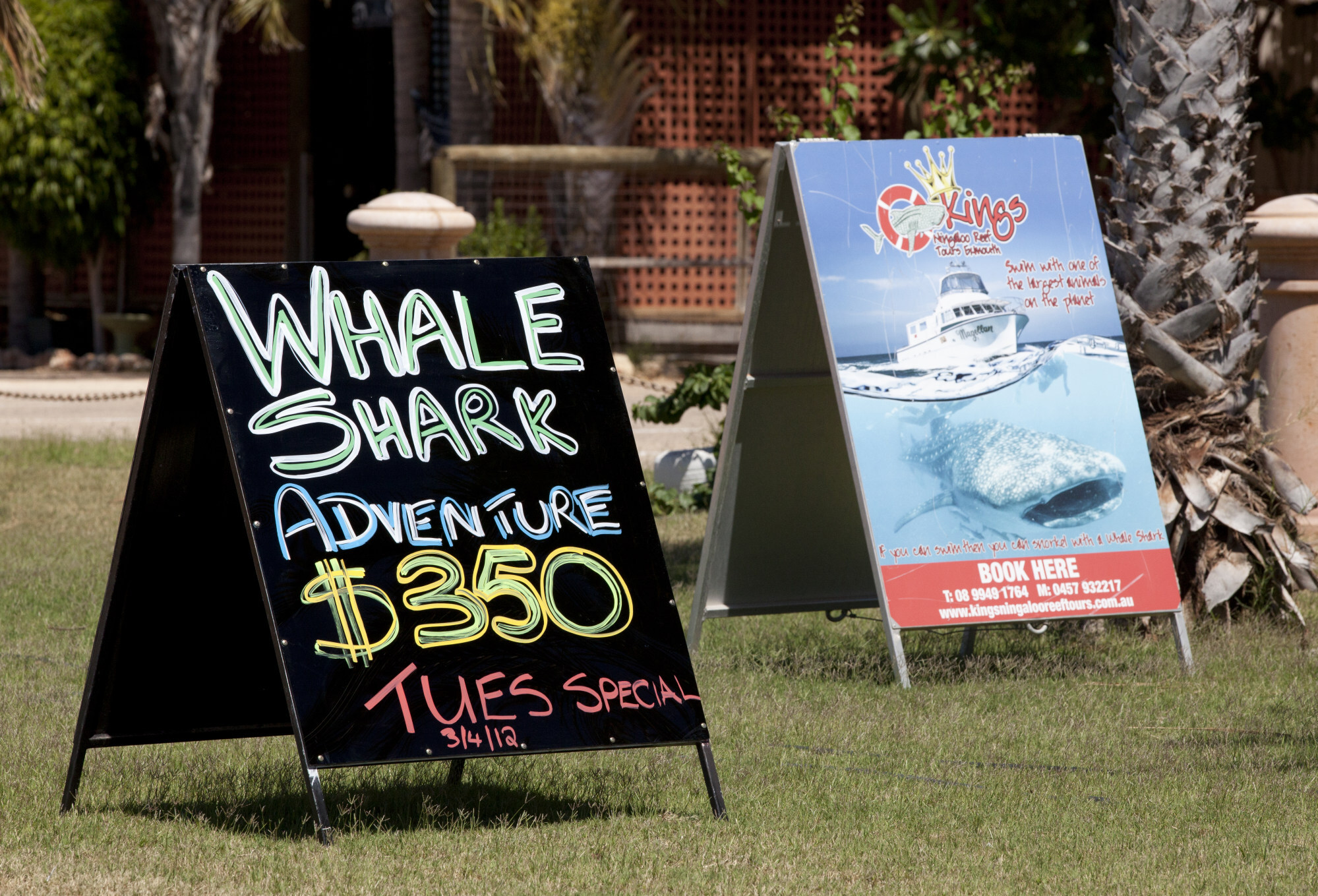 "Because they are fish, they don't need to breathe at the surface," says Laurence Dugal, who is completing her PhD in molecular ecology through the Australian Institute of Marine Science and UWA. "They can go really deep and cross ocean basins, popping up in a completely different area of the world. What they do in between is still quite mysterious."
Dugal explains that eDNA has been used mostly to detect the presence of species, such as invasive fish species in rivers, and for monitoring biodiversity in marine and terrestrial environments.
"Our research kind of changed that, in the sense that we used the technique to answer some population-level ques­tions and to get some estimates of the diversity within the Ningaloo whale shark population," she says.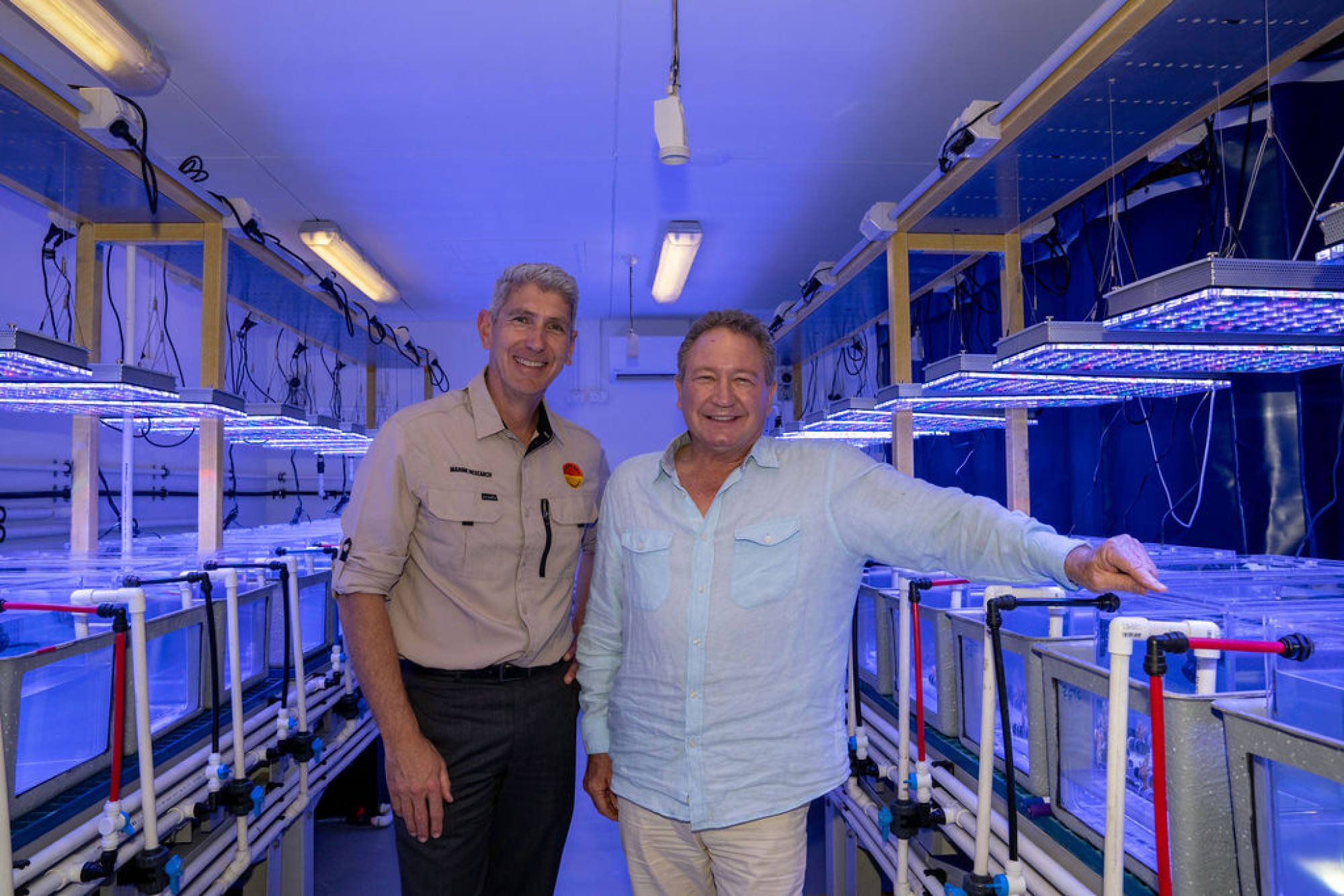 For the first time, eDNA was used to determine information about whale shark populations. By collecting tiny fragments of genetic material called mitochondrial DNA, researchers were able to establish that individual whale sharks were genetically linked.
Dugal and her team collected the eDNA by simply swimming behind the whale shark with a bottle. This method has proven accurate, and avoids invasive and labour-intensive techniques such as taking biopsies (a chunk of the whale shark's skin).
The next step in this research employs techniques borrowed from forensic science used to catch criminals, and aims to identify individual whale sharks.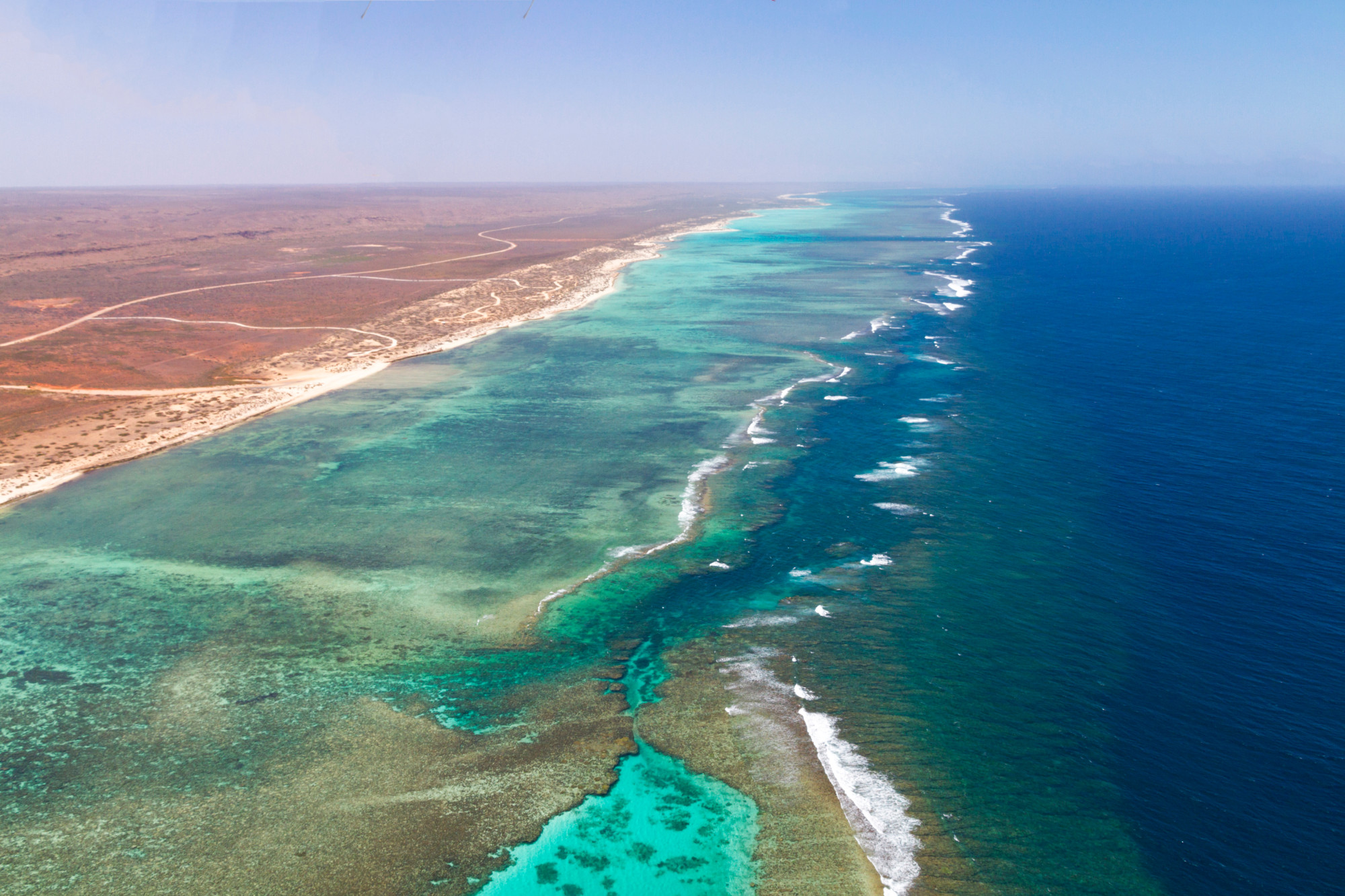 PhD candidate Abinaya Meenakshi­sundaram is refining the technique, which hinges on sampling many fragments of one whale shark's eDNA in the water column, and by iden­tifying forensic genetic markers, known as microhaplotypes, finding a unique "fingerprint" for each whale shark. Statistics will then be used to determine if this whale shark matches others in the database, identifying it as the same animal.
It is the first time eDNA has been used to identify any animal at an indi­vidual level, and if it is as successful as trials promise, it has applications for many marine species.
Equally important to tourism is the study of animals that could deter visitors.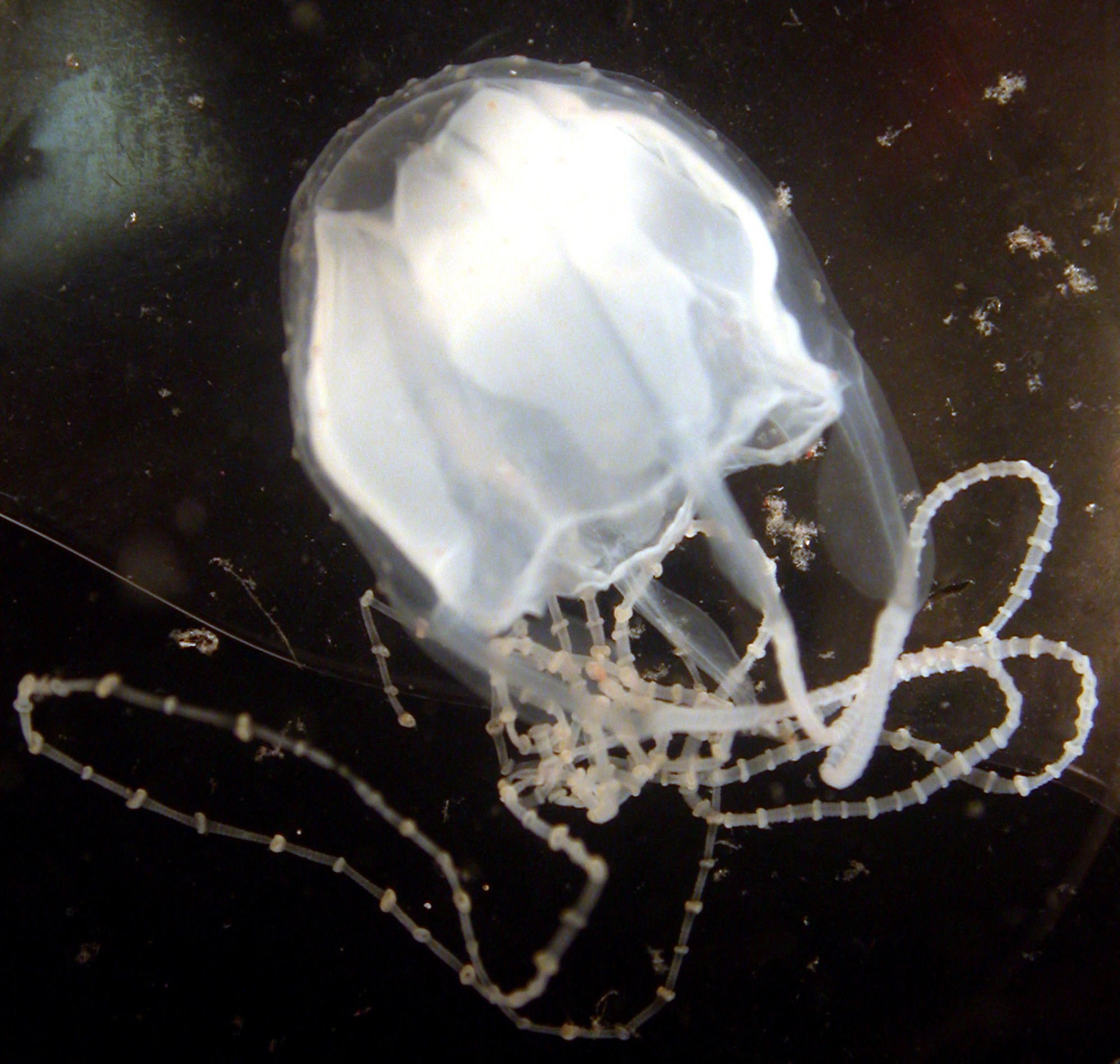 Irukandji are a group of poisonous jellyfish species, occasionally found on Ningaloo Reef. The jellyfish have caused sporadic clusters of injuries requiring a visit to hospital, and little is known about what triggers their occurrence here. Research is being conducted at the Merl in collaboration with Griffith and James Cook universities that uses eDNA to detect two local species, the plan being to develop a system to warn of their presence.
The Merl is just one part of the Minderoo Foundation's marine programme, known as Flourishing Oceans. Its ambitions include researching deep oceans, ending overfishing and plastic marine pollution, and the enlargement of the world's protected marine environments. It spends between US$30 million and US$40 million per year on these goals.
The organisation is flush with serious scientists. Flourishing Oceans' CEO, Dr Tony Worby, is the former head of Oceans and Atmosphere at Australia's government science organisation CSIRO. In addition to the Merl, Worby's prized tools include the state-of-the-art research vessel Pangaea Ocean Explorer. The ship houses a powerful molecular lab, similar to a cancer-research unit, whose operation at sea can be challenging.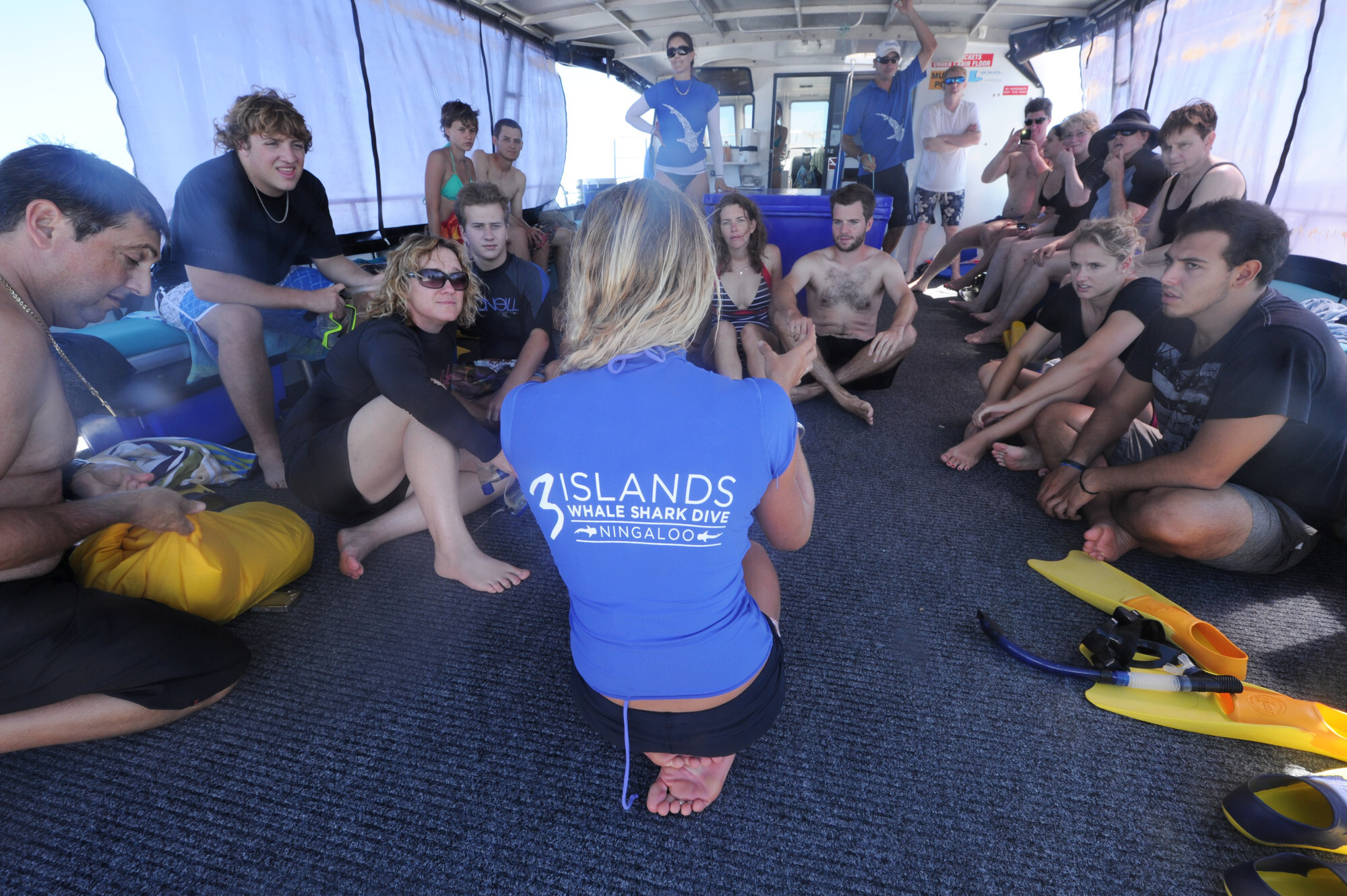 "You're taking instruments that are designed to analyse human blood in a hospital lab, and you're putting them on a rolling ship," Worby says. But his team's work is critical to one of Flourishing Oceans' most exciting projects.
OceanOmics seeks to build a library of genomic data on underwater species on a scale not seen before.
"Historically, if you want to know what's in the ocean you go drag a net through it and dump everything on the back deck of a ship, and it's dead," Worby says. "We hope to get to the point where you can actually sample the water, filter the DNA fragments of each of those species, and sequence that DNA and start to build up a picture of the marine life."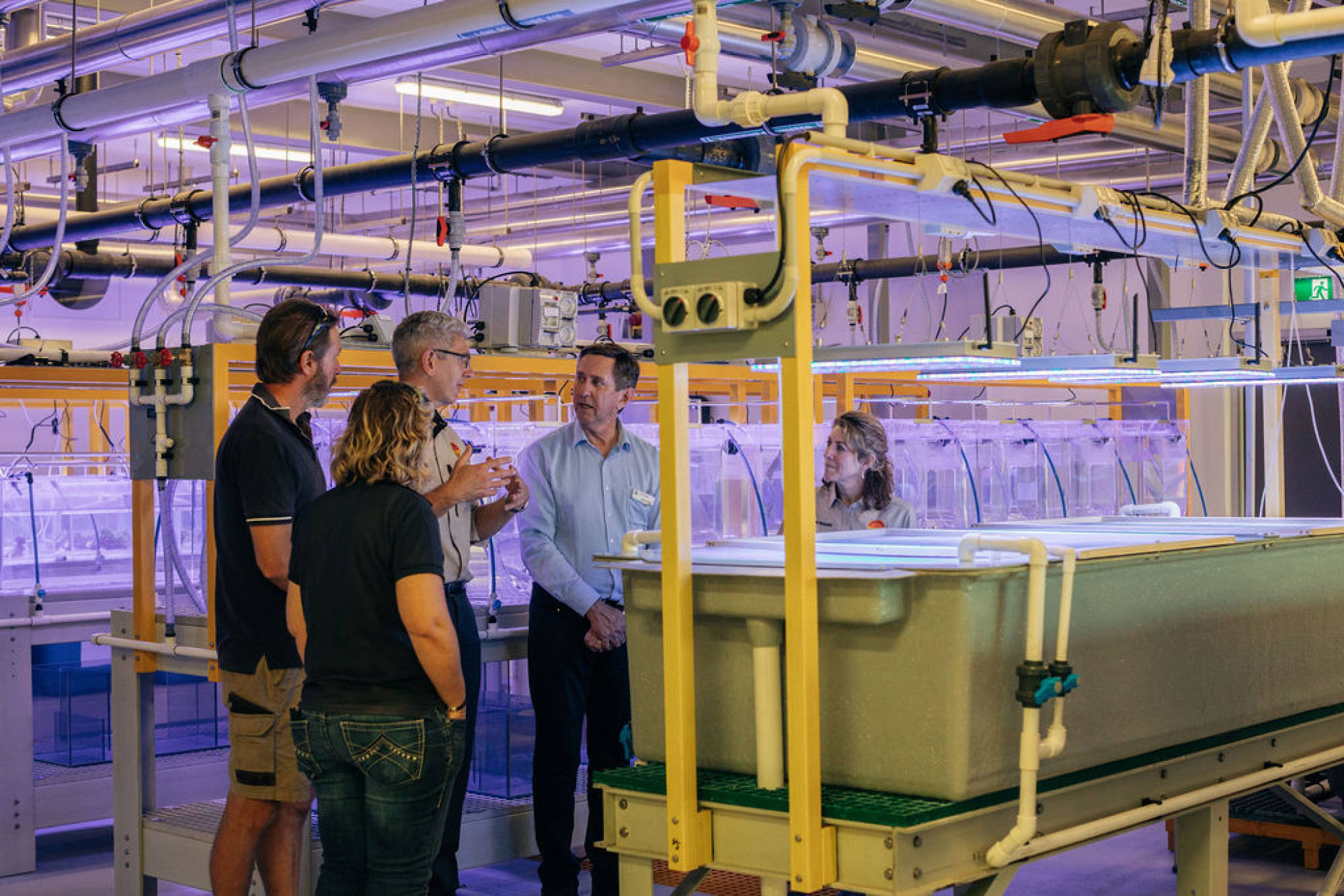 Forrest says OceanOmics represents a new frontier in marine science, and hopes the speed at which data can be collected will facilitate conservation before populations become endangered.
"Through OceanOmics, you can start to work out that holy grail, which is abundance, population scale, age, sex, pregnancy, all these things," he says. "You're almost talking to the animal, and it's talking back to you."
Back on the reef, my whale shark is not talking to me. Instead he's diving deep. As I watch him gracefully disappear, I wonder where he'll pop up next. Perhaps he'll return to Ningaloo, like a revisiting tourist, and researchers might get to know him better.