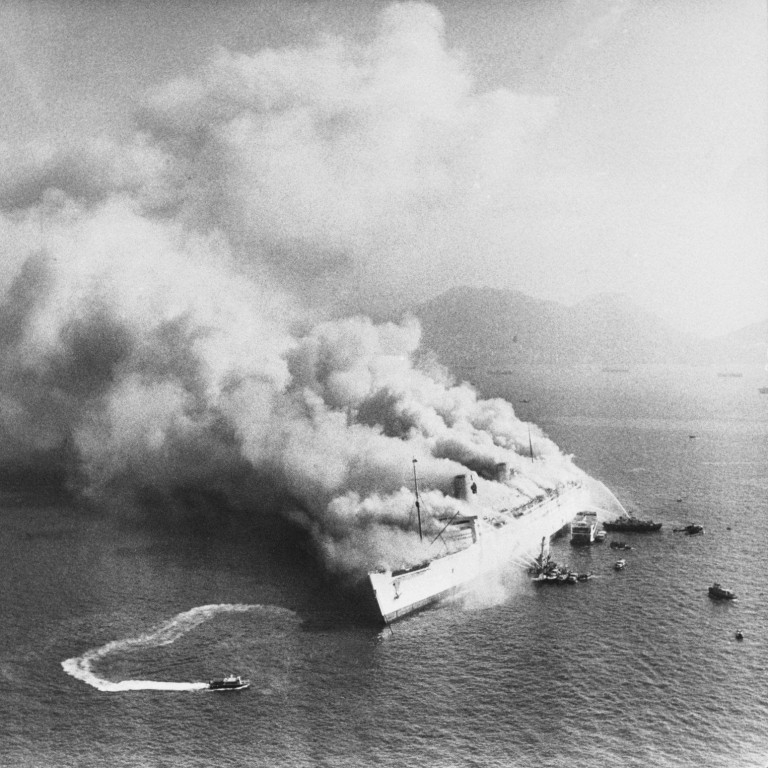 Opinion
Then & Now
by Jason Wordie
Then & Now
by Jason Wordie
The fate of Hong Kong's Jumbo floating restaurant recalls that of liner the Queen Elizabeth, which caught fire in Victoria Harbour and was broken up for scrap
Converted from luxury passenger ship the Queen Elizabeth, Seawise University was to become a floating tertiary institution in Hong Kong until it caught fire
Its hull later starred in a James Bond film, before being finally cut up for scrap; what little remained unsalvageable was later buried under reclamation
Heritage is a selective enthusiasm. Different individuals choose what to warmly remember – or conveniently forget; aspects of the past can easily become emotionally comforting "projection and transference" therapeutic exercises for other present-day concerns. Conflicting, contradictory collages of (mostly sensory) recollections vary wildly; none are inherently "wrong."
Variously mourned and dismissed
, Aberdeen's Jumbo Floating Restaurant offers a classic representative example. Like so much else in Hong Kong, darkness' cosmetic effect greatly enhanced the venue's allure – or at least, the intended exotic impression.
Glitter and gilding are always easier to pass off as gold when viewed from a safe distance. Best not to look too closely at the foundations or back-of-house – and certainly not the unlovely kitchen barges, which sank at their moorings a few days before the main vessel departed.
Jumbo's 1970s heyday epitomises this conundrum. Back then, much like Aberdeen's floating behemoth, Hong Kong retained intact every conceivable Oriental cliché and stereotype, all amplified by amateur-level ham acting. Those times merit little nostalgia, particularly when contrasted with today's vastly superior "patriot-ruled" city.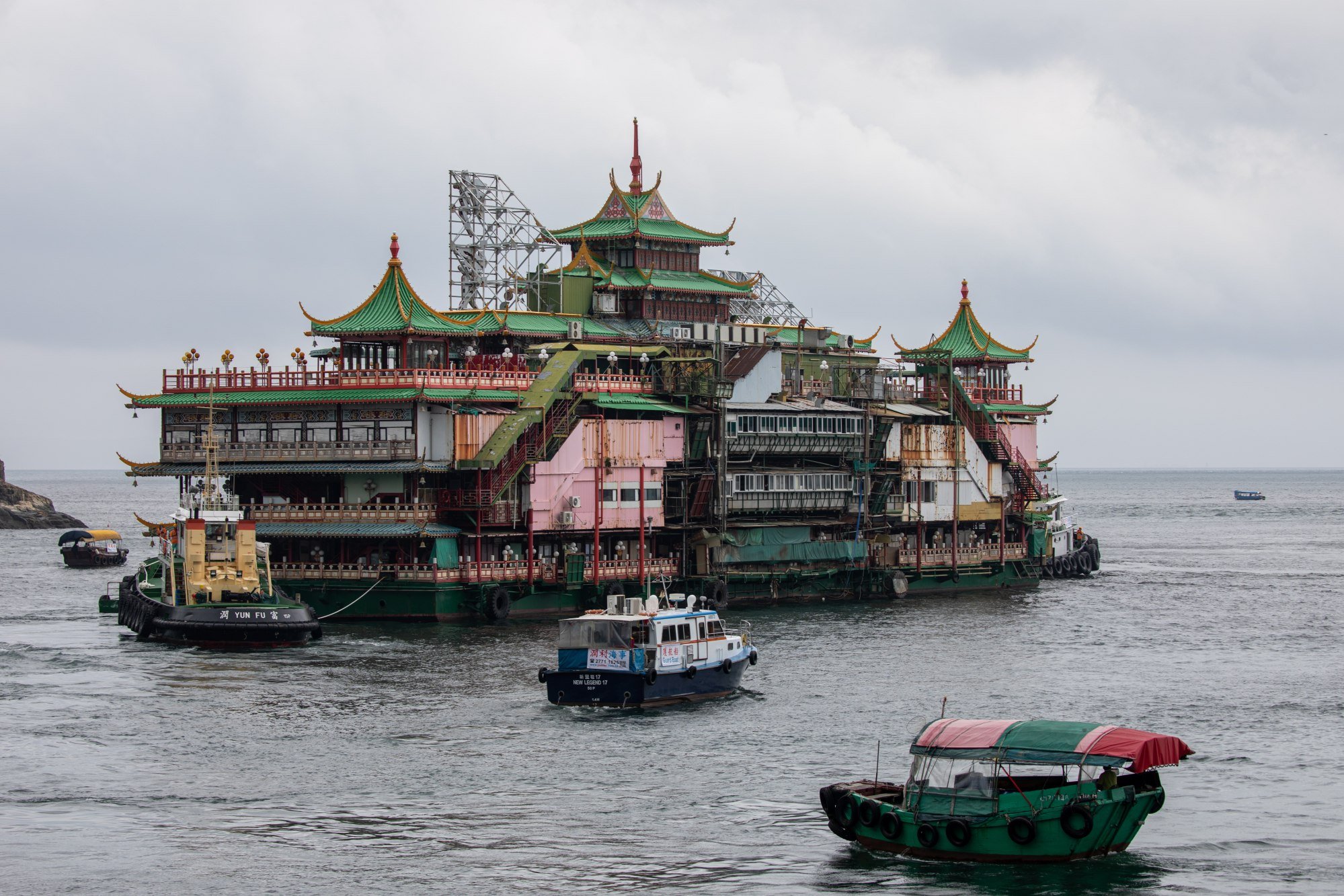 Back then, police were off the leash; corruption was off the graph; pollution was off the scale, and senior officials were cloth-eared duffers, blithely unresponsive to the public interest they allegedly served. And all were – ultimately – fully owned subsidiaries of a faraway colonial power.
In short, it was an "international, cosmopolitan", irony-free export-processing/money-laundering zone, where poverty-stricken squatters huddled on grossly overcrowded, typhoon-swept rooftops while idle-rich bums perched over gold coin-studded toilet seats, attended animal-charity fundraising galas swathed in mink coats, and "let them eat cake!" was sweetly regarded as a genuine answer to real-life problems – a vastly different place, in every respect.
As Jumbo was towed from its moorings, various uncharitable persons – the present writer among them – silently wondered whether a top-heavy, glorified pontoon would eventually reach its undisclosed ultimate destination. Might unkind fortune instead assign it a different fate en route?
And so – the mere act of thought being creative, according to ancient mystics – this unfortunate prognostication came to pass; the South China Sea is a treacherous place to navigate at any season. Perhaps a swiftly passing naval patrol vessel caught her in its wash; no doubt all will be revealed, in the fullness of time.
Jumbo's sad fate recalls that of the Queen Elizabeth. The Cunard transatlantic luxury passenger ship was the largest passenger liner ever built when launched in 1938; that record was retained until 1994. Rendered obsolete within a few years by the rapid expansion of jet travel, the Queen Elizabeth was retired in 1968.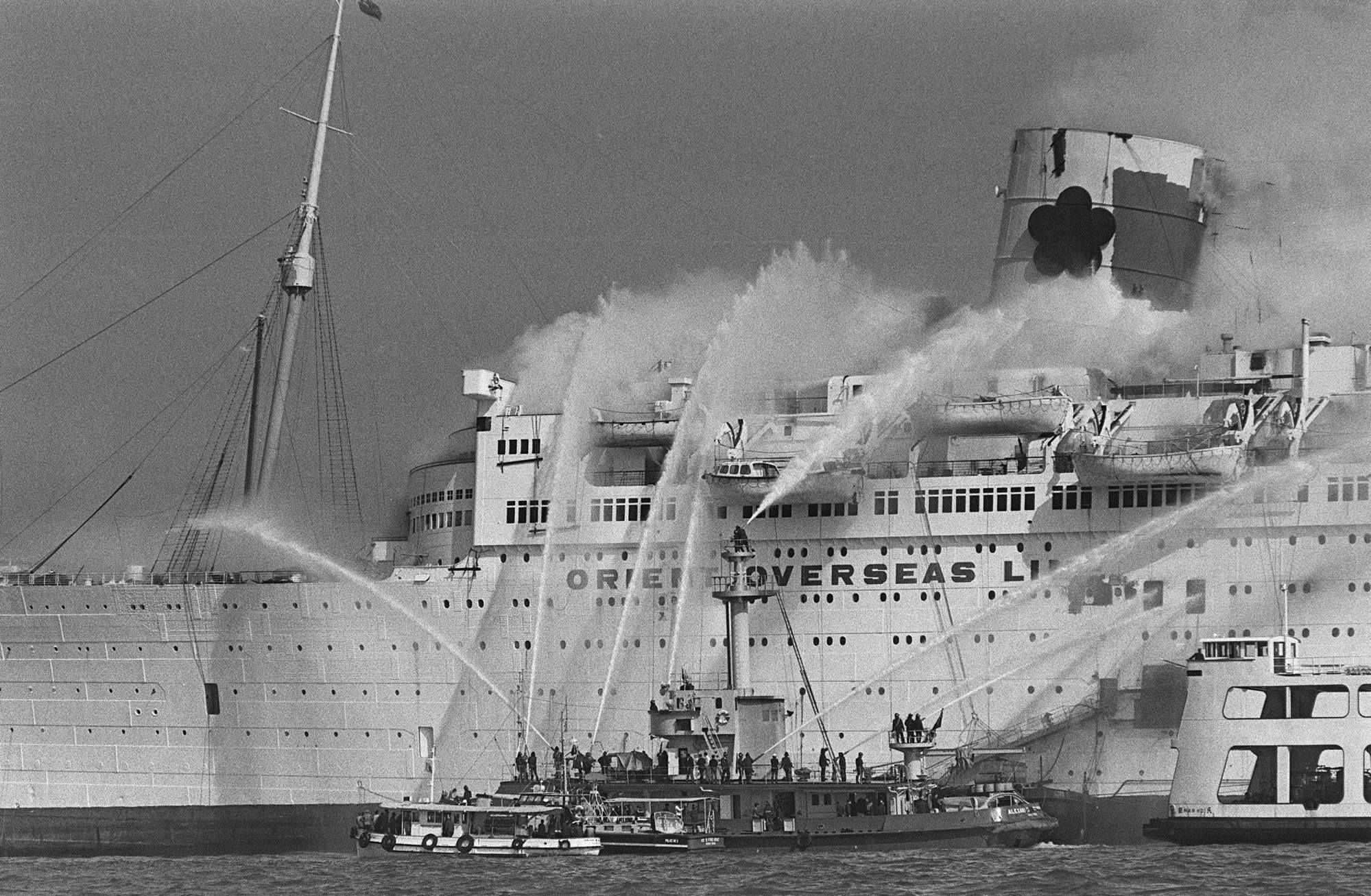 Finally sold to the Orient Overseas Line in 1970 for a reported US$3.5 million, the vessel was subsequently insured for US$8 million, and sailed out to Hong Kong, where it was converted at multimillion-dollar expense into what was intended to be a floating tertiary institution dedicated to international understanding among the world's youth.
Seawise University – the name was dismissed by the unkind as a lame pun on its owner's initials – was the brainchild of C.Y. Tung, the legendary Chinese shipping tycoon, philanthropist, close personal friend of Princess Grace of Monaco, and father of Hong Kong's first chief executive, Tung Chee-hwa.
Refitting work was almost completed in early 1972 when disaster struck. A fire, apparently started by welder's sparks and rapidly accelerated by fire doors being wedged open instead of safely shut, swiftly torched the vessel. Water pumped by fireboats caused the vessel to fill up, then capsize and partially submerge.
Blackened and eerie, the hull later starred in the James Bond thriller The Man with the Golden Gun (1974), before being finally cut up for scrap; what little remained unsalvageable was later buried under reclamation. Memories of that curious catastrophe still cause occasional sleepless nights for various folk involved; it remains too soon to know whether Jumbo's fate holds a similar aftermath.