Fashion
Get more with myNEWS
A personalised news feed of stories that matter to you
Learn more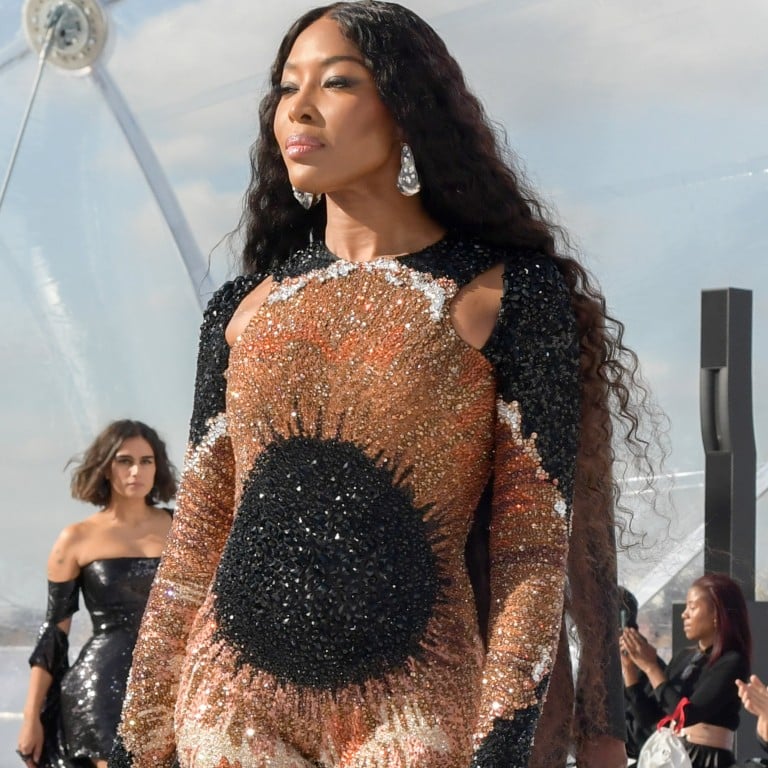 Alexander McQueen's sexy and empowering fashion show in London, attended by Janet Jackson and Letitia Wright, was inspired by 16th-century painter and seeing the beauty around us
Sarah Burton, creative director of Alexander McQueen, talks about holding a post-Paris Fashion Week show in London and keeping it sustainable
She reveals the inspiration behind the spring/summer 2023 collection and how her womenswear is all about designing 'a woman dressing for a woman' – not men
Just when you thought fashion week had ended, Alexander McQueen held a show to present its spring/summer 2023 collection in its hometown of London a week after the end of Paris Fashion Week.
"I love showing in London," the brand's creative director Sarah Burton explains in a post-show interview. "It has been nice to do things at our own pace and, during Covid, we just showed when we wanted to show.
"It's great to show here as a British company."
Burton adds that the Smiljan Radic-designed, bubblelike structure in which the show took place at the Old Royal Naval College on the banks of the River Thames was the same one from its last London show, held on a rooftop in the city's East End in October 2021.
"We made that bubble so that it could be completely reusable, because fashion shows are not perfect so we decided to reuse the whole thing after it was stored," she explains, referring to
the unsustainable aspect
of producing a show and the waste it often entails.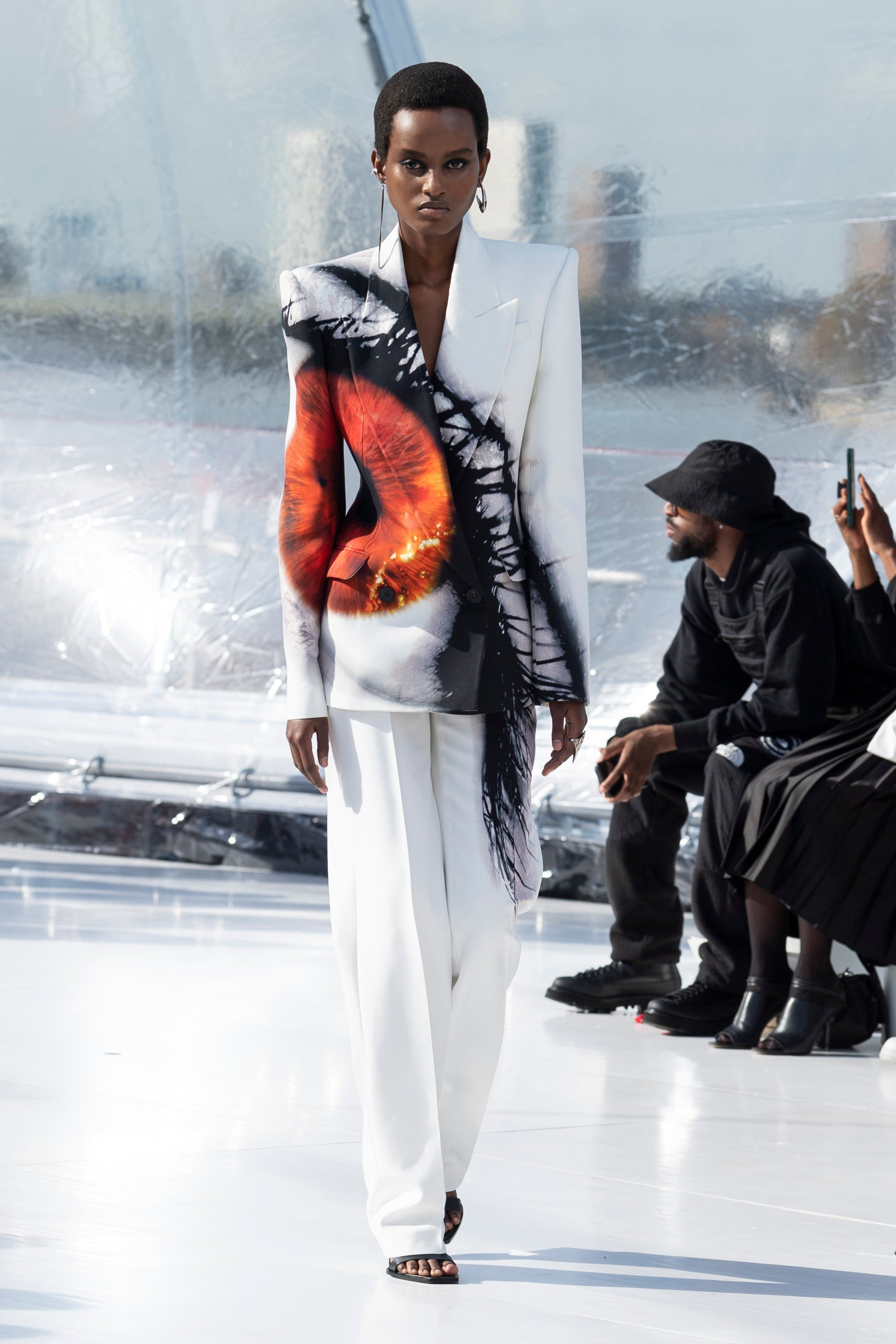 A skilled dressmaker who trained under the late Alexander McQueen – who committed suicide in 2010 – Burton has made the brand her own, while also trying to stay true to the contrast between dark and light that has always been at the heart of the label.
This season, she used an eye print as the leitmotif for the collection. It appeared in abstract form on dresses and jackets. "I went to a Mars exhibition at the Design Museum [in London] a long time ago, and had this idea of going to space. At the end of the exhibition, they had pictures of the Earth and it was the most beautiful thing. It made you think that what we have around us is so beautiful," she says.
"Everyone can use their eyes to look and see what's beautiful about this world we live in, so it's about finding the humanity in these times we live in; that's what the eye represents. It's the most unique symbol of humanity; each one is completely individual."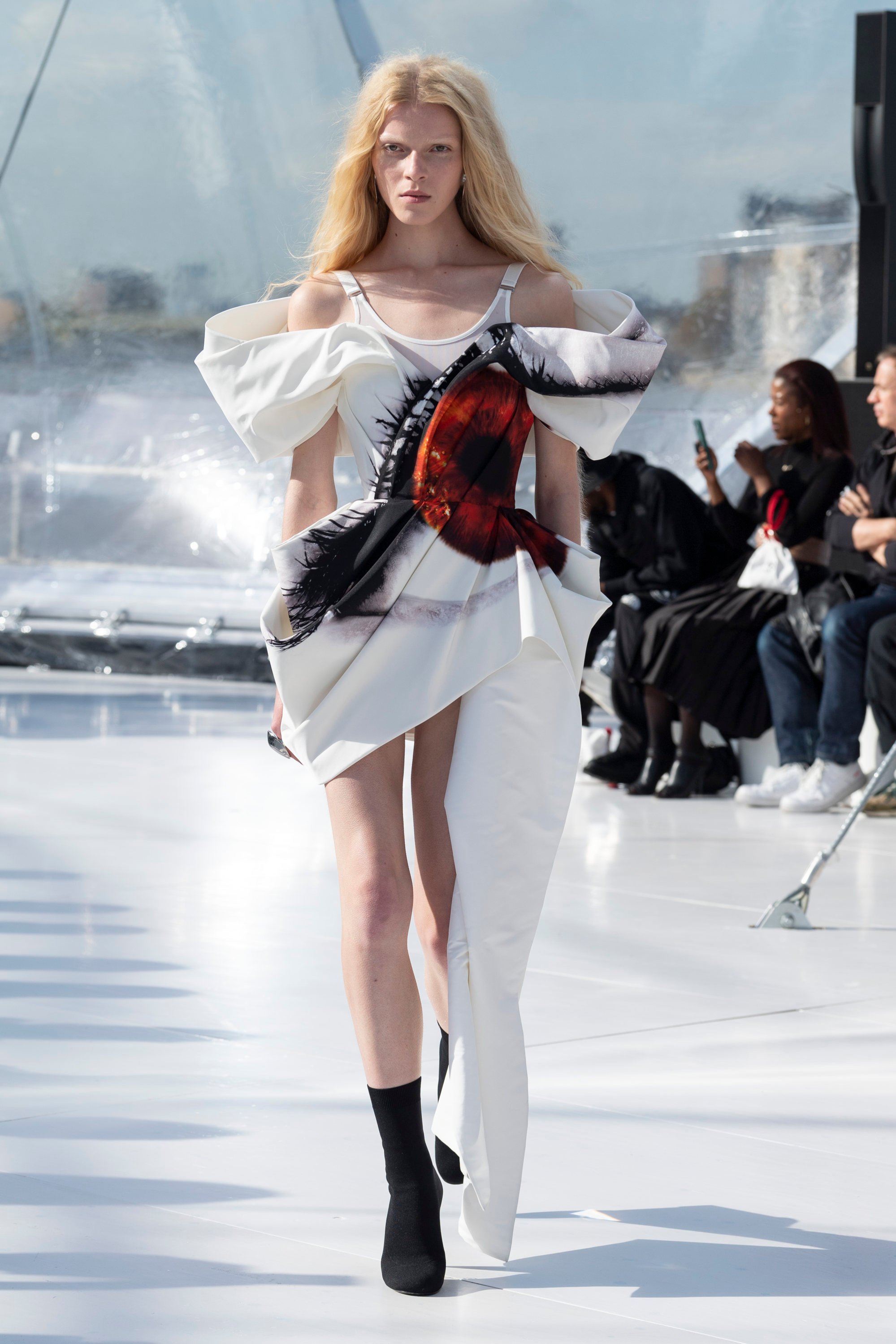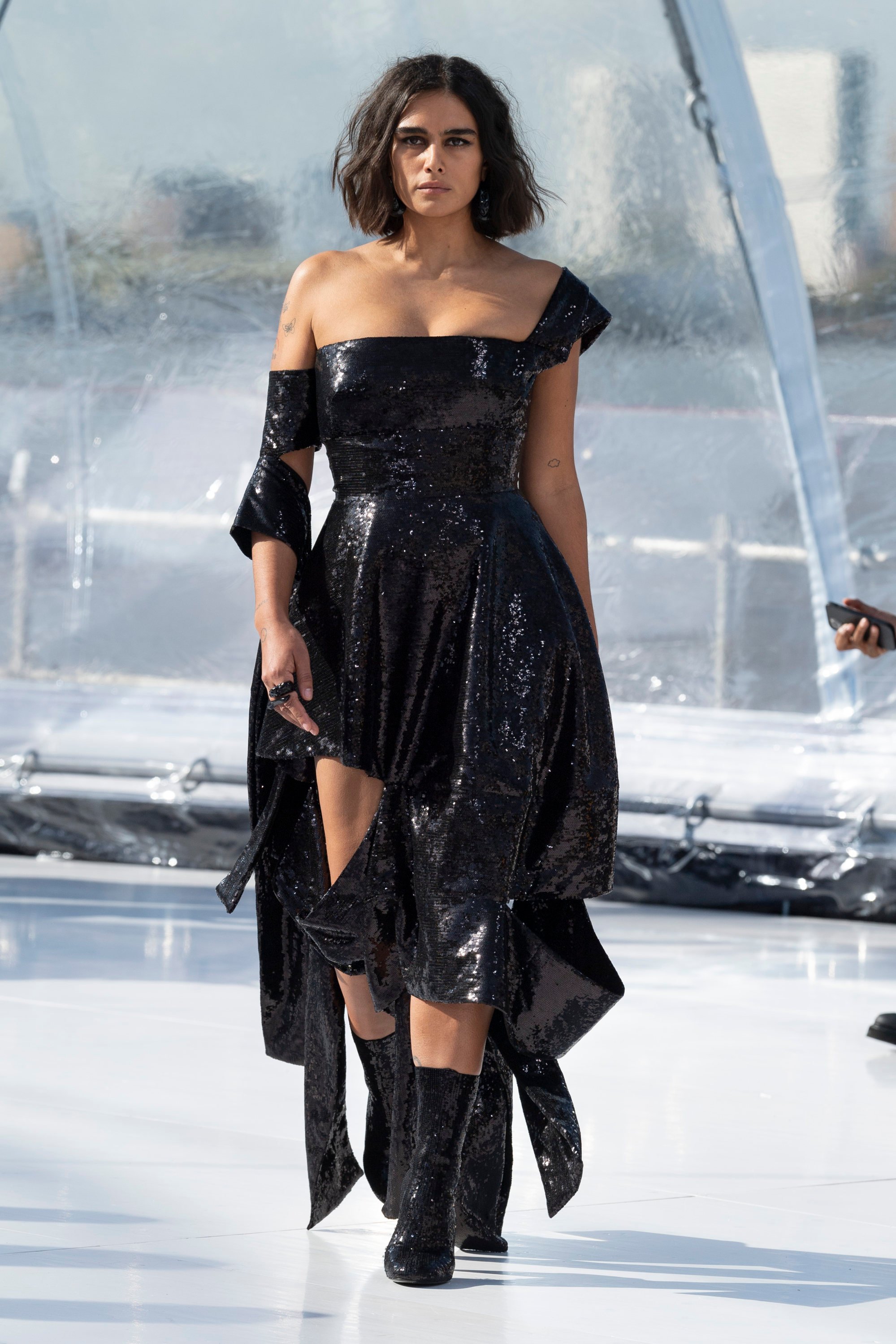 "Hieronymus Bosch was about seeing things with different eyes. When you look at his paintings they're so beautiful, but when you look closely there's a very dark narrative there," she says.
"It feels like we're living in another dark age; something that we've always looked at at McQueen – death, destruction and beauty – it's all there. It's about seeing things again, not walking around with your eyes shut or down but seeing each other and humanity."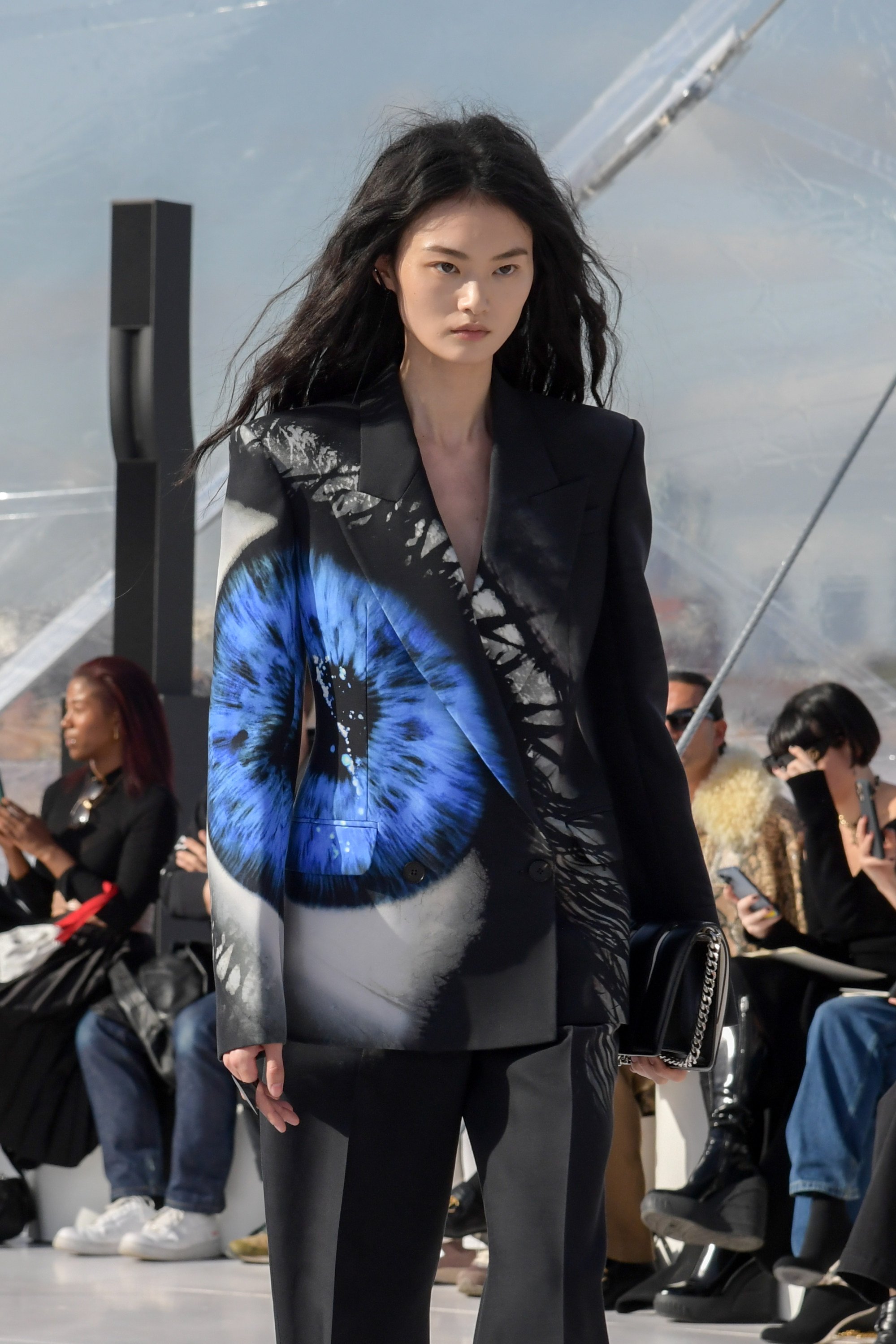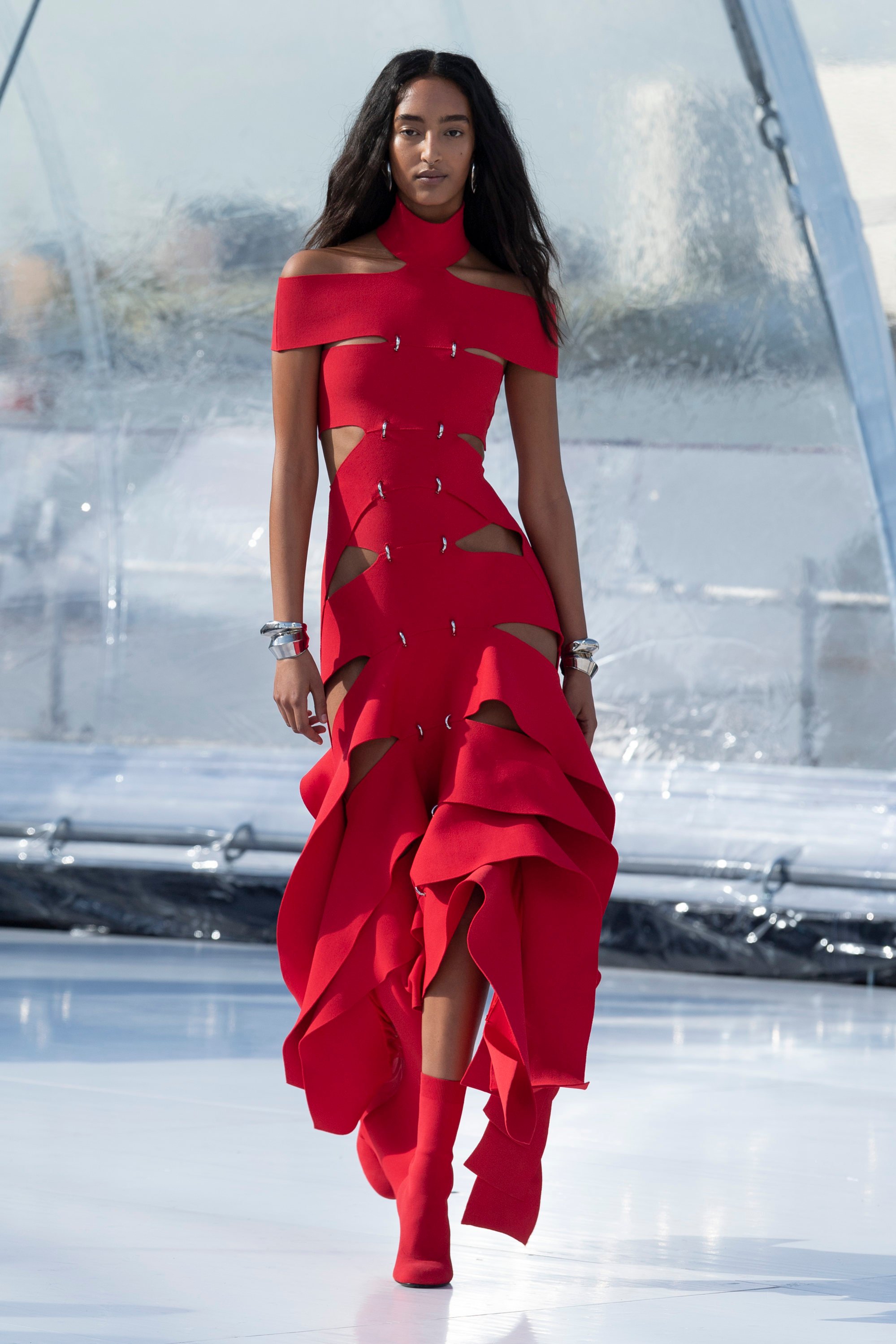 The show had a touch of sexiness – with a lot of slicing and exposed skin – something that Burton approached as a woman designing for women.
"I wanted to embrace the female form, and even for looks with volume I still wanted to dissect and show the female body. That's the reason for the slicing," she says. "How do you take tailoring and – instead of embellishing it – adjust the proportions to a woman's body?
"It's always about a woman dressing for a woman, not [for] a male gaze. How do you empower a woman and reveal bits without being too overt?"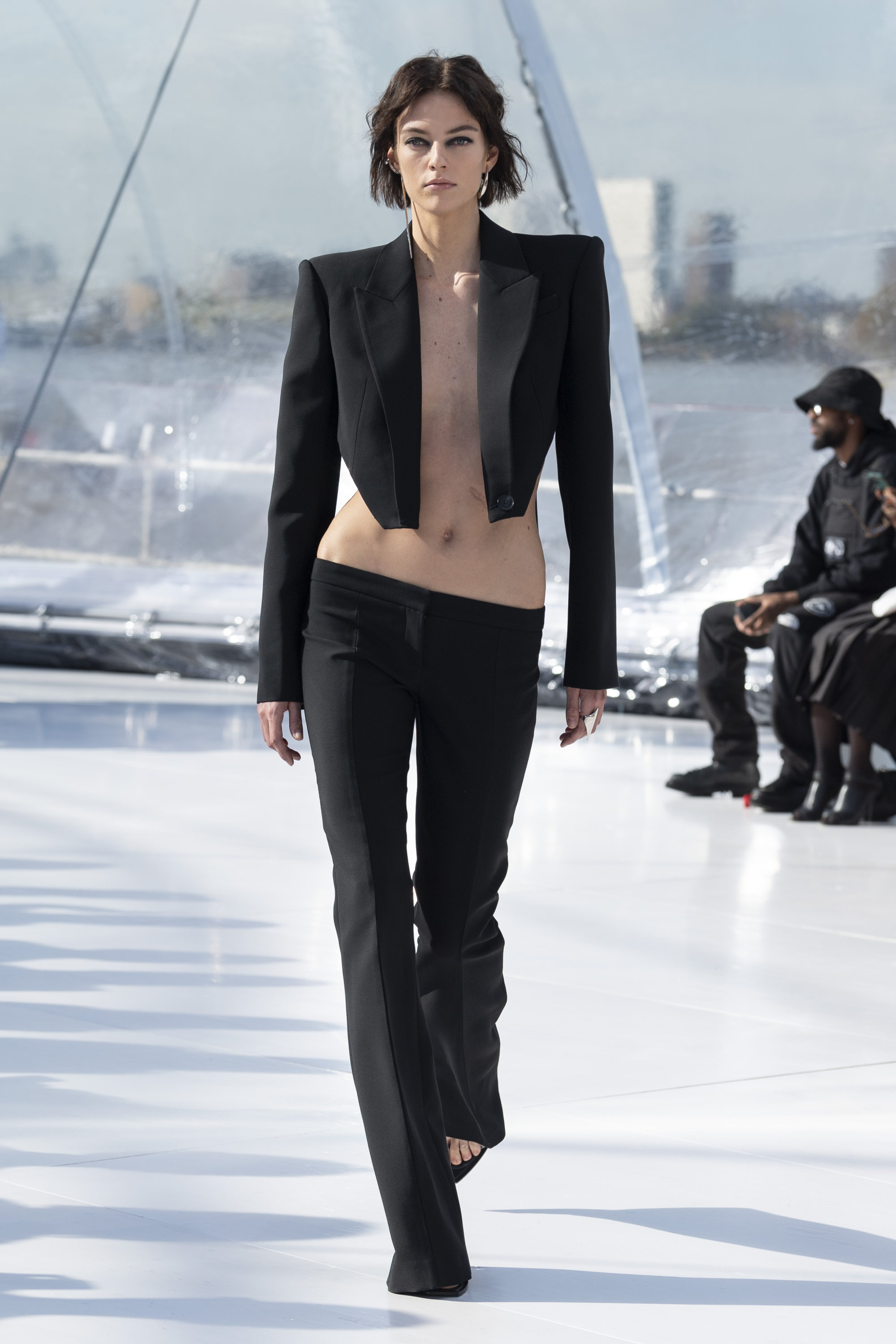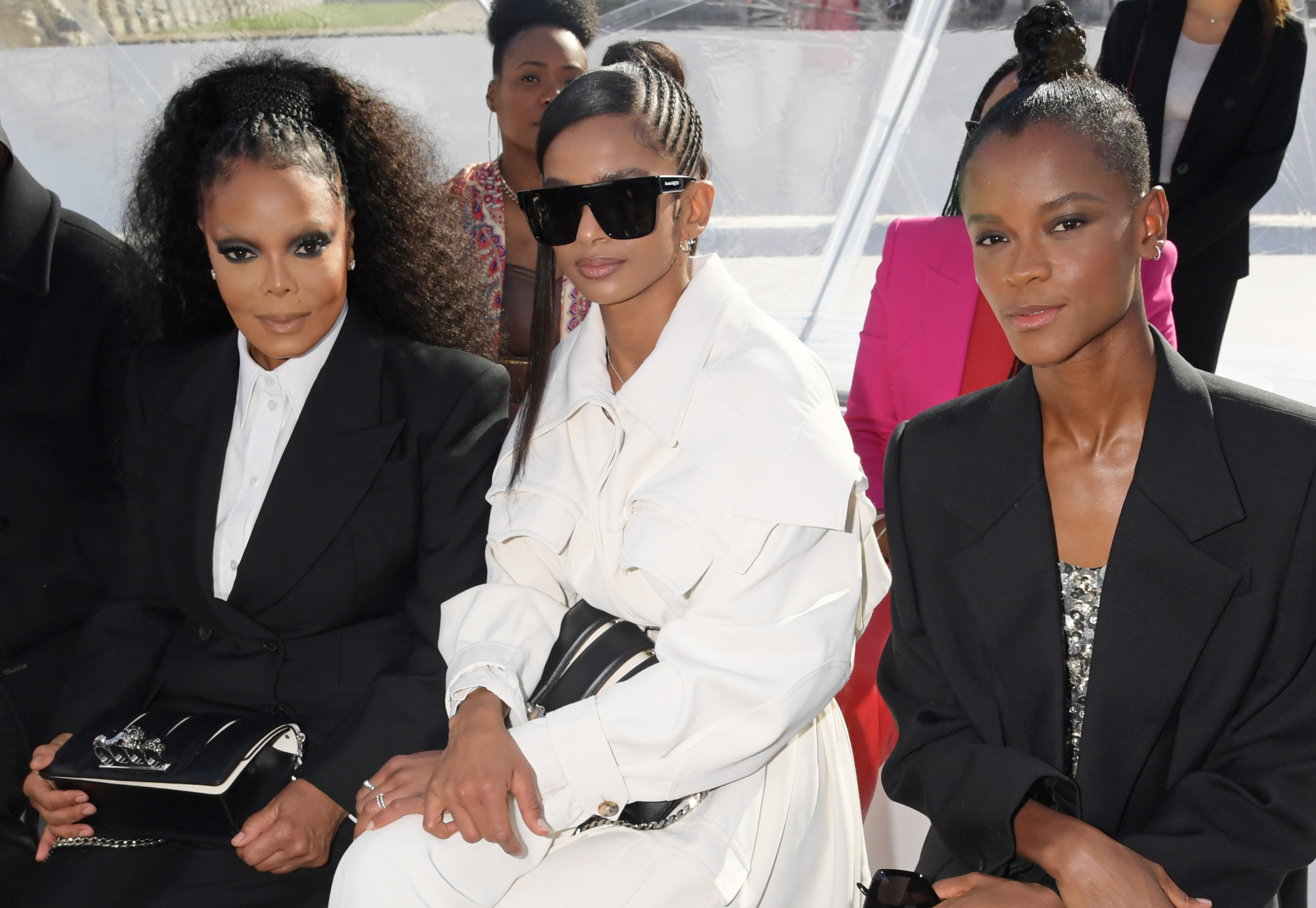 An unexpected nod to the late Alexander came in the shape of a trouser suit featuring a pair of very low-slung pants that recalled Alexander's "bumsters", which famously partly revealed the models' posterior at one of his early shows. Burton's new version, however, was much less risqué and showed once again her unparalleled ability to reinvent the suit in creative ways. Her tailoring is always top-notch, both for women and men.
The show, attended by celebrities such as singer-songwriter Janet Jackson, Dutch model Lara Stone and
Black Panther
actress
Letitia Wright
, was held during the Frieze London art fair to take advantage of the presence of collectors and art aficionados – cultivated women who represent the target audience for Burton's female-friendly and empowering creations.