The new wing of the Suzhou Museum is a perfect fit – metaphorically – for Shanghai-born Li Huayi's exhi­bition. Chinese-American architect I.M. Pei has fused Suzhou tradition with his Western-trained modernist style to create a contemporary building that blends in with the historic neighbourhood of white walls and grey roofs. Likewise, Li has his own style of shanshui paintings that combines a thorough training in Western techniques with his background in the age-old ink tradition.
In reality, however, organisers of Li's first solo exhibition in Suzhou had to completely transform the display space to suit the 18 paintings.
"The light-wood floor, cream-coloured walls and all that natural light from windows are not best suited for Chinese ink landscapes, which often don't have bright colours or a clear focal point. You don't feel their full impact when they are hung in a group in a bright room," says Catherine Kwai, owner of Hong Kong's Kwai Fung Hin Art Gallery and Li's dealer.
Now, the "starchitect's" setting no longer distracts. The floors and walls are covered in black and all the windows have been covered. Discreetly lit, Li's poetic, immaculately painted vistas of mountains, waterfalls and trees leap out at the viewer.
Chinese artist Li Huayi, in Hong Kong for show, describes his lucky life
Li's works are arresting because he likes to experiment with composition, materials and format. His Mountain and Details of the Mountain (2010), for example, is a combination of two paintings. A larger, vertical scroll of a deep ravine hangs in the background, partly covered by a smaller, horizontal painting in the foreground that gives the effect of the eyes zooming in.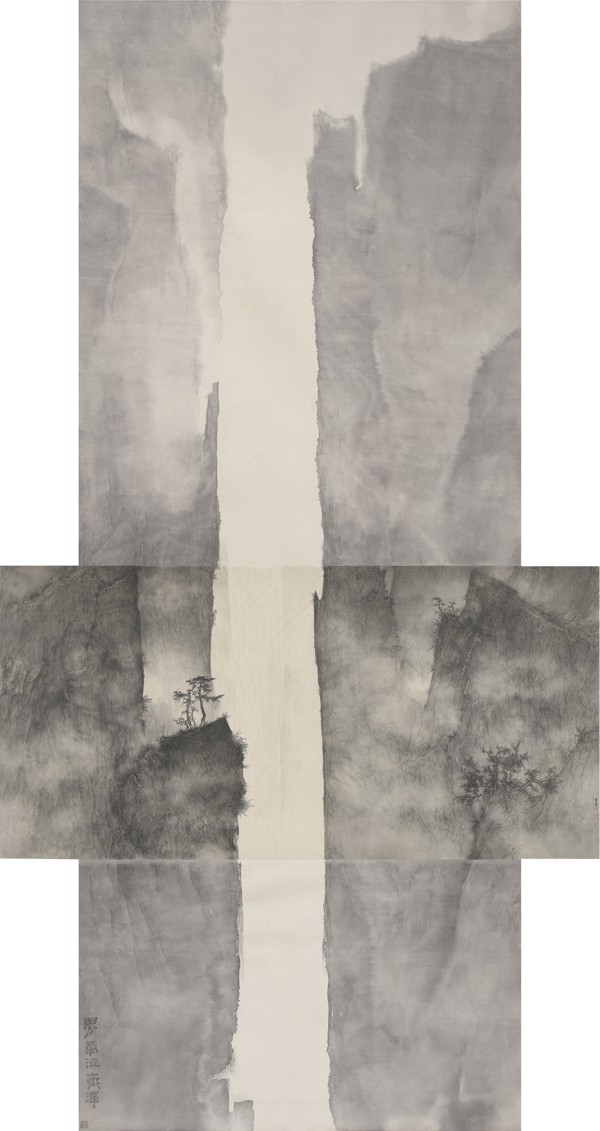 Li has a big following among collectors at home in the United States and in Asia. The gold paintings were sold out at this year's Art Basel in Hong Kong, and had to be loaned back for the exhibition. Kwai says buyers appreciate that he is one of just a few Chinese artists who have mastered classical techniques while being informed by a global outlook, since he has lived, studied and worked in America since 1982.
But why has a cosmopolitan artist with a radical streak, an accomplished oil painter who was devoted to the abstract expressionists as a student at San Francisco's Academy of Art College, chosen to restrict himself since the 1990s to Chinese ink landscapes, the basic techniques, form and subject matter of which seem to have changed little since the 13th century?
The landscape form is the ultimate achievement in Chinese ink painting, he says, and the modern artist has plenty of room to make his work relevant even if it doesn't look fundamentally different from what has been done before. Ultimately, it comes down to a Chinese predilec­tion for continuity.
How a show with HK$500m worth of Chinese ink paintings can restore the art to former glory
"When I was in art school in America, I couldn't figure out why my professor kept saying, 'Tomorrow starts today.' For me, today is linked to the past," Li says. "Perhaps us Chinese tend to believe in the Confucian doctrine of moderation. We want the middle ground rather than dramatic changes.
"I went back to ink because it is not possible to quit one's own culture. Living in America has taught me that. I became more Chinese by being in a non-Chinese culture," he says, expressing a sentiment common among expatriates of all races.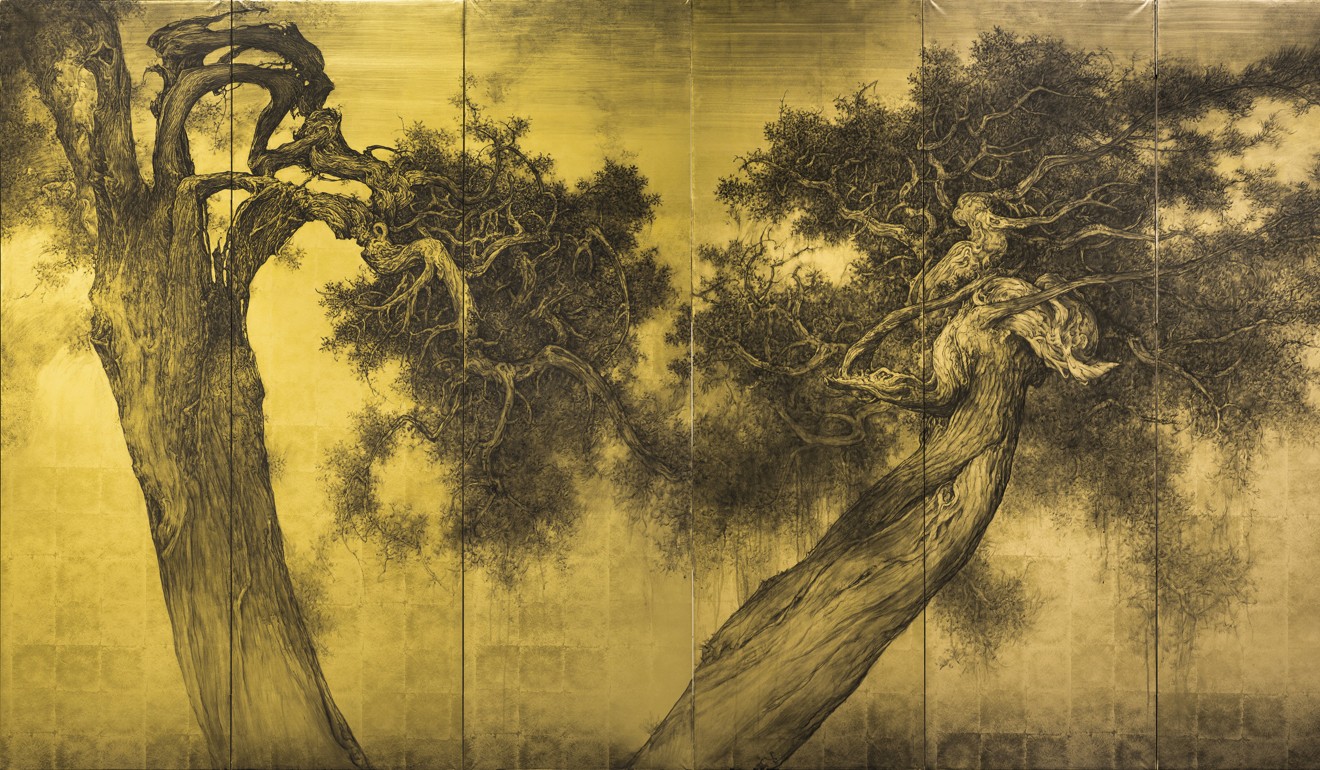 There is a hint of cultural exceptionalism in this argument that runs counter to the more international view of ink art, which the upcoming M+ exhibition "The Weight of Lightness: Ink Art at M+" will put forward. But another way of looking at Li's devotion to the art form is to consider the upheavals experienced by his generation. Nature and heritage may be the only constants in times of strife. The young Li sought spiritual refuge among the ancient frescoes in the Dunhuang caves after the Cultural Revolution, which saw his father taken off to a labour camp, and he has followed in the footsteps of Zhang Daqian and Li Keran in seeking inspiration among remote mountain ranges in China and the US.
Hong Kong artists reflect on life in the 20 years since Chinese rule over city resumed
Li describes his paintings as quiet, but a deep reserve of inner strength comes through in the considerable size of the paintings and each perfect, incredible detail, and that is what makes his art so powerful.
Artists growing up in today's China will have to come up with their own reasons for following the same path.
"Fantasies on Paper and Enchantments in Gold: Solo Exhibition of Li Huayi" will run at the Contemporary Art Gallery, Suzhou Museum, Suzhou, Jiangsu province, until December 17.