The debut feature from Taiwanese documentarian Huang Hsin-yao is an acerbic satire of small-town corruption that has earned awards attention, including 10 nominations (one for best picture) at this month's Golden Horse Awards. The Great Buddha+ follows a pair of frustrated labourers who find themselves surrounded by businessmen and local officials throwing around more money than they could accumulate in a lifetime.
Pickle (Cres Chuang I-tseng) is a middle-aged security guard at a factory that makes bronze Buddha statues. Living with his ailing mother, his only pleasure comes from best friend Belly Button (Bamboo Chen Chu-sheng), a recycler who brings him leftover food each night and, if he's lucky, an old porno magazine to help wile away the small hours.
One night, they decide to watch footage from the dash-cam in the Mercedes of Pickle's wealthy boss, Kevin (Leon Dai Li-ren). In among numerous steamy encounters and grovelling phone calls, they uncover a dark secret that could change all of their lives.
Film review: Godspeed – Michael Hui makes impressive return in Taiwanese director Chung Mong-hong's dark, absurd road movie
Huang adapted the story from his own 2014 short The Great Buddha – hence the "+" in the new title – at the encouragement of fellow filmmaker Chung Mong-hong, and many of the original performers reprise their roles. Chung serves as the film's producer and cinematographer, albeit under the pseudo­nym Nagao Nakashima in the latter capacity, and brought with him many of the cast and crew from his own film Godspeed (2016), including Leon Dai and Na Dow.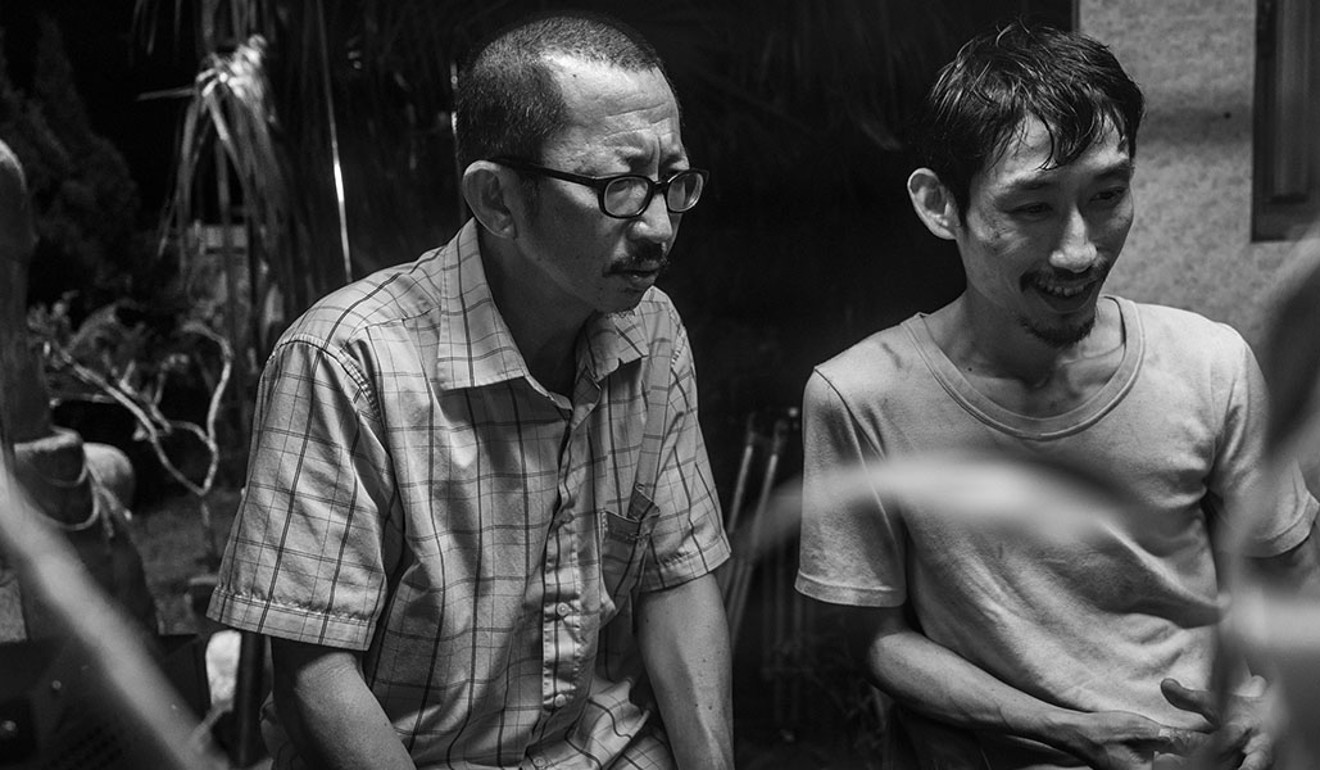 The gritty black-and-white photography clashes violently with the lurid colour of the dash-cam footage, giving the film a down-at-heel vérité style while accentuating the financial and cultural divide between Pickle and his employer.
Beyond this, the film's aesthetic recalls the work of American independents Jim Jarmusch and Kevin Smith as readily as masters of Taiwan's New Wave. With their incessant idling and meaningless banter, Pickle and Belly Button are uncannily reminiscent of Willie and Eddie from Stranger Than Paradise (1984) or the monotonous routines of Dante and Randal from Clerks (1994).
How Jim Jarmusch and Iggy Pop teamed up for The Stooges documentary Gimme Danger
But it is Huang's own drily intrusive narration that elevates the material. During the opening credits, his voice praises the producers as their names appear on screen, his voice dripping with sarcasm. The director's facetious commentary continues throughout the film, offering backhanded praise to the corrupt and powerful while suggesting those who suffer should really have known better.
It is the Great Buddha statue at the centre of the story, however, that gets the film's last laugh: it is a beautifully executed final twist that caps a memorable debut from an uncompromising new voice in Taiwanese cinema.
The Great Buddha+ will be screened on November 18 at The One, in Tsim Sha Tsui, and on November 19 at Palace IFC, in Central, as part of the Hong Kong Asian Film Festival.