South Korean writer-director Kim Ki-duk was one of the filmmakers who brought the country's then-booming cinema scene to international attention during the late 1990s and early 2000s, winning praise at festivals such as Cannes and Berlin.
But Kim was not appreciated at home, where the audience preferred auteurs like Lee Chang-dong (Peppermint Candy [1999]) and commercial filmmakers such as Kang Je-gyu (Shiri [1999]). Spring, Summer, Fall, Winter … and Spring, released in 2003, is a good example of this – internationally it is one of the most well-known Korean films, but at the domestic box office it did poorly.
South Korea has a long history of films about Buddhism, ranging from the instruc­tional to the esoteric. Kim's film fits squarely inside this tradition, although it takes a different approach to the subject matter. In place of the calmness and spiritual reflection that often dominate such films, he focuses on the brutality and irrationality of human existence that act as obstacles to enlightenment.
Film lead: Kim Ki-duk is unrepentant
Although his characters are contem­plative, they are riven with lust, jealousy and sadism. It's an unusually mature take for a film dealing with religion, and it did not sit well with everybody. The focus on redemption through suffering, penance and forgiveness, rather than a rejection of the physical world, gives the film a Christian aspect, which may explain its success in the West.
The story is set in a small monastic retreat that floats on an idyllic lake, and is divided into sections that reflect five stages of the protagonist's life. It follows a young monk (played by various actors, including Kim himself) who is being trained in the ways of Buddhism by an old monk (Oh Yeong-su).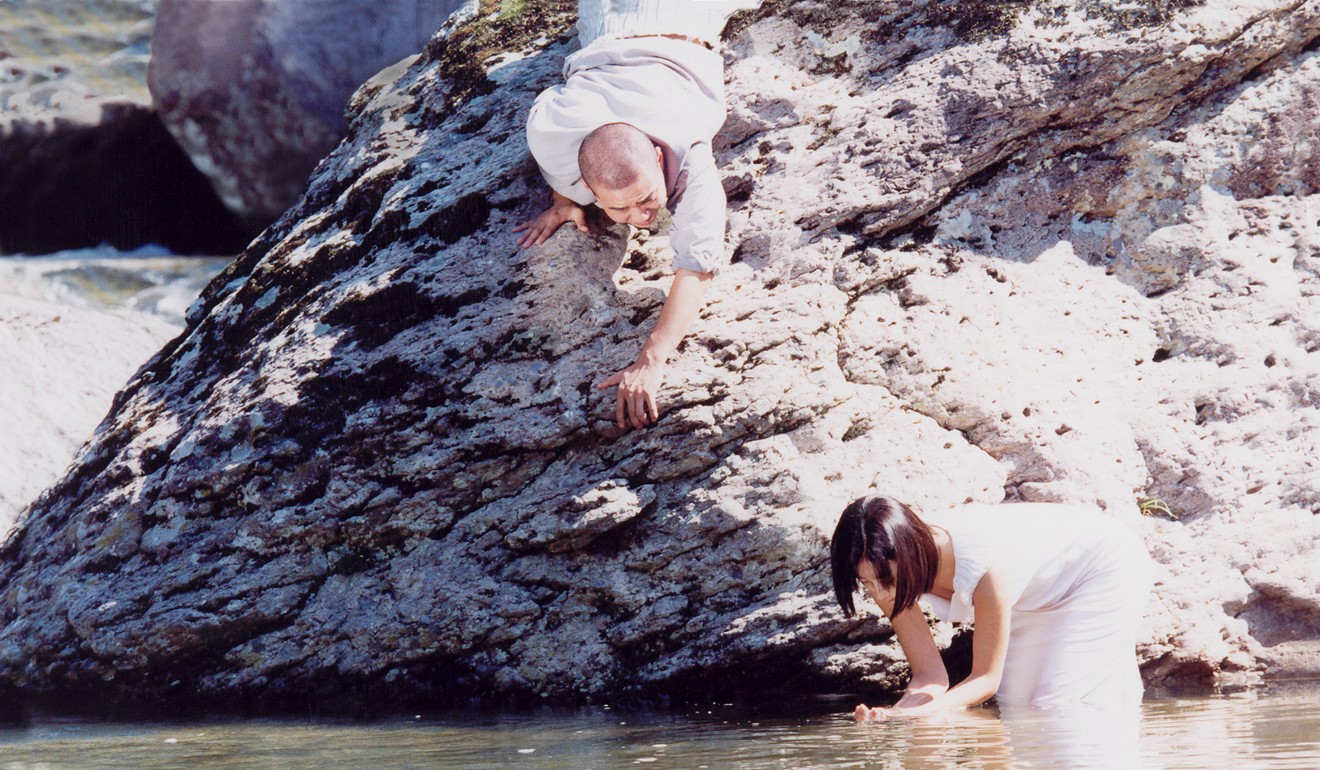 The young monk is always transgressing: he tortures frogs and fish (a few scenes depict­ing animals being cruelly treated were cut from the international version), and has an illicit affair with a visiting girl. While he's taught the errors of his ways each time, the young man's love for the girl is so strong that he leaves for the city, marries her, and settles into a normal life – only to murder her in a fit of jealousy, and return to the retreat in search of sanctuary and forgiveness.
Film review: On the Beach at Night Alone – Hong Sang-soo, Kim Min-hee channel real-life affair in indulgent mood piece
The retreat in the film was specially constructed on Jusanji Lake, in Gyeongsang province, a 200-year-old man-made lake which was created to reflect the surrounding mountains. Some critics have suggested the scenery was aimed at providing an exotic look that would appeal to Western viewers, although Kim has rejected such claims.
Spring, Summer, Fall, Winter … and Spring will be screened on November 25 at Broadway Cinematheque, in Yau Ma Tei, as part of the M+ Screenings: Stillness in Motion programme.