The Toronto International Film Festival has played host to Hong Kong filmmakers of various stripes in recent years, from veterans such as Johnnie To Kei-fung to newcomers including Wong Chun. Simon Liu Pui-ngai, Hong Kong's sole representative this year, is not quite like those who went before him.
Liu's latest film, Fallen Arches, made its bow last Sunday in Wavelengths, an experimental programme at the festival that seldom, if ever, features Hong Kong filmmakers. His 11-minute piece was shot on 35mm film stock and unspooled in Toronto in that format – a rarity for the festival.

A dizzying bricolage of grainy images from various locations, of bucolic bunga­lows, soaring skyscrapers, rustic landscapes and neon-lit streets, Fallen Arches unfolds like a delirious dream of a frequent traveller whose roots seem to belong to everywhere and nowhere, struggling to acknowledge the meaning of all these familiar forms unmoored from their original contexts.
"Several passages of Fallen Arches were shot in Luk Keng, a mostly abandoned village [in the New Territories]," Liu says from New York, in the United States, where he has lived for 12 years, since he began studying at the New York University Tisch School of the Arts. "Most of Luk Keng's residents moved away in the 60s and 70s, and left all of their belongings behind, which still remain today, so you can clearly see the trace of a domestic situation that once was."
Fallen Arches was shot with a still-photo camera, and Liu tinted and added effects directly onto the film rather than using digital tools.
"From the use of old cameras and out­dated formats to express contem­porary ideas, or even in the look of historical films scanned at 4K, there's something very glossy and modern about these old images that gives them a different life," he says.
Liu adds that the physical presence of celluloid, complete with its flickers and flaws, results in a "pulsating energy" that is lacking in digitally produced images. Rather than seeing it as a fragile medium and using it for nostalgic purposes, he says celluloid actually provides a powerful counterpoint to modern media.
Having started out with two relatively conventional fictional shorts – Flyer Boy (2009) and Ditchwork (2012) – Liu's first stab at machine-gun montages came in 2014, with Donkey Riding. Liu rephoto­graphed, hand-tinted and edited together footage he shot during a journey back to Hong Kong. Combining it with a sound­track of utterings from his childhood self, Liu produced a piece that probed the nature of the film medium and also his personal history.
My films are about returning home; they're a kind of storage mechanism for images of the different sides of my family and periods of time I've spent back home in Hong Kong
Born in Hong Kong to a Chinese father and British mother from Stoke-on-Trent, Liu spent his childhood and youth travel­ling between his parents' hometowns before finally leaving for New York when he was 18.
This complex backstory is reflected in Harbour City (2015), in which a split screen pits Hong Kong and British street signs against each other, or snapshots of people having dim sum against others enjoying high tea. Sneyd Green (2016), meanwhile, comprises processed footage of his grand­parents at home in Stoke-on-Trent.
"My family is dispersed around the world; my father in Hong Kong, my mother in England, my sister in Los Angeles and I'm in New York," Liu explains. "I grew up in Hong Kong and have lived abroad for the past 12 years, but have continued to visit my Chinese family in Hong Kong once or twice a year. My films are about returning home; they're a kind of storage mechanism for images of the different sides of my family and periods of time I've spent back home in Hong Kong."
Liu says he has often shot with expired or defective film stock and used photo­chem­ical printing processes to further obscure the image or create a barrier between the audience and what is being presented on screen.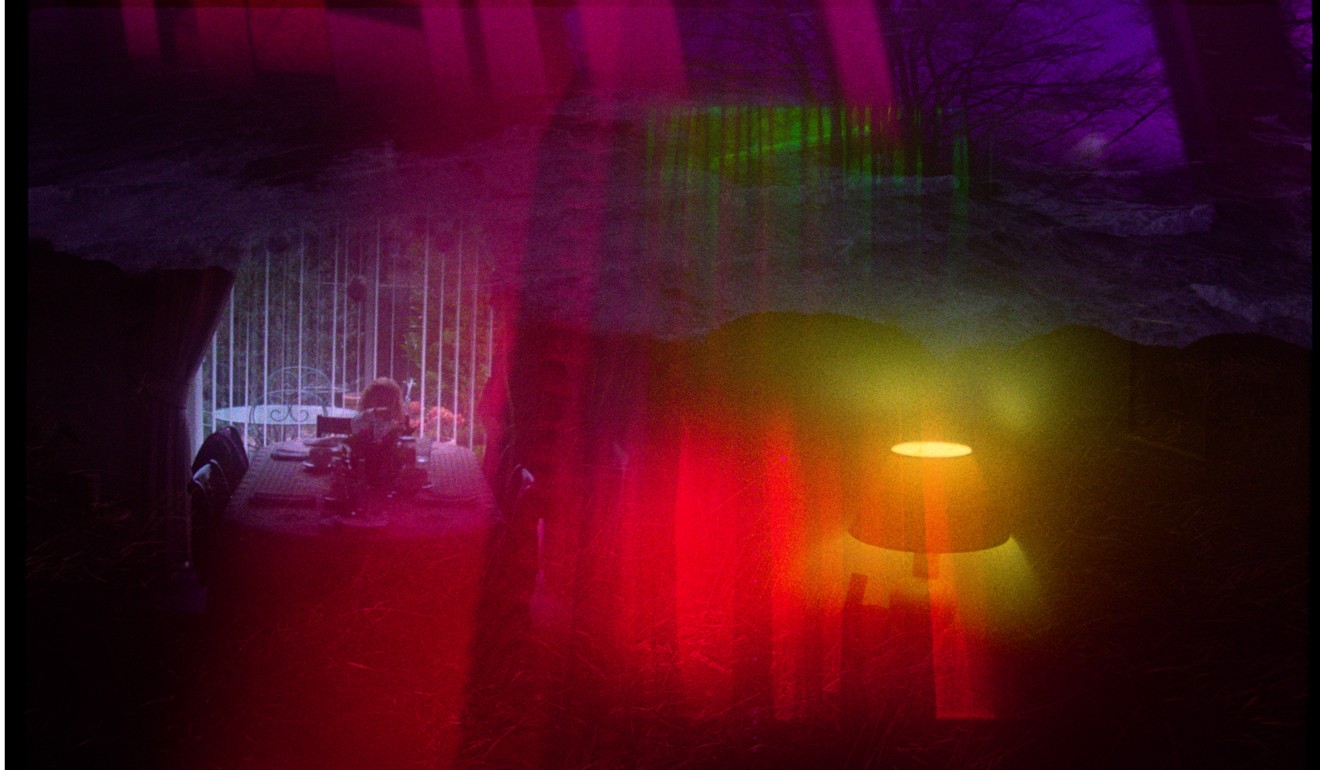 "Since my films are often about a kind of longing or remembrance, there's this kind of symbiosis between the content and formal qualities of the work; they are films about trying to return to a certain time and place but there's some kind of shroud preventing full access to the moment. I suppose this relates to a distance from my own past personal experiences but also to the way I've seen my homes change or evolve over time."
Liu says he leaves it to the viewers to tease out the possible readings of images that come heavily burdened with Hong Kong's colonial legacy.
"My films fundamentally are diary works – a compilation of daily experiences and a kind of concoction for my own life and experiences," he says. "I find it very interesting that a lot of these questions of culture and history have the potential to bubble their way to the surface without the need to share one overarching viewpoint or perspective.
"Our world is dominated by the need to share defining viewpoints or opinions, and I'm interested in stepping back and taking the time to consider possibilities and alternatives."