The late war photographer Robert Capa once said that if your pictures are not good enough, you are not close enough. Syrian film­maker Feras Fayyad is certainly close enough, and his Oscar-nominated documentary, Last Men in Aleppo (2017), is more than good enough.
The film documents the White Helmets – officially Syria Civil Defence, which was formed in 2014 – as they rescue civilians from the aftermath of bombings by the planes of President Bashar al-Assad and his Russian allies. As he follows three members of the White Helmets, Fayyad is often in grave danger himself but he does not shy away from recording the horror, such as when rescuers pull the bodies of dead babies from the rubble.
A poignant indictment of the ongoing Syrian civil war, Last Men in Aleppo is singular in its vision – it does not explore the politics of the conflict or its causes, or detail the complex military situation in Aleppo (when the film was shot, it was a city divided between Assad's troops and various rebel factions, but since December 2016 it has been in the hands of the president.) Instead, it focuses on the heroism of Khaled Omar Harrah, Mahmoud al-Hattar and Subhi Alhussen, three men who rush headlong onto bomb sites to dig out survivors. Most of the time, however, they find only corpses.
The trio talk about leaving Syria but feel morally obliged to stay and assist its inhabitants, even though they know they may lose their lives – a fear that is borne out by the documentary's tragic ending.
"This film gives an artistic form to the absurdity of war," says Fayyad. "The moment of humanity is the moment that our main character extends his hand to save a victim from under the debris. It looks exactly like Michelangelo's painting The Creation of Adam. It's a moment full of basic human values. It calls for a closer examination of the horror of war."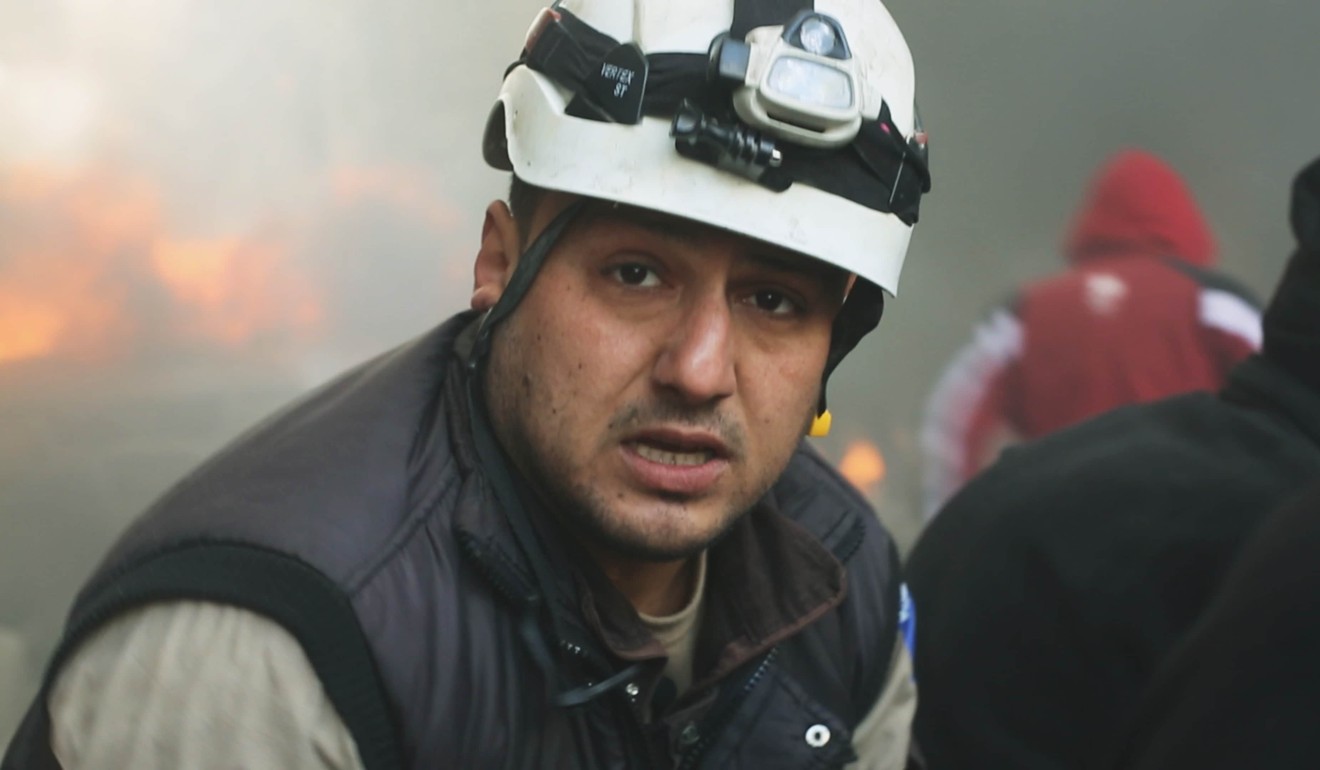 The filmmaker says the reason he made Last Men in Aleppo was to give the White Helmets recognition for their courage. But he also wanted to bring attention to the plight of those caught up in the war. As the men repeatedly say in the film, Syrians feel abandoned by the international community, and Fayyad hopes his docu­mentary will act as a call to action.
Last Men in Aleppo will be screened on Saturday and October 2 at Broadway Cinematheque, in Yau Ma Tei, as part of the Human Rights Documentary Film Festival.