There may be a chill wind blowing across the Chinese economy but Hong Kong auctioneers are still hoping to sell more this autumn than they did in the spring, which was a particularly strong season, when market conditions were balmier.
Gone is the sunny mood, however – and the liquidity – that less than five months ago helped both Christie's and Sotheby's cross the HK$3 billion (US$380 million) threshold at their spring sales. Chen Yifeng, vice-president and finance director of China Guardian Auctions, says he has no doubt his customers are feeling the pain.
"It's not just the Sino-US trade war," Chen says. "China's delever­aging is having a greater impact on our clients' spending power in the near term."
Adding to the challenge, some depart­ments have more – and pricier – consign­ments this season. The art market may not always move in lockstep with the economy during a downturn (the super-wealthy, after all, have a lot of firepower), but there must be more jitters among auction houses than usual.
Sotheby's' Chinese Works of Art depart­ment has about 300 lots, the same as in the spring, but total estimates exceed HK$1 billion compared with HK$700 million in April. The auction house will be hoping its top lot – a Qing-dynasty falangcai poppy bowl, valued at HK$200 million – will garner the same enthusiasm Qian Weicheng's Qing-dynasty scroll did at a Sotheby's sale in April. Qian's Ten Auspicious Landscapes of Taishan sold for a hammer price of HK$128.5 million, nearly double its highest estimate, after an extraordinary 40-minute bidding war.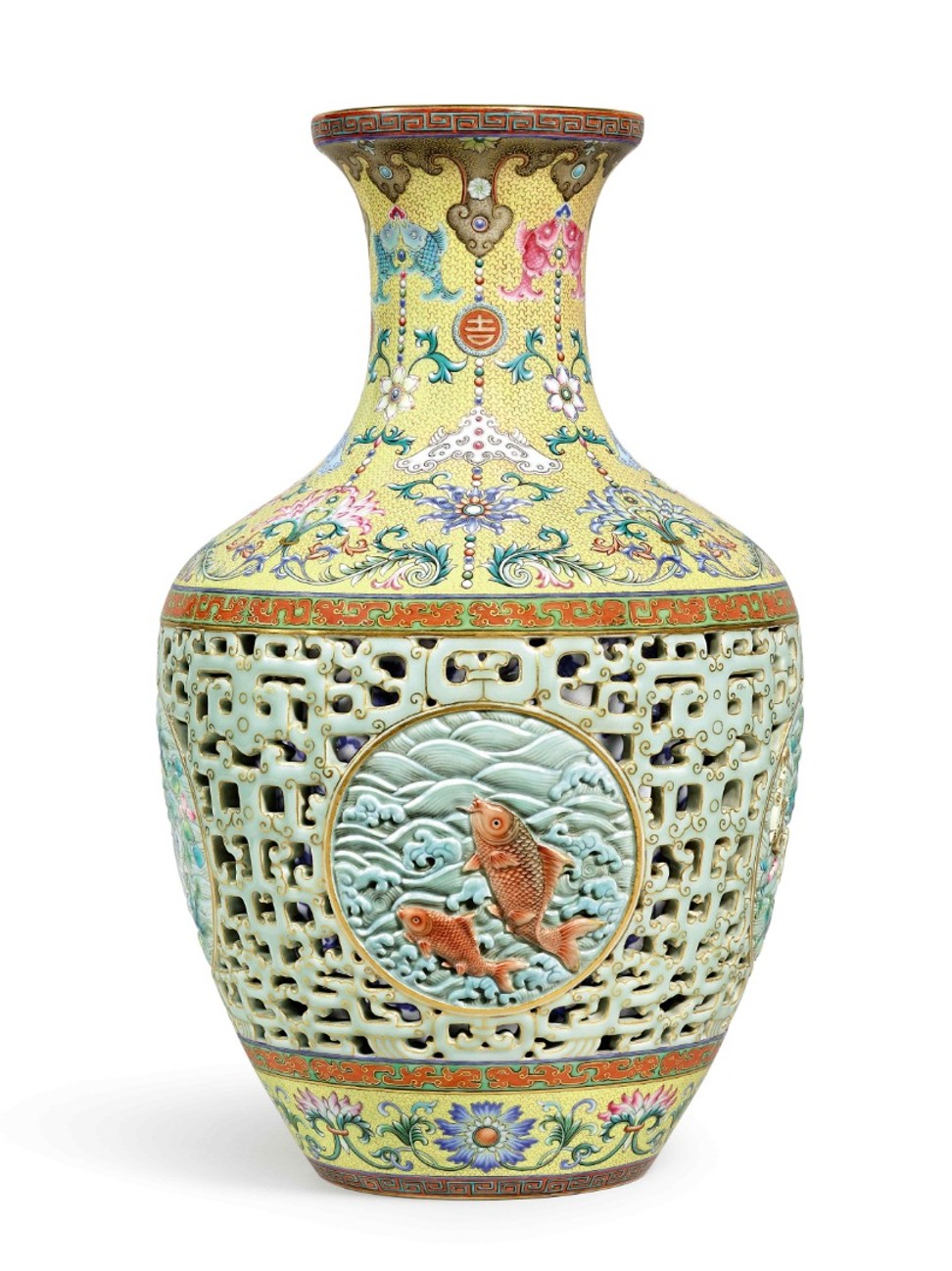 The poppy bowl is one of three lots in the Sotheby's auctions with a pre-sale estimate of more than HK$100 million. The other two are a five-carat fancy vivid blue diamond ring valued at HK$98 million to HK$120 million, and Juin-Octobre 1985 (1985), Zao Wou-Ki's largest painting, which is expected to fetch at least HK$350 million.
The 18th-century Yamanaka Reticulated Vase – a gaudy and elaborate patchwork of Song celadon, Ming blue-and-white porce­lain and French rococo style – designed by Tang Ying, Emperor Qianlong's ceramics superintendent, is also one to watch. Its twin was the subject of a notorious sale by small, family-run Bainbridges Auctions in west London, Britain, in 2010, and made head­lines for a staggering bid of £43 million (US$57 million).
It was a classic, treasure-in-the-attic story, too, because the seller had no idea what it was. Their joy was tempered, however, because the buyer (reported to be Chinese tycoon Wang Jianlin) balked at the commission and walked away from the deal. It was eventually sold to a different buyer for about half that amount.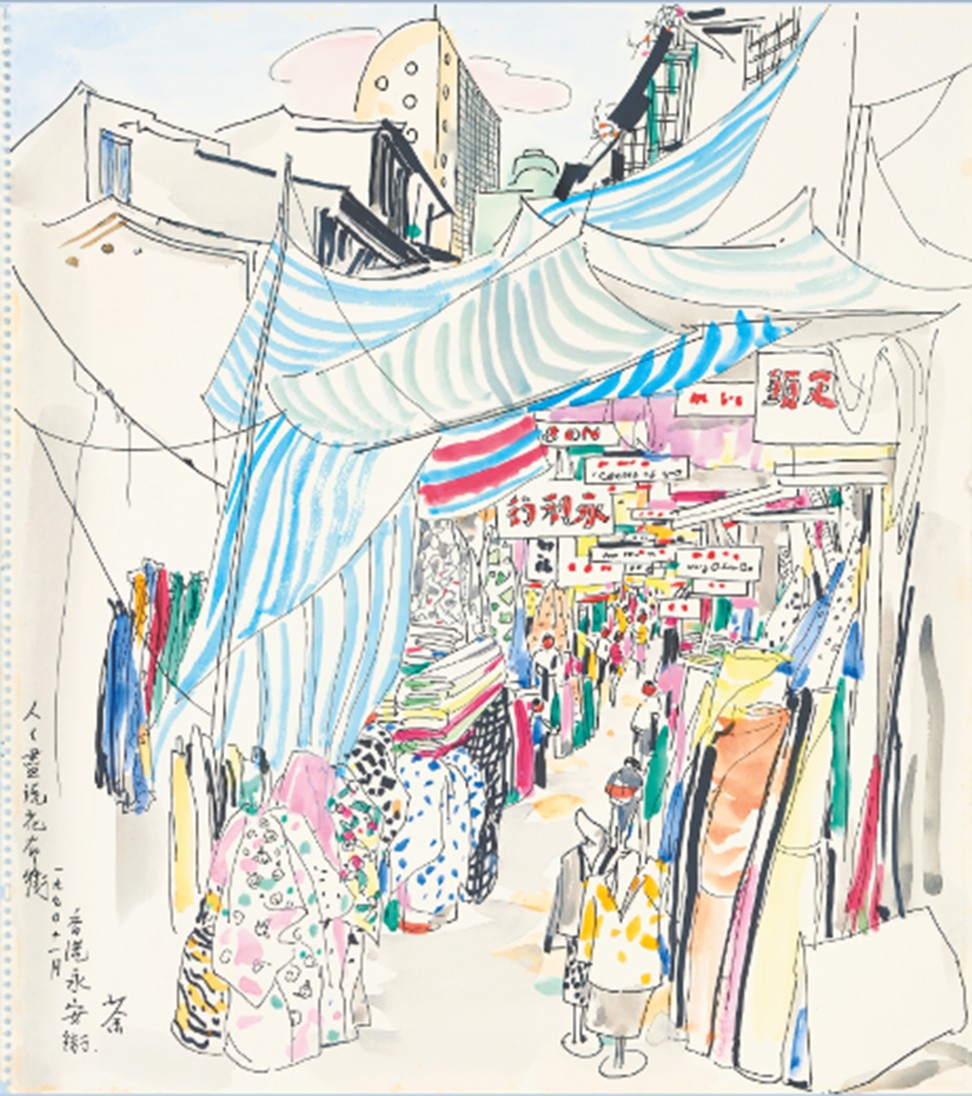 The vase now offered in Hong Kong is named after Yamanaka Sadajiro, the Japanese dealer who first showed it in 1905, in New York, in the United States, and sold it in 1924 to a family that has kept the piece ever since. Perhaps as a nod to the prevailing headwind, the estimate has been set at a relatively modest HK$50 million to HK$70 million.
The biggest test of the market will come later in the season, when Christie's holds its autumn sales in November. The house is hoping that a 1,000-year-old artwork by Song-dynasty artist Su Shi, also known as Su Dongpo, will break all records for a Chinese painting. That would mean Wood and Rock attracting more than the 436.8 million yuan paid in 2010 for Huang Tingjian's Dizhuming, also painted during the Song dynasty.
Chinese painters who went to France before the second world war continue to dominate modern and contemporary art sales. Wing On Street – Cloth Alley (1990) is not a Wu Guanzhong masterpiece, but it is a crowd-pleaser. The ink-and-colour drawing captured the Central, Hong Kong, street famous for its fabric stalls, before it was torn down and redeveloped. The estimate is HK$1 million to HK$1.5 million. And China Guardian Auctions is selling an oil painting of a blond, female nude by Pan Yuliang, the subject of an ongoing exhibition at the Asia Society, in Admiralty. Nude Beauty (1958) is believed to be one of just a few dozen of Pan's works still in private hands, and is estimated at HK$6 million to HK$8 million.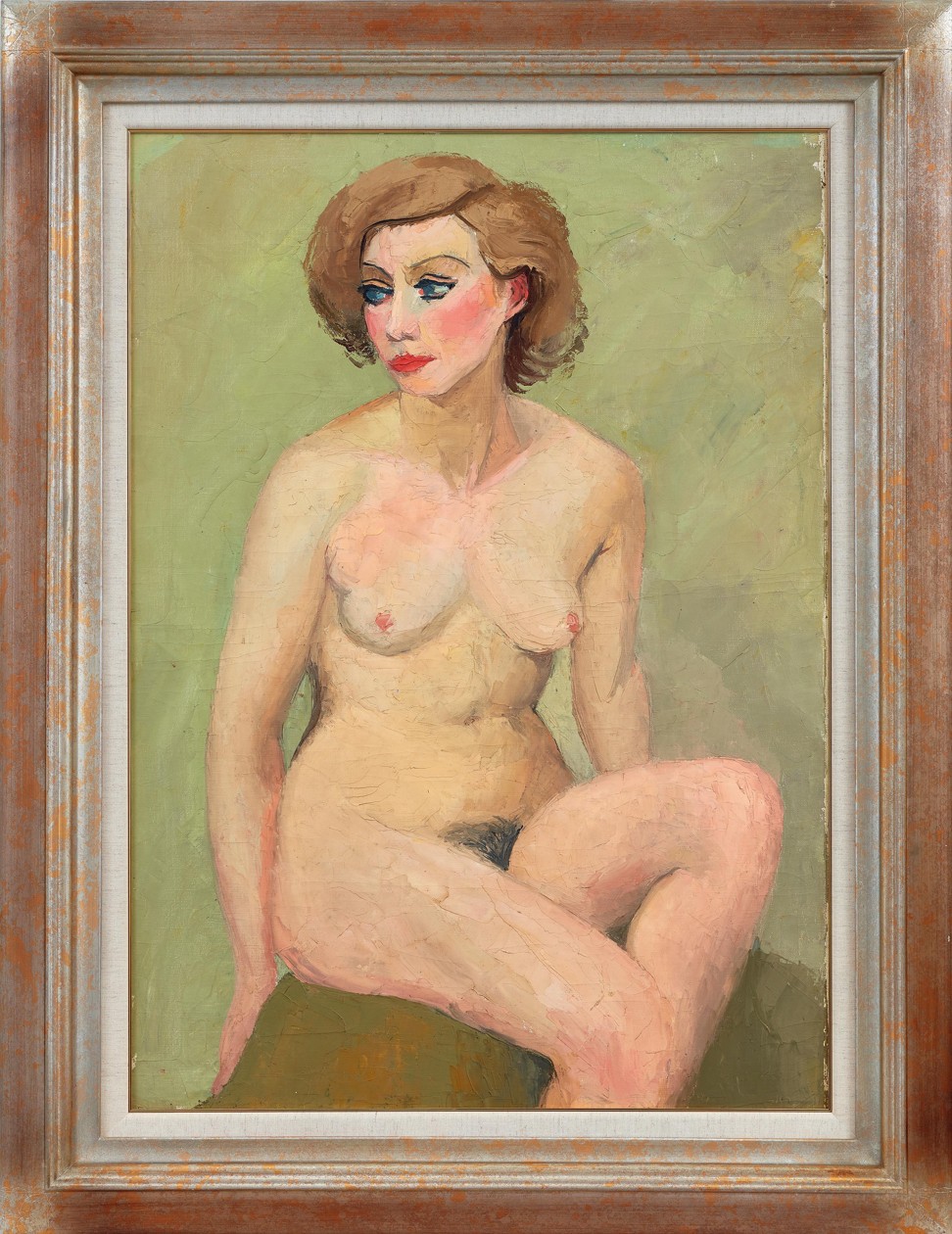 Last but not least, Sotheby's is set to auction a concept as an artwork for the first time in Asia. Xu Zhen's Xuzhen Supermarket, first exhibited in 2016, is a fake shop stocked with empty containers of popular consumer products. Whoever buys the concept will be able to choose a location in which the artist will build another version. The estimate of HK$900,000 to HK$1.5 million excludes production costs.
All pre-sale estimates quoted exclude commissions.
---
Hong Kong's autumn auctions
Bonhams
20/F, One Pacific Place, Admiralty,
October 1-2.
China Guardian Auctions
Hong Kong Convention and Exhibition Centre, 1 Expo Drive, Wan Chai.
Preview starts September 30. Sales from September 30 to October 3.
Poly Auction
Grand Hyatt Hong Kong, 1 Harbour Road, Wan Chai.
Preview starts September 28. Sales from September 30 to October 2.
Sotheby's
Hong Kong Convention and Exhibition Centre.
Preview starts September 28. Sales from September 29 to October 3.
Seoul Auction
SA+, 11/F, H Queen's, 80 Queen's Road Central, October 1.