The belief in the sanctity of artistic genius is so entrenched that the #MeToo movement is not seen as being particularly relevant to the art world. Pablo Picasso's reputation, for instance, remains untaintedby the fact that he was a terrible husband and partner. Obviously, it would be ridiculous to reserve the pantheon of artistic greats only for those with an untarnished personal record. Did W.B. Yeats' fascist tendencies make him any less of a great poet?
With living artists, however, it is hard to separate the art from the artist. Recently, The Collector watched I've Got the Blues (2017), a documentary by Hong Kong-based director Angie Chen On-kei about a friend, Yank Wong Yan-kwai, and found it to be a wonderful portrait of an artist for whom the act of creating is simply part of an uncompromising approach to life.
Regulars of Central's Club 71, and its predecessor, Club 64, will be familiar with the murals by Wong that grace the walls at the back of the bar. But it seems unlikely many will have considered what the abstract symbols mean over convivial drinks, especially when customers start jamming with the instruments lying about the place. Wong has been known to play among them, and as a friend of his says in the film, he is probably one of the best blues players in town, although he has never stood up and been counted.
Wong is a reluctant participant in the film, a full-length feature consisting almost entirely of clips recording the abstract painter's conver­sations with people such as Chen, who spends a lot of time trying, in vain, to get her subject to open up about his artistic practice.
Other characters include Wong's daughter, who grew up in France with her mother and has only just found out who her father is; fellow artists and musicians he hangs out with; and a man at the bar with whom Wong had a fierce argument about the bloody response to student protests in Beijing's Tiananmen Square on June 4, the date that the original Central drinking hole was named after.

Viewers are left none the wiser about the message in Wong's abstract paintings. The artist, who tells Chen he will never resort to painting smaller works just to sell them (his approach to money: "When you get used to living in poverty, you no longer live in fear, and it frees you to do all sorts of things"), paints, sings and writes with a joie de vivre that is undiminished by his engage­ment in social and political issues.
Which brings us to another Hong Kong artist of principle: Luke Ching Chin-wai. The conceptual artist is also a labour acti­vist and best known for his successful "Please give security guards chairs" cam­paign, which began in 2007 and was later extended to include cashiers in super­markets and convenience stores. Ching continues to fight the good fight on behalf of workers in a city with little union­isa­tion and collec­tive bargaining, and his art reflects that.
One of his installations at this year's Gwangju Biennale – Asia's most important contemporary art exhibition – is a table and a large blackboard comparing labour laws in Hong Kong and South Korea. No prizes for guessing where workers' rights are better protected; the latter does have Asia's most militant unions after all.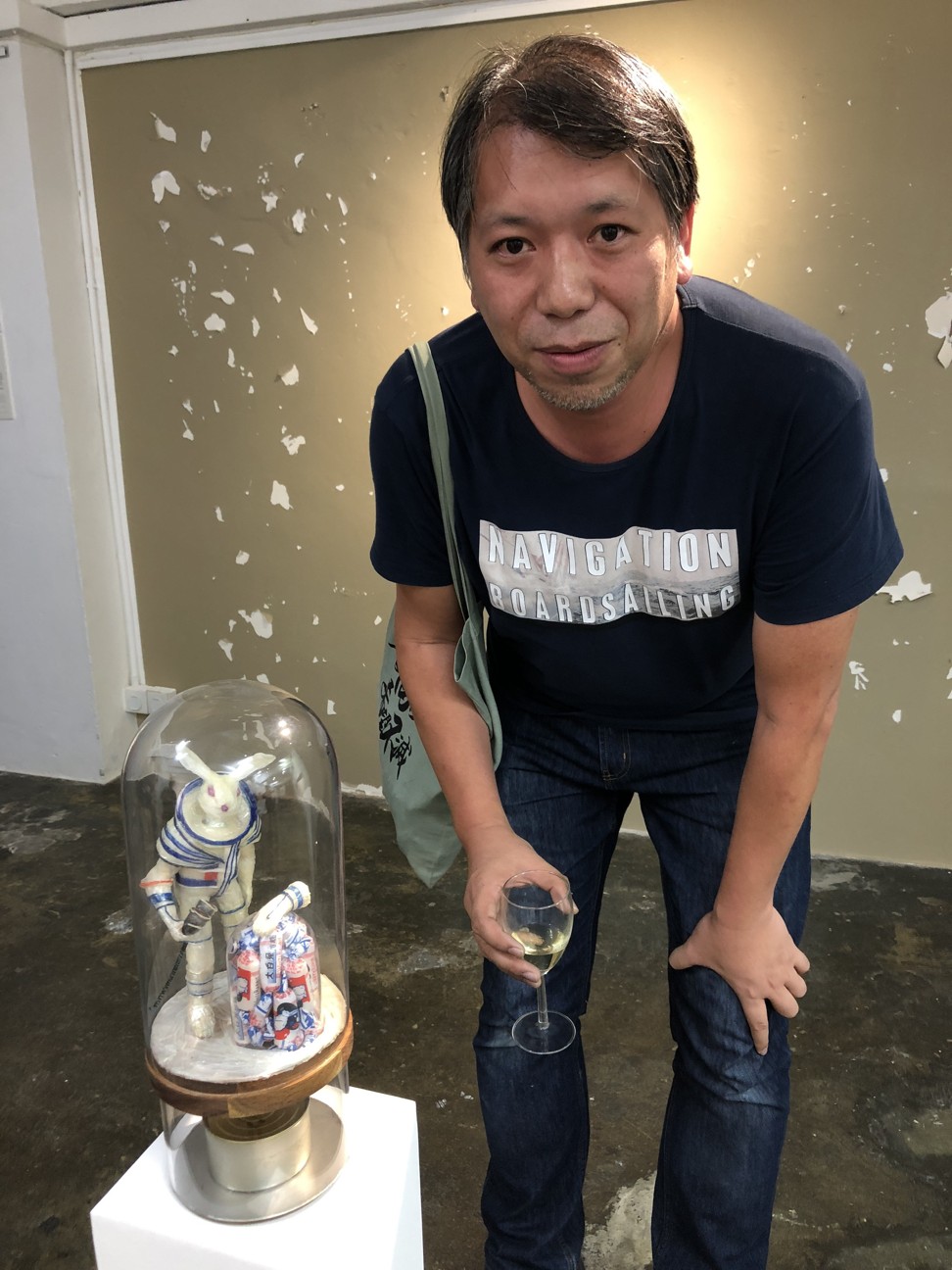 Another installation reflects his concerns about nationalism and identity. Region of Failed Flags (2018) consists of bunting made up of flags hanging above the entrance to the Asia Culture Centre, the main biennale venue, hinting at the lack of open discussion about the future of Hong Kong by referencing the 1988 public competition for the design of the city's post-handover flag. None of those submissions were accepted.
The Collector bumped into Ching recently at the open­ing of the "Food Matters" group exhibition at the Karin Weber Gallery, in Central, where the artist was exhibiting. White Rabbit Candy (2018) features a rabbit astronaut and a jar filled with the iconic Chinese confectionery because Ching noticed that the colour scheme of the wrapping matches that of all the publicity material for China's Long March space programme.
The small installation succeeds in under­­mining grandi­­ose nationalist narratives. Perhaps we warmed to it because it is by an artist we admire for both his art and his work as an activist. Perhaps we are not separating art from the artist. But we can live with that.