It has become something of a cultural pilgrimage for those concerned with contemporary Chinese photography. With the first breath of winter loosening the remaining autumn leaves, a familiar band of journalists, critics, artists and art lovers migrate to subtropical Guangdong province for the annual Lianzhou International Photography Festival.
Although the G107 national highway now links Lianzhou to the Pearl River Delta, this ancient mountain pass town remains a hard-to-get-to place; it has no airport or railway station, committing visitors to an arduous four-hour coach ride from Guangzhou to the camel hump karst hills that straddle the Guangdong-Hunan border. One is always rewarded for the effort, however, as old allies reunite at banquets thrown by outdoor restaurants overlooking the jade-coloured Lian River, paving the way for the festival to come.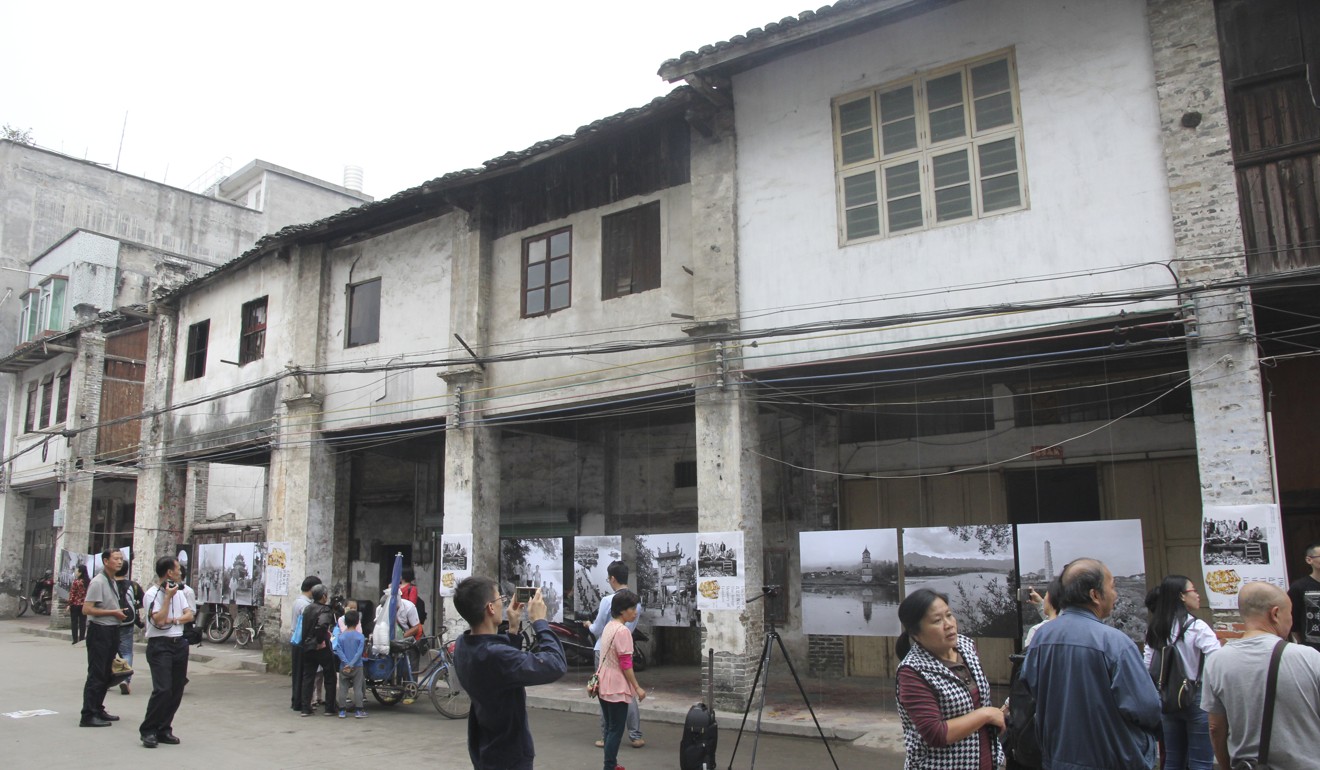 Even before the event has officially begun some artists and curators are looking weary. Wu Guoyong complains he's been up most of night putting the final touches to his exhibition: "No Place to Place", a series that documents China's epic share-bicycle graveyards and is on display in the Shoe Factory – one of a number of converted manufacturing spaces used as galleries during the festival. Wu's work went viral this year, first on Chinese social media then internationally, picked-up by the likes of Vice and The Guardian and garnering two awards at the 2018 Inter Art Centre New Documentaries Prize competition.
Wu appears rather dazed by his success, and indeed notoriety, given that the work critiques several aspects of Chinese society, not least the wastefulness of its industrial machine and the complacency with which citizens treat once-sought-after commodities.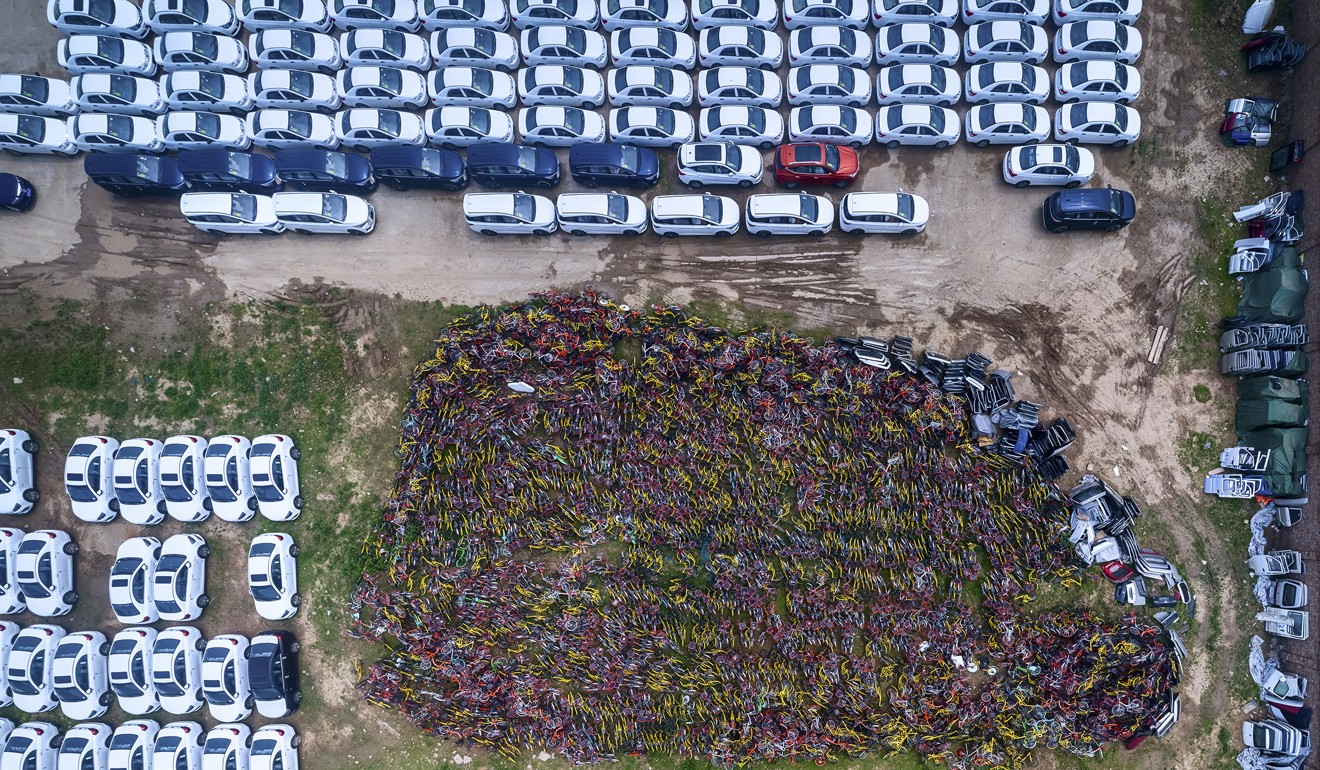 "The bicycle graveyards have stunned me, invoking restlessness, anger and awe," he says, reflecting on a year in which he rose from obscurity in Shenzhen to an exhibiting artist with his own photo book. "The bikes make such a dazzling physical landscape when viewed from afar and people have been stunned to see them but I think 'No Place to Place' has said a lot about our world today."
His curator at Lianzhou, Luo Dawei, also runs Fengmian, a photographic new media platform with more than 50,000 followers.
"Wu Guoyong has driven most of our traffic this year so we decided to invite our followers to submit images of share bicycle graveyards that can be paired against Wu's work, creating a unique dialogue between artist and audience," says Luo, adding, "there's also a film showing", a nod to the fact that almost a quarter of the exhibitions at Lianzhou this year contain multimedia elements.
This notion of free discourse informs the spirit of Lianzhou, which becomes imbued with intellectual debate when the festival returns each December. Ideas are interchanged in seminars and Q&A sessions, through performance art and gallery viewings, and, importantly, over drinks and dinner. The mood is jovial yet conversely uneasy. Everybody is aware that the current political climate is yan'ge, or "strict", and though little-known Lianzhou – located in the liberal south and far from the official gaze – has established itself as a platform for high quality, edgy contemporary photography, the disappearance of photographer Lu Gang days before the opening ceremony has cast a shadow across the galleries of this otherwise sleepy mountain town.
Lianzhou Foto, as the festival is also known, has grown-up under the guidance of director Duan Yuting. Duan has been at the helm since its genesis in 2005 and has cultivated a reputation for excellence.
"On the one hand The Wind of Time [the theme of this year's festival] refers to the continuous technological and social innovation, endlessly promoting the process of human development while gradually pushing the world out of control," she says. "On the other hand, it reminds us that what people are experiencing is induced by historical or even contemporary events [...] The artist should delve into the factors that shape the present experience and in doing so help us think about our future."
At the end of a year shaped by extreme weather events and populist rhetoric juxtaposed with the pomp attached to driverless cars and Martian rovers, this resonates. Duan, who regularly curates exhibitions overseas, has planned a festival that engages with contemporary concerns, be they mass surveillance, industrial food production or environmental exploitation.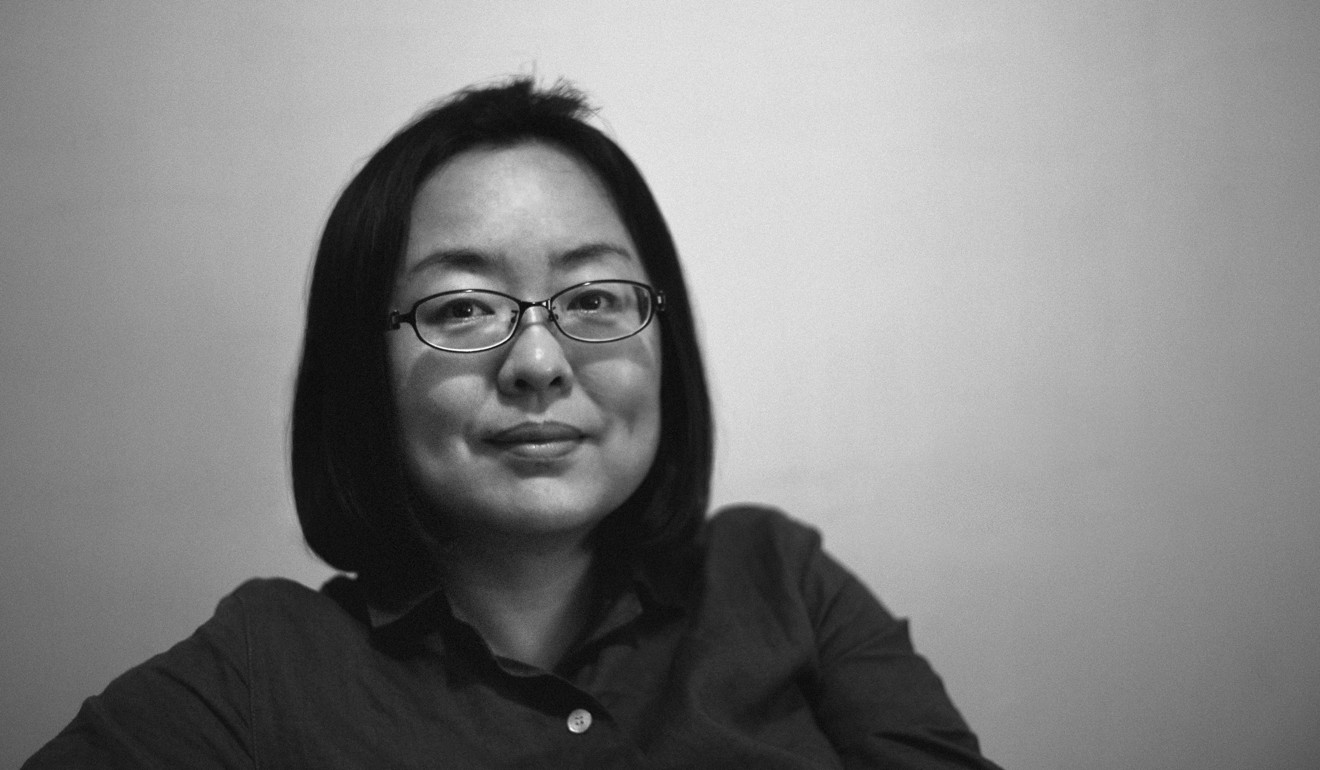 Jérôme Sother, co-director of the GwinZegal Art and Research Centre in Brittany, France, and theme exhibition curator of Lianzhou 2018, espouses a similarly unflinching approach. His opening statement, plastered on a wall before visitors get to Yann Mingard's climate change inspired "Seven Sunsets", sets forth the challenge for photographers' unique responsibility when documenting – and questioning – the fallout of late-stage capitalism: "People have prospered thanks to the cannibalistic exploitation of the Earth and other people […] The age of the Capitalocene seems, today, to be reaching its climax as it offers glimpses of its limits. Photography has been brought up in this age …"
Sother has brought to Lianzhou world class art from the likes of Christiane Geoffroy, whose Virtuose des Granges depicts a pedigree bull from an insemination centre in Brussels, raising pertinent questions about modern biological and medical process, and Salvatore Vitale, whose "How to Secure a County" is a stark series that investigates surveillance and security in the Italian's adopted home country of Switzerland. Vitale won the Grand Prize at the award ceremony on the third day of the festival.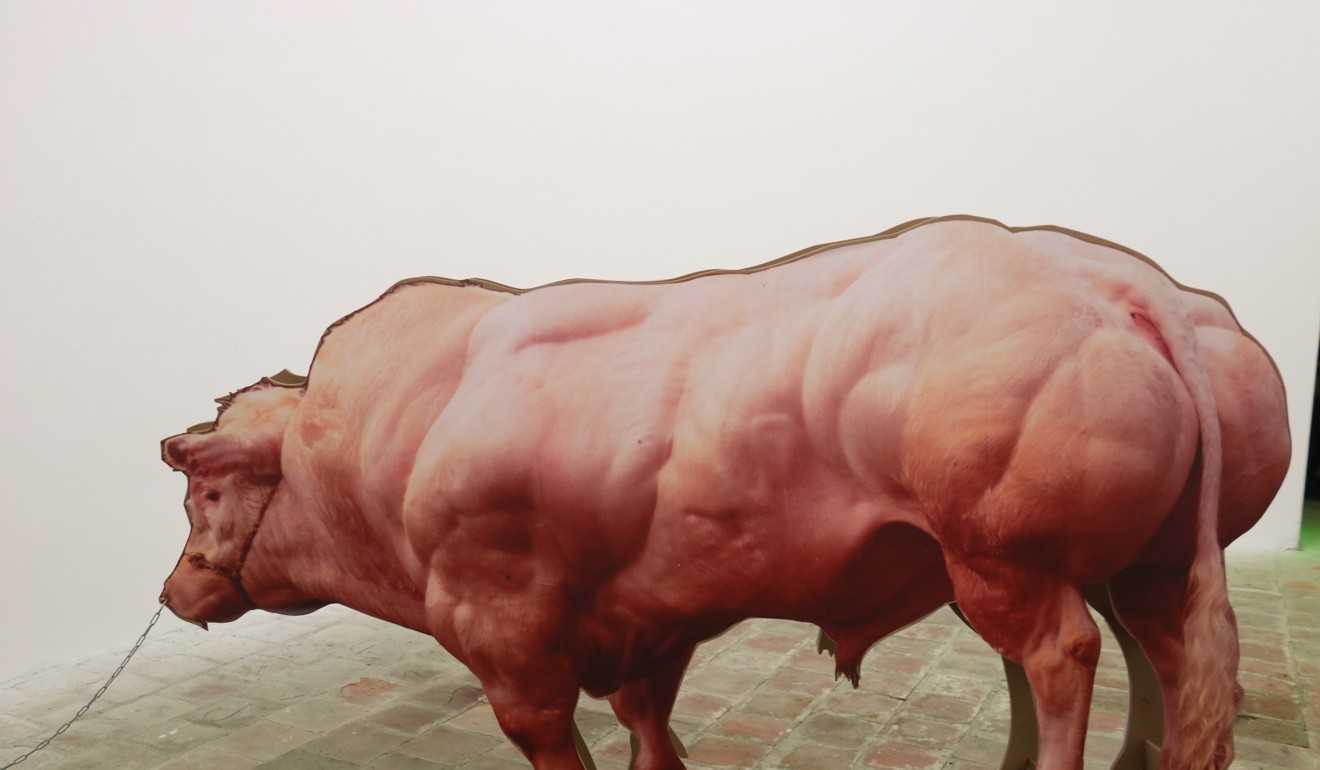 Yet while festival organisers concern themselves with the woes afflicting mankind, closer to home, the limits of freedom are being curtailed. Lianzhou's edgy character is sailing against the illiberal tempest blowing out of Beijing and as the festival officially opened its doors on December 1, gallery goers discovered numerous photos had been removed from exhibitions just hours earlier.
"There's no logic to what they've made objection to," Beijing photography critic Bao Kun tells me. "Censorship is entirely arbitrary."
Pieces have been plucked from British artist Mark Neville's "Here is London", which explores class disparities in the UK, through to Toronto-based Tong Lam's "The Theatre of War", which documents simulated battlefields, though the series have little in common aesthetically or thematically.
"They're just killing the chicken to scare the monkeys," says Tong, employing a well know Chinese proverb to explain the interference, while the more colloquial expression, "They like to smack our bottoms", does the rounds among disgruntled artists and attendees. It's a wry turn of phrase, the character of which informs much of the derisive Chinese art on display.
It's this sardonic vein pumping through the gallery back rooms that draws me to the work of another Wu, namely, Wu Dengcai, who hails from Wenzhou, in eastern China, and has much in common with Wu Guoyong. Both men came to art late, after taking early retirement, and stylistically, too, there are parallels to be drawn. Both favour colour-rich, large prints that capture the same subject matter in various locations throughout China.
"I visited 20 provinces," the bespectacled 55-year-old explains, as he guides me through his exhibition, titled, simply, "City Sculpture". "It's strange, China is full of public sculptures but you seldom notice them. Maybe we turn a blind eye because they are crudely made, derivative or because the space is poorly managed. I only began to think about the kind of sculptures you see after a debate about a sculpture in Wenzhou, which inspired huge criticism online."
After some online research he travelled from Shenyang, in the bitter north, to Shenzhen, in the deep south, to seek out the city sculptures. "I went to photograph some so-called public sculptures and was chased away by security guards. I was like, 'Isn't this for the people to enjoy?'
"You know a lot of the sculptures say nothing about the place they're located in. They're commissioned simply to further political careers or appease a leader or because the business of making sculptures is profitable. It's absurd."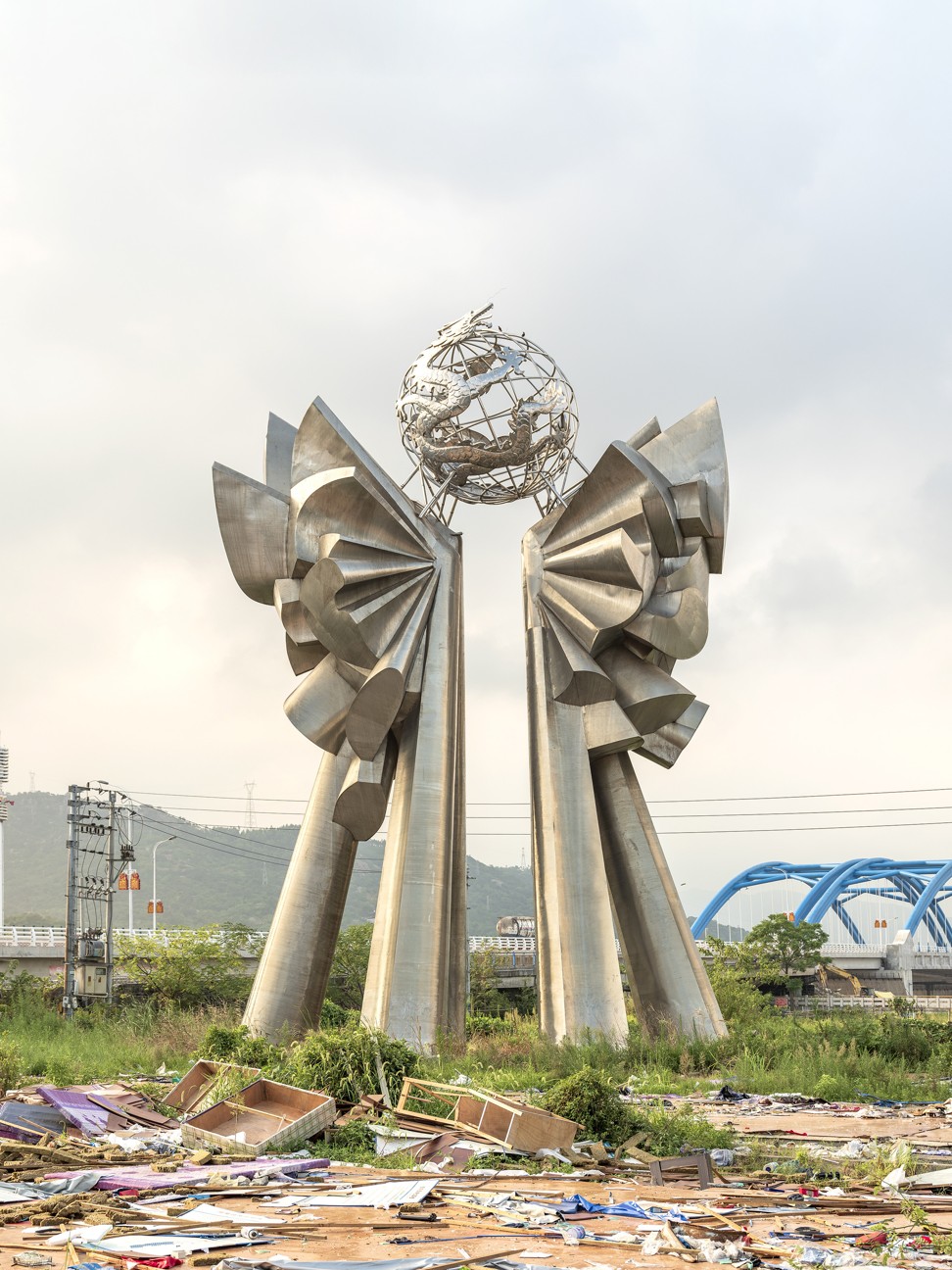 His series begins with an enormous print of a silver sculpture in Wenzhou called Dragon Flying. It is tawdry, oversized, seemingly located in the middle of nowhere and surrounded by rubbish. "The cultural meaning doesn't align with the city in any way," he says, still grinning but shaking his head in disbelief.
We follow a line of photographs along the wall. "You'll see the dragon motif a lot," Wu explains of the similarities he's found in China's statues. "Horses and buffalo are common too," he notes.
Each picture is of the same size, with its sculpture framed in the middle. From a distance, taken as collective work, they appear dazzling, just as do Wu Guoyong's bicycle graveyards. Yet when one concentrates on each image, a dispiriting story emerges, one of misused funds spent on bad art.
"I've found there are only a handful of sculptors making these things, they're getting so rich."
Opposite Wu's exhibition is another photo series, "Difference of Nature", examining the illusionary character of visual life in China, where cosmetic consumerism or clandestine malpractice often disguise or distort reality.
"We didn't want to take photos that just reproduced the objective external world," explains Song Zhipeng, who created the artwork with a friend from the Beijing Film Academy, Yang Man.
Song and Yang appear to have taken close-ups of rural China – a cabbage patch, a peach tree or some runner beans. It's only when looking a little closer that one notices many of the fruits and vegetables in the pictures are made of plastic.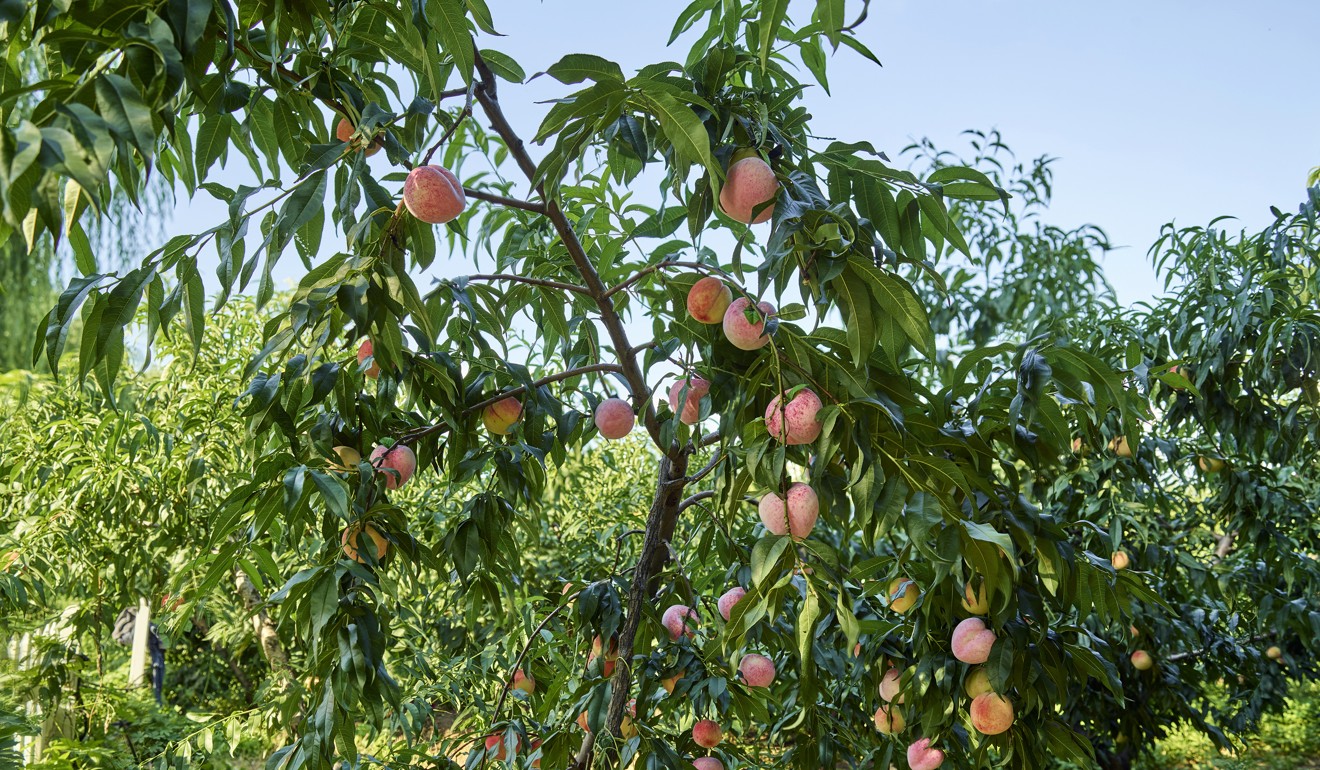 "People use these fake fruits in Taobao stores, restaurants or even grocers because they look better than the real thing," 30-year-old Song, who hails from Shandong province, explains. "It's a total breakdown of reality, one we don't question because … well, seeing is believing.
"This model and symbol evoke our true desires, attract us into restaurants or shops to consume; in other words, it is fake symbol that has a strong and real effect."
From a food hygiene perspective, too, the images appear to ask potent questions about contemporary society, as scarcely a month goes by without news of exploding watermelons, dyed green beans or tainted milk making national headlines. Every day, Chinese families are forced to question what they are eating, where it came from and if their food is actually what they thought it was when they bought it.
"The 'Difference of Nature' is not directly related to food safety, but it is interesting that Chinese people like to link the concept of safety with nature. Whether it is food or cosmetics advertising, [salespeople] are working very hard to deceive us. All companies emphasise that their ingredients are natural and that no chemical fertiliser, no pesticides or genetic modification took place. Emphasising nature is popular with the public, so one can charge higher prices, but in reality the agricultural sector is totally unregulated."
In the end, veteran photographers and Beijing art school graduates have to make way for new blood and if Lianzhou 2018 belongs to anybody, it's to Peng Ke. Duan curated the young Hunanese photographer's exhibition, "Leaving Speed". Peng, who grew up in Shenzhen and studied in the United States before basing herself between Shanghai and Los Angeles, uses images to ask reaching questions about identity in an age of rapid urbanisation, domestic migration and mass emigration.
"My parents brought me from Changsha to Shenzhen when I was just two," Peng explains, as we walk around her exhibit, on the ground floor for the Lianzhou Photography Museum, which opened in 2017. "I felt like the city around me was just a construction site. We were displaced, removed from history, from the past, from people like us. Capital – earning money – was the thing people cared most about."
An only child lost in a city changing year on year, Peng found solace in public parks and plazas. "There's no hierarchy in public space; here I could seek an idealised landscape. People aren't in their cars or shopping in the malls so there's the possibility for communication."
At the age of 12 her father bought her a camera, which quickly became Peng's torch for, as she puts it, "looking for comfort in a dangerous place". It's these early experiences that inform her work.
"You see pictures of fish tanks or food enclosed in a glass case," she says. "I like theses spaces because they seem well protected and contained."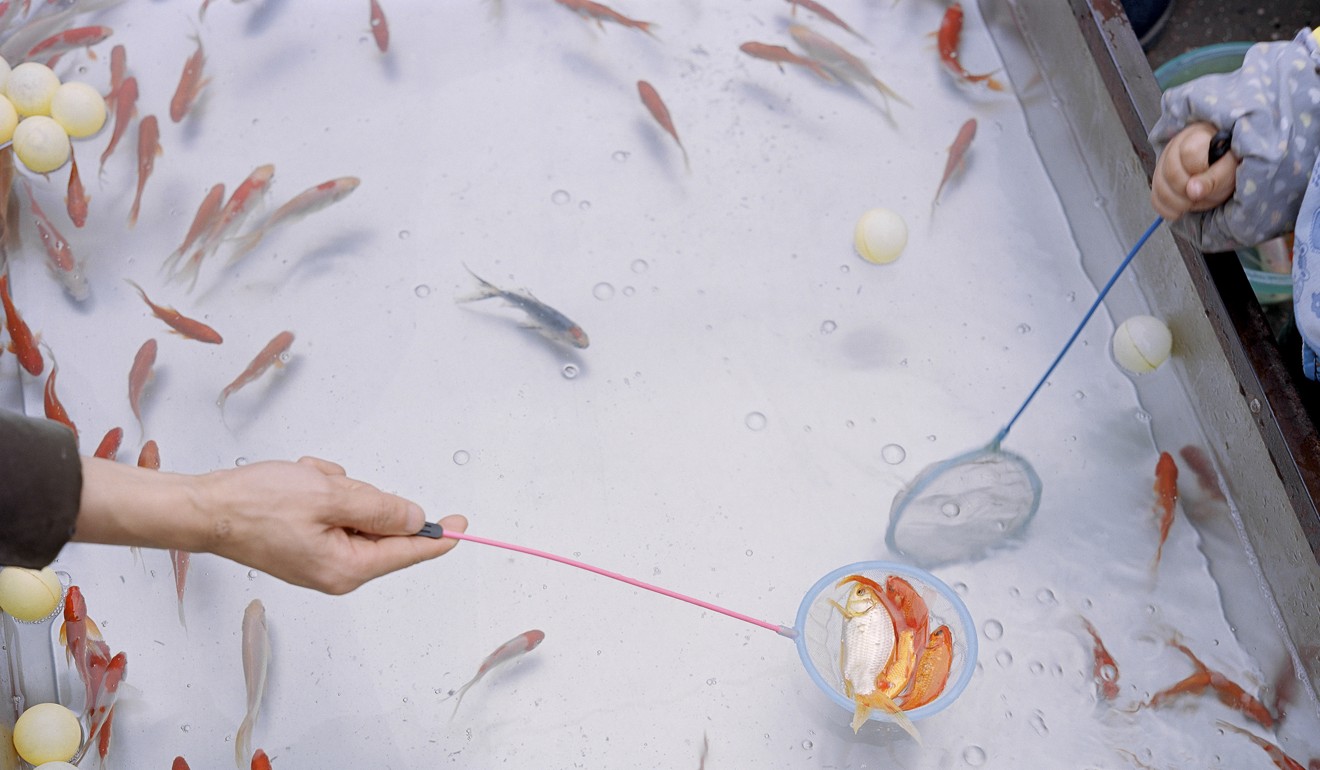 Having grown up in a cityscape defined by high-rise towers ordered into grids, Peng admits to being attracted to structures of symmetry even when she's photographing third-tier towns in Hunan. "Look at this series of stones, or this line of balloons, they somehow remind me of the landscape of Shenzhen; there's a pattern."
She's created a model wire fence in the exhibition space, noting, "Fences protect us but can also trap us inside. Also, you see through them easily."
A longing for the home and security Chinese millienials (or the post-90s generation) have been cut off from in the tumult of reform and opening up permeates her photographs, too, which is perhaps what resonates with gallery-goers and won Peng the Fondazione EMGdoART Prize at the award ceremony held on the third night of the festival, at the museum's rooftop theatre.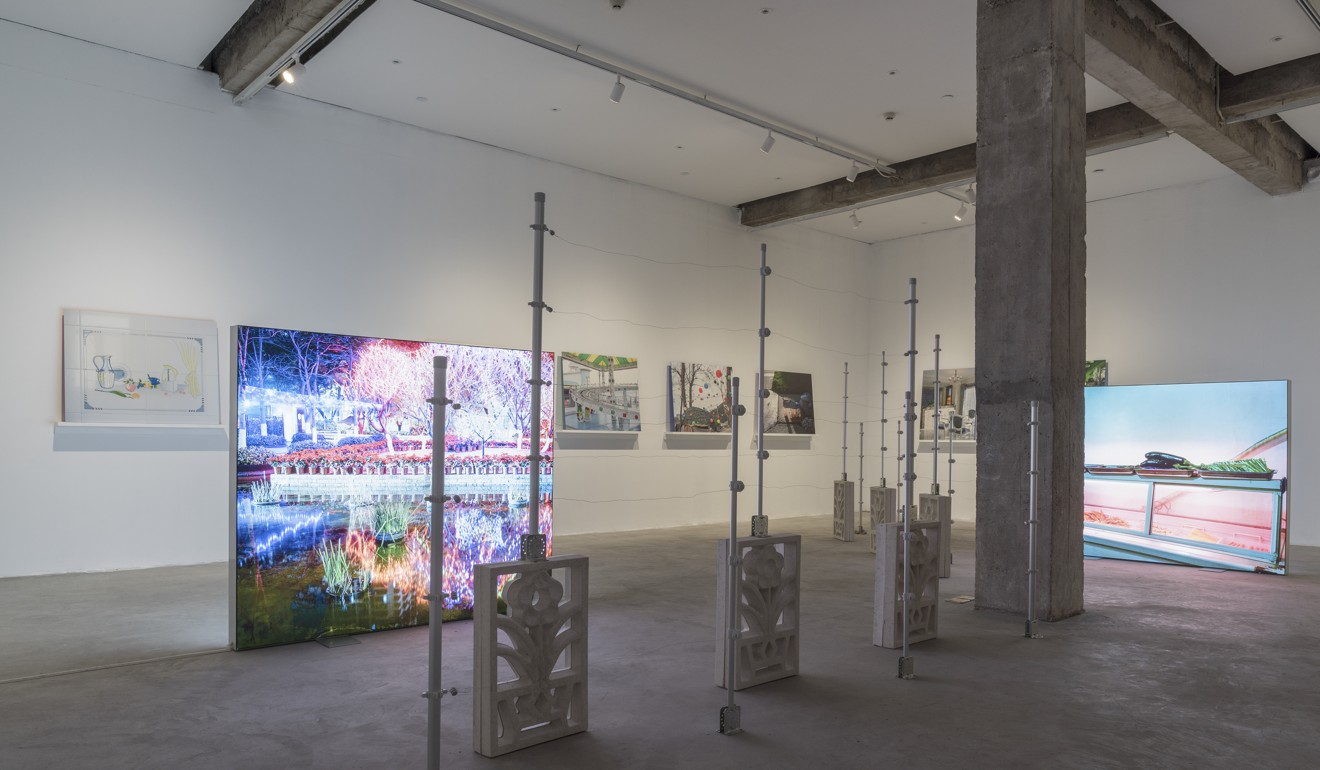 Many of the images capture obscure, small-town China.
"Small towns fascinate me, they are more intimate. In a way we're all from small towns," she says, of the innate provincialism that, perhaps, only metropolitan pretensions can disguise. This is why Peng focuses on the residue of human action rather than human subjects themselves, a style she describes as "photographing the decisions other people have made". Peng explains that she finds it "hard to photograph America" and has spent a great deal of time in China to shoot much of her work.
When quizzed about the censorship that has taken place in Lianzhou, she says simply, "It's troubling, of course, and I hope it doesn't happen to me, but right now I'm just following the work, the images, wherever they take me."
Lianzhou Foto will be open to the public until January 3.