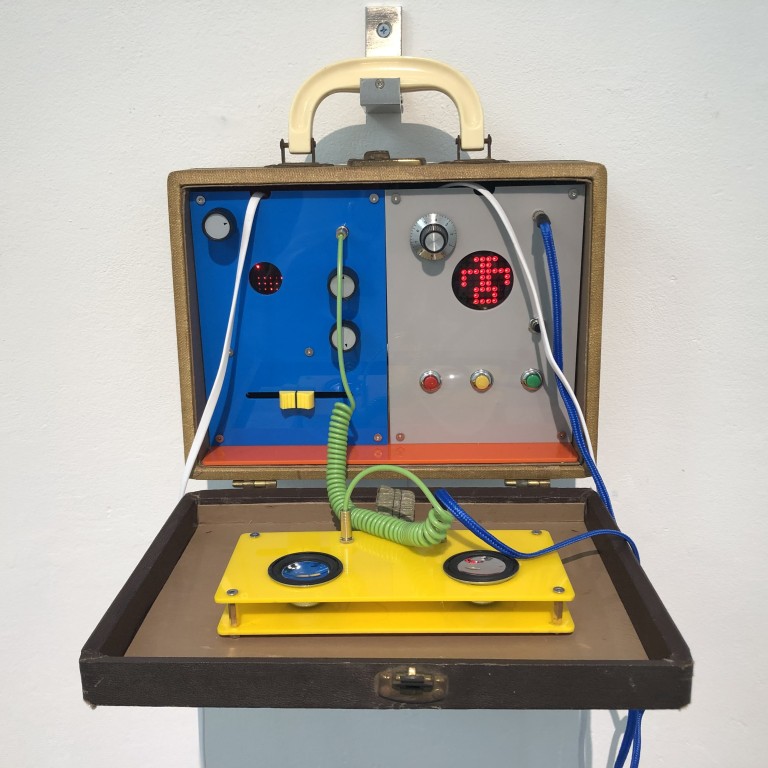 Opinion
The Collector
by Enid Tsui
The Collector
by Enid Tsui
Luggage-based art for Hong Kong's turbulent times – two projects capture the zeitgeist
Art imitates life as Six Briefcases and the Suitcase Institute symbolise the city's current fight and flight mindset
"Six Briefcases" and the Suitcase Institute are two art projects in Hong Kong that, by sheer coincidence, have captured the current zeitgeist of restlessness and trepidation in the city by commissioning local artists to make portable art.
Let's face it. It's not so much "fight or flight" in the city now, but "fight and flight". While the cameras are trained on the fallout of the government's extradition bill, there is also talk among Hong Kong families, businesses and investors about emigrating or reallocating assets to places considered more stable.
This wasn't quite the context a year ago, when Willem Molesworth and his wife, Ysabelle Cheung, came up with the idea for the Suitcase Institute. Molesworth, de Sarthe Gallery's Hong Kong director, and Cheung, a writer and editor, were trying to address that perennial Hong Kong problem: lack of space and high rents.
"We were trying to think of a way to do something for the local art scene that doesn't come into conflict with my work at de Sarthe. We don't have much of a budget and we know how hard it is to find exhibition space in Hong Kong. That's how the suitcase idea came about," the ebullient Molesworth tells The Collector as the first "suitcase art" they commissioned continues its tour as a self-housing pop-up mini exhibition.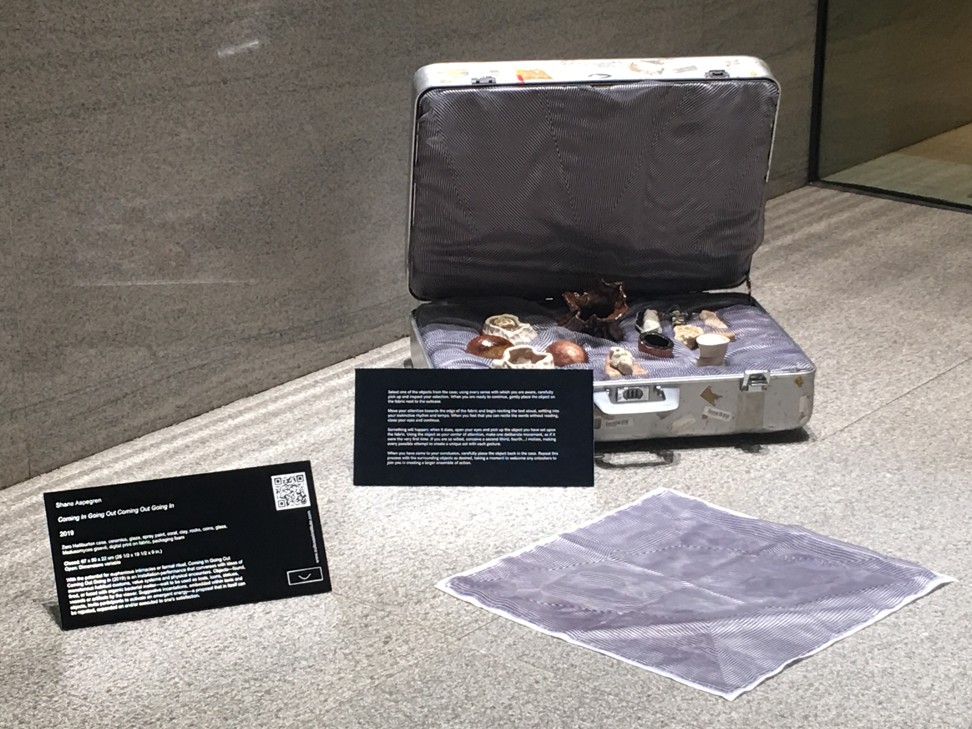 Hong Kong-based musician and multidisciplinary artist Shane Aspegren's Coming In Going Out Coming Out Going In (2019) is installed in a sturdy Zero Halliburton suitcase. Inside, a collection of found and handmade objects are displayed on fabric printed with Moiré patterns, a geometrical design with fascinating visual effects.
When in "exhibition mode" – whether at Tai Kwun, a pedestrian bridge in Wan Chai or Regent's Park in London – "visitors" are asked to pick up the objects and follow "suggestive incantations" to try and find a moment of peace in the middle of the city. A number of other local artists are also working on suitcases and these may pop up anywhere, any time, Molesworth says.
Suitcase art is rich in history and symbol­ism. Marcel Duchamp's Boîte-en-valise series of 20 suitcases containing replicas of his own works was a way to make subver­sive art in Nazi-occupied France, and also a radical sub­version of what "original" meant in art.
Today in Hong Kong, the suitcase is laden with associations – mainland Chinese tourists here to shop, the city's long history of migration and, as Molesworth points out, its liminal state of going from one thing to another since the former British colony was returned to China in 1997.
There is an added sense of nostalgia in Karin Weber Gallery's "Six Briefcases" exhibition. These are new works by local artists made from vintage briefcases, suitcases and an old doctor's bag that gallery director Kenneth Young helped source from a second-hand shop in Central.
Tung Wing-hong's No Place for Useless Men (2019) is an old, worn suitcase that once belonged to a high-class bespoke tailor (do people still come to Hong Kong to get their suits made?). Tung has installed a hidden mechanism inside and the suit­case periodically rams itself into the wall, becoming even more battered. "Wall cannot be damaged and old beliefs have to be crumbled," reads the artist's statement, sounding ominous as protesters outside continue to throw eggs at the government's steely resolve.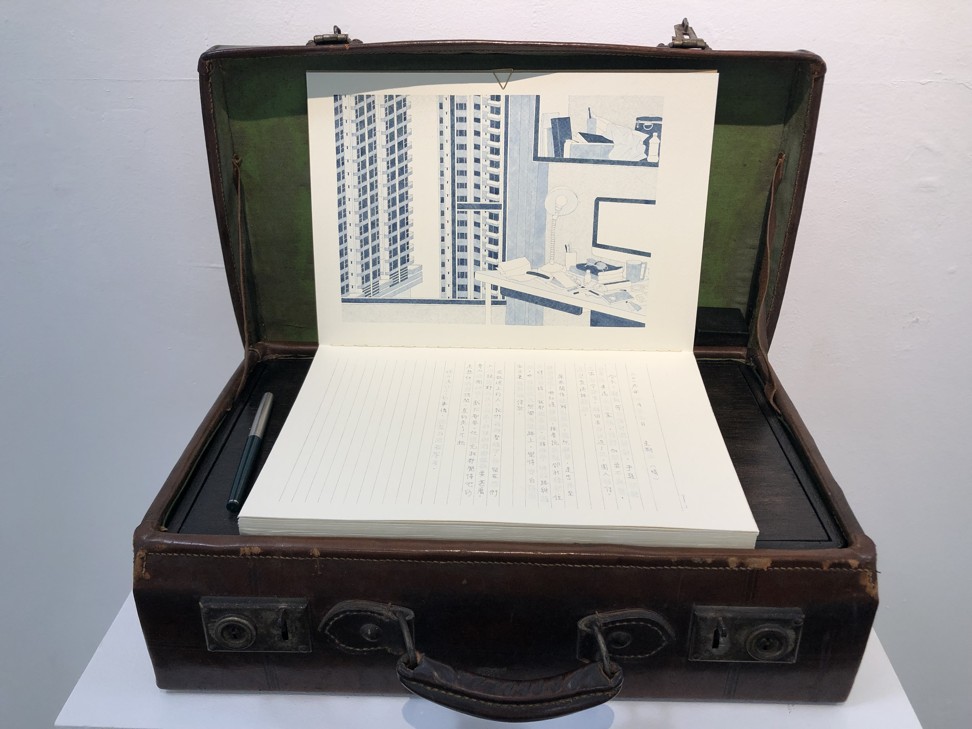 Carmen Ng Ka-man has put her illus­trated diary – her most valued possession – in a briefcase that she carefully fitted with a wooden case and pen holder. But it's called Failed to Lock (2019) because the brass lock is broken, the key is long gone and any sense of privacy is a mere illusion.
Andio Lai Chung-man, the sound artist, has turned a small briefcase into a portable record player with knobs and switches that allow visitors to distort sound recordings he has collected around Hong Kong – a symbol of how differently the slogans shouted on the streets are being interpreted by different ears.
The works at Karin Weber are all for sale, and the idea of just snapping them shut and having the option of taking them anywhere is quite satisfying. But let's hope we will never get to a point in Hong Kong where portability in art gains mainstream, practical appeal.
"Six Briefcases", Karin Weber Gallery, G/F, 20 Aberdeen Street, Central, 11am-7pm, Tue-Sat. Until Saturday. For more details on the Suitcase Institute, go to suitcaseinstitute.com.