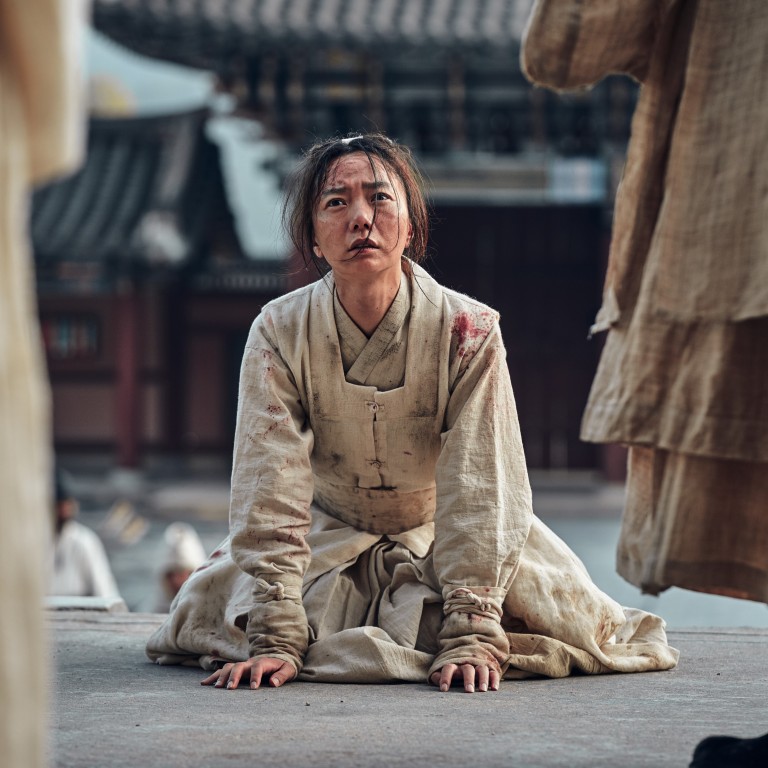 Opinion
What a view
by Stephen McCarty
What a view
by Stephen McCarty
Kingdom: return of Korean zombie series is a well-timed lesson in what to do in a pandemic
Set in the historical kingdom of Joseon, the second season is big in ambition and big-screen quality as its players battle a contagion of epic proportions
Netflix series Kingdom (season two now streaming) is a fable for our afflicted times. It features the fastest-sprinting extras on any screen anywhere; they tear around the pristine 17th century Korean countryside, armed with nothing but their teeth and a fearsome catalogue of primal screams, chomping chunks out of the terrified living.
Ju Ji-hoon stars as Crown Prince Lee Chang, literally battling to stop the trans­mission of disease by deranged hosts becoming Joseon's "new normal". There's not much social distancing being observed among the hordes besieging the clean and pure, who also include Bae Doo-na as a nurse with a bright idea for a potential cure.
The action is big in ambition and big-screen in quality. Reanimated corpses the baddies may be, but suppressing their brand of mob rule requires flaming arrows, muskets, swords, cannons and booby-trapped pits with sharpened stakes – and even that lot doesn't stop them for long.
Spectacular set-piece showdowns aside, what is it with our curious, pop-culture obsession with the living dead? Encompassing Bela Lugosi from as far back as 1931 (Dracula), Dawn of the Dead (1978) and even Shaun of the Dead (2004), Charlton Heston and Brad Pitt, the zombie-verse often feels like our favourite reposi­tory of horror.
Perhaps subconsciously we feel that zombie productions can impart essential lessons on what to watch out for and how to avoid everybody else when disease strikes. Which would make Kingdom an expensive public service announcement: not, one wagers, what its makers had in mind but an unarguable means of securing stratospheric numbers of eyeballs. Those still attached to viewers' faces, that is.
Outlander returns for a fifth season of kilts and highlands drama
Let's do the time warp again From allegorical horror to time-warping period drama as we return to 18th century North Carolina, to rejoin the Fraser clan for series five of Outlander (Amazon Prime).
For those unfamiliar with what began as a kilts-and-highland-mist saga, Claire Randall (Caitriona Balfe), fresh from serving as a British Army nurse (another?) in World War II, went to Scotland with her MI6 operative husband for a second honeymoon. That took a turn for the weird when she time-slipped through an ancient stone circle (why, of course). Landing in the Scotland of 1743, she married Jacobite rebel Jamie Fraser (Sam Heughan), committed enemy of the fiendish English redcoats.
Claire, however, was able to zip back to her original century, giving her consider­able powers of foresight and hindsight – not that they saved her from a shipwreck that left her and Jamie stranded in the Thirteen American Colonies for series four.
Cue what will be 12 episodes of an intri­guing (if increasingly convoluted) story that, like the novels of Diana Gabaldon on which it is based, has maintained a steady female narrative perspective. As a histo­rical, romantic, fantasy adventure, Outlander has many bases to cover and can be relied on to service them all eventually. Patience is sometimes required: when a series kicks off with a wedding day that feels like it is progressing in real time, the temptation for the newcomer might be to wonder if one's loyalty to this show will ever be rewarded. It will.