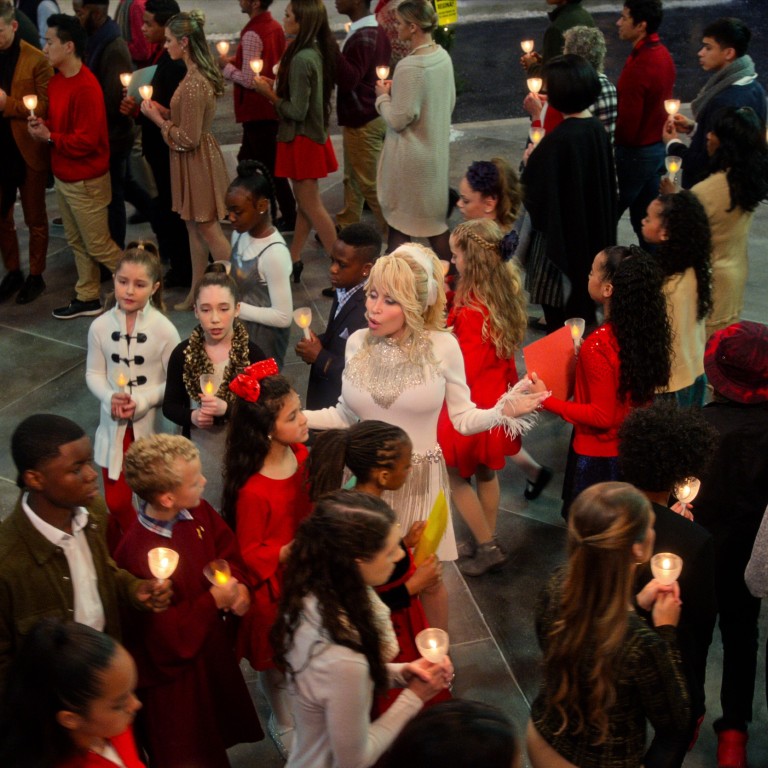 Opinion
What a view
by Stephen McCarty
What a view
by Stephen McCarty
The best Christmas movies and shows on Netflix, Amazon Prime and HBO, featuring Dolly Parton and plenty of cheer
Netflix provides seasonal musicals aplenty, from Dolly Parton's Christmas on the Square to Jingle Jangle: A Christmas Journey
Amazon Prime unleashes horror film The Nights Before Christmas, while HBO sticks to the schmaltz with Christmas in Rome
The pick of Netflix's 2020 stocking fillers spells new movies soaked in seasonal bonhomie and sugary glee – plus a dose of redemption for the bad guys, naturally.
Christmas wouldn't be Christmas without the traditional, festive croonings of, er, Dolly Parton. Country music's fairy godmother is benevolence personified in Dolly Parton's Christmas on the Square, in which she must scupper the plans of a Scrooge-channelling landlady plotting to turn her hometown into a shopping centre.
More musical variations on A Christmas Carol abound in Jingle Jangle: A Christmas Journey. Dickens meets steampunk as kindly inventor-genius Jeronicus Jangle (Forest Whitaker), with a supporting cast of magnificent mechanical toys, turns grumpy after being betrayed by his cynical protégé. But fear not: no John Legend-produced, gospel-infused festive adventure is ever going to finish on a dreary note.
This year's Best Santa Lookalike Award goes to a bewhiskered Kurt Russell in The Christmas Chronicles 2, this festive sequel flying us (reindeer class) between the frosty poles, with diversions to sunny Mexico, on a complex rescue mission.
A renegade elf wants to put the kibosh on Christmas, but Santa's antlered aircrew are never more than a dazzling swoosh through the aurora borealis away from scotching his scheme. They even perform a mid-air homage to the Ben Hur chariot race. Goldie Hawn, Russell's other half, co-stars as Mrs Claus – the brains behind the entire Christmas industry.
Domestic seasonal cheer swamps the four-part Netflix series Holiday Home Makeover with Mr Christmas. American interior designer Benjamin Bradley earned the sobriquet thanks to his extensive collection of antique Christmas decorations.
Here, with his team of "elves", he sets about transforming some carefully chosen homes – and one fire station – inside and out with enough baubles, candy canes, cut-out reindeer, fairy lights and fake snow to leave the neighbours pine-tree green with envy.
Over on Amazon Prime, compliments of the season are noticeably lacking in horror film The Nights Before Christmas. Battling a murderous rampage, the FBI's Natalie Parker (Kate Schroder) must cut short the fun of Santa and (another) Mrs Claus – a couple of psycho-killers – before they cut short the lives of victims on their list.
More conventional, family-friendly salutations pepper movie A Christmas Hero, the new-to-Amazon tale of firefighter Jenny (Anna Hutchison) and former ice hockey star Tom (Marcus Rosner). While squeezing out sparks of passion, our plucky pair must simultaneously douse the flames of Grinch-ness flying from Tom's odious ex-wife Mary, a famous author and seasonal spoilsport threatening to send their daughter from small-town USA to boarding school in London.
And if you're still in need of a serious schmaltz overdose, the Hallmark Channel pours on the treacle courtesy of films Christmas in Rome and Homegrown Christmas, brought to you via HBO Go.
Mediterranean magic is in the December air in the former, as tour guide Angela (Lacey Chabert) sets about educating culturally challenged businessman Oliver (Sam Page) in some time-honoured ways of Latin wooing. And in the latter, starring Lori Loughlin and Victor Webster, it's not just the tinsel that sparkles as an old boyfriend-girlfriend combo, obliged to organise a high-school dance, team up again.
If Christmas for you – and your youngsters – means cartoons, HBO Go also hosts the adventures of everyone's favourite Great Dane detective as reboot series Be Cool, Scooby-Doo visits a ski resort. And Scooby and chums are followed by other animated immortals in New Looney Tunes: 'Tis the Seasoning. More precisely, 'tis the last acorn in the shop, which causes a ding-dong between Bugs Bunny and Yosemite Sam for the nutty holiday treat.
That's all, folks … merry Christmas viewing.