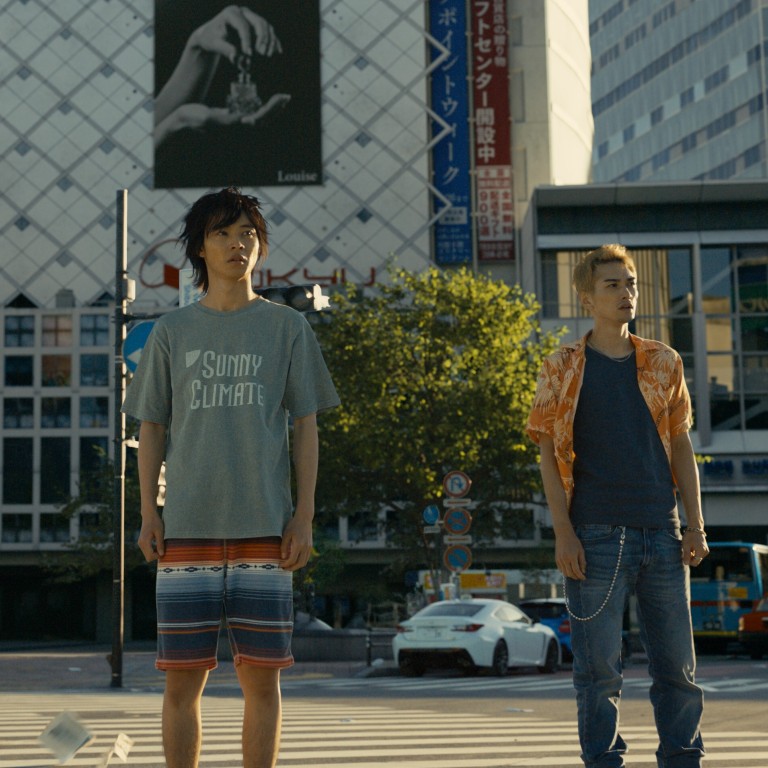 Opinion
What a view
by Stephen McCarty
What a view
by Stephen McCarty
From Alice in Borderland to 100 Days My Prince, what to watch over the new year
Japanese thriller Alice in Borderland on Netflix taps into the existential angst of 2020
HBO Asia's first romcom, Adventure of the Ring, offers a more comforting outlook
If this unprecedented year of upheaval and dislocation has convinced you that existence is just one big, brutal, alternative-reality game from which no one escapes alive, then Alice in Borderland (Netflix) is in your corner.
The eight manga-inspired episodes of series one (now streaming) won't fill you with hope for the new year, but may reflect a disconcerting 12 months in their fiendish appraisal of what it takes to survive an apocalypse.
Three Tokyo deadbeats (Kento Yamazaki, Yuki Morinaga and Keita Machida) hide from the police after larking about on Shibuya crossing. When they emerge the city is deserted, so for want of something better to do they follow a distant light to the location of the first in a series of deadly games.
They inadvertently plough on down a perplexing rabbit hole, as the sinister challenges and bloody penalties rack up. Anyone who has felt trapped, then zapped, this year will connect with the players' pain.
There is also plenty of pain in new-to-Netflix Korean drama 100 Days My Prince (series one available now), starring Doh Kyung-soo and Nam Ji-hyun. In common with many exquisitely shot, portentous historical costume dramas, 100 Days is stuffed full of bloody rebellion, political intrigue, treachery, paranoia and, naturally, young love.
"You have a lot of guts for a girl," declares one precocious royal to his juvenile crush. Sinuous shall be the path that brings them back together far into the future. Probably.
As is the trail leading to the blockbuster finale of His Dark Materials season two (HBO via Now TV, and HBO Go). Forget the "young adult" tag usually pinned on the works of author Philip Pullman; with themes of free will, the power of knowledge and the cack-handedness of religious dogma, all fused with mystery, witchcraft and wide-eyed adventure, there's no maximum age for admission.
Which stories mattered most to you in 2020? Find out with our Year In Review 2020 retrospective.
Unless you and yours are especially young, in which case it might be preferable to ring in 2021 with animated films Sonic the Hedgehog (HBO Go) and Shark Tale (HBO and HBO Go), although in the latter, for grown-ups at least, there's an unnerving facial similarity between some of the cartoon stars and the humans providing their voices. Will Smith and Angelina Jolie will never be gazed upon in quite the same way again.
Recognisable after more familiar fashion are the bill toppers of New Year's Eve (Amazon Prime), another movie that may have been on the shelf for a while but that is no less seasonally cosy for it. It's New Year's Eve (bet you didn't spot that coming) in New York and the unconnected lives of a clutch of strangers are about to become entwined as the countdown to the most unmissable event of the year gathers speed.
Yes, it's the big ball drop at midnight in Times Square, which is as handy an excuse as any for a romcom. Off camera, it must have taken from one December 31 to the next for lawyers for Halle Berry, Robert de Niro, Michelle Pfeiffer, Jon Bon Jovi, Jessica Biel, Ashton Kutcher, Sarah Jessica Parker, Hilary Swank and many others to figure out who would lead the way in the credits.
There's no doubt who calls the shots in George Clooney-directed feature film The Midnight Sky (Netflix), starring George Clooney. Climatic catastrophe has befallen Earth, but while most people have scarpered, Dr Augustine Lofthouse (Clooney) has remained to man an Arctic observatory.
When he spots a returning space shuttle he makes it his mission to warn the unsuspecting crew that they should definitely be anywhere but here – which is when his troubles really begin.
Eschewing that notion of goodwill to all mankind, or what's left of it, is Ava the assassin, who functions by slapping around and shooting down targets for a nasty bunch of American black ops enforcers. Movie Ava (Netflix) features a formidable Jessica Chastain as an all-action heroine and killer, a social misfit with not exactly a heart of gold but with a growing inventory of doubts about her chosen profession. Which means trouble for her job prospects and her handlers (John Malkovich and Colin Farrell).
After messing messed up a hit and being betrayed, Ava finds herself next for the chop as the executioners close in. Look out for a cameo appearance by the inimitable Joan Chen as a small-time but vicious gangster.
Brought thumping down to earth in the upmarket end of Bangkok is Cassie (Kaley Cuoco), otherwise known as The Flight Attendant (HBO Go and Now Player). Setting itself up as another "adventures of a ditsy blonde" series, it abruptly and shockingly turns into a murky thriller, and better yet, one that doesn't forget its comedic lines, however bleak the story might seem.
Good-time girl Cassie, equally fond of a drink and the numerous attractions of foreign travel, wakes in the centre of a crime scene after a wild night she can't fully remember. On the run, she is visited by psychological terrors, plus the FBI, as she struggles to make sense of how her off-the-rails lifestyle, precarious mental state and trusting nature have led her right to the cheese – and its attendant trap.
Meanwhile, a flight attendant on an entirely different radar is Lisa (Allison Lin Yu-hsi – fittingly, a former air steward), caught up in eight-part Taiwanese romantic comedy series Adventure of the Ring (HBO and HBO Go).
Carefree Lisa is betrothed to strait-laced, nerdy actuary Yi-zhi (Chris Wang Yu-sheng), but their plans go awry when, consumed by nervous panic brought on by his looming marriage proposal, he loses the all-important engagement ring on the Taipei subway. That sends the shiny item on a journey of discovery of its own – and leaves the couple, seemingly made for each other questioning their relationship as Lisa takes off around the region.
Who can tell, but perhaps the presence of aircrew on our screens is a sign … that we'll soon be stowing our tray tables again for real. Happy New Year!
For more great stories on Korean entertainment, artist profiles and the latest news, visit K-post, SCMP's K-pop hub.