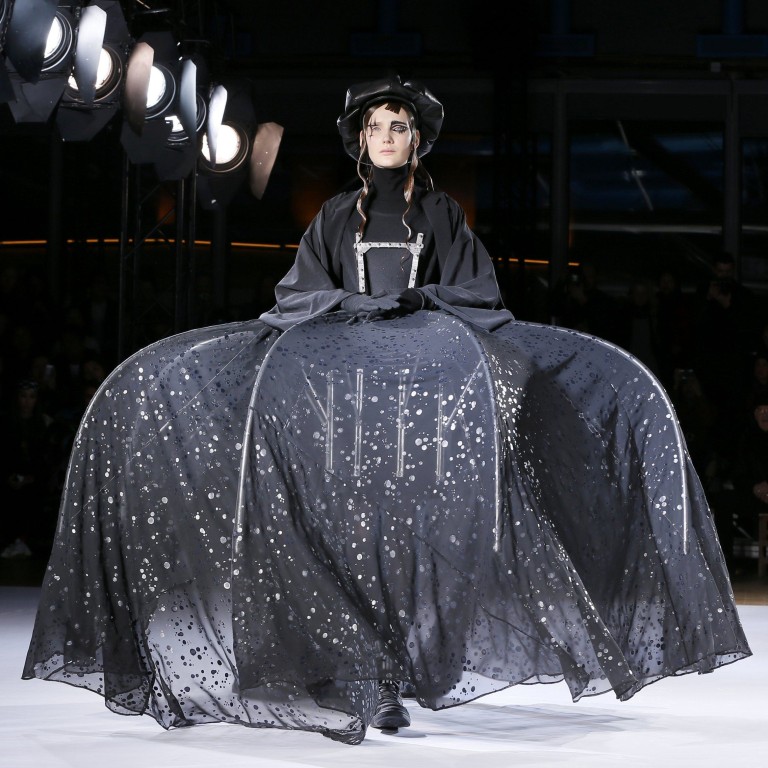 Opinion
What a view
by Stephen McCarty
What a view
by Stephen McCarty
From Vivienne Westwood to Yohji Yamamoto: fashion documentaries explore how designers changed the world around them
Fashion-focused entertainment never goes out of style – or far from our screens – as this selection shows
Among the highlights is Ryan Murphy's look at America's original celebrity fashion designer, Roy Halston Frowick
Fashion can be a cat-eat-cat world, so if you like bitchiness, affluence, subversiveness, intrigue, scandal and sometimes even compassion and community spirit woven into your threads, try this selection for size.
First off the peg is documentary Yohji Yamamoto: Rebel in Black, showing on Now True (Now TV on demand, also available via the Now Player app). If his native Japan wasn't quite ready for Yamamoto's exclusively black creations when they first appeared, in the 1980s, nor was the rest of the world, whose fashionistas have been in thrall to his Japanese design aesthetic ever since.
His collections, methods and inspiration are central to Rebel in Black – as are his fears for the future of craftsmanship in tailoring, given the prevalence of cheap, fast fashion, in Japan as elsewhere.
Cut from different cloth is five-episode series Halston, available on Now True and coming soon to Netflix. Ewan McGregor stars as America's original celebrity fashion designer, Roy Halston Frowick, who, as a 70s superstar, had the ear and vital statistics of Hollywood royalty. So debauched did his lifestyle become – drugs, orgies with male prostitutes, excess all areas – that Caligula would have blushed.
Halston died from an Aids-related illness in 1990, yet his legend and notoriety persist: Sarah Jessica Parker was the public face of a doomed attempt to help resuscitate the Halston brand a decade or so ago. But while that failed, she will be back as fashion plate Carrie Bradshaw in a rebooted Sex and the City for the pandemic era, courtesy of HBO Max. Shooting is due to begin imminently.
If Halston is a 10 on the self-publicity scale, then just about scraping a zero is Belgian man of mystery Martin Margiela. Fanatical about his anonymity, the reclusive couturier appears – sort of – in Reiner Holzemer's documentary Martin Margiela: In His Own Words (Now True), which is to say that his hands are shown and his voice, which is disguised, is heard. That voice does at least reveal the reasons for Margiela's ambivalent attitude to the fashion industry and why he walked away from it to become a painter.
Taking a somewhat different approach to engaging with the world is the un­compromising Vivienne Westwood in Amazon Prime biography-documentary Westwood: Punk, Icon, Activist. Westwood will be forever synonymous with the anti-uniform uniforms of punk rock and her unbending attitude remains robust.
Unimpressed with designs under consideration for London Fashion Week, she says: "I don't know if I want to show any of this s***. And I don't know what the f*** this is." Restless and always curious, Westwood offers her thoughts on retirement. "If people retire they do what they like," she says. "If I really could do what I want, I would learn Chinese."
And if it slipped beneath your trend radar when it first appeared, Gok's Fashion Fix (Amazon Prime), with irrepressible presenter-fashion consultant Gok Wan and designer and ex-model Alexa Chung, promises eight instalments of "designer looks on a high-street budget".
Flamboyant, ever-entertaining Gok (brother of
emerging TV-star chef Kwoklyn Wan
) slyly subverts the idea that ludicrously expensive brands are necessarily better than chain-store clobber. In this pursuit he is inadvertently helped by the likes of guest Joan Collins, who can't tell a bargain blouse from its price-bloated cousin.
Meanwhile, snobbery never seems to go out of style in fashion circles. "Something that irritates me is, of course, the mass market," says a boutique co-owner. "I don't like going to a party or a supermarket or anywhere and seeing some girl wearing the same thing that that girl's wearing, that that girl's wearing." One wonders if she's still in business.