Art
Get more with myNEWS
A personalised news feed of stories that matter to you
Learn more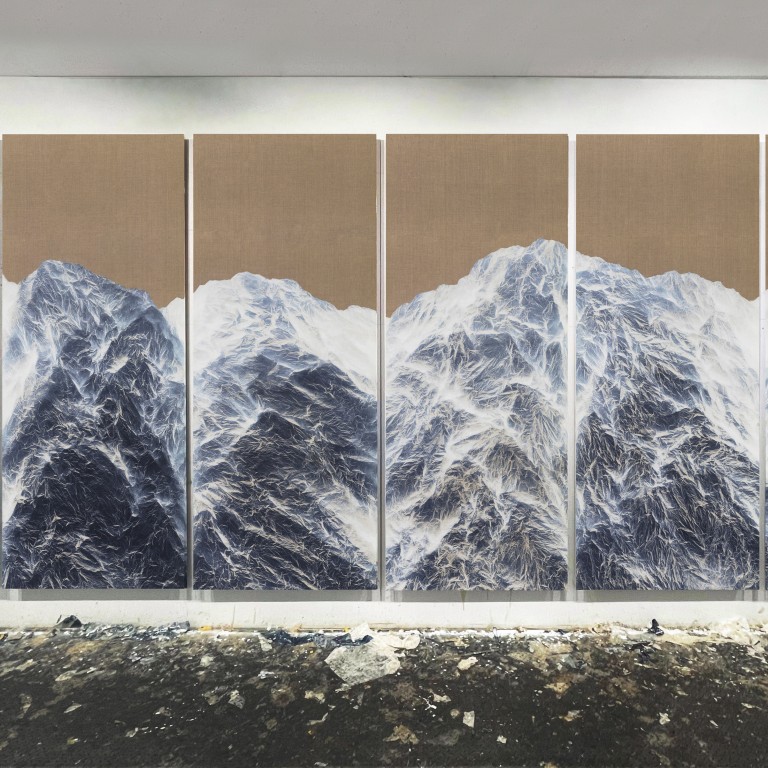 Taiwanese artist Wu Chi-Tsung paints with light and makes a traditional Chinese art form modern
On first glance, Wu Chi-Tsung's blue-and-white landscapes look like photographs or delicate ink paintings
Instead, they are made by the laborious layering of strips of Cyanotype, or so-called sun print paper
Taiwanese artist Wu Chi-Tsung's blue-and-white landscapes look like photographs of snowy mountain ranges, or on closer inspection, delicate ink paintings on textured paper.
However, as a video accompanying his "Exposé" exhibition, in Galerie du Monde, reveals, these landscapes are made by the laborious layering of strips of Cyanotype, or so-called sun print paper.
Cyanotype was invented in the 19th century as a cheap way to reproduce images and the process is considered an early form of photography. In its simplest application, paper is coated with light-sensitive chemicals that turn blue under the sun, and capture the silhouettes of objects placed directly onto the paper, to block out light.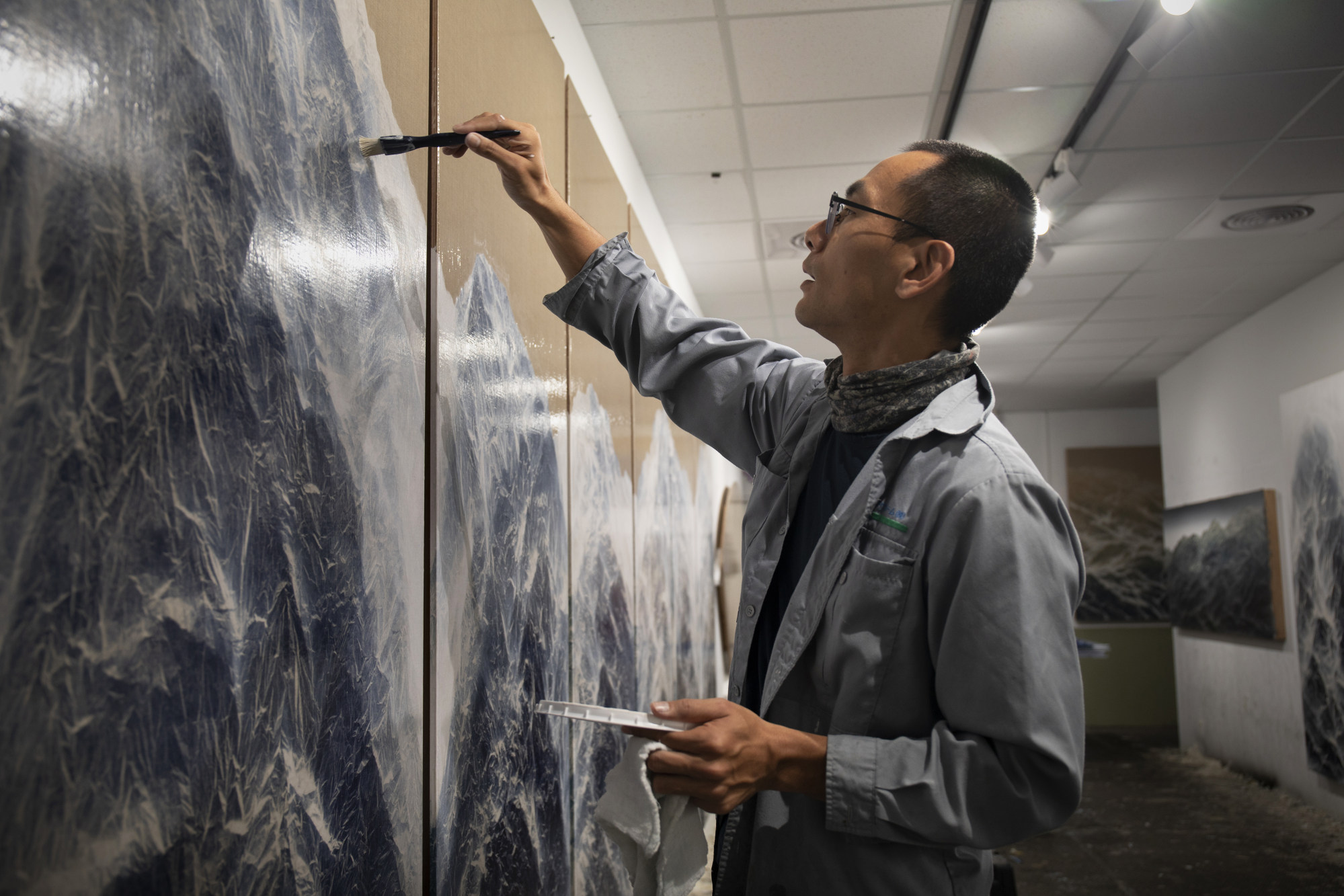 Wu's medium is xuan paper – traditionally used for Chinese ink paintings – which he scrunches up before applying the chemicals so the sun will leave uneven patterns when the paper is exposed. Then he pulls strips off the paper – now appearing in a range of greys and blues – and pastes them onto canvas to create stunning imaginary landscapes.
The process is both sculptural and a form of painting with light. As curator Kwok Ying explains, Wu is a multidisciplinary artist whose works are always to do with light. In Dust (2006), an installation at the Shanghai Biennale, he used light to capture the shadows of tiny dust particles in the air, while his Crystal City series is constituted of tiny cities made with clear plastic blocks illuminated with a moving light. "He uses light as material and content in his work. He is very consistent," Kwok says.
In a recent online discussion between Wu and Kwok, the artist explained how the wrinkles of the paper and the sun patterns are similar to the traditional cun brushstrokes used in Chinese painting to give texture.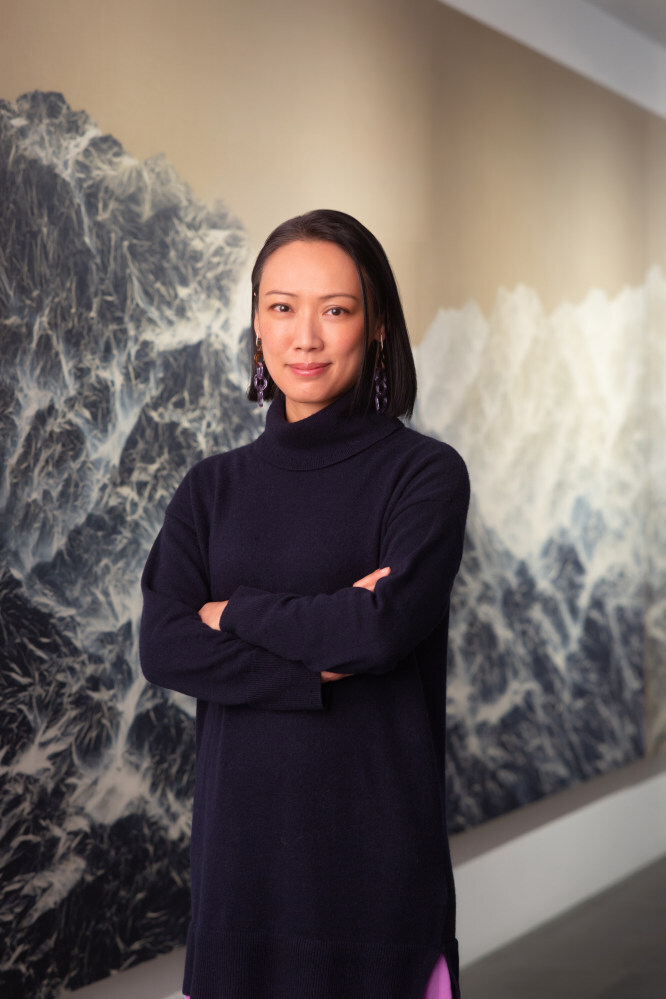 Wu explained that transposing a traditional Chinese art form to a photographic process was his way of making it contemporary. "Our lifestyle has changed and it is hard for ink painting to continue in the same way," he says. "We are more used to videos and photography, so I use these new forms to bring back the aesthetics of traditional painting.
"I quite enjoy confusing people about photos and painting. I think there are blurred boundaries in my practice and that means curators and critics find it very difficult to put [me] in certain categories."
The cross between tradition and contemporary appeals to Kwok, who is one of Hong Kong's most prolific independent contemporary art curators. She is about to blur boundaries herself by joining Tai Kwun's heritage team full time to help energise the 19th century and early 20th century building cluster and raise awareness of heritage conservation.
"Exposé" runs at Galerie du Monde, 108 Ruttonjee Centre, 11 Duddell Street, Central, Monday to Saturday, 10am to 7pm, until June 13.