Art
Get more with myNEWS
A personalised news feed of stories that matter to you
Learn more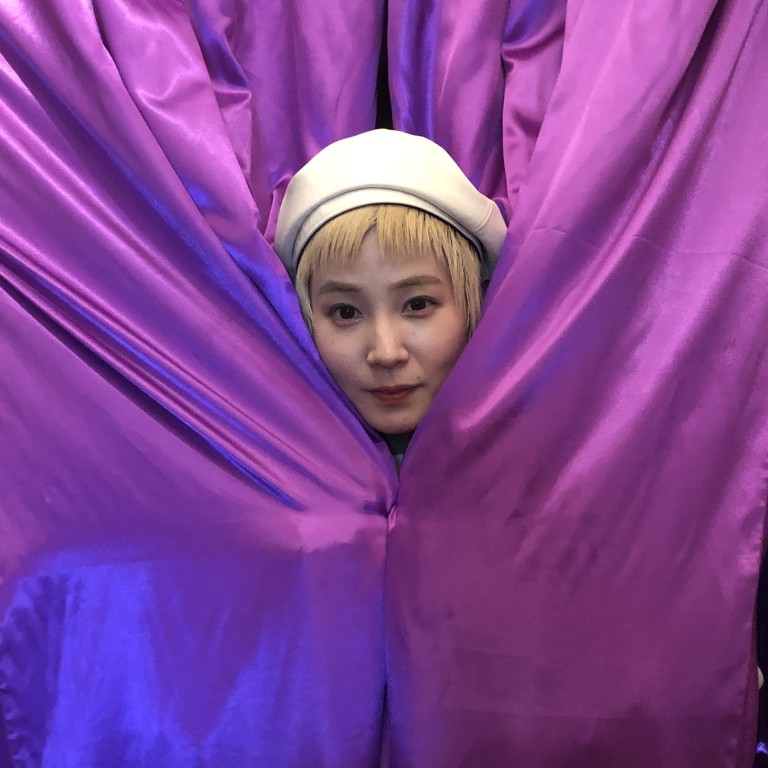 Japanese artist's secret magical realm in Hong Kong uses music, theatre, puppets, embroidery and painting to convey death's omnipresence
Yuriko Sasaoka's first solo exhibition in Hong Kong, at PHD gallery's secret headquarters, puts her macabre sense of humour on full display
Fish-head puppets that jingle like wind chimes as you pass through are her way of admonishing herself for taking fish for granted, she says
Visitors who make their way to PHD gallery's by-appointment-only secret headquarters in Hong Kong will find themselves transported to a magical realm created by Yuriko Sasaoka, an artist based in Kyoto, Japan, who uses music, theatre, puppets, embroidery and painting to convey, with childlike wonder, death's omnipresence.
Two curtained doorways lead to a womblike exhibition space swathed in purple and crimson fabric and wall-to-wall carpeting, where three large panels decked out with circus lights are showing Sasaoka's 10-minute video Planaria (2020-21).
The film shows three hunters (with Sasaoka herself in the lead) who look like short-sighted beavers in their funny fur suits, brandishing various props and puppets made with preserved fish heads as they describe the top 12 causes of death in countries with the highest suicide rates.
The comic song-and-dance routine deliberately blurs the line between suicide and being killed off. After all, people can't possibly commit suicide in Japan through "extreme orgasm". Neither are Russians deliberately exposing themselves to toxic nerve agents.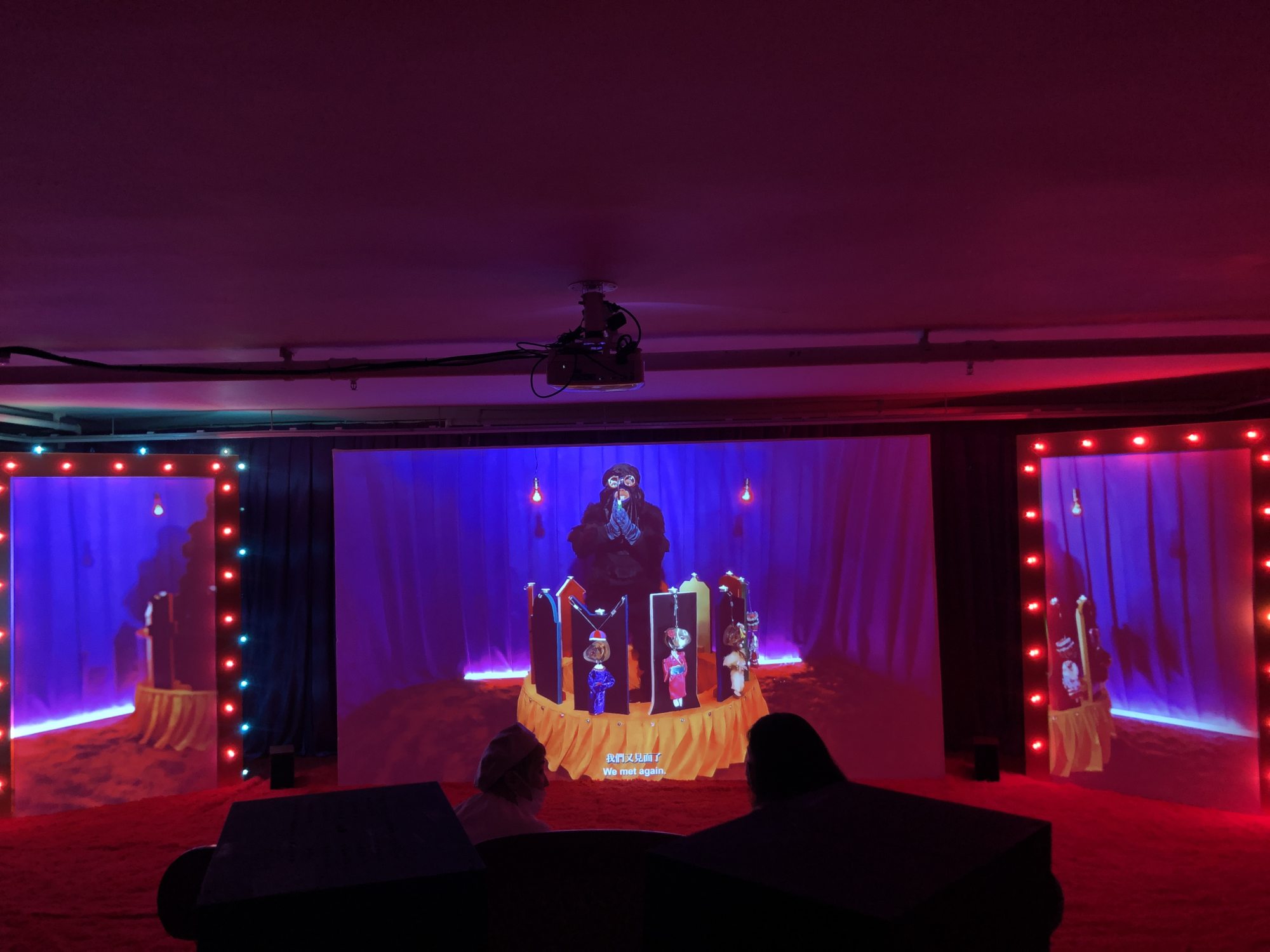 The tongue-in-cheek national stereotypes – the Japanese obsession with pornography, Russia's deadly secret service – are reinforced by the ethnic costumes in which Sasaoka has dressed the fish-head puppets.
But the title of the video seems to suggest that ethnic distinctions are meaningless in the cycle of life and death – planaria are ubiquitous flatworms that are hard to tell apart.
According to Sasaoka, who was in Hong Kong last week to install her first solo exhibition in the city, the work also asks questions about the culpability of death.
The world is full of hostile, life-threatening forces that may not kill instantly, she says. When someone drinks themselves to death, for example, who should be held responsible, she asks.
Born in 1988, Sasaoka studied painting at art school followed by graduate study in media art.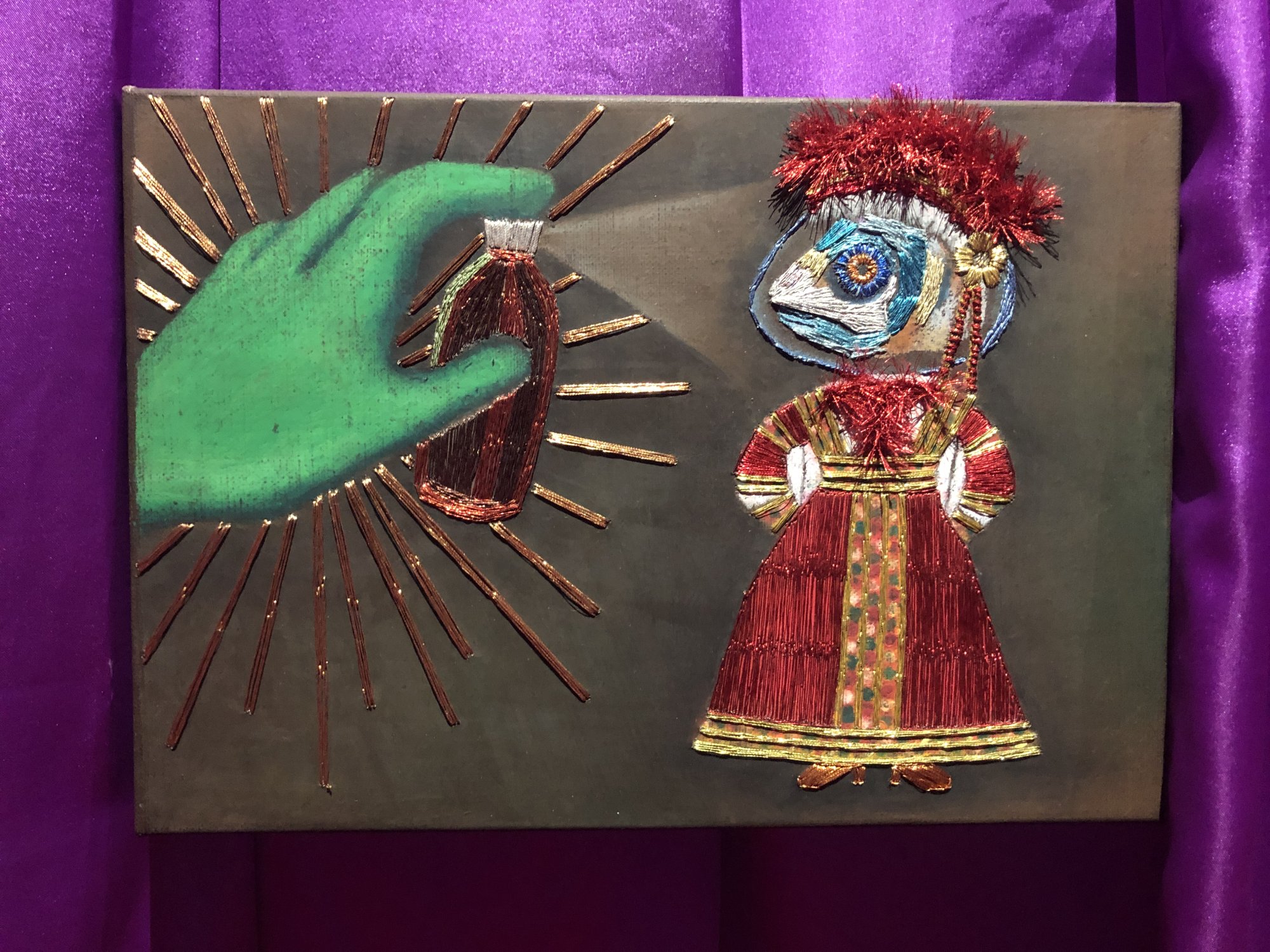 In the Hong Kong exhibition, her interest in exploring different media is on full display. There are 12 paintings enhanced with embroidery, each showing a cause of death mentioned in the video. The dispassionate, folk-art style and cartoonish fish-head figures belie the grim subject matter.
Sasaoka's macabre sense of humour is also on show in a separate space behind the carnivalesque video display: a narrow tunnel lined with fish-head puppets that jingle like wind chimes as you pass through.
Why the fish heads? Sasaoka says it's her way of admonishing herself for taking fish for granted.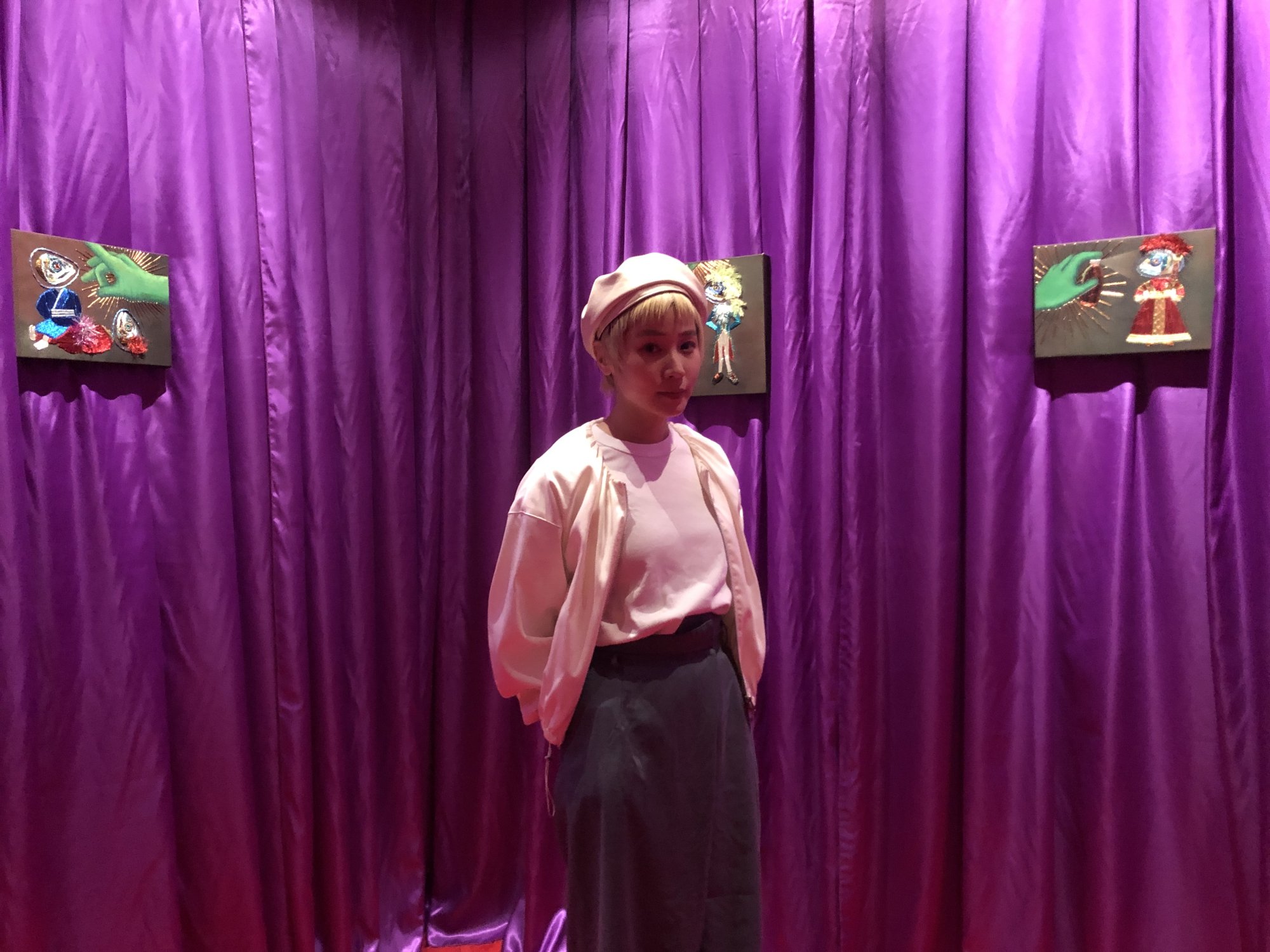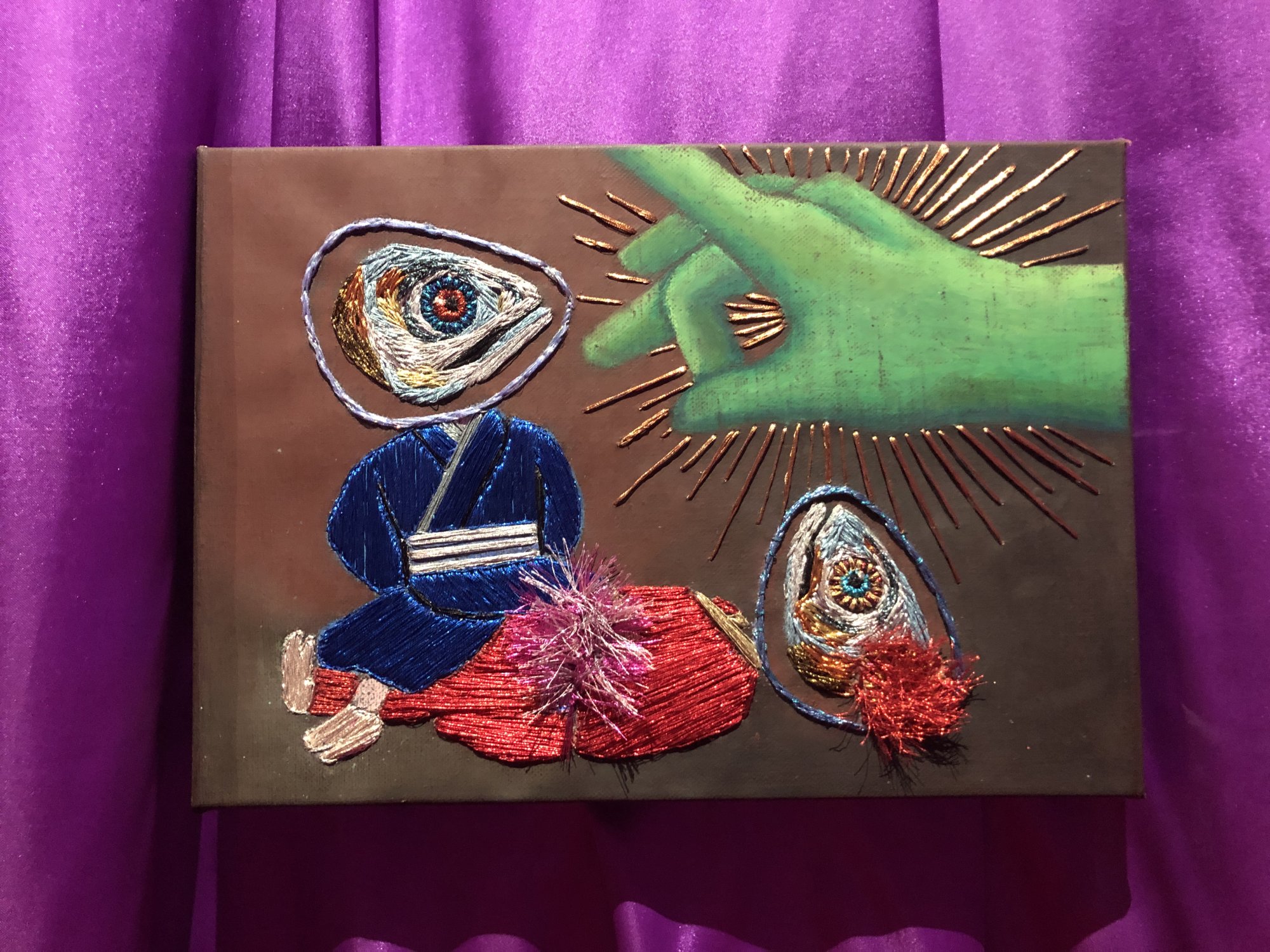 The way they are packaged in fish stalls and supermarkets turns them into consumable commodities, but they ought to have as much right to live as we do, and their deaths should not be thought of as non-events, she says. Hence the dressing them up as humans.
Among all these symbols of death is the promise of rebirth. At the end of the video, fish-head angels replace those killed.
And then there's the planaria referenced in the title of the work and of the exhibition. These miraculous flatworms have the ability to regenerate, never staying the same and (almost) never dying.
"Yuriko Sasaoka: Planaria" is showing at PHD Group (near Goose Neck Bridge) until November 5. Address to be provided with confirmation of appointment.