Carpio, who died last month aged 82, played with jazz greats, appeared on The Ed Sullivan Show in the US and inspired generations of musicians
The Tony Carpio Big Band was a regular fixture at the Dickens Bar in Causeway Bay's Excelsior hotel from the early 1980s until 1995, playing on the first Sunday afternoon of each month.
The 20 musicians worked through three sets over three hours, from 3pm to 6pm, under the direction of the namesake Filipino bandleader and composer, who died on October 17, age 82.
Tony Carpio inspired many in Hong Kong to take up a career in music, particularly in jazz, and during his career, America's best jazz musicians would play his compositions.
The Tony Carpio Big Band comprised five saxophones, four trumpets, four trombones and a five-piece rhythm section, which included two drummers for the "Battle of the Drums" in the third set.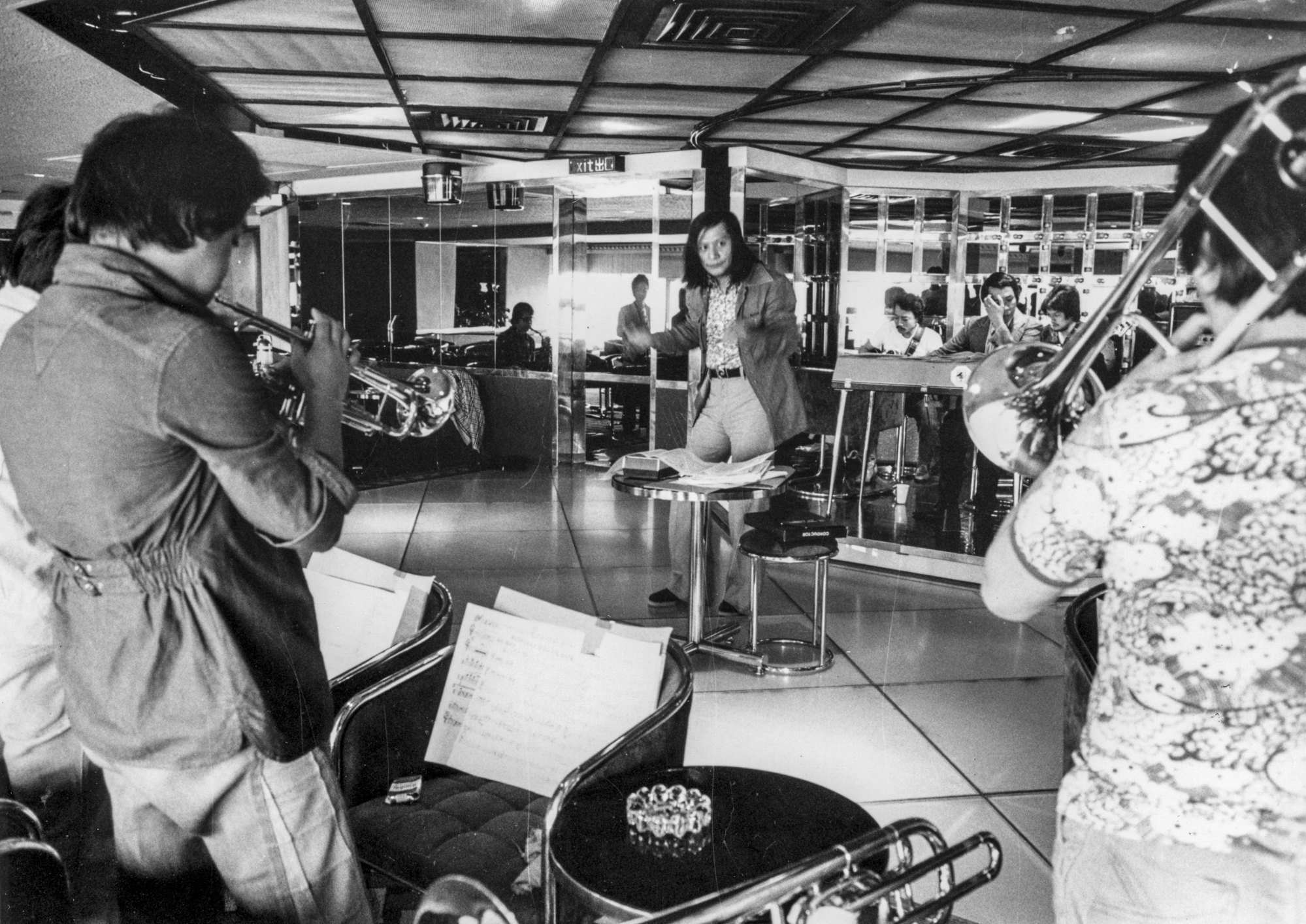 There was music by Glenn Miller, Tommy Dorsey, Count Basie and Duke Ellington, with big band chart hits including "Tuxedo Junction" and Benny Goodman's "Sing, Sing, Sing".
"Plus, Tony conducting and myself singing," says Australian singer Rosalie Carpio, who was married to Tony Carpio for 40 years, partners in life and show business.
"They all had fun at the Dickens even though the music was serious business. They played difficult charts like '500 Miles High' by Chick Corea," and some of her favourite songs by American jazz-fusion band Spyro Gyra.
Carpio started his collaboration with the Dickens Bar in 1977, with the Carpio Octet, and by late 1980 the band was a 20-piece, where for their Sunday finale, Glenn Miller's "In the Mood", the musicians would form a conga line while playing, and invite those in the bar to join in.
Often at the front, leading the way, was a little boy, Bernard Carpio, with his plastic saxophone.
"Growing up in the Dickens Bar shaped the foundation, hearing my dad play all the time, before I could even walk," says Bernard, now 34 and the elder son of Tony and Rosalie, who went on to become a real saxophonist.
"By the time I turned 12, I had decided to be a musician, my dad always knew this." Younger brother Chris, 32, is a pianist, and their father encouraged them both to become musicians.
Tony's own father, Tom Carpio, a bandleader and banjo player, knew the financial risks of the music business and wanted his son to choose a more stable career.
In his website bio, Tony Carpio tells how his father would bring his own band home in Manila to practise and "I would hang around on the fringe, I listened all the time. Pop, however, didn't want me to become a musician, he said it was too much of a struggle, but he took me to all his gigs anyway."
Tom moved his family from the Philippines to Hong Kong in 1957, to pursue a career as an accountant as well as one in music.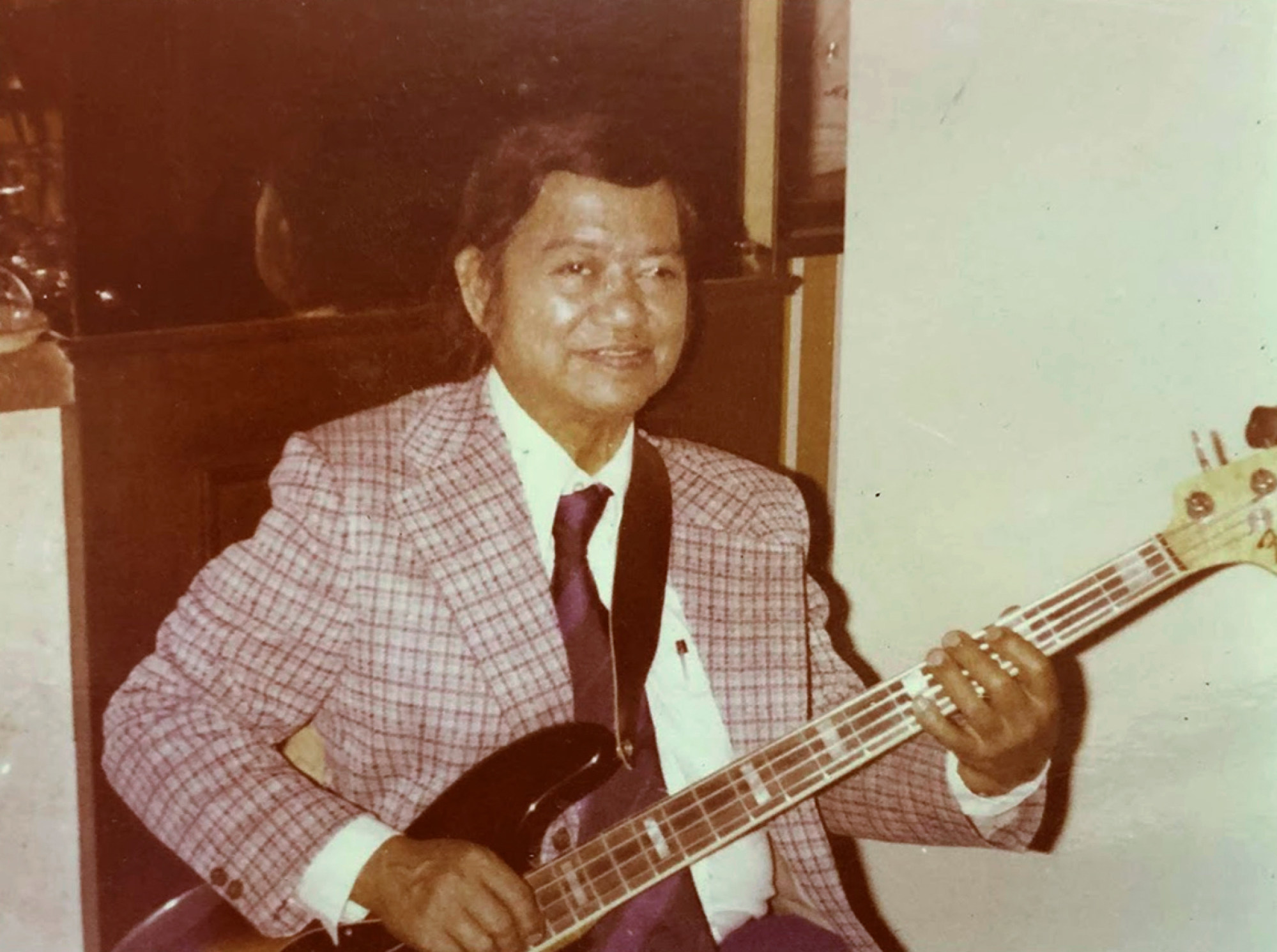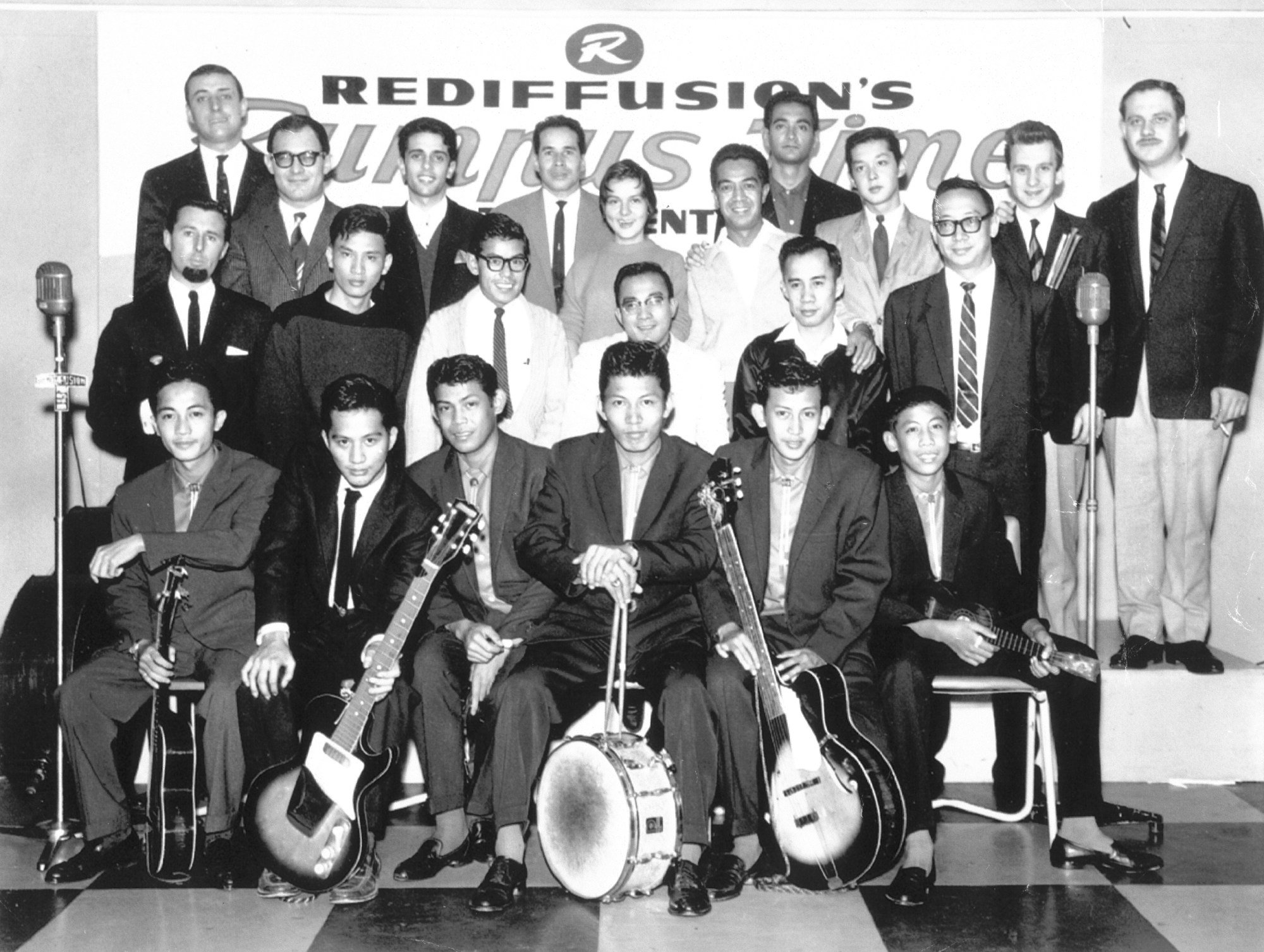 Born in 1940, Tony was 16 when he arrived in the city and his first job was playing guitar in a band, doing pop covers at the Luk Kwok Hotel, which still stands in Wan Chai today.
Meanwhile, on Radio Rediffusion, DJ Ray Cordeiro's programme Rumpus Time attracted major bands who had the chance to play live in the studio.
Among them were a group of Filipino boys called The Fabulous Echoes, and Carpio joined them as lead guitarist. It was the time of Elvis Presley and The Beatles, and the '60s saw an explosion of teenage bands in Hong Kong.
A favourite musicians' hang-out was the Bayside Restaurant & Nightclub, in the basement of Chungking Mansions, in Tsim Sha Tsui. Built in 1961, Chungking Mansions housed restaurants, cafes and a buzzing shopping arcade with many businesses owned by Pakistani and Indian proprietors.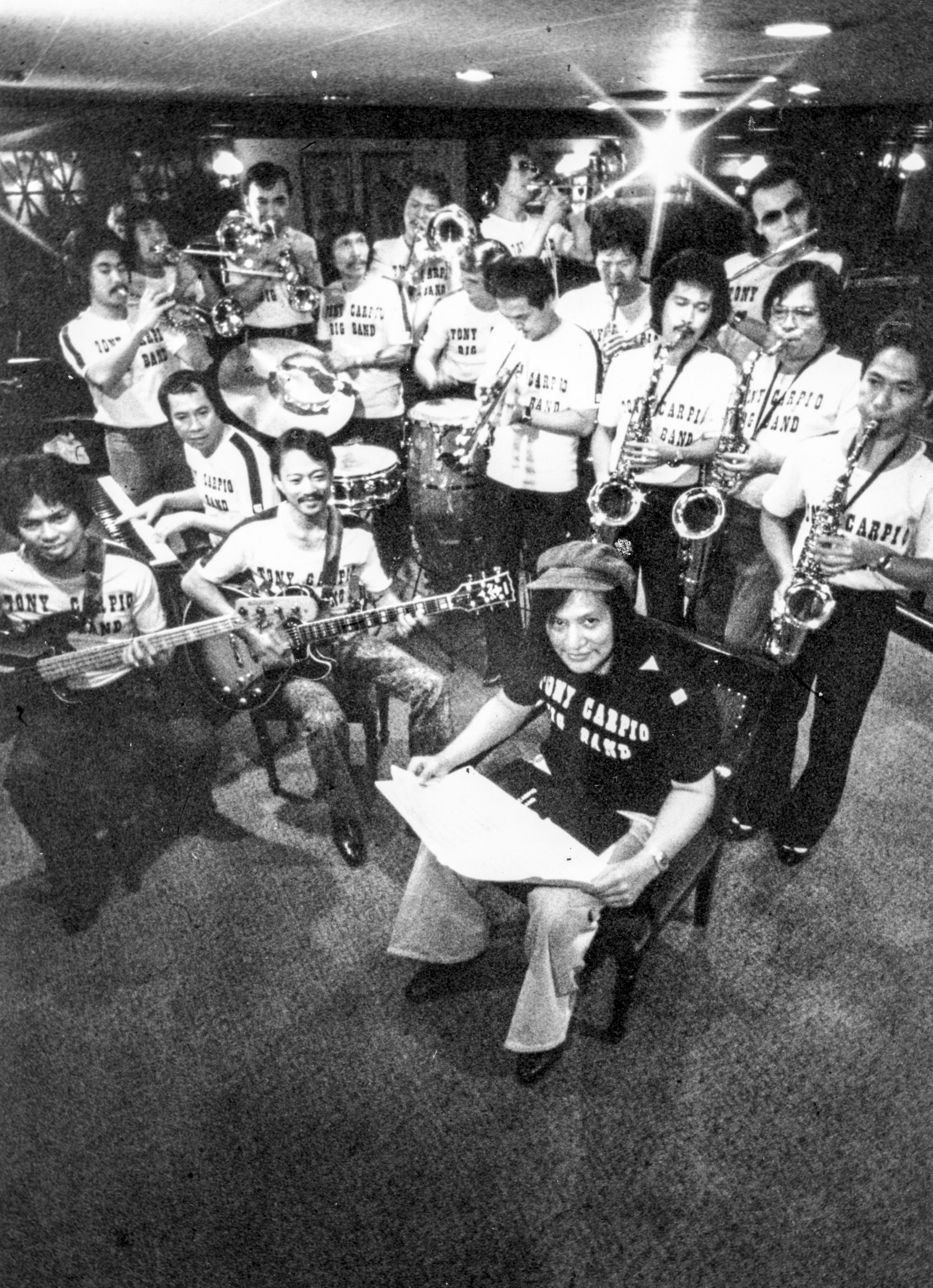 The Bayside opened a year later and attracted major acts of the time, such as singer Mona Fong Yat-wah (later to marry movie magnate Sir Run Run Shaw), The Fabulous Echoes and other suit-wearing boys including The Kontinentals and rock band Danny Diaz & the Checkmates.
"I've known Tony for a long time," says Diaz, speaking on the phone from his home in Canada. "Chungking was a famous building at that time. All the players would congregate there talking about who was in and who was out. There was a guy in an alley who would tape the records to cassettes."
Carpio also produced The Fabulous Echoes' "Dancing on the Moon" (1963) and "A Little Bit of Soap" (1963). The group played Reno and Las Vegas, and appeared on The Ed Sullivan Show in the US on August 1, 1965, but Carpio was ready to get back to Hong Kong.
"He progressed," says Rosalie. "He didn't like the way he sounded then because he [later] got into jazz."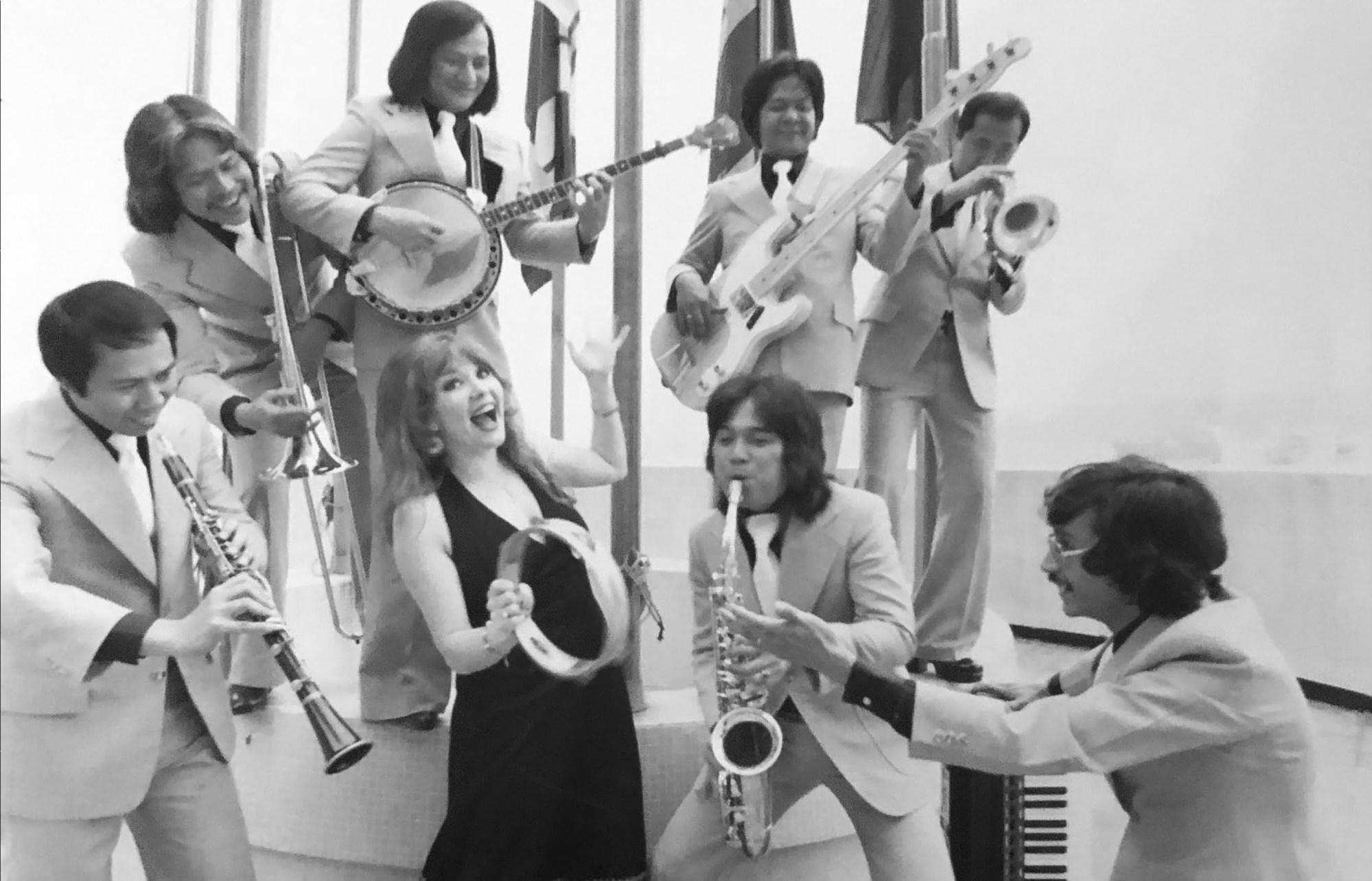 A few days after Carpio's death, Rosalie sits at the dining table of their Kowloon Tong flat. On the living room floor next to the sofa, a long-haired dachshund – "a rescue, all my dogs are rescues" – lies on her back seeking attention. Rosalie is looking through a mound of photographs of Carpio with various prominent American musicians.
"Here's Cleo Laine, Andy Williams came to Hong Kong, opening the Conrad Hotel, Anita Mui [Yim-fong] was the other feature."
There's one of Carpio with Billy Eckstine, while another shows Rosalie and Carpio recording in their eight-track studio on two floors in the Causeway Centre, in Wan Chai, in the early '80s. There is also a photo of Carpio with Sarah Vaughan's backing trio.
Rosalie says her husband initially learned music solely by ear, but by the early '70s had decided to study big-band arrangements, and his quest to better himself musically was lifelong. "Tony loved books about music," she says. "He'd be gone for three hours and always come back with books."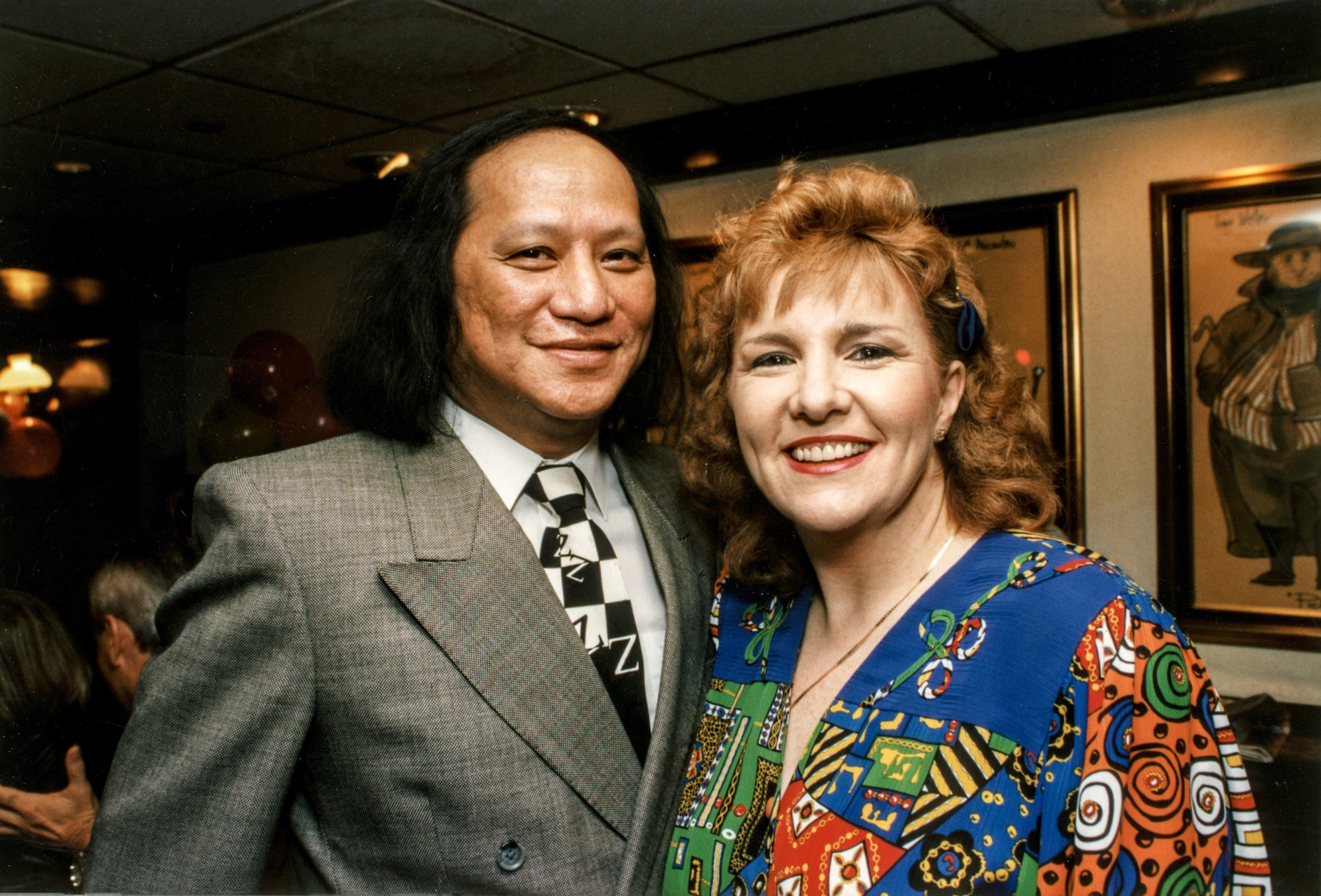 Born in Melbourne, Rosalie had arrived in Hong Kong in 1971, planning to stay for a month, but within the first two weeks she met Carpio at a birthday party. "He was the quiet one in the corner," she laughs. "Maybe it was that mysterious air" that attracted her to him, she says.
When Rosalie and Carpio met he was playing at The Den, in the Hilton hotel in Central. She was singing at both the Kingsland nightclub, in Tsim Sha Tsui, and the King's Garden, in Central, "so it was two shows a night, I'd go from one to the other".
The couple would marry in 1982; it was his second marriage, and it was a successful partnership – one of nighttime work, and then relaxing and eating dinner with the other musicians at 2am. "You marry someone in your business," says Rosalie, "you don't marry a daytime person, you sleep the same hours."
Carpio's first, much earlier marriage produced three children, among them well-known Hong Kong singer Rita Carpio and bassist Antonio Jnr, who worked with Aaron Kwok Fu-shing and other Cantopop stars before his death in 2012 at the age of 48.
I was just getting into jazz at that time and it was an inspiration to hear them play. Tony's a great guitar player, just to be able to hear live jazz in that period was kind of rare in Hong Kong

Eugene Pao, jazz musician
Tony Carpio inspired Hong Kong musicians who were coming up behind him, including jazz pianist Ted Lo, who headlined the Freespace Jazz Fest in October. Lo recalls watching Carpio play at the Repulse Bay Hotel and cites him as a major influence when he "was a kid, before I went abroad to study".
"I listened to him. I was very inspired, because he was really the only Filipino musician back then playing jazz in a hotel".
Jazz guitarist and composer Eugene Pao was similarly inspired. He would go down to watch the band play at the Dickens Bar in the late '70s, when he was home from school in the US.
"I was just getting into jazz at that time and it was an inspiration to hear them play," he says. "Tony's a great guitar player, just to be able to hear live jazz in that period was kind of rare in Hong Kong."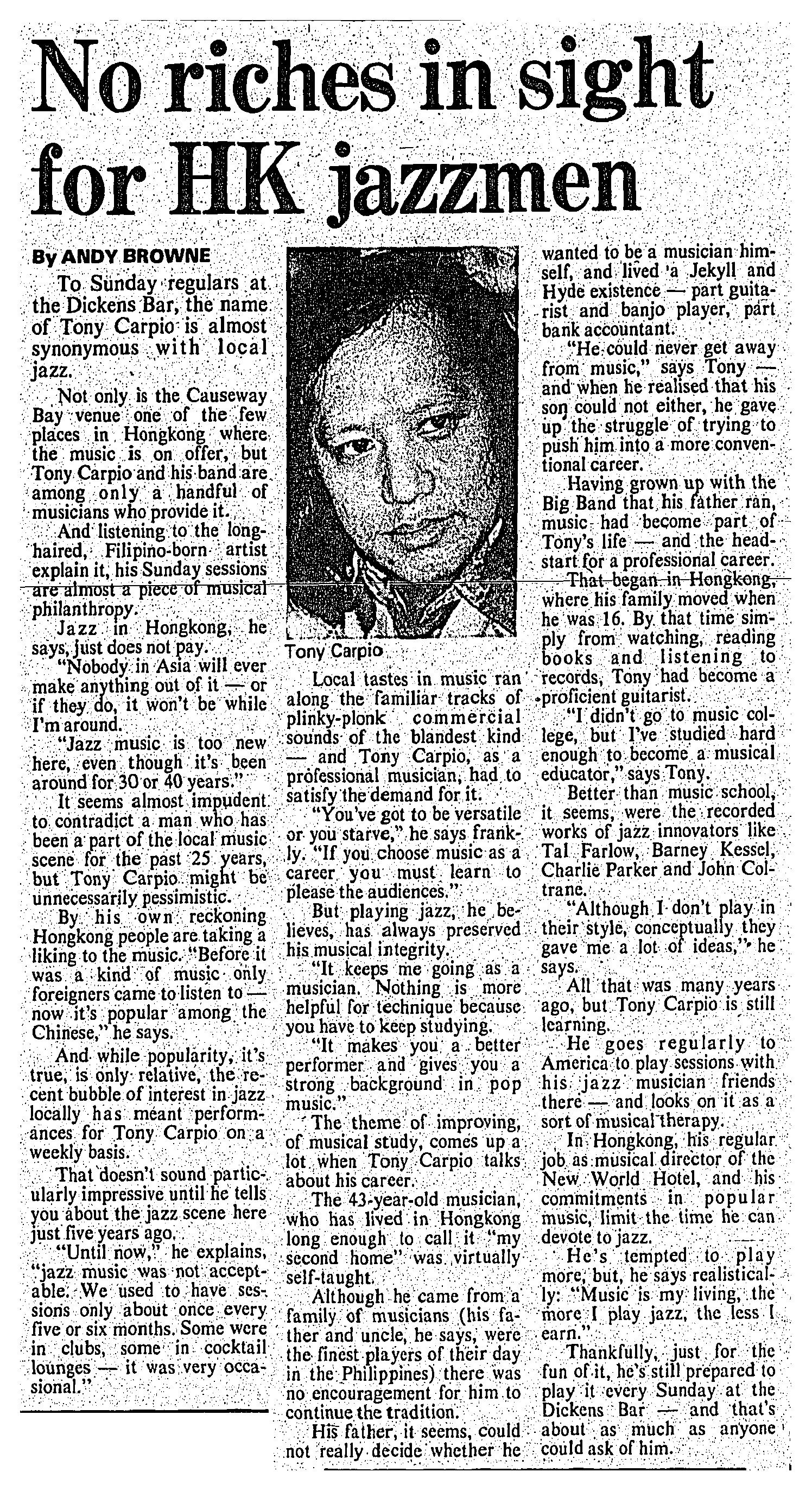 But jazz doesn't pay, Carpio told South China Morning Post reporter Andy Browne in May 1983. "Jazz music is too new here, even though it's been around for 30 to 40 years."
Carpio was an exacting bandleader, demanding the perfection he expected of himself, and was known for his temper with musicians who failed to measure up. "He was very, very strict," says trombonist Joseph Fuego. "If you wore white socks with your tuxedo, you were sent home to change."
Photographs of Rosalie throughout her career show a vivacious redhead, often laughing, confident at the microphone. Carpio had his trademark long hair and frequently wore a cap or hat. She is talkative, Carpio was not.
He would play his favourite Telecaster eight hours a day, says Rosalie, and "fall asleep with it in bed".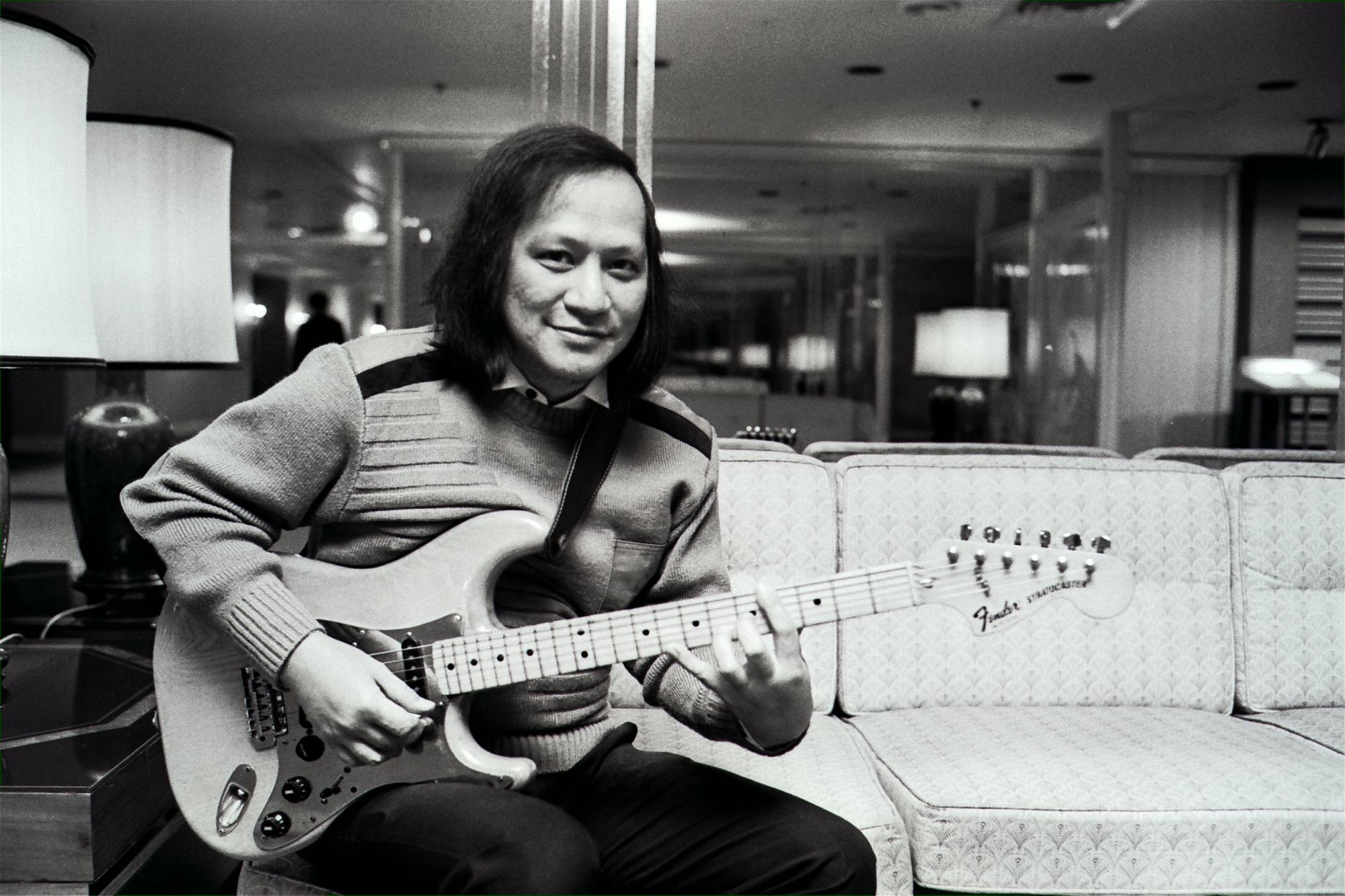 Veteran musician Skip Moy was an old friend of Carpio, first taking guitar lessons from him in the summer of 1970.
"I would put him in the hyperspace category," says Moy. "We're talking about somebody who is at a very high level musically."
The '80s in Hong Kong was a time of economic boom, and while the public was clamouring for shows, chambers of commerce and hotels had the budgets for big bands.
"He was also busy training singers at [Hong Kong terrestrial broadcaster] TVB," says Rosalie, "including Danny Chan and Priscilla Chan", both of whom became superstars of the decade.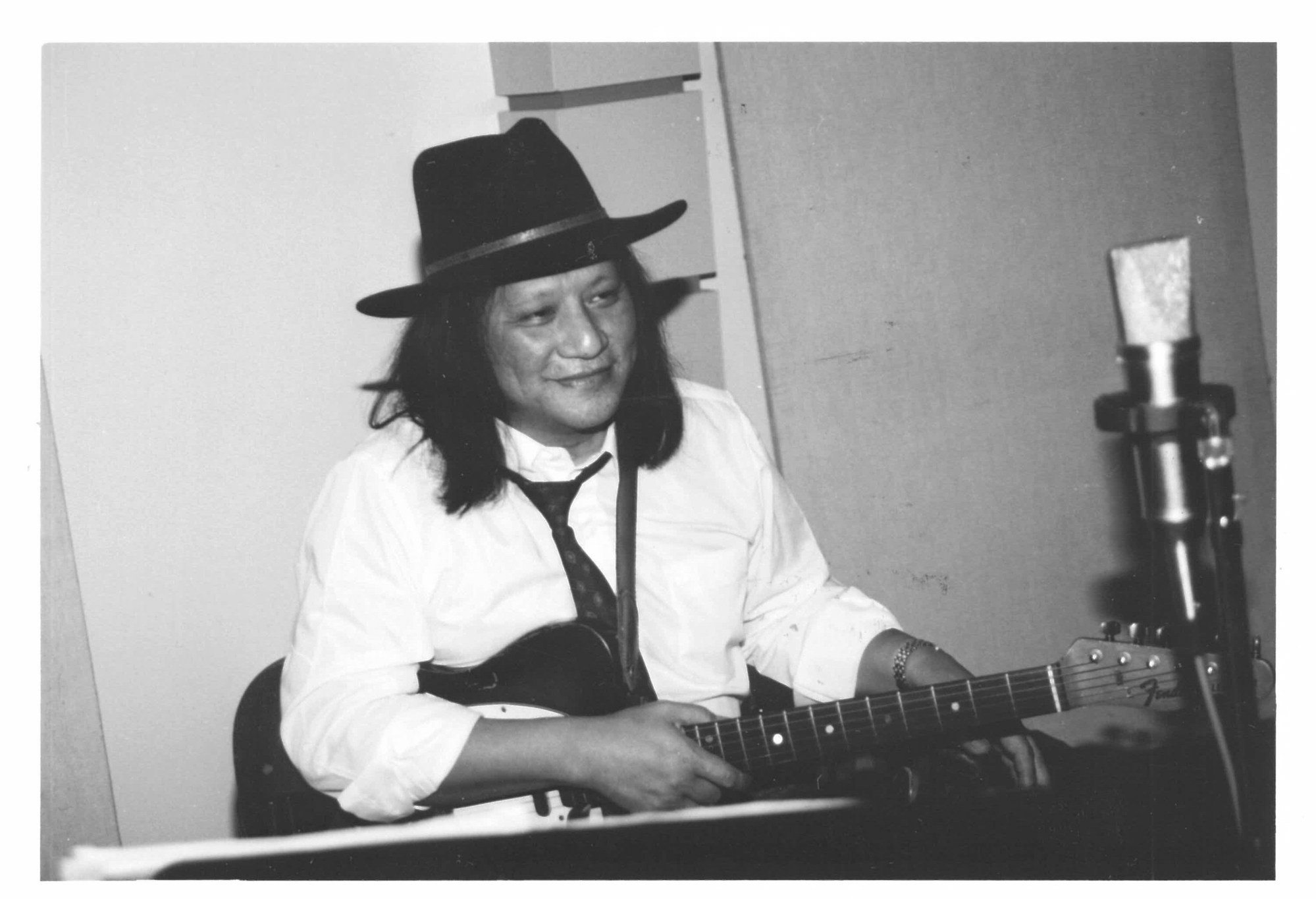 Robert Chan Hing-cheong, general manager of TVB in the '80s, says the broadcaster "would have many music shows, including Enjoy Yourself Tonight, and Tony was a very good big band leader. He brought Hong Kong to a different level in terms of music. He could play with the top artists".
Chan was so impressed he would later become one of Carpio's guitar students. Lessons consisted of choosing a song Chan was familiar with and then improvising.
Carpio "was very freestyle, I don't read notes," says Chan. Tony taught him to understand music "with my ears and fingers, not eyes".
In Seattle, a few days after Carpio's death, American music writer Charles Martin is letting the news sink in. He's been playing the album for which he wrote the liner notes in 1992, Carpio's Just Let It Happen, recorded in Los Angeles with some of the best American jazz musicians of the time – 12 of Carpio's own jazz compositions with Clare Fischer, Andy Simpkins and John Patitucci, among others.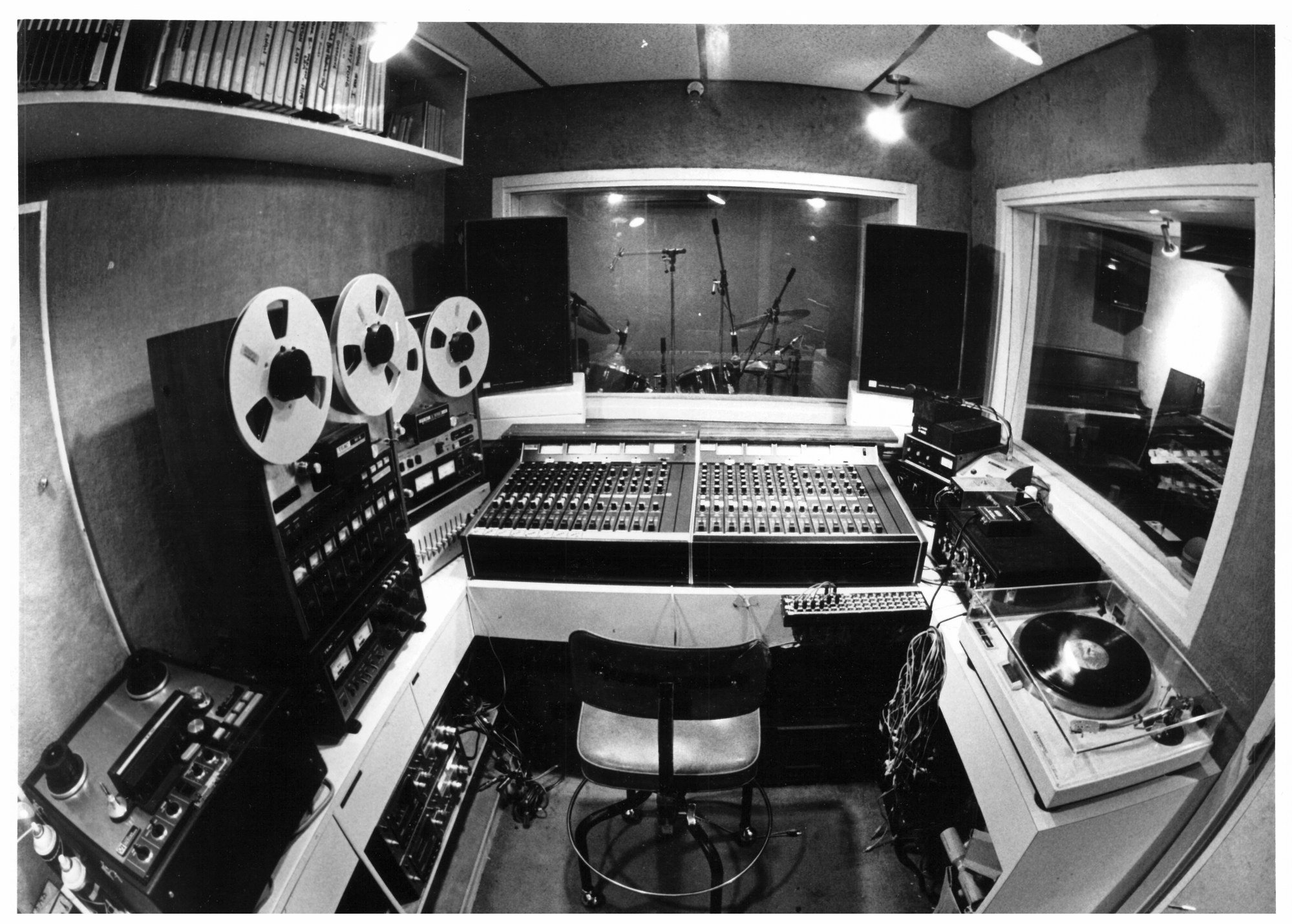 No mean feat. But when Carpio returned to Hong Kong, he just handed the CDs out.
"He wanted to play with the best players," says his youngest son, Chris. "That was his mentality. He did everything for himself, he didn't care about the outside noise. He didn't care about fame. He taught us to stay true to the music."
Carpio continued teaching and performing well into semi-retirement, though a stroke in 2008 took him away temporarily from his beloved guitar.
"He had those physiotherapy 'springs' for his hands," says Rosalie, "and he really worked at it and within six months he was playing guitar again."
This past June at the Tsuen Wan Town Hall, Rosalie, her sons and the big band held a "Back to the Dickens" concert. Classics by Basie, Ellington and Miller, and Rosalie belting out "Tuxedo Junction". At the end, an elderly Tony was brought on to the stage in a wheelchair to greet his fans.
It was his last appearance in the spotlight.
"Everybody cheered like crazy," says Rosalie. "It was really touching. He influenced so many of his students to make music their career, and absolutely by his playing, nobody played and sounded like him."