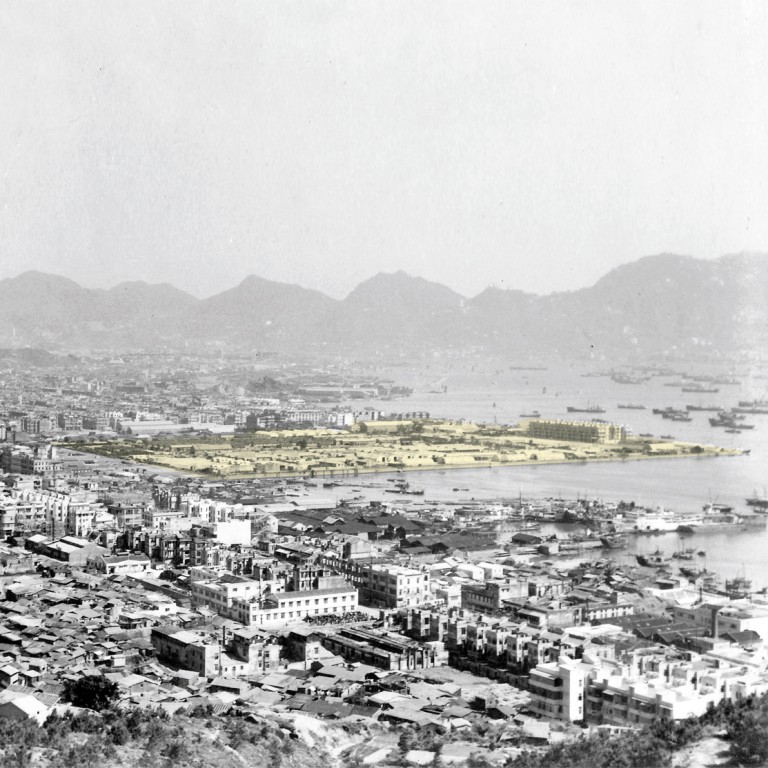 Graham Heywood's diary paints rich picture of life in a Hong Kong POW camp
The wartime diary of Observatory employee Graham Heywood, one of the first two men to be captured during the Japanese invasion of Hong Kong, shines a light on life inside the Sham Shui Po POW camp, writes Annemarie Evans.
"It won't be long now" was a common greeting between inmates in the Sham Shui Po prisoner of war camp after the Japanese invasion of Hong Kong in December 1941.
For three years and eight months, "enemy nationals" (mostly British, Canadian, American and Dutch) who had survived the 17-day Battle of Hong Kong languished in the territory's internment camps, hundreds of others having been shipped to Japan, to work as slave labourers.
Benjamin Davies Evans, then-director of the Hong Kong Royal Observatory, was sent to Stanley Internment Camp for civilians; two of his scientific officers, Leonard Starbuck and Graham Heywood, would end up in Sham Shui Po. They were, in fact, the first men to be captured in Hong Kong.
"Not only were Heywood and Starbuck the first known people to be captured by the Japanese after they crossed the border in 1941, it is possible that they were the first Allied POWs captured on land in the entire Pacific war," says Hong Kong war historian Tony Banham, author of .
While people in Hong Kong knew the Japanese military were advancing south, many didn't realise how fast.
On December 8, Heywood and Starbuck were instructed by Evans to dismantle the magnetic (weather observation) station at Au Tau, in Yuen Long, and to retrieve the instruments and equipment.
The men took two private cars, a tool kit and sandwiches and set off.
"Hong Kong is at its best in early winter," Heywood would later write. "And it was a lovely morning, clear and fresh, with a few light clouds drifting across the sky."
In his diary, written on prison-camp paper, Heywood describes how he came out of the magnetic station to see his friend being captured by two Japanese soldiers. After briefly contemplating fleeing, he raised his hands.
The just published is Heywood's account of those years of incarceration. It's not a day-by-day account; the book tackles the internment thematically, talking of the slave labourers used to expand Kai Tak airport - the men would set off at 4am; the malnutrition and illnesses; how they tried to entertain themselves; and the former British Army barracks in which they were housed.
Heywood never spoke of his wartime experiences to his two daughters, Susan and Veronica. He died in southern England at the age of 81, in 1985. They would later read about them in his diary.
After the war, as its director, Heywood was instrumental in rebuilding the observatory. Much of its equipment and papers had disappeared. Veronica Heywood, 73, an artist based in Dublin, Ireland, has collaborated with the observatory's current director, Shun Chi-ming, and historian Geoffrey Emerson to publish her father's account. Emerson has written about the Stanley camp and organised reunions of its former child internees, who are now spread all over the world.
The historian, who edited , was particularly struck by Graham Heywood's optimism.
"He looked on the bright side of things and didn't give up. He must have been discouraged, but he doesn't show it in his writing. Amazing, considering what he went through. People were dying around him, there wasn't enough food," says Emerson.
Born in 1903, Heywood specialised in meteorology and astronomy at Oxford University.
"He was offered a place in an expedition to see what happened to [Captain Robert Falcon] Scott in the Antarctic," says Veronica, on a recent visit to Hong Kong to help launch her father's war diary. She is sitting in the house in the grounds of the Observatory, in Kowloon, where she grew up in the 1950s.
After his studies, Heywood was due to be the meteorologist on the expedition. "But this was the 20s and the funding for the boat slumped," she says.
Heywood tried his hand at teaching - unsuccessfully - before landing a project in the Cotswolds, in England.
"He was employed by the War Office to find out what happened to [chemical agent mustard] gas in hilly areas," says Veronica. "Mustard gas was used in the first world war and they were scared it would be used in the next war. His results were of great benefit to fruit growers, as he discovered where frost and mist would settle - and no use to the war department."
In 1932, he heard about a job at the observatory in Hong Kong and joined as a scientific officer, alongside Starbuck.
"Daddy was an expert on typhoons and the Pacific," says Veronica.
In 1937, he married Valerie Wyatt, the daughter of a lieutenant colonel, at St Andrew's Church - next to the observatory, in Tsim Sha Tsui.
"You can see by the photographs that they had no idea what was coming," says Veronica, of the couple who had been introduced over dinner by botanist Geoffrey Herklots.
On the back of Heywood's book is a photo of him as a young man, with pipe in mouth and tents in the background. He was never happier, says Veronica, than when he was outside and would be a keen scouter throughout his life. He was also an excellent marksman.
With Herklots, he would go off hiking and studying the fauna of the territory and, in 1938, he published .
"There is good duck and snipe shooting, I believe, in the northerly part of the marshes near Lok Ma Chau and Mai Po but this district has few attractions for the ordinary walker …" Heywood wrote. The book was republished in 1951 and again in 1992.
After being held in several places in the New Territories, Starbuck and Heywood arrived in Sham Shui Po a month after their capture, with just the clothes they were wearing.
"When he entered Sham Shui Po camp, some of his scout crew were there to welcome him," says Veronica.
Heywood writes of how touched he was by the clothes and food given to him, when everything was in short supply. Starbuck also managed to get him some money, to be used to buy food from civilians across the fence.
During his years in Sham Shui Po, Heywood's mantra was to stay active both physically and mentally. Of the Japanese in the camp, he wrote there were those with a sadistic streak, who enjoyed making grim conditions even harder by constantly moving the men around the barracks, but also one man who cared for the welfare of the internees.
Heywood initially railed against the military structure imposed by the British officers in the camp, but he later recognised the benefits of such a set-up, becoming a batman to one of the officers. He secretly kept his Rover Scouts (a programme for young men too old to be Boy Scouts) going and among his papers are detailed charts of who had earned which badge.
Next to some names are an asterisk, indicating the POWs, who, in October 1942, died on their way to Japan aboard the Lisbon Maru, a Japanese troopship that was torpedoed off Shanghai by the American submarine USS Grouper. In addition to Japanese Army personnel, the Lisbon Maru was carrying 2,000 POWs, of whom more than 800 died as a result of the sinking.
Heywood also writes of how if you tried to (or did) escape, your friends in the camp were made to pay.
On a lighter note, he wrote a poem about Rover Scouting, titled
daily chores such as washing clothes kept the inmates busy. Later, the internees would tap into the camp's electricity supply and set up an ad-hoc shower system that provided hot water - and electric shocks.
The barracks were old and cold. Added to that there were no windows, so Heywood and his roommates set about finding materials to cover the openings. The internees also learned to make the most out of what was available. Soup tins became mugs and, when boots wore out, the men made clogs and turned used tyres into soles.
Heywood talks of entertainment provided at Christmas, and the prison camp band. There was endless queueing, he writes, for food, the latrines, water, the labour call to go to Kai Tak and the daily roll-call.
He and Starbuck gave talks. The late Arthur Gomes, a Portuguese Hongkonger interned in the camp, told RTHK's programme more than a decade ago how he'd sit outside with Starbuck looking at the stars as the latter explained the constellations to him. Gomes also recalled how Starbuck loved to smoke and, when tobacco was in short supply, would create his own cigarettes using whatever plants were to hand.
In 1940, Heywood relocated to Melbourne, Australia, with Valerie and their daughter Susan, but he would return to Hong Kong the next year. After the Japanese invasion, Valerie received no news of her husband for three years. Veronica was born in Melbourne in 1942 and that same year Valerie and the children undertook a dangerous journey by ship from Australia to the Welsh border, to move in with her in-laws, whom she had never met.
Veronica had been confused by her mother's rash move until she met a man in Dublin.
"He had a speech impediment," Veronica recalls, "and I thought it was because he had a cleft palate." But it was because of an injury he had sustained when the Japanese Air Force bombed Darwin in 1941. At the time, Veronica says, there was widespread fear across Australia that the Japanese would come south, and this likely spurred her mother to move to Britain. Heywood would later receive a photo of Valerie with Veronica as a toddler.
Due to the crowded living conditions in the camp, among other stresses, there would be arguments, admits Heywood, but there was also an incredible bond between the internees. He became jaundiced and contracted malaria and, Veronica says, for the rest of his life every time he caught a cold it would bring on a bout of malaria. Heywood also describes the jabbing pain of beriberi, caused by a deficiency of vitamin B. Afflicted men would sleep with their swollen feet in basins of cold water, to alleviate the pain.
"What couldn't I do with steak and onions," Heywood writes, "those luscious brown sausages we used to get at Wenlock … a marmalade pudding cooked by my wife … Stilton cheese.
"Yes, I know, food plays a disgustingly large part in this chronicle. But this is a true story, and all I want to convey to you is that the subject of food occupied our thoughts very often indeed. Ascetics claim that their meditations become more rarified and spiritual as their stomachs become empty; I don't believe it."
On one of his first days at the camp, he had a brief conversation with Dr Lindsay Ride, who would become vice-chancellor of the University of Hong Kong in 1949. Unbeknownst to Heywood, Ride was planning his escape and was gone the next day. It was early days in the camp and the Japanese had yet to create a proper roll-call. Ride took advantage of the chaos to disappear and would later set up the British Army Aid Group in mainland China. It was through this brief encounter that Heywood's wife would learn that her husband was alive.
John Peacock, who in 1984 retired as director of the observatory after 34 years of service, joined the department after moving to Hong Kong from Britain. Starbuck was deputy director at the time under Heywood, who retired as director in 1955. Starbuck would have taken over from Heywood, but the former died from cancer that year. Peacock was aware of Heywood's diary, having visited the latter's elder daughter, the late Susan Knight, at Heywood's family home in Lockerly, in Hampshire, southern England.
"He never talked about his time in the camp," says Peacock, from his home in Bath. "I went to the house where Heywood had lived and I was shown a typed copy of his reminiscences in the camp. I took it home and copied it." But at the time there were family reservations about publicising the harshness of prison life.
"He was easy-going, but also keen on getting everything correctly recorded," says Peacock. "Starbuck was very sociable. He was the opposite of Heywood in that respect. He liked parties."
Heywood preferred home or the hills.
Peacock only recalls one time when Heywood was stern with him and a co-worker, when the duo had gone out in a boat and failed to come back at the appointed time.
"We were up on the carpet in front of Heywood," laughs Peacock, "And he said, 'Well, if you behave like children, I'll treat you like children.'"
What fascinates Shun is that amid the daily hardships Heywood faced, such as hunger, witnessing death due to illness or by execution and rumours of release, to a certain extent he carried on with his job. Amid the line drawings of Sham Shui Po are tidal measurements.
"I have no idea how he did those," says Shun. "He would have had no instruments.
"[Evans] even when interned had the perseverance to carry on with the weather measurements at Stanley. I don't know how he did the measurements - even if he used non-professional equipment lying around. He also measured rainfall so he must have been very innovative."
Veronica recalls how later, in their home in England, her father would leave strict instructions for them to measure the rain in the garden.
After the Japanese surrender in 1945, internees remained in the camps for a few days under Japanese administration. In his diary, Heywood writes about going to Stanley after he was freed for a reunion with colleagues and friends. He remembers being greeted by one woman, who said, "Mr Heywood, it was hell on Earth."
Heywood continues, "Yet another was an enthusiastic biologist, full of his doings at the camp, growing champion vegetables, even had a successful yeast brewery and saw many rare birds including vultures who were after the corpses. It was a great experience, perhaps a bit too long, but not bad fun at all."
A few weeks after the surrender, Heywood left for Britain by ship. Veronica recalls waiting in her mother's arms and looking down to where a grey ship was slowly sailing up the Solent in Southampton, southern England.
"At Port Said [in Egypt] I'd received a cable from my wife telling me to look out for a bunch of yellow chrysanthemums," writes Heywood. "I strained my eyes towards the small cluster of people on the quay: yes, sure enough there was a speck of yellow, and soon I could see a well-loved figure holding the chrysanthemums."
In 1946, Heywood returned to help get the observatory started again. Veronica recalls playing with the other children, including now RTHK host Lau Tin-chi, and Starbuck's son, Colin.
"We used the whole compound as a playground," Veronica says. "There was a place to register earthquakes and it was a labyrinth of tunnels deep underground and the entrance was unlocked. So we would play murder in the dark until we were discovered. The place was padlocked after that."
Shun also visited the family home in Lockerly.
"In addition to his diary, we found interesting photos. For example, of the opening of the King's Park Meteorological Station, where we launched weather balloons every day. Now it's not considered anything special, but in those days, under his directorship, it was very innovative.
"The first trial was done here at the observatory. There weren't so many high buildings around. The equipment came from England. We did a month's trial and then we started operations at the end of 1949. From reading Heywood's diary, you can see it took a few years for us to rebuild the observatory because the facilities and records had been taken by the Japanese.
"So within a few years he managed to introduce brand new equipment to improve our weather measurements. That, to me, is really fantastic."
It Won't Be Long Now
This article appeared in the South China Morning Post print edition as: The weather man