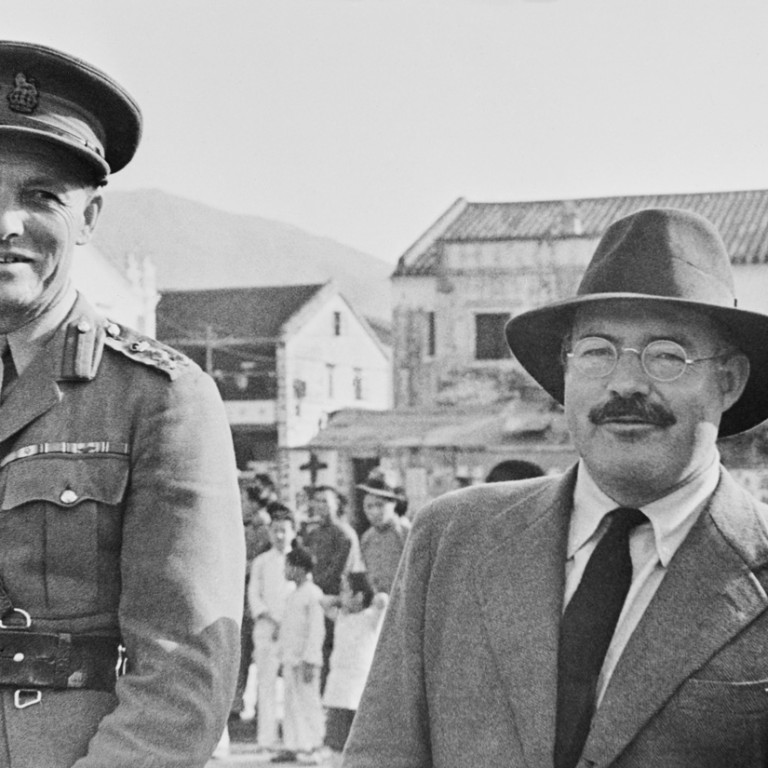 In love and war: a Hong Kong honeymoon for Ernest Hemingway and Martha Gellhorn
Hemingway created a sensation in Hong Kong, in 1941, when the American literary star 'honeymooned' in a region racked by the Sino-Japanese conflict, writes Stuart Heaver. Oh, and Martha Gellhorn was here, too.
He was arguably the greatest writer of his generation and a revered American literary icon but few associate Ernest Hemingway with China and fewer still know of his affection for Hong Kong.
This month marks the 75th anniversary of the start of Hemingway's first and only visit to Asia; his Pan Am Clipper seaplane touched down on a dank and overcast Victoria Harbour on February 22, 1941. Hemingway had married the glamorous author and journalist Martha Gellhorn, in Cuba, the previous November and he ironically described this 100-day Asia trip as their "honeymoon".
Having disembarked, the A-list celebrity couple made their way from Kai Tak, using the Star Ferry, to the 48-bedroom Hongkong Hotel, on Pedder Street. Hemingway had barely unpacked before assembling what his wife referred to as a "mixed jovial entourage".
Hemingway occupied the lobby bar of the hotel and surrounded himself with a coterie of colourful drinking buddies. The Grips, as the bar was popularly known, was already a well-established venue for swapping tall anecdotes, telling risqué jokes and consuming gallons of alcohol. It suited the gregarious writer perfectly.
Hemingway "took to Hong Kong at once", Gellhorn was to write, in her account of the trip, in the book Travels With Myself and Another, published in 1978.
The local press, including the South China Morning Post, which had been anticipating his arrival for weeks, could not get enough of Hemingway as he held court in The Grips and boasted of the rapid sales of his latest novel, For Whom the Bell Tolls, which would sell more than 800,000 copies in its first two years of publication.
"Drink up, drink up, I'm in the money," he told one reporter eager to get an interview with the great man.
"He was one of the most famous writers in the world," says Peter Moreira, the former SCMP journalist and "fervent Hemingway fan" who meticulously pieced together details of the Asian sojourn for the book Hemingway on the China Front (2006). "He had dramatically changed literary style and had just published his bestselling book."
While the legendary drinker slapped backs and swapped war stories with his new entourage, Gellhorn went out to do some reporting, or "test the pulse of the nation", as Hemingway liked to describe it. She visited the city's markets, opium dens and brothels, to report on the squalid social conditions endured by an immigrant population seeking refuge from the ravages of the Sino-Japanese war.
Hemingway's hastily recruited ensemble included celebrated author Emily Hahn, who was engaged in a well-publicised extramarital affair with the dashing Captain Charles Boxer, a skilled linguist with the British Intelligence Service whose wife had been evacuated with most expatriate women the previous June.
Also present, according to a number of written sources, were Chinese tycoons – whom Hemingway refers to only as YT and CK – a senior policeman, a few diplomats, off-duty aircrew from the Chinese National Aviation Company (CNAC) and the legendary Morris "Two-Gun" Cohen, a Polish Jewish cockney chancer who had become a general in the Kuomintang and a personal bodyguard to Sun Yat-sen. Cohen was the archetype companion for Hemingway and introduced him to Madame Sun, in Hong Kong.
It was said by Hahn that Hemingway introduced the Bloody Mary to Hong Kong and he later wrote, in a letter to his friend Bernard Peyton, that that cocktail was most responsible, with the possible exception of the Japanese army, for the downfall of the colony.
"Morale was high and morals were low," Hemingway quipped about Hong Kong, in a letter to his editor, Ralph Ingersoll, at American tabloid PM, and there are several celebrated Hemingway anecdotes from this period. In Gregory Crouch's book China's Wings, about the exploits of CNAC, he relates that one of the airline's pilots told Hemingway of the unexpected absence of Hahn from the bar.
"She's probably putting down a Boxer uprising," came the retort.
To casual observers, the author appeared to be more dedicated to his alcoholism than war reporting but the booze and antics disguised a more important reason for his China trip than the filing of a few features for PM. What wasn't known at the time was that Hemingway's primary task was to gather intelligence for United States treasury secretary Henry Morgenthau, who was keen to know more about the Sino-Japanese war and, more importantly, the relationship between the Communist and Nationalist forces in China. Washington desperately wanted the rival factions to remain focused on opposing Japan rather than each other. In the midst of his partying, Hemingway was extracting vital information from extremely knowledgeable sources such as Boxer and Cohen.
"I've discussed this with a lot of people," says Moreira. "Hemingway was surreptitiously gathering intelligence for his government, which is really a textbook definition of a spy."
The Hong Kong press largely ignored the presence of Gellhorn, except as the attractive 32-year-old wife of Hemingway, but she was a highly accomplished journalist and author in her own right. She had published two novels before she met Hemingway, at Sloppy Joe's Bar, in Florida's Key West, over the Christmas of 1936. She had witnessed events in Nazi Germany and reported on the Spanish civil war and the Soviet invasion of Finland.
"She was one of the great reporters of the 20th century and one of the great war correspondents ever. Her reports on the second world war in Europe and the Spanish civil war will stand as some of the greatest pieces of war journalism ever written," says Moreira.
If Hong Kong wasn't particularly interested in Gellhorn, the feeling wasn't mutual. Her report for Collier's Weekly magazine on the city, headlined "Time Bomb", has plenty of resonance 75 years after she wrote it: "To newcomers, Hong Kong seems like a combination of Times Square on New Year's eve, the subway at five-thirty in the afternoon, a three-alarm fire, a public auction and a country fair," she wrote, before drawing attention to the colony's acute polarisation of wealth. A photograph in the piece – captioned "Hong Kong is enormously wealthy" – shows Sir Robert Hotung's mansion on The Peak; another – captioned "Hong Kong is also incredibly poor" – shows street hawkers in a market. "Squalor and extreme poverty plus diseases is the lot of most of the Chinese natives," she writes, and it was typical of Gellhorn to view her subject matter from the bottom up.
"I wanted to see for myself not hear," she told Hemingway, and was excited about her first trip to Asia, which had been an ambition since childhood.
Gellhorn was a free-thinking and adventurous liberal who put her independence and freedom above all things except, perhaps, her relationship with her mother, Edna, and while she adored Hemingway, it was not an easy marriage. Their stormy relationship is now the subject of a frothy HBO television movie, Hemingway & Gellhorn, starring Clive Owen and Nicole Kidman. Sadly, Kidman's portrayal of the war correspondent is mostly reduced to a range of simpering poses and an extensive wardrobe while Owen fails miserably to imitate the macho charisma of Papa. While some historical accuracy is retained about their trip to China, Hong Kong was airbrushed out of the movie.
"I'll admit I'm a Gellhorn fan and a little ambivalent on Hemingway," says author Paul French, whose book Through the Looking Glass recounts the experiences of correspondents in China, including those of the Hemingways. "It was Gellhorn who got the assignment to go to China from Collier's. Hemingway tagged along and, due to his stature, agreed to write some pieces for the short-lived, but rather good, PM, which paid him some money."
The couple attended the Happy Valley races as guests of American consul general Addison Southard and showed up at smart dinner parties. Hemingway became obsessed with the practice of "night soil" (still common in Hong Kong at the time) and with the prevalence of prostitutes, who he claimed were being recruited on the mainland by Hong Kong's "500 millionaires".
There was "too much war in the interior, too much terrorism in Shanghai to suit a millionaire", Hemingway would tell Ingersoll. The uprooted wealthy "owned" 50,000 prostitutes, he claimed: "Their swarming over the streets at night is a wartime characteristic."
Having immersed herself in the less salubrious side of Hong Kong's polarised society, Gellhorn's distaste for spitting and her well-known obsession for personal hygiene finally got the better of her.
"You can't put your foot down without stepping on a big slimy glob and everything stinks of sweat and good old night soil," she would write in Travels.
Gellhorn was also tiring of her husband's "loafing" and his lighting of firecrackers in their room, which she found particularly irritating. She persuaded him to leave the Hongkong Hotel and transfer to the much more tranquil Repulse Bay Hotel, on the south side of Hong Kong Island, where they could enjoy a more genteel existence before they had to leave to report on the China front.
The Repulse Bay is one of the very few places in Hong Kong where you can still find traces of Hemingway and Gellhorn. The original hotel, which was built in 1920, was ripped down in the 1980s to make way for stylish apartments for the well-heeled but an original facade was retained. Some of the public rooms, such as the Verandah Restaurant and Bamboo Bar, were reproduced and, after a major refurbishment in 2009, the management installed a gallery relating the history of the hotel. Two glass display cases, located in the wood-panelled reading room, which retains the fireplace from the hotel, are dedicated to Hemingway.
When he was commissioned by the owners of the Repulse Bay to research its history, "no one … mentioned Hemingway at all", says designer and author Scott Minick. "There was no collective memory or record of his stay – but then no one mentioned Edward VIII and Mrs Simpson's visit either." Minick put the gallery together and also wrote the book The Repulse Bay – A Life of Elegance and Charm, which includes an account of the literary couple's stay.
For the display, Minick tracked down Hemingway information and artefacts, including books, photographs of his time at the hotel, an oil painting, a manuscript from his time at the Chinese front and an example of the typewriter he preferred to travel with, the Underwood Noiseless Portable. Minick also unearthed film footage of Hemingway inspecting warships in Hong Kong harbour. It was known the writer visited British military defences in the New Territories, including the so-called Gin Drinkers Line, and in Minick's display is a photo of Hemingway eating local food with chopsticks while being observed by his British army hosts.
At the Repulse Bay, "soft footed servitors bore pink gins around the place", wrote Gellhorn, and although the original Bamboo Bar no longer exists, it's not at all difficult to imagine her being served cocktails while Hemingway holds court in its replacement.
While in residence at the Repulse Bay, the couple became friends with senior CNAC executive W. Langhorne Bond, who had been in China for 10 years and who occupied the room next door. Bond was able to assist with the demanding logistics of flying them over enemy lines around Guangzhou to Chinese-held territory in northern Guangdong province, so they could visit what was known as the Canton Front. Gellhorn had already made a two-day solo reconnaissance flight to Kunming on a CNAC plane she described as a "flying beetle" and was instantly enthralled by the skill and phlegmatic bravery of the American pilots and their Chinese aircrew.
They left for the front on March 25 and the trip was arduous in the extreme; having landed in Namyung, in Guangdong, they trudged through rain-soaked muddy tracks on horseback and travelled by crowded riverboat to get to the front. Gellhorn was appalled by the squalor and unsanitary conditions in the war-ravaged areas. She described the shoeless soldiers as having faces like "orphaned ghosts" and managed to contract a case of "China rot", a skin condition rather like aggressive athlete's foot. It was a familiar complaint for war correspondents working on the China front.
They failed to locate any fighting, however, and, as she would recount in Travels, Gellhorn assumed the Japanese had already occupied the regions of China they wished to take and could bomb the rest of it at will.
Upon arrival in Guangdong, the couple had met General Yu Hanmou, one of the most important strategists in the war effort, but it is apparent that Hemingway and Gellhorn, while treated by their military hosts as esteemed American diplomatic envoys, didn't know that much about the subject they were assigned to cover.
"They were essentially 'reporter tourists' as both went to China with next to no idea of what was going on, who was who or what was what," says French.
In the provisional capital of Chungking (Chongqing) they had an audience with Generalissimo Chiang Kai-shek, who removed his false teeth for the meeting as a sign of respect (curiously, this small detail is retained in the HBO movie). The date of the meeting was April 14, the day after Stalin signed a nonaggression pact with Japan, which had profound implications on the Sino- Japanese war, but neither Gellhorn nor Hemingway would mention the fact.
Neither of them liked the Chiangs very much and Gellhorn wrote that the Generalissimo looked "embalmed". When she reproached Madame Chiang, whom she described as "still a beauty and famous vamp", for allowing lepers to roam the streets of the city, she received a sharp rebuke.
"China had a great culture when your ancestors were living in trees and painting themselves blue," said Madame Chiang.
Later, when they were approached covertly in a market and offered a clandestine meeting with Communist leader Zhou Enlai, who in 1949 would become the first premier of the People's Republic of China, Gellhorn had to ask Hemingway who he was, she would later recount. On meeting Zhou, they were both charmed by the urbane diplomat, who they considered to be "the one really good man we'd met in China", not a view that would go down well with the US state department.
"An overlord class and tens of millions of expendable slaves was how China looked to me," wrote Gellhorn, which might have been insightful but neither of them seemed to have much grasp of the political and military detail. It is remarkable, in retrospect, that Hemingway was able to submit erudite and prescient intelligence reports to Morgenthau given his apparent lack of preparatory knowledge about China at war.
On July 30, 1941, Hemingway would send a letter to the treasury secretary from Cuba in which he demonstrated a firm understanding of the delicate relationship between the Communist and Nationalist factions in China and predicted there would be no "permanent settlement" without Soviet agreement to territorial claims. Hemingway also informed Morgenthau that a KMT official had told him that the Japanese were regarded as China's "skin disease" but the Communists as the country's "heart disease".
"I think we can be sure that war between the Kuomingtang (sic) and the Communists is inevitable," wrote Hemingway, who also said that while the Communists' part in the war had thus far been "very considerable", that of Chiang's central government "has been a hundred times greater".
Hemingway returned to Hong Kong alone on April 28 and this time stayed at the Peninsula Hotel while Gellhorn continued to report from Burma, then Singapore and Indonesia. Hemingway wrote her affectionate letters but it was symptomatic of their combustible relationship that they pined for each other when separated but fought when reunited.
Not a great deal is known about Hemingway's final week in Hong Kong – mainly because his wife, the better chronicler of the two, was not with him – but there is speculation that this was when he went to bed with three Chinese prostitutes (simultaneously) supplied by a millionaire friend. He recounts this tale in Islands in the Stream (1970), a posthumously published novel that was nevertheless based on some of Hemingway's real-life experiences, but there is no evidence to suggest the orgy actually happened.
By the time Hemingway boarded a Pan Am Clipper on May 6, to leave Hong Kong alone, the couple probably knew it was not just their honeymoon that was over. The marriage finally imploded in London during the latter days of the second world war and Gellhorn would later say that "marriage was just too boring". In Travels With Myself and Another, Gellhorn refuses even to use her ex-husband's name, referring to him instead as UC ("unwilling companion").
She was the only woman to ever leave him and Hemingway never forgave her for it.
This article appeared in the South China Morning Post print edition as: The importance of being Ernest