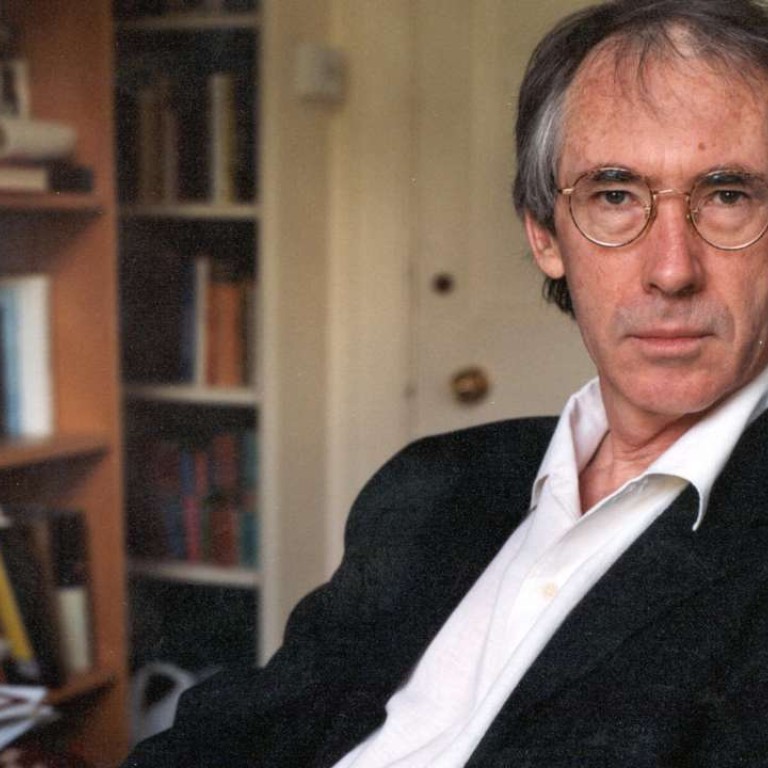 Review
Book review: Nutshell – does Ian McEwan pull off his fetal conceit?
The Booker Prize-winning British author has always been best as a miniaturist – and his latest novel is narrated form the perspective of a baby in the womb who's surprisingly erudite and well informed
Nutshell
By Ian McEwan
Jonathan Cape
The narrator of Ian McEwan's
Nutshell
is an unborn baby. It's the sort of device that feels mad­cap, self-consciously edgy and definitely ambitious. The blurb proclaims "a perspective unlike any other". Then you remember that already this year we've had Harry Parker's
Anatomy of a Soldier
, narrated by more than 40 objects including a bomb and flesh-eating bacteria. And it's not that long since
Irvine Welsh
's
Filth
was interrupted by a tapeworm posing existential questions.
I'm not taking a hammer to Nutshell, although many will wonder how McEwan puts words into a mouth that can't speak. His solution is to make his baby narrator sound essentially like Ian McEwan. Eloquent to a fault, he is remarkably well informed about his immediate surroundings, and the world at large. He's even a bit of a know-it-all – talking loftily about James Joyce, quoting Keats and philosophising about global realpolitik.
In case you're wondering how an embryo could be better informed about current affairs than, say, Donald Trump, his mother exists, somewhat conveniently, on a diet of podcasts. Downloading is not her only addiction. An inveterate boozer, she also can't keep her hands off her husband's slick younger brother. Their affair is intense enough for the pair to plot murder.
If bells are ringing, then McEwan's title and epigraph will clang deafeningly: "O God, I could be bounded in a nutshell and/ count myself a king of infinite space,/ were it not that I have bad dreams." That's right: our unchristened fetus is Hamlet by any other name. It's as if McEwan has taken Polonius' advice to Ophelia – "Think yourself a baby" – as the idea for a novel.
To ram the likeness home, McEwan calls his unfaithful couple Claude (replacing Shakespeare's Claudius) and Trudy (in place of Gertrude). The role of Hamlet's father is reinterpreted by John Cairncross, a failed poet and small-time publisher. Is McEwan also thinking of John Cairncross, the Fifth Man in the infamous Cambridge spy circle? According to his killers, he's a bumbling has-been. Then again, neither is exactly trustworthy.
HEAR Rory Kinnear read an extract from Nutshell
Claude, when he isn't ravishing his brother's wife, is plotting property fraud. Trudy comes across as addicted to anything that will dull her feelings of guilt. Having committed murder most foul, there's nothing for it but to turn on each other.
Quite where Baby Hamlet (as we'll call him) features in all this is anyone's guess. Claude and Trudy want him adopted the moment he enters centre stage. Cairncross seems equally content to escape paternal responsibilities with Elodie, a surprisingly sexy young poet who specialises in owl sonnets.
Baby Hamlet has only his thoughts in reply.
Here's the first smart punchline delivered by McEwan's premise. Shakespeare's most famous creation was arguably history's most famous procrastinator – Homer's Penelope gives him a run for his money, but she hasn't been played by Laurence Olivier, Daniel Day Lewis, Kenneth Branagh, Benedict Cumberbatch and Mel Gibson. What better way to embody this existential deferment than by casting The Dane in utero, where almost any kind of action is an impossibility? Baby Hamlet offers his signature statement not long after the death of his father: "And I did nothing."
Most intriguing of all are the relationships McEwan creates between smallness and largeness: confinement and expansion, the moment and history, the individual and the world. This also owes a debt to Shakespeare's original, when Rosencrantz criticises his friend for calling Denmark a prison. Hamlet's response is his hymn to the mind's power that can turn a nutshell into "infinite space". Nor are the moral implications of such freethinking lost on him: "There is/ nothing either good or bad but thinking makes it so."
It's not hard to understand McEwan's attraction to Hamlet's philosophy. From his earliest work on, his writing has drawn force from individuals creating their own private universes: the children's fetid, decaying, incest­uous house in The Cement Garden, the chilly sexual games of The Comfort of Strangers, or Leonard Marnham's secret erotic life in The Innocent.
And for all the global plaudits that came his way with Atonement, McEwan's genius is as a miniaturist: the nasty, brilliant and haunting short stories collected in First Love, Last Rites and In Between the Sheets; and his most affecting work, On Chesil Beach , which is a novella in length.
Nutshell does a good job of summarising McEwan's gift for dark concision when Claude attempts to convince Elodie about his brother's mental fragility: "'Even as a child … He once took a hammer to our –' Trudy cuts in: 'This isn't the time for that story.' [She] has made it more interesting by cutting it short." McEwan's canvas may be small, but he paints with an impressively oppressive palette. Nutshell is humid, tense, paranoid. As the police close in, the plot builds to a genuinely riveting conclusion.
Upping the entertainment quotient is the fact that Nutshell is probably McEwan's funniest novel. There is some very good bad poetry: "Blood-wise fatal bellman …" begins one ode to an owl. Claude is a nastily priapic, narci­ssistic clown. Most of the best lines go to Baby Hamlet. When Claude goes overboard on some Scandinavian take­away, Baby Hamlet notes drily: "He's over-ordering, a natural impulse after a murder."
These light touches becalm the more incredible edges of McEwan's narrative device and ease his own skirmish with one of world literature's greatest achievements. The Romantic poets buckled under their Bardolatry – writing cod Shakespearean plays that were tragic rather than tragedies. McEwan occasionally falls into the trap. His puns are almost compulsive ("Tail to tale"), his knowing allusions a variation on Tom Stoppard's in Shakespeare in Love: "So, getting closer, my idea was To be." Or not.
Shakespearean tongue-twisters such as "Elodie eludes me like a melody" are heavy going, but the pastiche does catch the claustrophobic abstractions of Baby Hamlet in the womb.
Like McEwan, he must generate meaning out of language alone: Baby Hamlet can only say "blue", not see it. Such a limitation is dangerous and liberating. The mind can roam unfettered by material reality, but it can also diminish the world as well as enhance it. Following his murder, Baby Hamlet's father is reduced to a shadow of his former self by Claude's vague, unflattering eulogy.
McEwan triumphs, just about. His canvas may be small but his narratives are grand: not least our present obsession with identity. Humans can now choose 72 different genders on social networking sites, but this doesn't obscure the big questions. Who am I? Who are you? How can we know each other? How will I shape the world, and the world shape me? Am I an optimist or a pessimist? And what about death? To be or, well, not to be? And there you have it: everything. In a Nutshell.
This article appeared in the South China Morning Post print edition as: Womb with a view