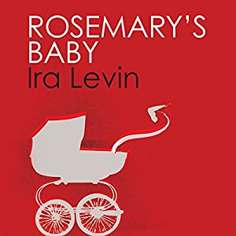 Rosemary's Baby
by Ira Levin (read by Katherine Fenton)
Hachette
First published 50 years ago, Rosemary's Baby was written by Ira Levin, who also wrote The Stepford Wives and A Kiss Before Dying. Levin's satanic second novel helped launch a boom in horror fiction that crested with Stephen King.
Our heroine is Rosemary Woodhouse, who sounds like a Jane Austen char­acter until her neighbours go all Mary Shelley on her. Married to the pompous Guy, an up-and-coming actor, she longs to become a mother. When the couple move into the Bramford apartments, it seems her dreams are about to come true.
The first devilish clue is that all the tenants Rosemary encounters are ridiculously friendly. This is New York, after all.
Katherine Fenton sounds a little too gentle for this nasty slice of New Yorkiana, her accent wandering from England to America more often than Virgin Atlantic.