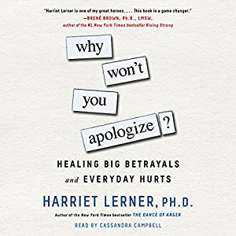 Why Won't You Apologize?
by Harriet Lerner (read by Cassandra Campbell)
Simon & Schuster Audio
Harriet Lerner has spent more than two decades studying apologies – and we should be grateful. Taking two words, "I'm sorry", and showing how powerful, or ineffective, they can be, she illustrates with clear examples how to ruin an apology, handle criticism, find peace and whether to accept the olive branch. Which is why hers is a book everyone should heed, including people allergic to apologising. "I'm sorry you feel that way," and apologies followed by rationalisations, are not effective, she points out. Neither is shaming someone into saying they're sorry (it won't inspire reflection) or adding a sermon after an apology has been offered (as parents often do when a child has been contrite). Humans may be hard-wired for defensiveness but, with an apology, they can also right many wrongs. Her advice is gold.