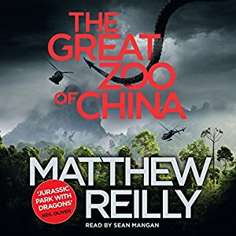 The Great Zoo of China
by Matthew Reilly (read by Sean Mangan)
Orion
The Great Wall of China has inspired many puns. The Great Ball of China, The Great Mall of China. You get the idea. Matthew Reilly didn't trouble himself with rhymes when titling his 2014 novel, now released as an audio­­book. There is no great subtlety in the portrait of China itself. "It has nothing of its own. It makes other people's stuff." Desperate to unseat the United States as the world's pre-eminent nation, the Chinese government builds (drum roll) its own version of Disneyland, filled with (another drum roll) dragons! Enter our heroine: "She didn't bother with make-up and she didn't mind getting her hands dirty." This is the first of many clichés Sean Mangan has to read without splutter­ing into his microphone. He reads the silliness like he is playing King Lear, which is courageous if futile.