Dear Friend, From My Life I Write to You in Your Life
by Yiyun Li
Random House
This is a remarkable book, both as memoir and as Yiyun Li's disavowal of the possibility of writing one. Dear Friend, From My Life I Write to You in Your Life explores the formation of the literary mind behind the novel The Vagrants (2009) and short-story collection A Thousand Years of Good Prayers (2005), and is seared with the pain and difficulties of such an under­taking. (If you ever wish to dissuade a child from pursuing a literary career, this book will do it).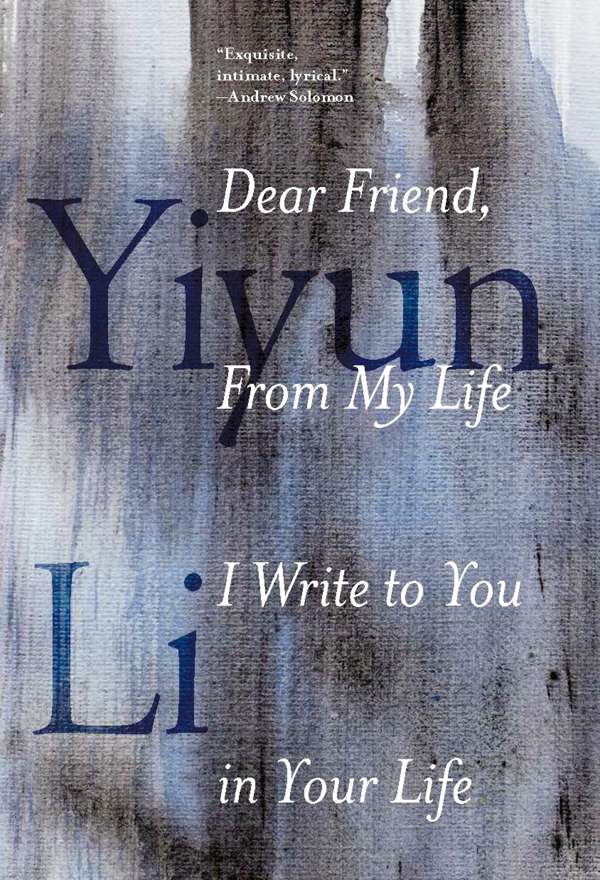 As a memoir Dear Friend is neither sequential in progression nor narrative in form – nor is it organised by theme. Rather, slivers of anecdote and memory are developed into short musings, equivocation and pitiless self-excoriation (at one point Li notes, "The moment that I enters my narrative my confidence crumbles" – an extra­ordinary admission for a memoirist). She also discusses writers and their signifi­cance in her life, her writing and to her understanding of time, memory and loss.
This is not to suggest artless diarising. Themes and charac­ters appear and reappear: Li's mother (a world-class narcis­sist); her decision to write only in English; her youth in Beijing and military service; two stays in a mental hospital, depres­sion and the appeal of suicide; the authors Philip Larkin, Elizabeth Bowen, Katherine Mansfield and the Russians: Tolstoy, Turgenev, Nabokov, and Chekhov; as well as her friendship with Irish writer William Trevor. A sense of trajectory emerges as the book progresses and narrative elements begin to replace the initial chapter's serial remem­bered moments and introduction of themes. Alienated solitude gives way to a more social present (although the book's final para­graph remains unusually ambiguous).
In life we seek like-minded people despite – or because of – the limit of knowing and understanding. We do so to feel less lonely, though it brings a different kind of loneliness
Discussion of writers is, of course, disguised autobiogra­phy, as Li herself recognises. "I was aware that my obsession with [Mansfield and Larkin] reflected what I resent in myself: seclusion, self-deception, and above all the need – the neediness – to find shelter from one's uncertain self in other lives." Her examinations of Nabokov's decision to write in English – not Russian – Larkin's self-protective passivity, Mansfield's anxiety about her work and Woolf's competitive­ness all become parables by which the reader may better understand the author.
Yiyun Li goes deep into the human condition in her writing
While musings on the craft of writing, memory, mental illness and self-efface­ment might in less capable hands seem self-indulgent, Li is too harsh a critic of herself and too skilled a prose technician to err. Her phrasing is hard, clear and finely hewn; her style is an example of what Martin Amis has previously described as the modern "absence of curlicue" and, stripped of connota­tion and ambiguity, each precisely balanced sentence is testament to a poet's sensibility for words. Here are two choice examples:
In life we seek like-minded people despite – or because of – the limit of knowing and understanding. We do so to feel less lonely, though it brings a different kind of loneliness. In seeking others, inevitably we try to control an interaction. We insist on being known only as the version we prefer to attach to ourselves.
What I admire and respect in a dreamer: her confidence in her capacities, her insusceptibility to the frivolous, and her faith that the good and the real shall triumph and last. There is nothing selfish, dazzling or preposterous about dreamers; in everyday life they blend in rather than stand out, though it's not hiding. A real dreamer has a mutual trust with time.
Similarly, Li has a gift for aphorism. Passages tend to end in maxims as she repeatedly moves from anecdote to contem­pla­tion to pro­nounce­­ment. It's a stylistic device that recalls Larkin's poetry, and perhaps Dear Friend is better under­stood as an interconnect­ed series of autobio­gra­ph­i­cal prose poems than as a memoir. There's a sense, too, of Li hedging her bets – of removing herself from her most deeply felt beliefs by frequent use of the indefinite pronoun "one".
The best books of 2017, from Game of Thrones to the next Paula Hawkins
Writing only in English – and going so far as to refuse to have her books translated into Chinese – Li knows that living in the United States and re­noun­cing the Chinese language will be seen as a slight against her mother­land, and so she discusses and refutes any suggestion of her being a political writer. She writes of the Tiananmen Square crackdown only to reject media commentary as false: "[W]hat can be said, on a radio program or TV, is always a simpli­fication or a distortion [...] One has either to submit oneself to that script, or else choose to only speak on one's own terms." The certainties required by either approach would clearly repel her.
Recalling her time in the army, writing propaganda, and how she was disturbed by this "public language", she poses the question: "Can one form a precise thought, recall an accurate memory, or even feel a genuine feeling, with only the public language?"
English, of course, becomes her private language and, through it, from alienation she eventually comes to find articulation and connection.