Vengeance Is Mine, All Others Pay Cash
by Eka Kurniawan
Pushkin Press
Eka Kurniawan first ignited international interest in 2015, with the English translation of his 2004 novel, Man Tiger. By the time it hit the Man Booker Prize longlist in 2016, the first novel by an Indonesian author to do so, he had been likened to Gabriel García Márquez and Salman Rushdie, and pronounced the heir to Indonesian literary icon Pramoedya Ananta Toer.
But if critics were ecstatic in their praise of Man Tiger , the first English translation of Kurniawan's extraordinary 2002 debut, Beauty Is a Wound – a 498-page epic released a few months after Man Tiger – sent them into overdrive, with The Economist declaring that Kurniawan "may be Southeast Asia's most ambitious writer in a generation".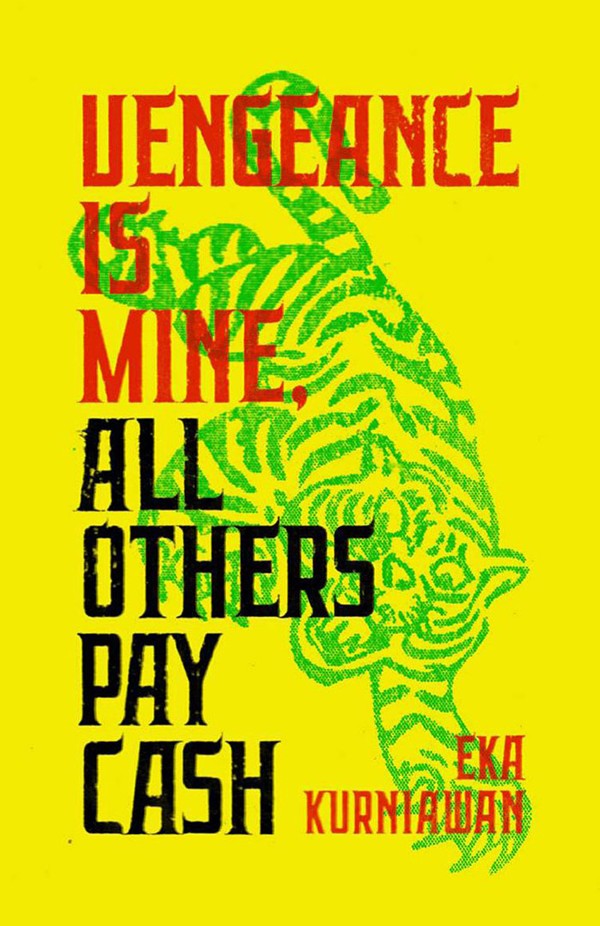 Vengeance Is Mine, All Others Pay Cash (2014), the third of Kurniawan's novels to be translated, is a world apart in scale, complexity and ambition from Beauty Is a Wound, which entwined Indonesia's history with the story of a prostitute who returns from the dead.
At just 208 pages, Vengeance Is Mine proffers a sly, sideways glance at Indonesian society and packs an audaci­ous punch all of its own. Described by its publisher as "gloriously pulpy", it's not for the faint-hearted.
From its opening sentence – "'Only guys who can't get hard fight with no fear of death,' Iwan Angsa once said of Ajo Kawir" – Kurniawan provokes, titillates and confounds as he examines masculinity in the guise of a man suffering from impotence.
Iwan Angsa, the narrator continues, "was one of a small handful of people who knew that Ajo Kawir's penis couldn't stand up".
There is no shortage of seminal fluid, adolescent male angst, masturbation and profanity in the ensuing pages, where we soon meet Ajo Kawir and his friend, Gecko, who is also privy to his friend's problem.
Narrated in brief, cinematic fragments and laden with florid, coarse dialogue gleaned as much from the comics Ajo Kawir devours as from street slang, the novel shifts rapidly forwards and backwards in time, as we learn of Ajo Kawir's ability to attract trouble.
Sometimes his fights leave him unconscious in a ditch, at the police station, in the village trustee's house or in casualty. Consequently, Gecko doesn't like to leave him without backup, so he often gets wounded, too. The truth is that both enjoy the fights, but Gecko still feels guilty about "the whole business", even though Ajo Kawir has never blamed him.
Book review: Eka Kurniawan's second novel Man Tiger is arresting and lyrical
By the time the novel tilts into "the whole business", we have also learned that "it" happened when the boys were 12 or 13, long before Ajo Kawir went to Jakarta, became a truck driver and met a woman named Jelita. Indeed, Jelita is a mysterious figure who hovers over the novel, generating suspense, until she appears briefly in its latter stages, and even then remains a mythical figure who manifests and vanishes as if by divine design.
Kurniawan has described himself as an adventurer on the page, borrowing variously from myth, comics and all literary traditions, and habitually drives his narra­tives between the extreme poles of the crass and the sublime, the tragic and the comedic, the surreal and the real.
In their home village, the teenage boys have been spying on the local headman and his wife as they make love. This was before Ajo Kawir became impotent and he would later do the tahajjud prayer for his sins, even arguing with Gecko whether they had, in fact, sinned anyway.
Gecko would daydream about the size of the wife's breasts but, during one of his late-night spying adventures, he comes across something far more interesting than the couple's lovemaking, and decides to share this secret with his friend. The intrigue leads the boys to the house of a mad woman the locals call Scarlet Blush, and they witness her brutal rape by two uniformed policemen.
'Semen, blood and excrement': the Indonesian novel that's like story-telling on acid
For Ajo Kawir, who is caught by the policemen and forced at gunpoint to take part in the rape, the traumatic legacy is his impotence. For Scarlet Blush, whose tragic history unfolds during the rape, and seems to reference the post-war era of Indonesian leader Sukarno, it is far worse. She dies soon after the rape, her body found lying in her backyard next to the unmarked grave of her murdered husband.
In the ensuing years Ajo Kawir tries every­thing, from bee stings to chilli pepper, to stir his sleeping member. Even the prostitute that Gecko's father takes him to fails to wake it.
As the years pass, violence becomes Ajo Kawir's way of life – until, at the age of 19, his fearsome reputation is such that he is hired to kill an elusive gang leader named The Tiger. Instead, however, he encounters Iteung, the female bodyguard of a businessman belonging to a mafia-like organisation called The Empty Hand, and falls in love. The pair eventually marry, despite his impotence.
Unknown to Ajo Kawir, Iteung too bears the scars of childhood trauma and it is only later in the novel that we discover her secret.
High hopes for first-ever Indonesian author vying for Man Booker glory
The novel suddenly hurtles forward to Jakarta, 11 years later, where Ajo Kawir drives a truck bearing as a motto the words that form the book's title. His experiences in the interim are revealed only in brief flashbacks and dream sequences; following the pattern of Kurniawan's previous works, one scene is even narrated by a lizard.
Ajo Kawir stands out among Java's truckers, where a kind of super­charged machismo rules. He cares for his estranged wife's child, studiously avoids violence and engages in long, philo­sophic dialogues about the value of solitude and silence.
The top 10 Asian books of 2016, from vivid science fiction to Japanese crime, Vietnam war memories and today's China
Rape again enters the narra­tive, along with a truck chase and a host of new characters as Kurniawan takes us deeper into his exploration of masculinity, and on into the novel's surprising and disturbing denouement.
It's impossible to escape the sense that with this novel, Kurniawan is attempting to give added agency to the belief that the world is "dick driven". As Ajo Kawir tell his young co-driver: "All of human existence is nothing but a dream our genitals are dreaming. We're just here to act it out."