Monsoon Mansion
by Cinelle Barnes
Little A
4/5 stars
Monsoon Mansion begins in 1980s Manila when the author, her aristo­cratic mestiza mother, stepbrother and self-made father are living a lavish life in a 10-room "pearl-and-marble palace" with a ballroom. But the glory days don't last in this stately home. The Gulf war heralds the end for her father, who has made his fortune in oil and recruitment.
Cinelle Barnes remembers it, however, as "the end of our family". With their money running out, her parents convert the home into an events venue, but then a storm washes away all hope. "Looters took whatever of our belongings had floated through the […] gates." When her defeated father leaves and her flighty mother replaces him with a gold-digging, abusive reprobate who allows gangsters and cockfighting into the mansion, things go from bad to worse – and dangerous. The man takes up with a guerilla group in a bid to gain a political platform, all the while leaning on Barnes' mother.
This is a riches-to-rags memoir that holds your attention with its poetry, and will hopefully not be the last we hear from this accomplished writer.
---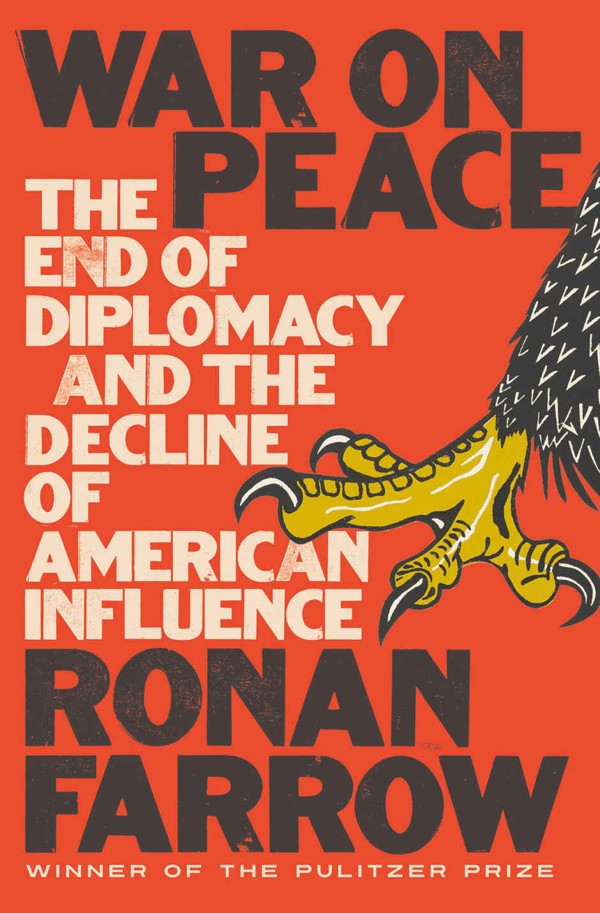 War on Peace
by Ronan Farrow
WW Norton & Company
4/5 stars
A diplomat's best weapon is persuasion, Ronan Farrow writes, explaining why we should be worried about America's continuing retreat from civilian dialogue in favour of "direct, tactical deals between our military and foreign forces".
In this timely book, which grew out of the journalist-of-the-moment's experiences as a US State Department rookie recruit, the still only 30-year-old Farrow argues that Donald Trump's administration is merely taking to a new extreme a trend that stretches back to September 11, and even before (to former US president Bill Clinton's "domestic reinvestment" pledge).
With less diplomatic spending, fewer ambassadors, a Pentagon that towers over other agencies in terms of power and prestige, and a White House filled with former generals, the US no longer has a capacity for professional international relations, he argues. This opens the way for a China whose "coffers are more flush with each passing year".
Farrow interviews every living former US secretary of state, including John Kerry, who warns of Beijing "reaping the benefits of the US stepping back". Others include Henry Kissinger, Hillary Clinton and Rex Tillerson. Farrow has had remarkable press access, and he's made the most of it.