All The Lives We Never Lived
by Anuradha Roy
Hachette
Is freedom a collective or individual concept? Is the struggle for freedom a grand idea, a battle to seek independence from a colonial power? Or is it about recognising an individual's right – and agency – to do what she wants, and respecting it?
Must an individual comply with the demands of those who wield power? And if she discards the ties that bind her to roles assigned by society, and vanishes to discover herself, to pursue life as she wishes to live, is she being selfish?
These are the profound questions at the heart of Anuradha Roy's fourth novel, All the Lives We Never Lived, about a spirited woman named Gayatri Sen, trapped in an unhappy marriage in pre-indepen­dence India.
Roy's previous novel, Sleeping on Jupiter (2015), was longlisted for the Man Booker Prize in 2016 and won the DSC Prize for South Asian Literature. Her 2011 novel, The Folded Earth, won India's premier award for fiction.
The "lives we never lived" in the title refers to the roads we don't take because convention, propriety and decorum prevent us from doing so. But what happens when you follow your heart? Myshkin Rosario, the oddly named narrator, begins this novel by saying: "In my childhood, I was known as the boy whose mother ran off with an Englishman." In fact, the man was German, but in small towns in pre-independence India, any white man was assumed to be English.
Named after the well-meaning, prince whose sincerity is mistaken for foolishness in Fyodor Dostoevsky's 1869 novel The Idiot, Myshkin is nine when his mother deserts her family, leaving it wounded and disintegrated. But she is not the villain, and her husband, Nek Chand Rosario, a college professor who is devoted to the cause of Indian independence, is not the upright hero, either.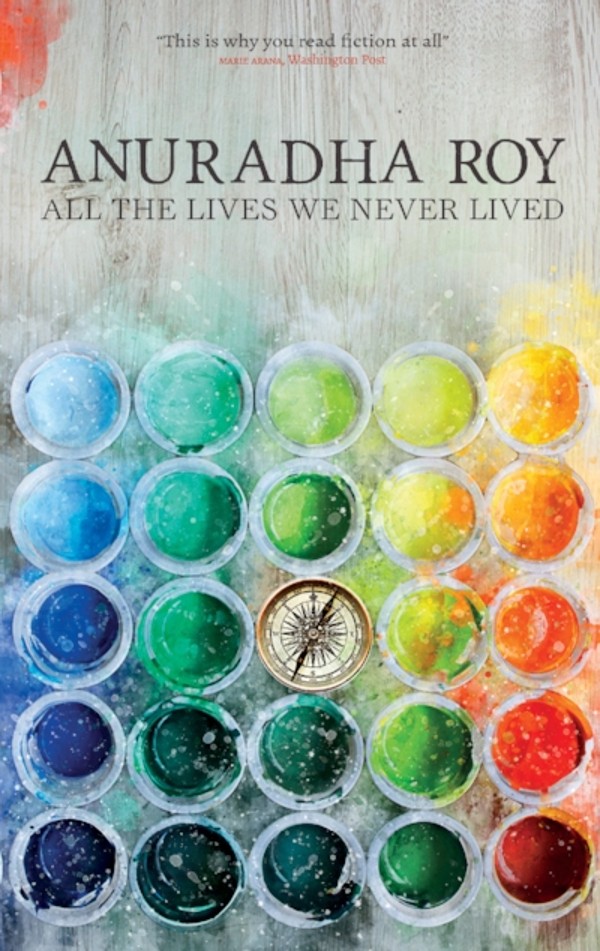 Roy's complex characters are conveyed in simple prose. She shows the tragic fallout of the decisions they make while not detracting from their humanity, even as she harbours greater sympathy for Gayatri, Myshkin's mother, trapped in a loveless marriage.
Myshkin spends his life trying to understand what happened that afternoon when he arrived home late only to find his mother gone. He did not know that she had planned to take him with her.
Gayatri disappeared once before – at a circus, where she startled everyone by volunteering to take part in a magic show. She never explains to anyone what happened when the magician made her vanish. "There are some things in life you never find out. Sometimes things happen that nobody understands," she tells Myshkin, as if hinting at what will follow.
Gayatri runs away to Bali with Walter Spies, a German artist who came to India to learn Sanskrit, and Beryl de Zoete, a British critic exploring Indian dance. Spies, like de Zoete, the poet Rabindranath Tagore, the singer Begum Akhtar, and a few other characters in the book existed in real life. Spies never made it to India, even though he had wanted to visit the country, but he did live in Bali, where he met Tagore.
As a member of a middle-class family in a small town, Gayatri's departure causes a scandal. Her husband soon leaves for the mountains on a spiritual quest to find himself, returning a year later with a new wife and her child from a previous marriage. He joins the Quit India Movement of 1942 and spends an extended time in jail, accentuating Myshkin's lonely childhood.
Roy's writing is full of nuance – there is nothing didactic about the way she tackles the grand themes that pit the personal against the political
In Bali, Spies takes Gayatri under his wing, and while she pines for life back home, in particular Myshkin, she plunges into life on the predominantly Hindu island with verve, blending effortlessly into the group of friends Spies attracts, painting and learning pottery.
Baliis not new for Gayatri: a decade earlier, she had travelled there with her father, accompanying Tagore, who took delight in her company on the ship as it sailed east. Gayatri is lively and passionate about art – she had wanted to imagine and paint. She loves music and dance, and had hoped to study at Tagore's university, Santiniketan.
But her father, who had been her true champion, had died soon after their return, and her aesthetic dreams had been cut short when her mother decided she should marry one of her father's students.
Nek Chand Rosario is a young man who believes he is liberal and tolerant because he allows Gayatri to indulge in her hobbies but who sees her passions as frivolous. Weightier matters, such as India's freedom, occupy his mind. His idea of a liberated woman is one who lives an austere life by forgoing luxuries, wears homespun cloth and joins the struggle for freedom.
Roy's writing is full of nuance – there is nothing didactic about the way she tackles the grand themes that pit the personal against the political. The society she writes about honours public acts by men while ignoring their private vices, and expects women to suppress their desires.
India was gripped by convulsions in the 1920s and 30s, the period in which the novel begins, when the idea of nation­hood was taking shape. There were vigorous debates about the kind of society India would become.
Tagore, Asia's first Nobel laureate in literature, and Mahatma Gandhi, the apostle of non-violence, had great regard for each other, but they often disagreed, most tellingly on nationalism. Tagore rejected narrow nationalism, an idea he expounded upon in an essay in 1917, a time when Gandhi was assembling India's diverse elements into a coherent whole to oppose the British. Tagore broadened Gandhi's horizons.
Gandhi would later say: "I do not want my house to be walled in on all sides and my windows to be stuffed. I want the cultures of all lands to be blown about my house as freely as possible. But I refuse to be blown off my feet by any." But as historian Ramachandra Guha has noted, there is a crucial prelude that is usually left out, and it reads: "I hope I am as great a believer in free air as the great Poet."
While Gandhi and Tagore found accommodation for each other's views, the Rosario home in All the Lives We Never Lived isn't large enough to keep Nek Chand and Gayatri together. Nek Chand is a foot soldier of the Gandhian move­ment: he adopts its austerity and confuses the discipline the movement demands by turning obstinate and obdurate, expecting others to accept its wisdom unquestioningly while failing to see the freedom Gayatri seeks.
Gayatri, too, believes in freedom – her freedom to imagine and to express herself – and her vision is not circumscribed by national boundaries, nor by societal nor
Roy is consummate in sketch­ing the complexity of an Indian freedom fighter who never fully grasps the meaning of freedom. Gayatri, too, believes in freedom – her freedom to imagine and to express herself – and her vision is not circumscribed by national boundaries, nor by societal norms.
Myshkin's introspection begins when a large envelope arrives and he delays opening it because he suspects it is connected to his mother. Myshkin is a horticulturist, and horticulturists know more than most about patience. It takes a long time for him to understand why his mother disappeared and for his wounds to heal. Before love can emerge again, the loss has to be understood, anguish expressed, anger experienced, only then can closure follow.
"Gardeners are good at the business of waiting, they are in tune with the rhythms of the earth, which are slow. There is no anxiety in this kind of waiting, only anticipation. But to wait as we did for news of my mother, that was like blood being rained from our bodies until one day there was no more left," Myshkin says.
And yet, towards the end of the novel, as he assesses his mother's life, and his own, he discovers compassion: "She had found a way to do it, she had stood on the rim of a volcano, seen the fires below, and taken the plunge. Why hadn't I?"