Hungry Ghosts
by Anthony Bourdain, with Joel Rose
Berger Books/Dark Horse Comics
Anthony Bourdain died in June while in France, working on Parts Unknown, his popular CNN food-travel show. He had recently been in Hong Kong, happily exploring the city's grittier corners in search of roast pork, dai pai dong wontons, cart dim sum and cha chaan teng noodle soup.
In his final television segment, broadcast posthumously, he slouched coolly on the Star Ferry at night and took in the skyline with his glamorous Italian girlfriend, Asia Argento, and cinematographer Chris Doyle.
"It was the most intensely satisfying experience of my professional life and a show that I am giddily, ecstatically proud of," Bourdain wrote in The Hollywood Reporter.
At around the same time, Bourdain and noir novelist Joel Rose finished their collaboration on a graphic novel, Hungry Ghosts, nine horror stories with illustrations by 10 comic artists. They dedicated it to the "enduring allure" of classic horror/crime imprint EC Comics and its master storytellers. "May resting in peace not be an option," they wrote, ominously.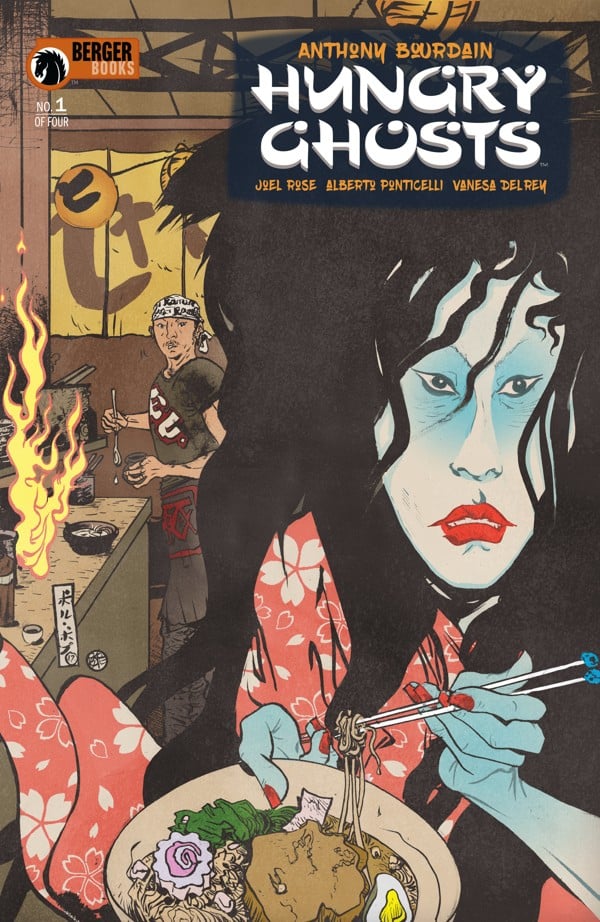 A few days later, Bourdain died by suicide. Rose, a fellow New Yorker who had known the presenter for 35 years, added a dedication for his co-author just before the book went to press. "For the hungriest ghost of them all: my friend, my collaborator, my pal, my long-time running mate. May resting in peace truly not be your option. Save me a beer, brother, and a seat at the table."
Reading Hungry Ghosts so soon after Bourdain's pass­ing is like watching Heath Ledger play the Joker. There is no way of separating a book about the afterlife from the fact that its free-spirited author has just left this mortal coil.
Some of the stories have been individually published as comics. But they come together into a whole in this handsome hardback, just in time for Halloween.
The action is set at a lavish dinner party in a mansion in the Hamptons, the affluent resort area in New York state. The host, a Russian tycoon, invites the inter­national team of chefs working in the kitchen to join his guests for cigars, a Napoleon-era wine, and a Japanese "game of nerves" called kaidan.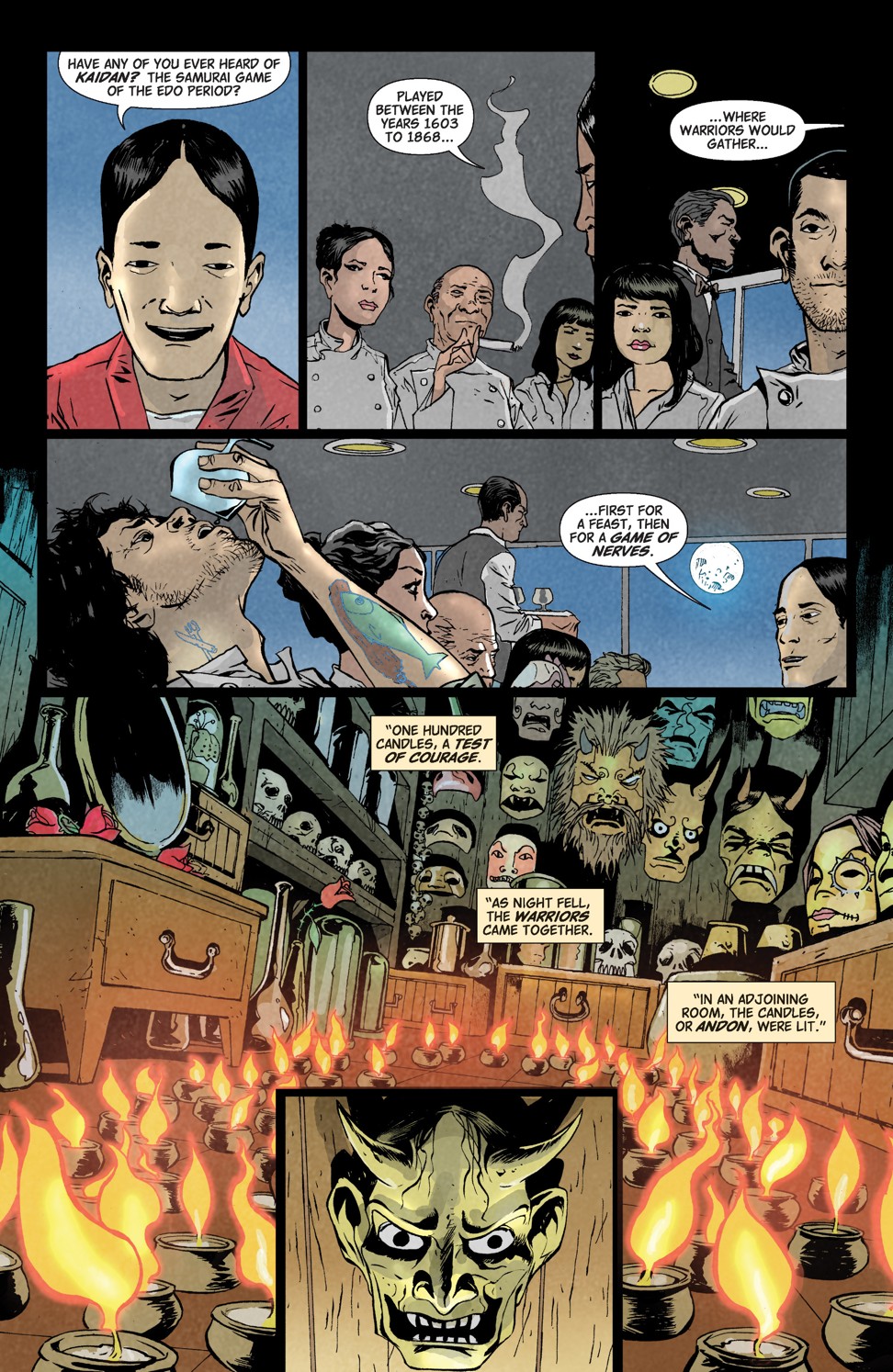 Centuries ago, samurai would eat together and then light 100 candles. Each man would tell a terrifying tale of ghosts or spirits, and blow out one candle, making the room darker with each story.
The dinner party forms the narrative frame as each chef tells a food-related story from his or her home country.
Bourdain was a fan of Asian culture, as are many people in both the culinary and comic-book worlds. Hungry Ghosts takes its name from a Chinese custom and its aesthetic borrows heavily from Japanese manga.
The title is invoked in the first story, "The Starving Skeleton", about a Tokyo ramen cook who denies a beggar food and then comes face to face with a hungry ghost. And there are more starving spirits out for revenge in "The Cow Head", set in a village suffering from famine.
Female spirit Yuki Onna comes to life in lovely, ethereal drawings by Korean-American artist Irene Koh in "The Snow Woman". Here, the ghost seduces an unfortunate young man who loses his father in a winter storm, she then lives by his side for years without his knowledge.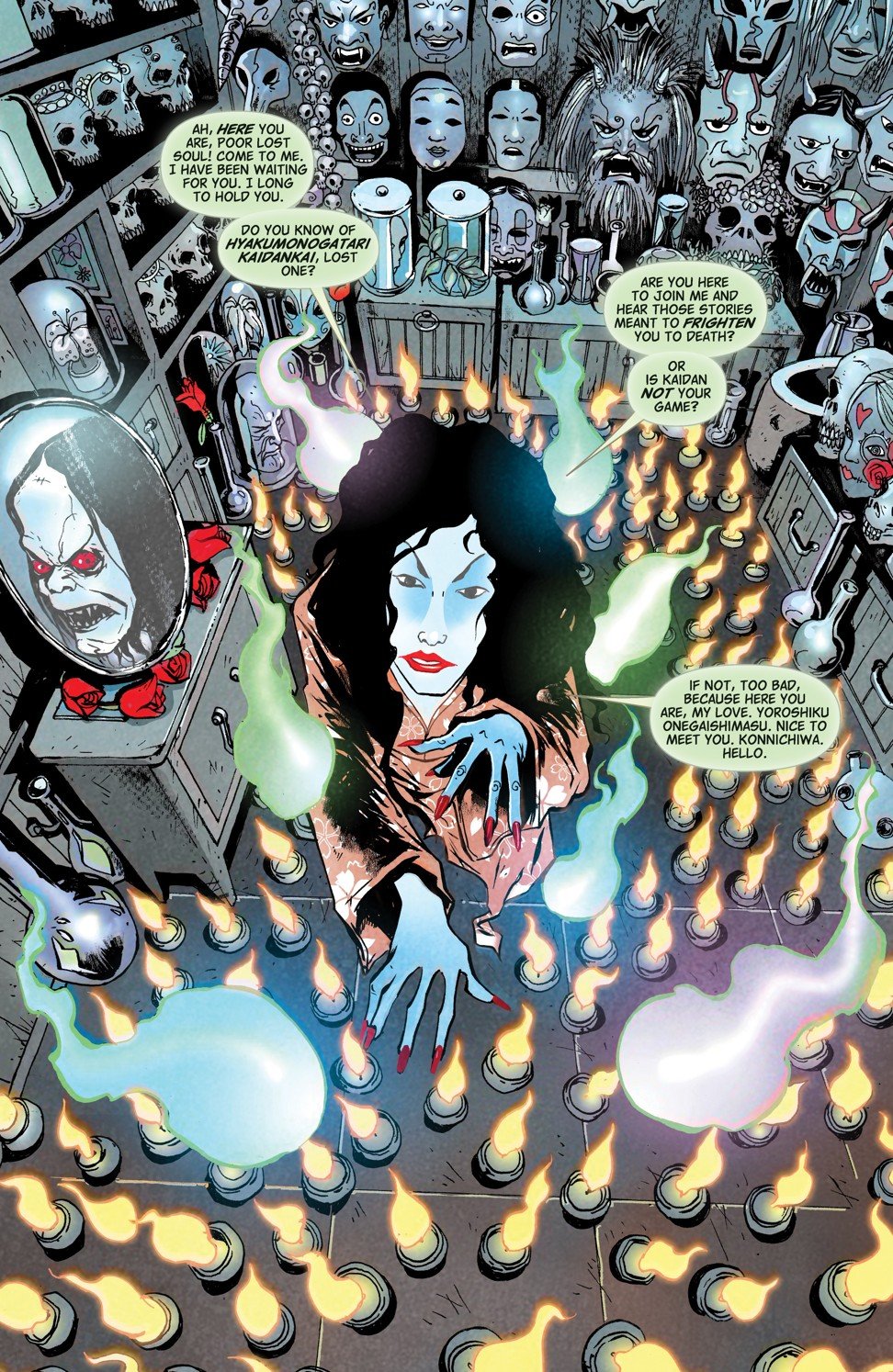 Great horror writers are aware that ghouls popping out of the woodwork are not particularly scary. The element of terror is often based on human nature. The best horror tales – no matter how gory – usually end with comeuppance for the monsters and redemption for the victims.
As the chefs tell their stories, the narratives move through Europe, conjuring up some Old World horror.
In "The Heads", a terrible fate befalls an Italian kitchen­hand left abandoned after his chef dies. In a rewarding twist, however, the innocent young man manages to pass his curse onto a dishonest robber.
A man with a deadly taste for horsemeat is punished for his gluttony in "Salty Horse", illustrated by Argentinian artist Leonardo Manco.
In "The Pirates", a maiden is thrown into the sea by a witch-hunting mob and then sexually threatened by the pirates who save her. Cuban artist Vanesa Del Rey paints our heroine as a beautiful, buxom redhead, wrapped in a virginal white gown, who turns into a man-eating sea monster. (With both the high-cuisine and comic worlds having such macho reputations, it is refreshing to see female protagonists and artists in Hungry Ghosts.)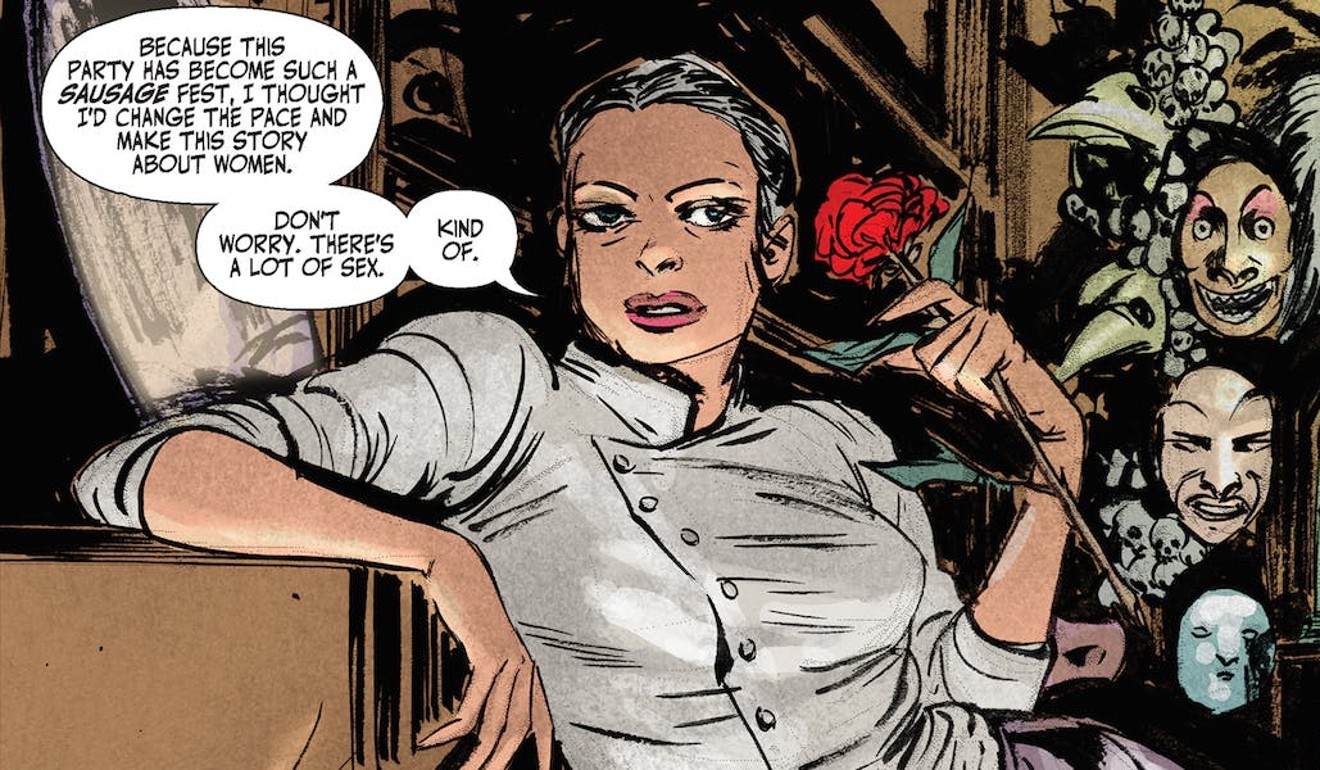 Bourdain first found international fame as a writer, not a cook. Although respected as a chef in New York, he became a celebrity only after publishing his gritty, behind-the-scenes tales from restaurant kitchens, first in The New Yorker and then in Kitchen Confidential (2000). Many in the industry shared the lifestyle, but only Bourdain had the guts, and way with words, to bring such an expletive-filled, drugged-fuelled existence to life on the page.
Nearly two decades later, that same cynicism about the culinary world comes through in Hungry Ghosts – the greed and gluttony of rich patrons, and the abusive behaviour of old-school chefs.
"Deep" paints a world in which top chefs are tyrants, and their underlings victims of physical, verbal and sexual abuse. "The system was cruel, designed to break a boy," Bourdain writes. Argentinian artist Sebastián Cabrol uses stark lines and a minimalist palette to illustrate the humiliation of an apprentice.
One of the few stories set in the modern-day is "Boil in the Belly", about an eager young man working at a hip New York restaurant who takes some Asian fusion food back to his hometown of Hooterville. There is no moral to this one – sometimes, the book plays with just sheer terror.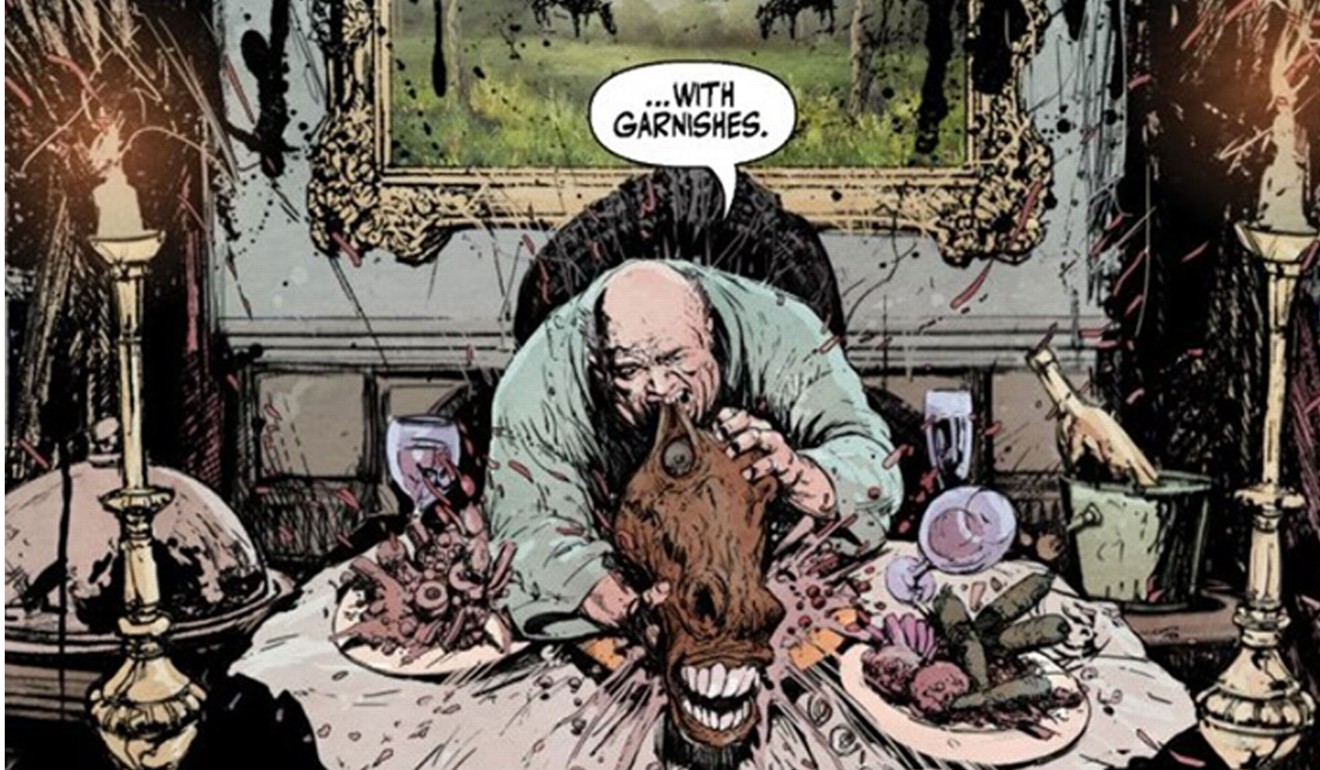 Bourdain fans looking for a more conventional last book might be disappointed but included are five recipes. Tangentially related to the stories, these include ramen for "The Starving Skeleton", plus osso buco and saffron risotto for the Italian chefs in "The Heads". And there are tips: never over-pack your meatballs, whether they are made from a classic beef-veal-pork mix, or the corpse of your prized racehorse.
This writer's favourite part of the book is an appendix describing types of Japanese spirits, beautifully rendered in black-and-white drawings by Manco.
While the short stories themselves are interesting, it is the fantastic, colourful, often gruesome art that brings them to life, a highlight being Paul Pope's cover image, of a witch devouring ramen in a small Tokyo shop.
Hungry Ghosts is a fitting tribute to Bourdain – an end­lessly restless soul and free spirit who broke all the rules.